About our College
A founding college of the University, we have a long tradition of excellence in teaching, research and engagement programs that benefit the health and economic vitality of Nevada. We offer programs in:
agriculture, horticulture, rangeland & veterinary sciences
biochemistry & molecular biology
children, youth & families
community & economic development
health & nutrition
natural resources & environmental science
Heart of the Matter
College scientists, students work to find ways to detect, prevent and treat heart failure
Nearly 6 million people in the U.S. suffer from heart failure, which occurs when the heart cannot deliver an adequate supply of oxygen and nutrient-rich blood to the rest of the body. The College is researching ways to detect, prevent and treat the disease, with work in both the Department of Biochemistry & Molecular Biology, and the Department of Nutrition.
Phytochemicals to Fight Heart Disease
Most fruits, vegetables and grains are healthy food choices that can prevent heart disease. Nutrition Assistant Professor Brad Ferguson and his team are studying the heart-healthy benefits of these foods by examining phytochemicals – chemicals in plants that give plants their color, help plants fight infections, protect leaves from the sun, and provide other benefits. The team wants to know specifically how consuming these phytochemicals can help prevent cardiovascular disease, and to use what they learn to design supplements to help treat the disease alongside standard care. To reach these goals, Ferguson is overseeing a phytochemical project led by graduate students.
This project aims to determine which phytochemicals in fruits and vegetables can prevent heart dysfunction and disease. The research team, led by Graduate Student Levi Evans, has narrowed down a broad collection of phytochemicals to a few that show promise. Evans recently found that one of these phytochemicals, emodin, which is found in cabbage, beans and rhubarb, could prevent detrimental enlargement and scarring of heart tissue in response to increased blood pressure (i.e. hypertension). Now, Evans is trying to understand how emodin and similar heart-healthy phytochemicals work.
More than 4,000 phytochemicals
have been identified, but
Only about 150 phytochemicals
have been studied in depth
The second part of the project looks at acetylation – a process that regulates gene expression and protein function. Proteins carry out specific jobs within the body. The team, led by Graduate Student Samantha Romanick, is investigating if acetylation helps the heart relax and contract, if regulating the process can improve the heart's functionality, and if phytochemicals can help regulate these processes.
Determining Risk to Catch it Early
Professor and Department Chair Robert Ryan in Biochemistry & Molecular Biology is looking for ways to identify, and subsequently reduce, the risk of heart failure by studying cardiolipin – a component of cells that is essential for making the energy needed for other cell parts to do their jobs. He is investigating what happens when inherited mutations in specific genes alter the cardiolipin content in the heart, compromising cardiolipin's function in membranes. For the heart, defective cardiolipin content can prevent the heart from pumping effectively, increasing the risk of heart disease. Ryan hopes this research will provide clues to help doctors gauge patients' risk of developing heart disease, and to detect it early.
The way the body compensates for a poorly functioning heart may also provide indicators of the risk of developing heart disease. When blood cannot properly circulate through the heart, the body finds alternate routes for nutrients and oxygen. This process creates "biomarkers" – unique substances not normally found when the body is functioning properly, but which appear when systems fail. Since such biomarkers only occur when the heart is not working optimally, Ryan and his team hope that measuring their amounts can predict a patients' disease risk. In addition, they are researching the origin of biomarkers to learn more about how they are made, how they link to disease, and any additional information that may aid in creating treatments.
"With more information, we can develop a test to measure this biomarker to predict the risk level of heart disease to a certain degree."
– Robert Ryan
Graduate students help 4-H youth discover the excitement of science
Students in Nevada Biosciences Association lead experiments to encourage 4-H youth to pursue STEM
University of Nevada, Reno molecular bioscience graduate students have been working with the Nevada 4-H Camp to stimulate interest in STEM (Science, Technology, Engineering and Math) with presentations and interactive experiments.
By teaching 4-H campers from across the state about science topics through hands-on experiments, such as about genetics by extracting and testing their own DNA, students in the University's Nevada Biosciences Association hope to motivate youth to discover a passion for science and uncover many possibilities in the field, including career opportunities. Each year, campers rotate between several science stations, such as testing pH using purple cabbage, using yeast to understand cellular respiration, and learning about plant physiology using microscopes.
The first two years of these presentations and experiments at the 4-H Camp started under the Distinguished Women in Science Club at the University. Chrystle Weigand, Nevada Biosciences Association president, and Haley Toups, association community outreach coordinator, have carried on the work with the help of other graduate students in the Molecular Biosciences Program, a collaboration among the College of Agriculture, Biotechnology & Natural Resources; the School of Medicine; and the College of Science. To date, over 200 4-H campers have participated in this annual event.
Weigand, part of the Harper lab at the University's Experiment Station, has led 4-H campers in experiments for the past three years to show the youth that science is exciting and accessible. "The first time I spoke to the students, all I felt was excitement," Weigand said. "I wanted to show them that they're already scientists since they've been discovering and experimenting since they were born."
The impact of this outreach has been critical to 4-H participants. Parents have mentioned the appreciation at some of the experiments addressing the topic of climate change and allowing the participants a safe space to ask questions. Some of the students have also decided to choose science as a major because of the opportunity to engage with the different experiments.
"Having citizens knowledgeable about STEM fields is so important, especially in our science-based culture," said Jeffrey Harper, a biochemistry professor in the College of Agriculture, Biotechnology & Natural Resources. "Education about science from a young age is critical so that kids want to engage and participate instead of writing it off as too hard or confusing to understand."
Harper's lab has been one of the main supports for Weigand's outreach efforts through the association, with additional support by the labs of Grant Cramer and Cyprian Rossetto, research professors within the Molecular Biosciences Program. These professors have encouraged STEM outreach through their support of students conducting these presentations and by providing supplies for experiments. Nevada Biosciences Association members look forward to working with the 4-H camp again this year and will begin planning this spring.
"Education about science from a young age is critical so that kids want to engage and participate instead of writing it off as too hard or confusing to understand."
– Jeffrey Harper
4-H'ers benefit from their 4-H experience over the course of their lives— socially, physically, emotionally and economically
Extension has offered a 4-H program in Nevada for more than 90 years, benefitting our state's youth for a lifetime
The 4-H Youth Development Program across the nation reaches more than 6 million youth and is America's largest youth organization. We know that 4-H'ers are four times more likely to contribute to their community and two times more likely to be civically engaged, participate in out-of-school science programs and make healthier choices. So we know that 4-H makes an impact on our young people, but do we know what impact it has as those young people grow up?
In 2019, National 4-H Council partnered with Edge Research to conduct a study of 4-H alumni from across the country. The study found that a 4-H experience correlates with success in life. All data suggest that alumni benefit from the 4-H model well into adulthood and over the course of their lives socially, physically, emotionally and economically.
4-H is a community of young people across America learning leadership, citizenship and life skills
Members learn life skills, make new friends, enhance self-esteem, achieve personal goals, develop positive relationships with peers and volunteers, and have fun learning and sharing as a family and a club.
Workshops offered for creating pie fillings and for pickling products
Extension offers food preservation workshops Feb. 21 and 26
University of Nevada, Reno Extension's Food Preservation Program will be offering free workshops on pie fillings for long-term storage and pickled products Feb. 21 and 26.
There are two workshops available: pie fillings for long-term storage and pickled products. Each workshop will be held once. Each workshop is free to attend, but preregistration is required. Both workshops will be held at the Extension office at 8050 Paradise Road, Suite 100 in Las Vegas.
Pie fillings for long-term storage, 1-3:30 p.m., Feb. 21.

Pickled products, 1-3:30 p.m., Feb. 26.
For more information regarding workshops, contact Elizabeth Mapula at 702-257-5517 or mapulae@unr.edu.
"These workshops will provide information on water bath canning, equipment and elevation, and specialty ingredients. We will also demonstrate the process of creating pie fillings and pickled products."
– Elizabeth Mapula
Dr. Esmail Zanjani remembered as selfless pioneer and mentor in his field
Department of Animal Biotechnology chair did groundbreaking stem cell and gene therapy research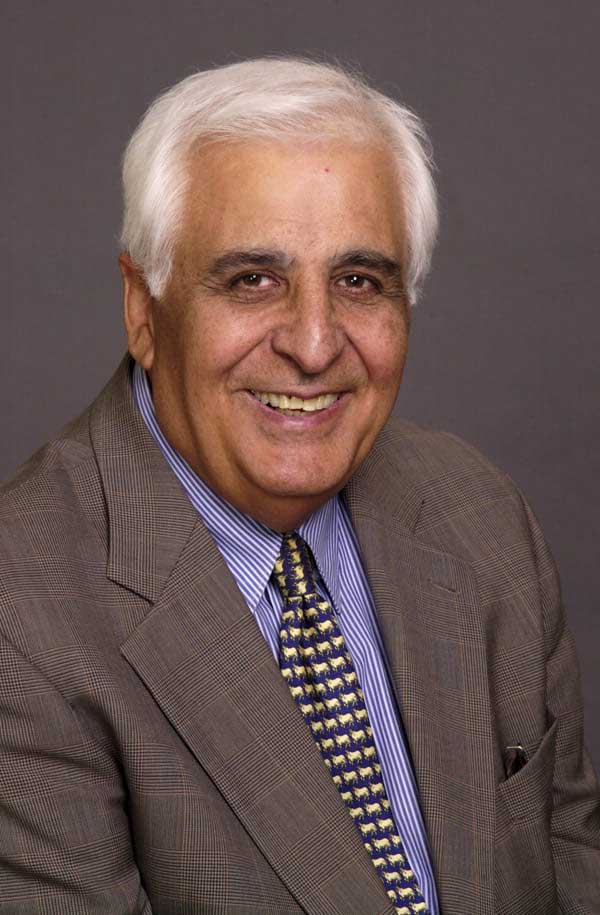 Dr. Esmail Zanjani's internationally celebrated research with sheep led to innovations allowing for stem cell transplants into human fetuses to treat some diseases that would otherwise be incurable after birth. The driving force behind Zanjani's work was his desire to save infants through innovations in genomics. He was a professor emeritus of animal biotechnology with the College and passed away in October at the age of 80. By his colleagues, he is remembered not only as a groundbreaking, internationally renowned scientist, but also as a caring, nurturing and ever-challenging mentor.
"He was the most encouraging person. He built up anyone that ever worked for him. He was very personable," said Kim Higgins, who started working for Zanjani as an administrative assistant while Zanjani was working for the VA Medical Center in Reno, before he started at the University.
While at the VA Center in 1995, Zanjani began volunteering for the University's interdisciplinary Cell & Molecular Biology Program, before becoming adjunct faculty in 2000. In 2002, he was hired as a professor of animal biotechnology in the College, and became the department chair the following year. When Zanjani was hired as a full-time professor, Higgins came with him.
"His folks all came over with him, his entire lab," Higgins said. "No one ever wanted to leave him, after working for him. He provided me with many opportunities to learn and grow professionally. He just touched a lot of people, because he really cared. I miss him."
Rangeland Ecology Professor Barry Perryman agreed, sharing thoughts about Zanjani when he was his department chair.
"He's one of the nicest people you could ever meet," he said. "He was really good at getting you to do something without you knowing it. He was a real master at that. Even if you knew you were being manipulated, you didn't mind, because he was so nice. He mentored everybody he ever came in contact with in one way or another. That was just Esmail."
Perryman said that, at the same time, Zanjani was "just one of those pioneers, that essentially, pushed genomics science along," his groundbreaking work garnering national attention and controversy, such as in a May 20, 2008, article in The Washington Times that describes how Zanjani's work with stem-cell transplants in utero saved one child from being born with symptoms of a degenerative and deadly disease.
In fact, Zanjani and his research team are credited in Guinness World Records for creating the world's first human-sheep chimera (a sheep that contains sheep cells and human cells, to allow the prospect of animal organs being transplanted into humans to save lives).
Mariah Evans, Zanjani's daughter and a sociology professor at the University, as well as a researcher in the College's Experiment Station, described her father as "an imaginative and engaged scientist."
"He was still reading the hematology journals up until about a month before he died, and critiquing them," she said. "He was still thinking and feeling science, which was very important to him. It was who he was."
Zanjani served as Editor-in-Chief of the Experimental Hematology journal from 2004 to 2010, as well as served on the editorial boards of several other internationally renowned journals. He co-authored numerous textbooks and authored hundreds of professional journal articles. Some of his former collaborators co-authored a tribute to Zanjani in the November 2019 Experimental Hematology issue. In it, they wrote:
"…he is owed a vast debt of gratitude by his legacy of literally hundreds of scientists and clinicians from around the globe who have been shaped by his scientific leadership and deeply touched by his sparkling intellect, his incomparable charm and sense of humor, and his unbounded passion for science and for life."
The tribute gives a nice summary of Zanjani's numerous accomplishments and path, from his birth in Iran, to his education and work in New York and Minnesota, and his eventual landing in Reno, Nev., his wife Sally's hometown. Sally was an accomplished author of Nevada history, and Evans' said her father grew to love the state.
"He loved photographing Nevada scenery," she said. "He took a number of the photos for my mother's books. This was a very different place for him. He was mostly a city boy, but he learned to love the desert."
Mariah said he also greatly appreciated his College colleagues and the University.
"He strongly appreciated the warm camaraderie that went across hierarchy lines in the College, the fact that deans, associate deans, faculty and fellows could all be part of informal exchanges," she said. "He enjoyed that fellowship. He also loved our beautiful campus, especially the main Quad."
"While some might mirror his magnificent professional career, the extensive publications, and the prestigious scientific work he achieved, few will ever touch and enrich the life of his mentees, colleagues, and friends the way Esmail did."
– In Memoriam: A Tribute to Esmail Zanjani, 1938–2019, November 2019 Experimental Hematology
Growing a stronger Nevada
Our programs work together to make an impact
Our teaching, research and engagement programs are intertwined and complement one another. Faculty who teach on campus also conduct research as part of the Experiment Station, allowing students to learn about and participate in research. Extension faculty engaging with communities identify research needs, as well as join Experiment Station faculty to conduct research. Faculty on campus help to develop Extension programs in communities.
Researching critical issues
Experiment Station faculty conduct research at experiment stations, labs and research facilities across the state, as well as teach classes and share and conduct research with students. The state-federal partnership tackles issues affecting Nevada's citizens, communities and economy.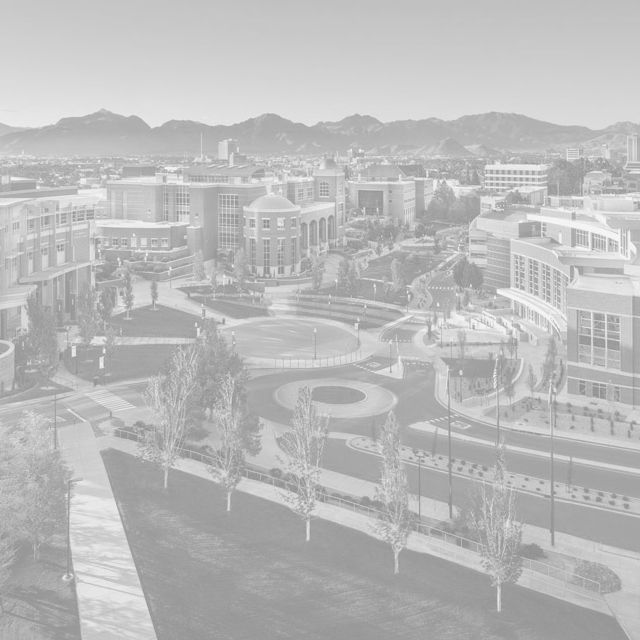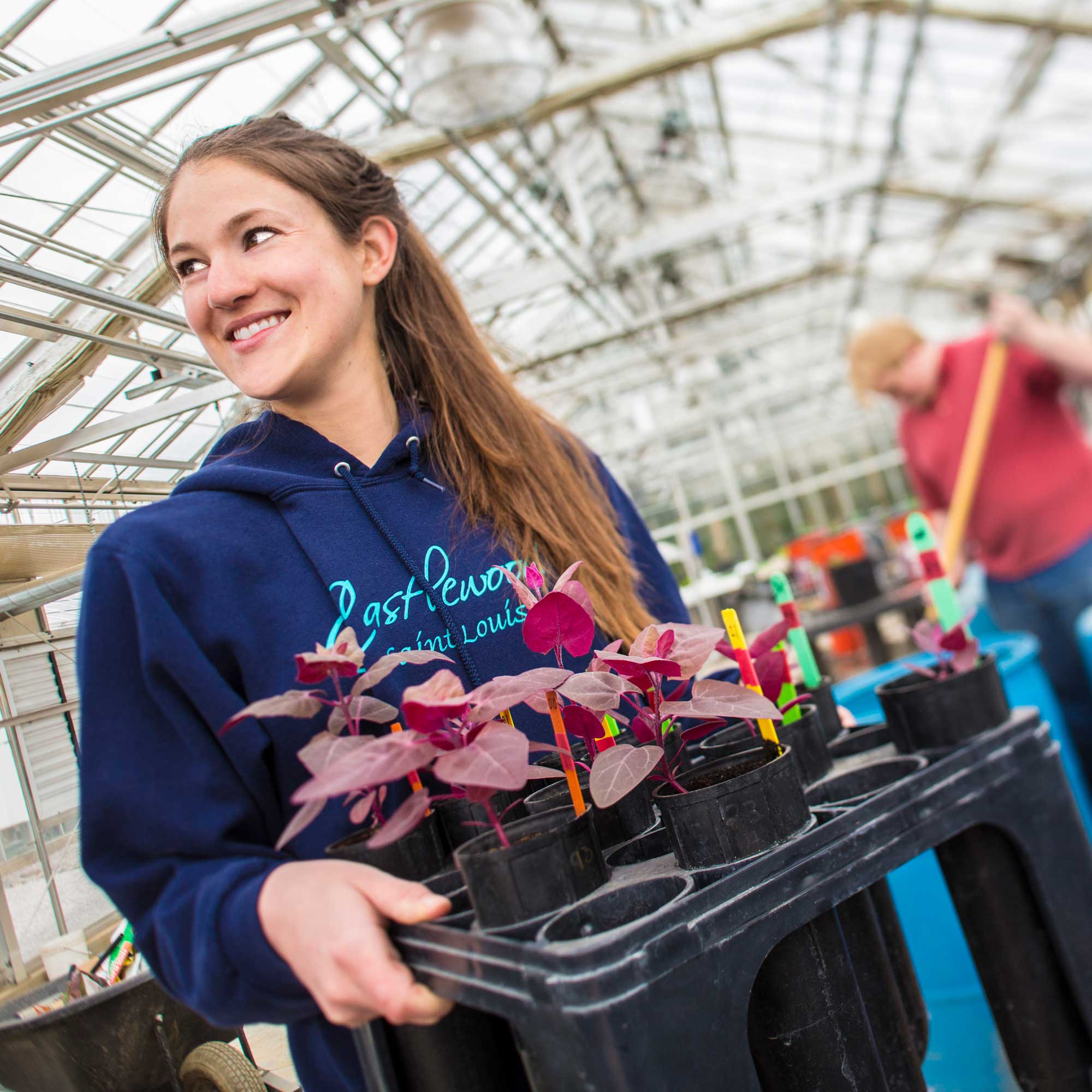 Teaching University students
We offer 17 undergraduate and graduate degrees to prepare students for high-paying, in-demand careers in agriculture, rangeland & veterinary sciences; biochemistry & molecular biology; natural resources & environmental science; and nutrition.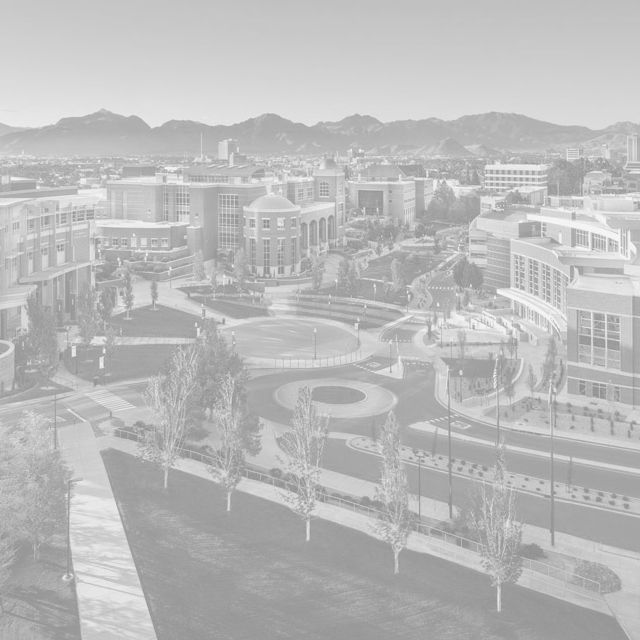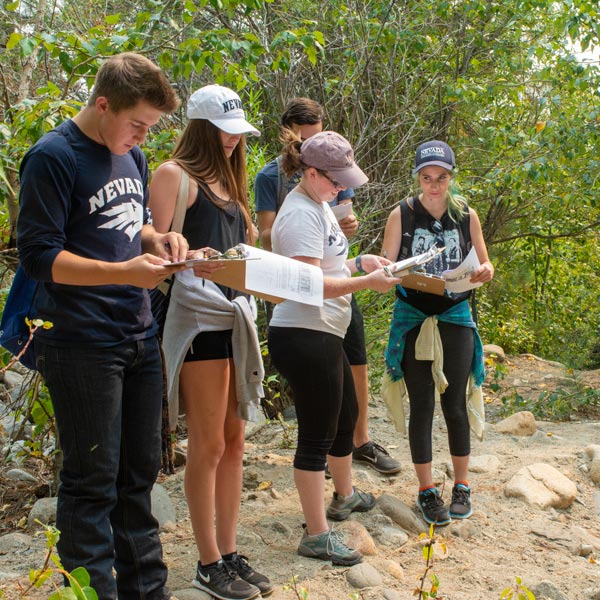 Engaging Nevada communities
Extension is engaged in Nevada communities, presenting research-based knowledge to address critical community needs. The county-state-federal partnership provides practical education to people, businesses and communities, fulfilling the University's land-grant mission.