History
The Fleischmann Planetarium and Science Center opened in November 1963, during the Space Race. It was the same year quasars were discovered, lava lamps were invented and Doctor Who (the longest-running sci-fi show in the world) premiered.
The Planetarium is a historic landmark, deeply ingrained in the fabric of the Reno community. It was designed by Raymond Hellmann, a local architect who designed more than $100 million in construction upon moving to Reno in 1951. It is the only planetarium in the world built in the shape of a hyperbolic paraboloid, and it was the first in the world to showcase 360-degree projected movies in its Full-Dome Theater, thanks to an entire floor constructed beneath the main structure, housing proprietary technology specifically tailored to create this immersive experience.
Early years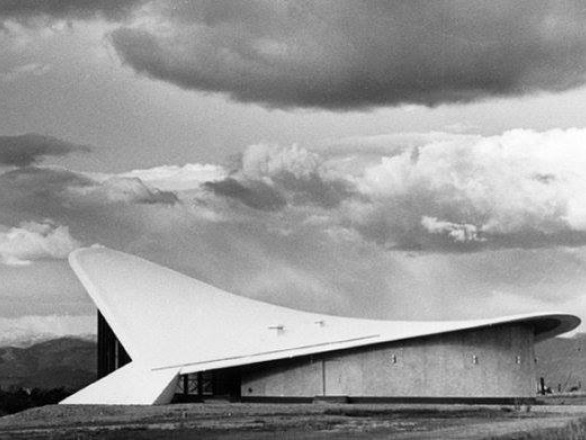 The Fleischmann Planetarium and Science Center, originally named the Fleischmann Atmospherium-Planetarium, was built in 1963 on the University of Nevada, Reno campus. It was the first planetarium in the U.S. to feature a 360-degree projector with the ability to provide horizon-to-horizon images and utilize time-lapse photography to review an entire day's weather in just a couple minutes.
Current era
Over the course of the past 59 years, the Planetarium has hosted thousands of field trips for students eager to learn about atmospheric science, and it continues to immerse students in interactive field trip experiences six days a week. In addition, the center is open to the local community, and provides people of all ages with access to public shows in the Full-Dome Theater and a plethora of exhibits around the facility. The Science Store also serves as a one-stop-shop for all sorts of intergalactic gadgets and gifts, perfect for space and science lovers alike.
Recently, the Fleischmann Planetarium and Science Center became the first planetarium in the world to partner with Slooh Telescopes in the Canary Islands and Chile to provide Star Walker Space Club members of all ages with the opportunity to control research-grade robotic telescopes remotely through a smart phone or tablet and take amazing deep sky images of the universe.
Within the last few years, the Planetarium has premiered cutting-edge dome show content, from motion pictures about whales and endangered coral reefs, to programs that highlight the Great Basin Observatory and Native American legends of the night sky.
Looking ahead
Learn about how you can help to name new educational opportunities and experiences, new exhibits and a new, innovative Full-Dome Theater.