Chapter 33 benefits
Watch this video for details on how to use your Chapter 33 benefits.
The information contained in the video is also available through the links below.
How to use your Chapter 33 benefits
Basic Allowance for Housing (BAH) is a monthly stipend that is paid at a rate of E-5 with dependents at the university zip code (89557). You will receive BAH at the end of the month for the preceding month. Also, the VA will prorate your BAH to start on the first day of the term and to stop on the last day of the term. For example, if the term starts on August 24, you will be paid for August 24-31 for the month of August. For budgeting purposes, a student will not receive a full monthly stipend until the end of the first full month. Keep in mind that the first and last month of the term are always prorated.
Tuition and fees for all certified courses will be paid to the university directly. All Chapter 33 students who submitted their Semester Enrollment Form by the Wednesday prior to the first day of the term will have their financial account protected and will not be dropped for nonpayment. If you accrue late fees because your Semester Enrollment Form was not submitted in a timely manner, you will be responsible for those fees. We are unable to estimate when the student or the university will receive funds from VA.
You will receive a book stipend of $40 per credit certified per semester, with a maximum payment of $1,000 per academic year (or $500 per semester).
Items not covered by VA include: out of state tuition, room and board, campus parking pass, electronic course materials, graduate health insurance and courses that are not degree applicable. If you are currently classified as an out-of-state resident, please let us know so we can work with the university to have those fees waived.
For NV National Guard members that are using Chapter 33, the tuition waiver can be applied simultaneously. However, we cannot bill the VA for tuition covered by the tuition waiver. We will bill the account balance once your NV National Guard waiver is applied. NV National Guard waivers are submitted directly to the Cashier's Office. For more on the tuition waiver, please visit the "Nevada National Guard State Benefits" module.
The VA will only approve and pay for what it considers a certifiable course.
So, what is a certifiable course? Veteran Services can only certify courses that are directly degree-applicable, or classes that fit within your degree plan. Courses for a minor can only be certified if a minor is required for your major. Dual majors are acceptable as well. Additionally, remedial or prerequisite courses are acceptable if they are needed. For example, if you need to take MATH 96 to get into MATH 126, we can certify MATH 96.
Veteran Services recommends that you maintain a strong relationship with your academic advisor to ensure all of your courses are degree applicable, but if you have any questions, please don't hesitate to reach out to our office.
If you drop one or more courses after the first day of term, you may incur a debt on your University of Nevada, Reno student account. If the debt is not addressed, it could result in a hold on your account. Any holds on your account may cause a future inconvenience. Please reach out to Veteran Services with any questions or concerns if you must drop a course.
You can view any holds on your account from your student center on MyNevada by logging on and accessing "Student Center – Classic" from the homepage. From there, you will see "Holds" in the top right corner.
If there is a hold, you can click "Details" to view it.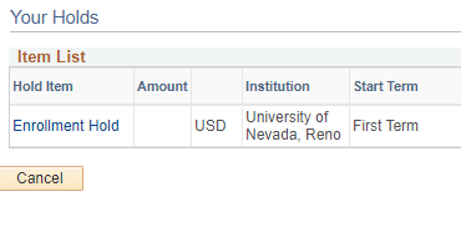 The most important thing you must remember is to fill out your Semester Enrollment Form (SEF) every semester that you would like to use benefits. The Semester Enrollment Form is the student's official request to Veteran Services to process a VA educational claim.
We process claims in the order we receive the Semester Enrollment Form. To avoid possible delays in processing, please submit your form as soon as possible. It will be available 24 hours after the day you enroll in courses. Enrollment changes can be made after submission, but please be advised that this could result in a possible delay in your monthly stipend or create a tuition debt.
These are the steps to fill out the SEF:
Log in to your MyNevada account.
Navigate to "Tasks" from the home screen (the box with the green check mark).

[Figure 1] Screenshot of the student homepage in MyNevada. The image contains 10 tiles, reading Financial Aid, Enrollment Finances, Tasks, Academic Records, Personal Information, Student Center - Classic, Academic Progress, Schedule Planner, and COVID-19 S/U Request. Tasks is the fourth item in the top row, on the right.

Select "Supplemental Forms" from the task list on the left hand side of the screen.

[Figure 2] Screenshot of the Tasks section in MyNevada. The list reads To Do List, Holds, Communication Center, and Supplemental Forms, which is the bottom option in the image.

Select the SEF corresponding to the upcoming semester.

[Figure 3] Screenshot showing a link to the semester enrollment form, indicating the status and the semester the document is for.

Answering all questions should take about 3 minutes.
Check the box at the bottom of the SEF.
Click "Save" and then "Submit."
You do not need to inform us of enrollment changes. We track all enrollment changes for our students once the SEF is submitted.
A Veteran Services four-part payment plan is available at no cost for anything not covered by your VA benefits.
Tuition and fees will remain on your account until the week prior to the start of term – do not be alarmed by automated communication from the university regarding unpaid fees. As long as you have turned in your Semester Enrollment Form, prior to the Wednesday before the start of the term, your account is protected.
Veteran Services encourages all students to complete FAFSA annually for potential financial aid (Pell Grants, state access grants, etc.). Most federal financial aid applies concurrently with VA educational benefits and will not impact your VA claim. The link to the FAFSA webpage is found on the University's Financial Aid website.
If a deployment/activation interrupts the semester, we recommend that you complete a leave of absence form with Admissions and Records in order to avoid reapplying to the university and maintain active student status while away.

The form is found in the

Admissions and Records forms

section of the University website.
Visit us at the Veterans and Military Center
The Veterans and Military Center (VMC) is a comfortable space to connect with like-minded individuals, develop camaraderie with fellow student veterans, study and grab coffee.