About our College
A founding college of the University, we have a long tradition of excellence in teaching, research and engagement programs that benefit the health and economic vitality of Nevada. We offer programs in:
agriculture, horticulture, rangeland and veterinary sciences
biochemistry and molecular biology
children, youth and families
community and economic development
health and nutrition
natural resources and environmental science
Continent-wide decline of aspen driven by climate change
Department of Natural Resources & Environmental Science's Hall Cushman leads study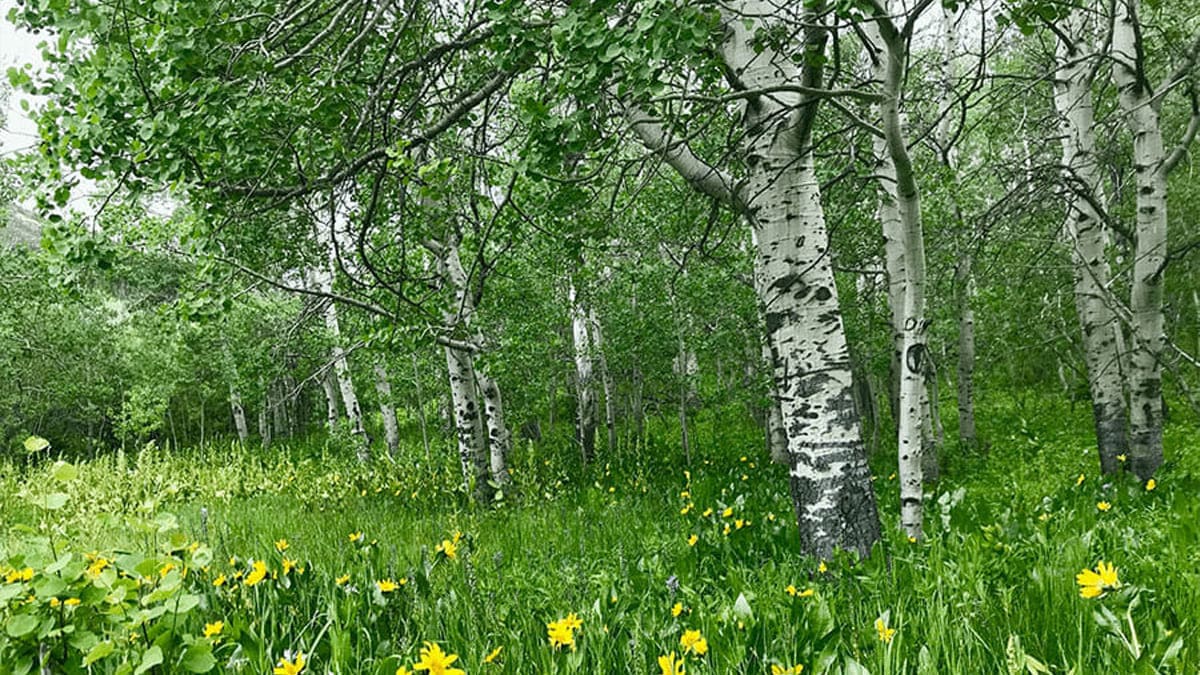 Aspen trees are declining in numbers across North America due to warming temperatures and lack of precipitation.

While forests of pine and fir trees get a lot of attention, the more ubiquitous and colorful quaking aspen is a keystone species that is experiencing substantial increases in mortality and decreases in growth over the past three decades across most parts of its geographic range in North America, a study at our College found.
"Human-caused climate change is an unavoidable reality, and our research findings clearly indicate that it is a major driver of aspen decline," Professor Hall Cushman, co-author of the study, said.
With support from our Experiment Station unit, Cushman and his postdoctoral scholar, Tyler Refsland, found that aspen mortality is increasing in most habitat types, and the abundance of trees has been steadily decreasing over time. Increased aspen mortality and reduced growth rates were most often associated with hotter, drier conditions. All predictions suggest that climate change will intensify in the coming decades, not boding well for the quaking aspen.
"Aspen are the engines that shape the landscape and hydrological processes with an astounding effect on ecosystems," Cushman said. "They are important to biodiversity and water processes, as well as economically important to humans. They are biodiversity hot spots for both plants and animals."
Forseeing the future
"In the West, increased heat and drought are going to be our reality for the foreseeable future. If such trends are not accompanied by increased [new trees], the reduced dominance of aspen in forests will lead to major declines in the many essential ecosystem services it provides." -Professor Hall Cushman
University researcher honored by premier earth science society
Snowmelt and mountain ecosystems research vital to resource management in times of changing climate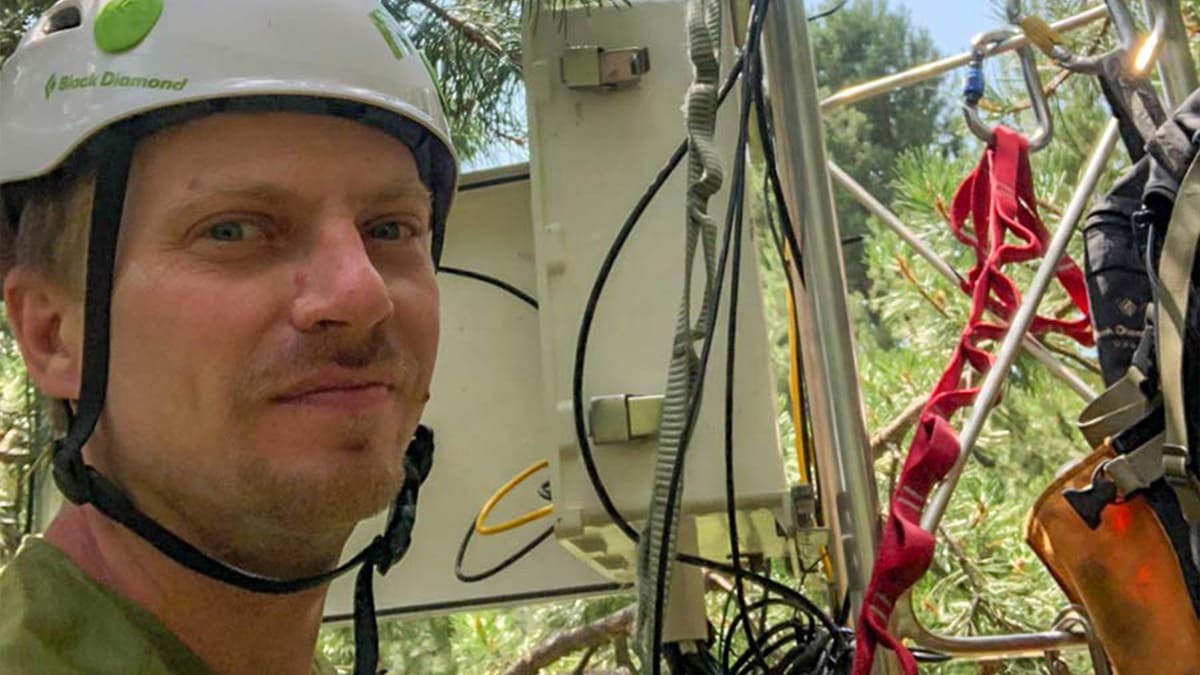 Associate Professor Adrian Harpold was one of four scientists internationally to receive the 2021 Hydrologic Sciences Early Career Award from the American Geophysical Union.

As winter approaches, many of us are "thinking snow" so that we can hit the slopes. But, one scientist in our College has loftier concerns about our area's snow patterns. Adrian Harpold's research regarding snow droughts, snowmelt, and how climate change is impacting our forests and water resources has earned him the honor of being selected as one of four scientists internationally to receive the 2021 Hydrologic Sciences Early Career Award from the American Geophysical Union (AGU).
"Receiving an award from the preeminent earth science organization in the world is hugely rewarding for me," Harpold said. "The AGU is truly a beacon for advancing our knowledge of the Earth."
Harpold is a natural resources and environmental science associate professor. His work focuses on better understanding how changes in climate affect mountain ecosystems. The goal is to apply his research to better manage forest and water resources in mountain environments, especially in times of drought and floods. Some specific examples of Harpold's research, which is partly supported by our College's Experiment Station unit, include:
Building a better future
"My students and post-docs here at the University have been an amazing group of human beings who have pushed me to new scientific and personal frontiers. There is a lot of opportunity to make the world a better place, and I want to take the privileged position I have to make that happen." -Associate Professor Adrian Harpold
Carson City resident Karen Hinton inducted into the National 4-H Hall of Fame
Extension dean and director emeritus honored for her 4-H leadership
Karen Hinton, dean and director emeritus of Extension, and current Carson City resident was inducted into the National 4-H Hall of Fame Oct. 12, for her lifetime achievements and contributions to 4-H, the nation's largest youth development organization that develops citizenship, leadership, responsibility and life skills in youth through experiential learning.
"Karen truly used her career in 4-H and Extension to try to make a positive impact on people's lives," Nevada 4-H Director Carrie Stark said. "She is respected by Extension and 4-H leaders across the country for her innovation, hard work and passion for serving our country's youth."
Hinton began her 31-year Extension career in 1981, working first as an Extension home economist in Douglas County, and then as an Extension educator in Carson City. She soon moved up the ranks to the position of western area director, overseeing all Extension programs and operations for Washoe, Douglas and Storey Counties, and Carson City. In 1998, she became the dean and director of Extension, overseeing all Extension operations, statewide. She retired in 2012, after serving as the University's longest-serving female dean.
In retirement, Hinton continues to be an avid supporter of 4-H and Extension.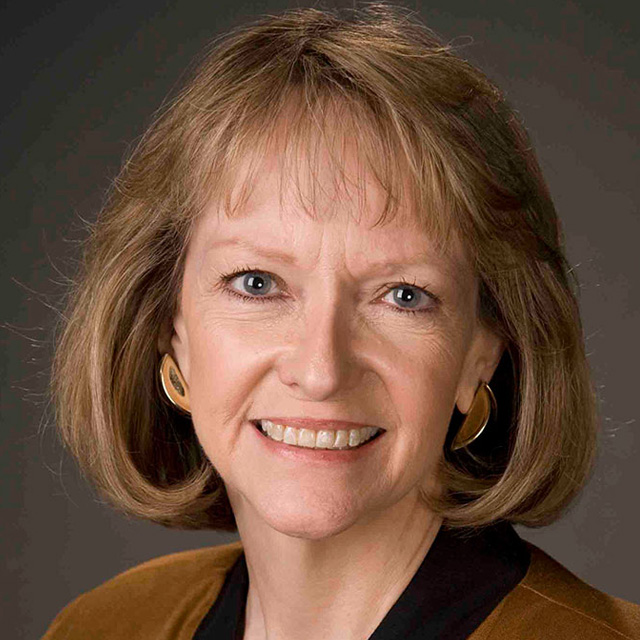 Carson City resident and Extension Dean and Director Emeritus Karen Hinton was inducted into the National 4-H Hall of Fame in Washington, D.C. Oct. 12.
Making a difference for Nevada's citizens
"Karen's leadership spurred many programs that made a real difference to youth, volunteers and Nevada's citizens. Almost all the 4-H events and opportunities for youth in our state have been impacted by Karen's leadership." -4-H Program Coordinator Sarah Chvilicek
Researcher returns to Nevada to make genetic improvements in animal herds
Andrew Hess joins the College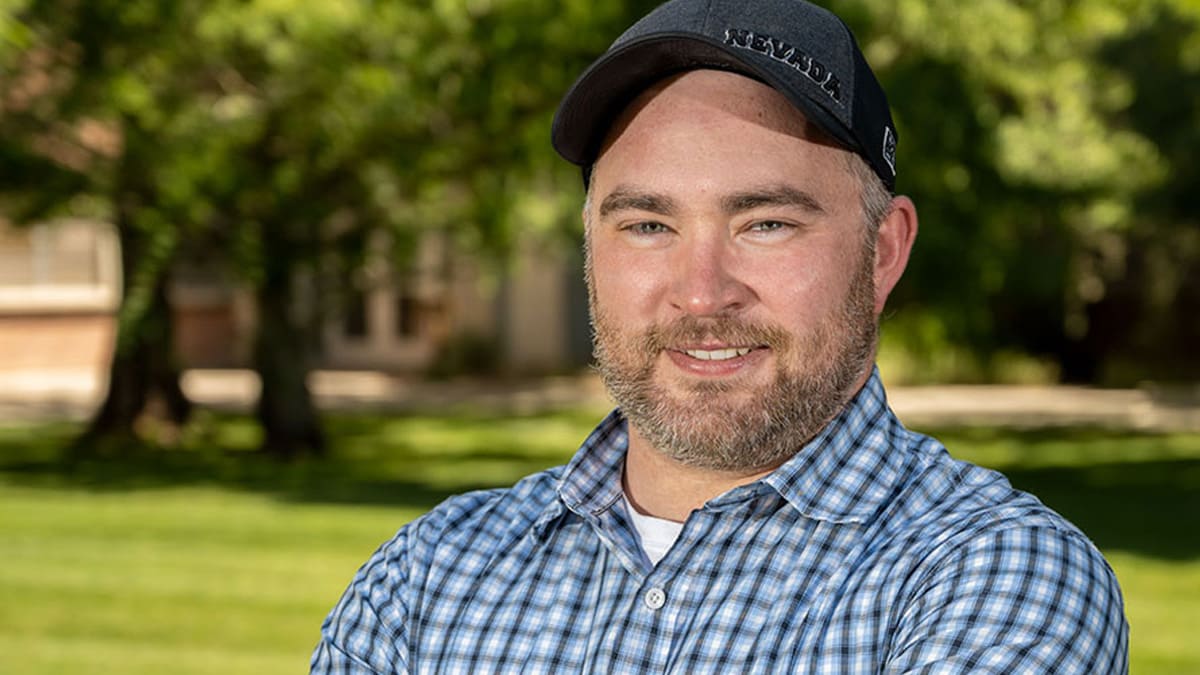 Andrew Hess will be conducting genetic research on University herds and sheep to breed more resilient livestock. Photo by Robert Moore.

The University recently welcomed Assistant Professor Andrew Hess to the Department of Agriculture, Veterinary & Rangeland Sciences. Hess will be focusing his research on innovation in breeding and genetics using University herds and flocks.
As part of the College's Experiment Station, Hess will be working with cattle and the 1,800 head of Rafter 7 sheep at the Great Basin Research & Extension Center located in Eureka. He will be:
Conducting genetic research to breed animals that are more resilient and adaptable to climate change and disease
Studying the litter sizes of lambs born into highly prolific sheep breeds
Researching internal parasites of sheep
Working to identify genetic markers that can be used to more accurately select animals for production traits
His research will benefit herds across northern Nevada by increasing their resilience while requiring less intervention to maintain high levels of performance.
Serving the community
"I grew up in Nevada and attended UNR, so this was a great opportunity to work close to home. I'm excited to serve the community that helped me get where I am today." -Assistant Professor Andrew Hess
Our programs work together to make an impact
Our teaching, research and engagement programs are intertwined and complement one another. Faculty who teach on campus also conduct research as part of our Experiment Station, allowing students to learn about and participate in research. Extension faculty engaging with communities identify research needs, as well as join Experiment Station faculty to conduct research. Faculty on campus help to develop Extension programs in communities.
Researching critical issues
Experiment Station faculty conduct research at experiment stations, labs and research facilities across the state, as well as teach classes and share and conduct research with students. The state-federal partnership tackles issues affecting Nevada's citizens, communities and economy.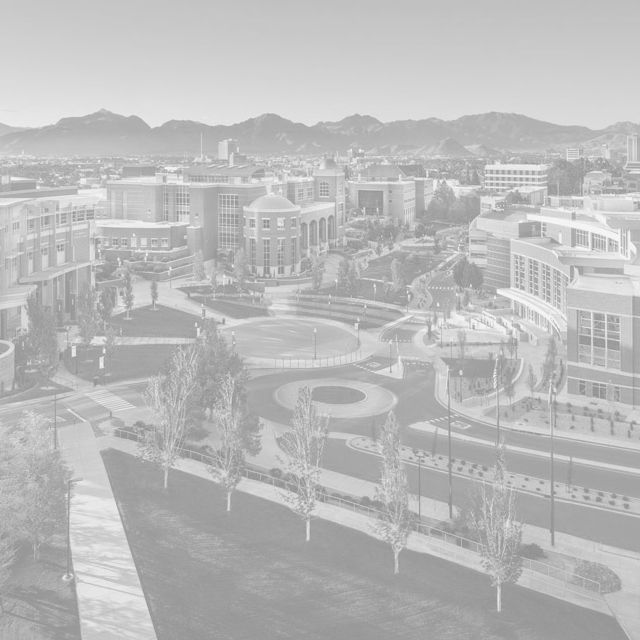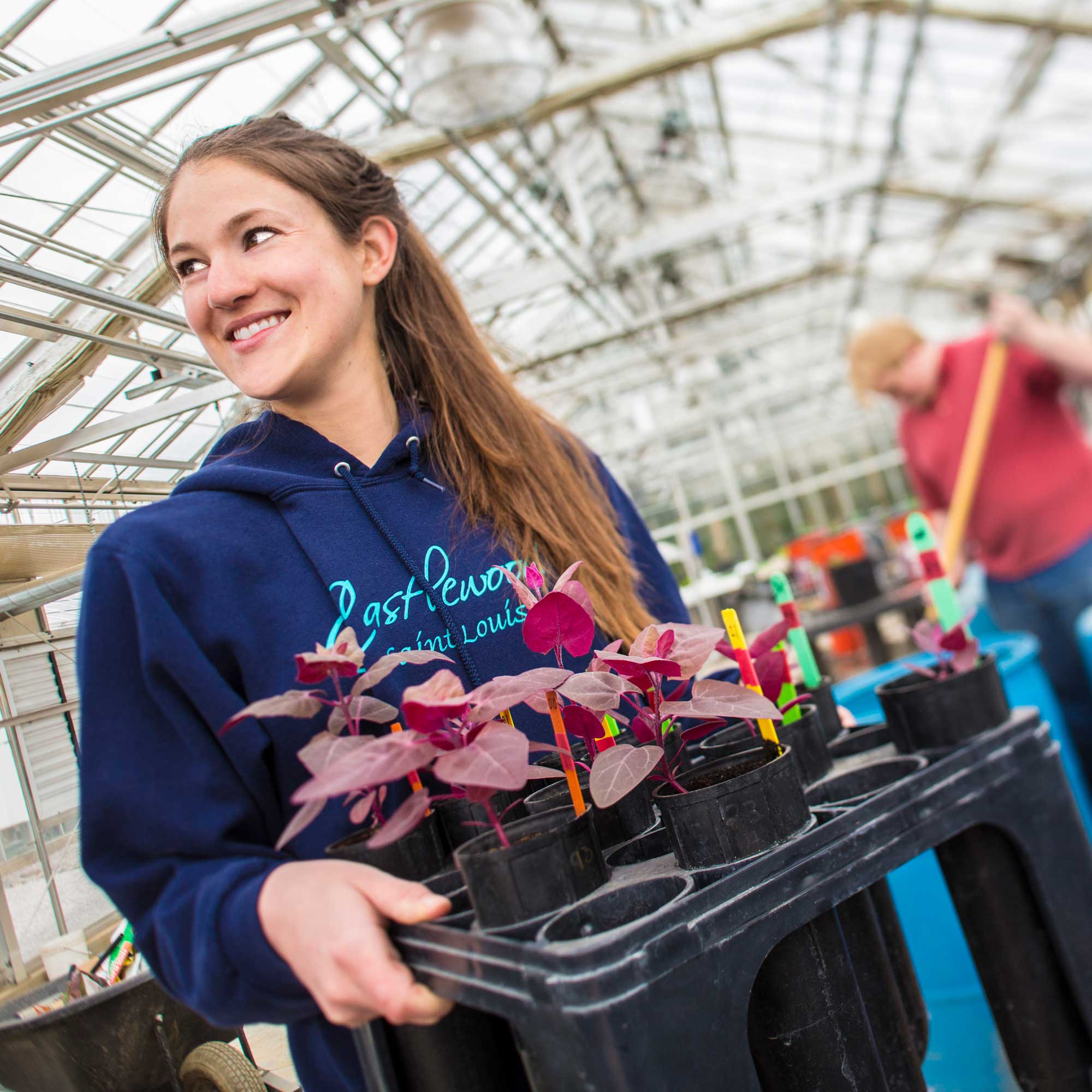 Teaching University students
We offer 17 undergraduate and graduate degrees to prepare students for high-paying, in-demand careers in agriculture, rangeland & veterinary sciences; biochemistry & molecular biology; natural resources & environmental science; and nutrition.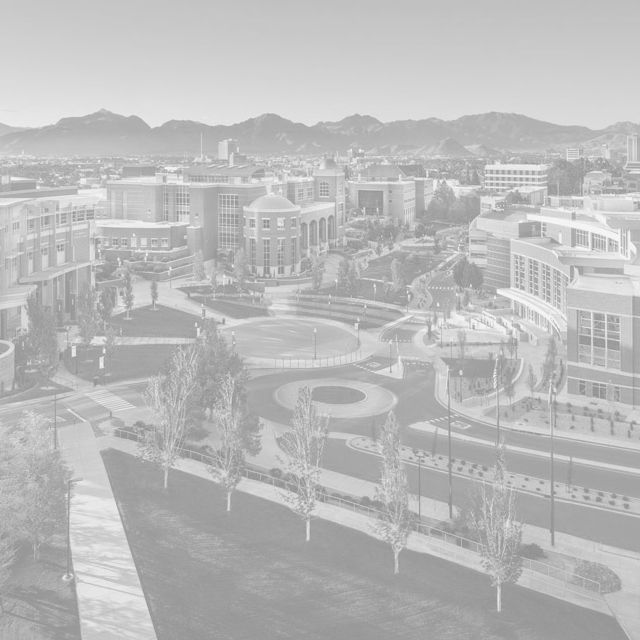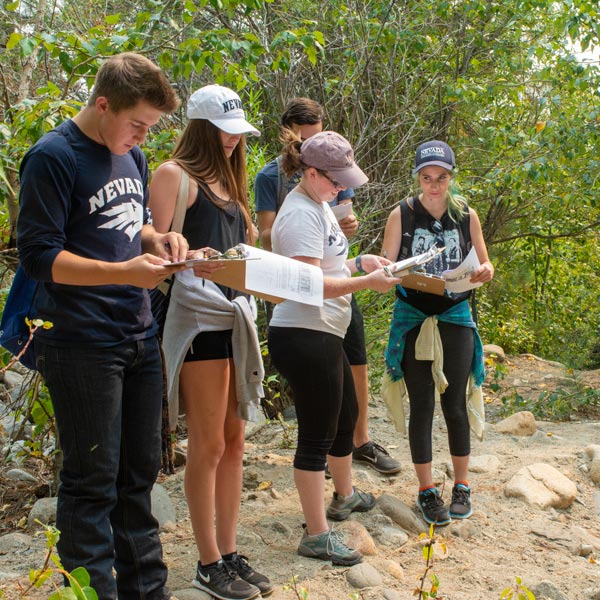 Engaging Nevada communities
Extension is engaged in Nevada communities, presenting research-based knowledge to address critical community needs. The county-state-federal partnership provides practical education to people, businesses and communities, fulfilling the University's land-grant mission.