2021 Graduate Dean Fellows
Kylie Baer, Clinical Psychology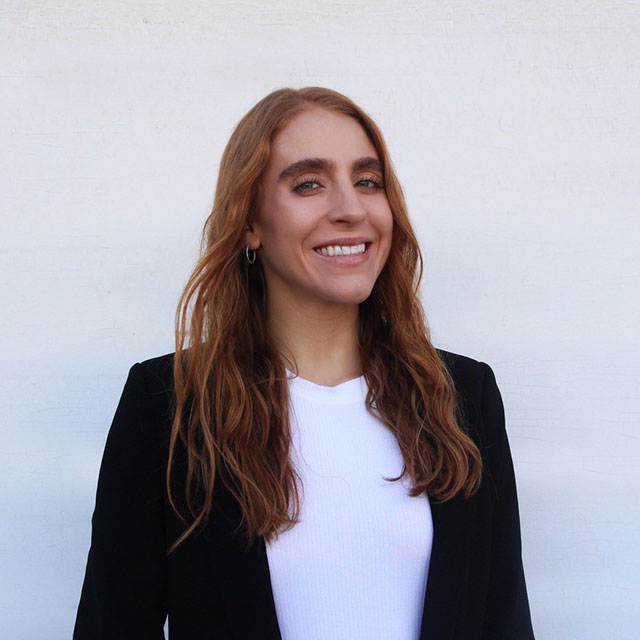 Kylie is a first-year doctoral student in the clinical psychology program at UNR. She received her B.A. in psychology at San Diego State University and worked as a research assistant in Dr. Nader Amir's Center for Understanding and Treating Anxiety lab. Following this, she joined Dr. Catherine Ayers' lab at the San Diego VA Medical Center as a study coordinator and lab manager. There, she worked on multiple RCTs assessing the efficacy of adjunct interventions to exposure in treating veterans with hoarding disorder and PTSD. She intends to further her work in exposure therapy and anxiety/trauma at UNR, focusing on elucidating mechanisms to refine treatments. Apart from psychology, Kylie is interested in fitness and nutrition and enjoys camping, playing volleyball, going to music festivals, and making new recipes in her Instant Pot.
Jonah Richard Bibo, History PhD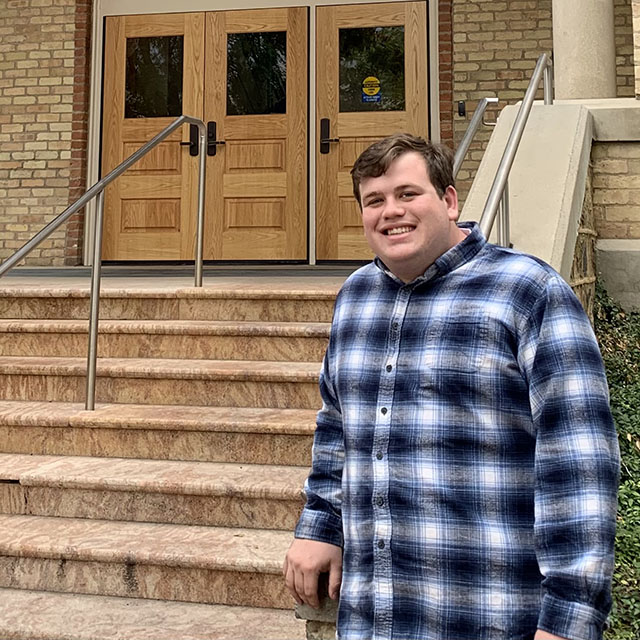 Jonah Bibo is extremely honored and grateful to be a recipient of the Graduate Dean's Fellowship for 2021-22. He was born and raised in Southern California, before moving to Northern Utah in 2014 to attend Utah State University. While there, Jonah studied History and Classics as an undergraduate until 2018, and then received his Master's degree in history in 2020. His research is focused on the environmental history of the Aniene river valley in Italy from the classical through the late medieval periods.
Now, as Jonah begins his Ph.D. program at the University, he is excited to conduct further research in the field. He looks forward to continuing his education through research, and is ready to experience what the University has to offer.
Cheng-Hsiang Chang, Atmospheric Sciences PhD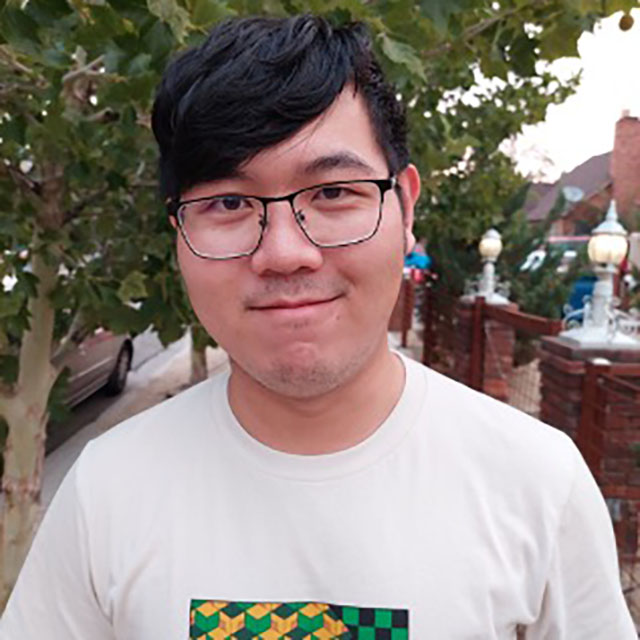 Cheng-Hsiang received an M.Sc. degree in Applied Physics from National Taiwan University and a bachelor in Physics from National Chung-Hsiang University. After graduated, Cheng-Hsiang was keen to apply his training in physics to explore the impacts of air pollution in his hometown. In 2018, he conducted aerosol research and worked as a research assistant in Academia Sinica, Taiwan. His team made progress on revealing the variation of aerosols over East Asia, and the result was presented at the AGU Fall Meeting in 2019. He also emulated convective triggers via machine learning algorithms and exhibited the findings at Chia Climate Forum (Taiwan) in 2020. These experiences arouse his curiosity about how air pollutants impact precipitation and cloud characteristics. Cheng-Hsiang aims to focus on the role of human activities and air quality in climate change.
Anna Fine, Social Psychology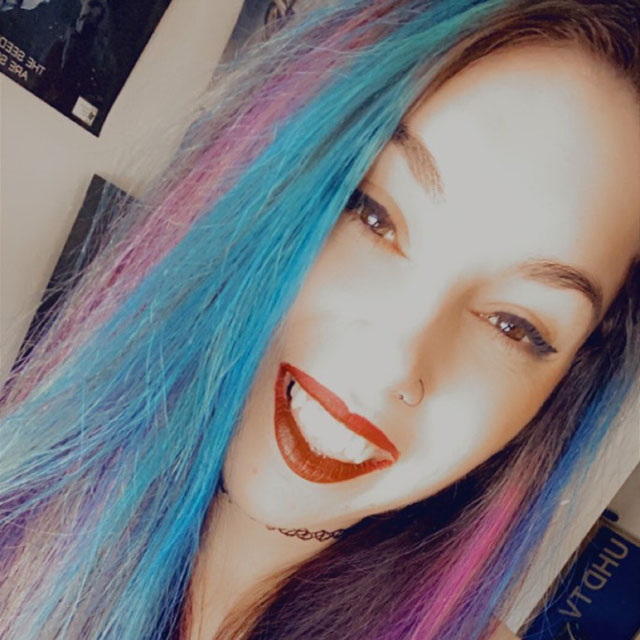 Anna is a first-generation college student and graduated with honors from Arizona State University with a M.S. in Psychology. At ASU, she was selected for a competitive fully funded position and fellowship. During her time in the Master of Science in Psychology program she was involved in multiple research labs and assisted with many quantitative projects. Anna was appointed to be a study coordinator for a large-scale NSF grant-funded project, investigating how the emotions caused by viewing gruesome photographs can affect juror decision-making. In addition to her research experience, she has extensive experience as a mentor to both undergraduate and graduate students. During her work on the NSF grant, she took a lead role in selecting, training, and mentoring undergraduate students who worked on the grant. Anna also mentored multiple younger graduate students as they worked their way through their first year of graduate school as part of the department's mentorship program. Anna is interested in jurors' perceptions, the thought processes that occur during juror decision-making, how jurors integrate contextual information into their beliefs, and how bias can affect these processes. Anna hopes to design interventions that educate both people who currently work in the legal system and future judges and lawyers about psychological science and scientific evidence.
Jerry Robert Howard, Materials Science and Engineering PhD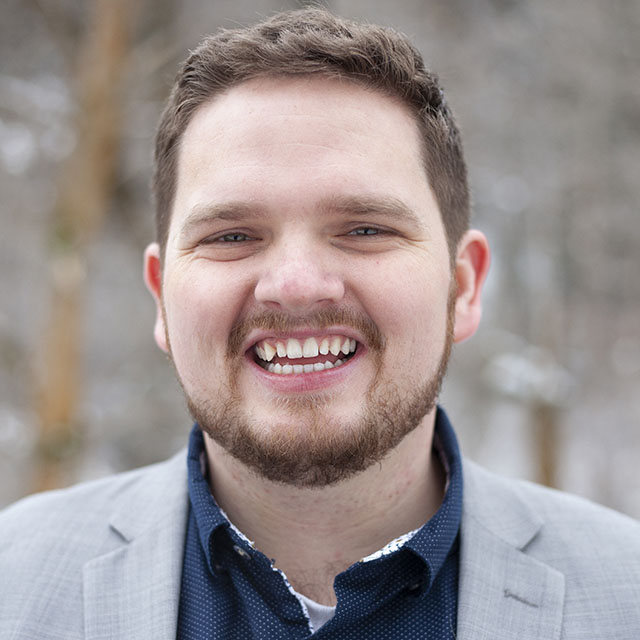 Jerry received a bachelor's degree in Metallurgical Engineering in 2021 from the University of Utah. While at the University of Utah, Jerry received the Oblad Medal of Excellence, which is awarded to the undergraduate student with the top academic achievement in the metallurgy program. He was also chosen as the Outstanding Undergraduate Researcher for the College of Mines and Earth Sciences. In addition to his work as an undergraduate researcher, Jerry received a National Science Foundation research education for an undergraduate fellowship. Jerry's research has already led him to be first-author on two peer-review journal papers. Jerry is passionate about advancing materials for nuclear energy technology and in providing a safe, sustainable source of energy for the future.
Md. Mazharul Islam, Statistics and Data Science PhD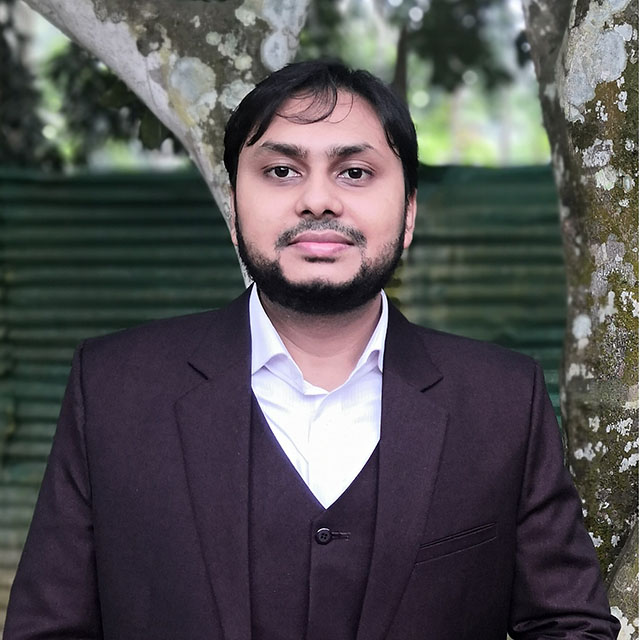 Mazhar completed M.S. in Applied Statistics from the University of Dhaka. He joined International Centre for Diarrhoeal Disease Research, Bangladesh (ICDDR,B) as a Senior Research Assistant and worked on two research projects related to childhood anemia and pneumonia. He later joined National Institute of Mental Health Hospital as a Statistician and worked under a community survey project on common psychiatric disorders. After completing the project successfully, he joined Insightin Technology as a Data Scientist. Then he joined the Bangladesh Institute of Governance and Management as a Research Associate where his research areas included the application of quantitative methods in health outcomes. He also contributed as a program co-director and instructor of data analytics in R and Python training courses there. Mazhar has research background and interest in inferential statistics, biostatistics, machine learning and public health. His M.S. thesis was on survival analysis and part of the thesis work has been published in international peer-reviewed journal where they presented improved inference for Weibull survival model. An R package has been developed from this work and is available at the Comprehensive R Archive Network (CRAN). Mazhar published eight research articles in international peer reviewed journals, attended three conference presentations, achieved two primary research grants and contributed to two R software packages available at CRAN.
Islam, M. M., Islam, M. M., Ahmed, F., & Rumana, A. S. (2021). Creative social media use for Covid-19 prevention in Bangladesh: a structural equation modeling approach. Social Network Analysis and Mining, 11(1), 1-14.
Islam, M. M., Khan, J. R., Kabir, A., Khan, M. Z. R., & Islam, M. M. (2021). Associations of Socio-Demographic and Environmental Factors with the Early Development of Young Children in Bangladesh. International Journal of Early Childhood, 1-22.
Khan, J. R., Awan, N., Islam, M., & Muurlink, O. (2020). Healthcare capacity, health expenditure, and civil society as predictors of COVID-19 case fatalities: a global analysis. Frontiers in public health, 8, 347.
Khan, J. R., Islam, M. M., Biswas, R. K., & Sultana, A. (2020). An assessment of anemia status of child-mother pairs in Bangladesh. Children and Youth Services Review, 112, 104851.
Islam, M. M., Sharmin, M., & Ahmed, F. (2020). Predicting air quality of Dhaka and Sylhet divisions in Bangladesh: a time series modeling approach. Air Quality, Atmosphere & Health, 13(5), 607-615.
Islam, M. M., Khan, M. H. R., & Hawlader, T. (2019). Modified profile likelihood estimation for the Weibull regression models in survival analysis. Communications in Statistics-Theory and Methods, 48(9), 2329-2343.
Khan, J. R., Islam, M. M., Awan, N., & Muurlink, O. (2018). Analysis of low birth weight and its co-variants in Bangladesh based on a sub-sample from nationally representative survey. BMC pediatrics, 18(1), 1-9.
Islam, M. M., Khan, J. R., & Raheem, E. (2017). Bradley-Terry model for assessing the performance of ten ODI cricket teams adjusting for home ground effect. Journal of Data Science, 16, 657-668.
Noah Nieman, Civil and Environmental Engineering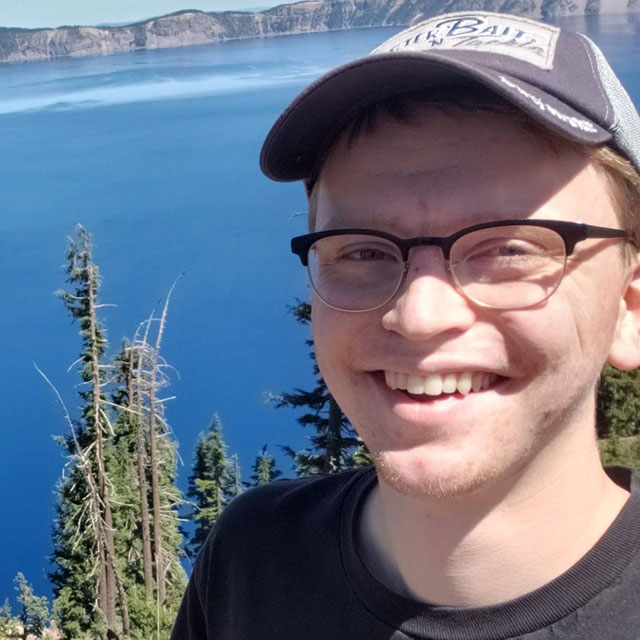 Noah received a B.S. and M.S. in Civil Engineering from the Oregon Institute of Technology (OIT) in 2020. While at OIT, Noah performed novel research into the seismic response modification factor for a steel shipping container wall. Noah has also worked for two years as a structural designer and drafter for PSE consulting engineers and as an engineering technician for SHN Consulting Engineers and Geologists. Noah has a passion for structural design and is particularly interested in the uncertainty quantification of structural failure in a seismic event.
Ivan Celso Carvalho Provinciato, Ecology, Evolution and Conservation Biology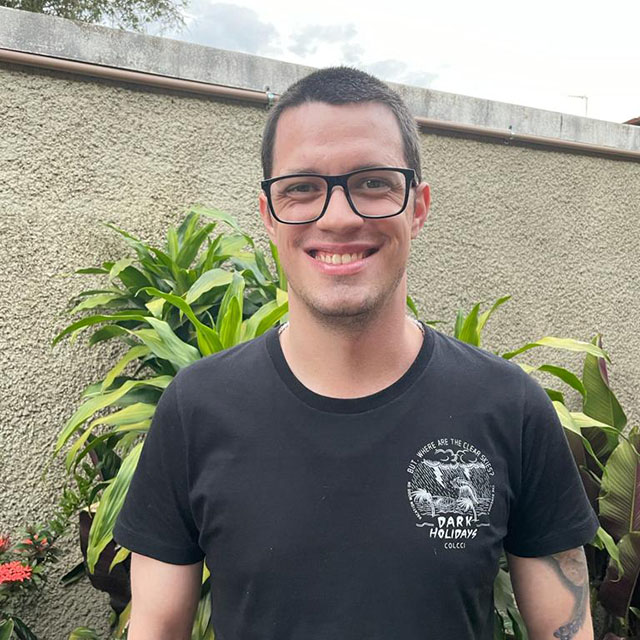 Ivan received an M.S. in Zoology in 2018, a bachelor's, and a licentiate degree in Biology in 2015 from Universidade Estadual Paulista Júlio de Mesquita Filho, Rio Claro, Brazil. During his undergraduate studies, Ivan worked at Alex Jahn's lab, focusing on the relation between wing morphology and migration distance of fork-tailed flycatchers (Tyrannus savana) in South America. In his final undergrad year, Ivan earned a scholarship to attend the Ecology and Conservation of Migratory Birds program in The Smithsonian-Mason School of Conservation in 2015, where he improved field and laboratory methods such as mist-netting and bird banding. During his Masters, besides researching about the annual variation in some hematological parameters in an urban population of the Pale-breasted thrush (Turdus leucomelas), Ivan also instructed undergraduate students on how to capture, bird band and how to take blood samples from bird's ulnar vein. Ivan's work resulted in 2 publications as first author and other 3 as a co-author. His focus now is in how urbanization (especially artificial light at night) impacts urban bird's behavior and physiology.
Rodrigues RC, Hasui É, Assis JC, Pena JC, Muylaert RL, Tonetti VR,..., Provinciato, ICC, et al. 2019. ATLANTIC BIRD TRAITS: a data set of bird morphological traits from the Atlantic forests of South America. ECOLOGY. 2019; v. 100, p. e02647. https://doi.org/10.1002/ecy.2647
Carvalho Provinciato, IC, Araújo, MS, Jahn, AE. Drivers of wing shape in a widespread Neotropical bird: a dual role of sex-specific and migration-related functions. Evolutionary Ecology. 2018; v. 32, p. 379-393. https://doi.org/10.1007/s10682-018-9945-4
Jahn, AE ; Bejarano, V, Guzmán, MB, Brown, LM, Carvalho Provinciato, IC, Cereghetti, J, Cueto, VR, Giraldo, JI, Gómez-Bahamón, V, Husak, MS, Lepage, HK, Macpherson, M, Marini, MÂ, Pizo, MA, Quickle, A, Roeder, DV, Sarasola, JH, Tuero, DT. Molting while breeding? Lessons from New World Tyrannus Flycatchers. Journal of Ornithology. 2017; v. 158, p. 1061-1072. https://doi.org/10.1007/s10336-017-1464-5
Jahn, AE, Seavy, NE, Bejarano, V, Guzman, MB, Provinciato, ICC, Pizo, MA, Macpherson, M. Intra-tropical migration and wintering areas of Fork-tailed Flycatchers (Tyrannus savana) breeding in São Paulo, Brazil. Revista Brasileira de Ornitologia. 2016; v. 24, p. 116- 121. https://doi.org/10.1007/BF03544339
Provinciato, ICC; Pizo, MA. Uso do tempo por duas aves comuns em ambientes urbanos: o bem-te-vi (Pitangus sulphuratus

) e a pomba asa-branca (

Patagioenas picazuro

).

Atualidades Ornitológicas (Online)

. 2014; v. 180, p.