Fulbrighters, those who have been awarded Fulbright fellowships, engage in cutting-edge research and expand their professional networks, often continuing research collaborations started abroad and laying the groundwork for forging future partnerships between institutions. Upon returning to their home countries, institutions, labs and classrooms, they share their stories and often become active supporters of international exchange, inviting foreign scholars to campus and encouraging colleagues and students to go abroad.
The University of Nevada, Reno is proud of the three individuals from our institution who have been awarded U.S. Fulbright Scholar fellowships for the 2023 to 2024 academic year: Dr. Wendy Calvin, Dr. Jenny Ouyang and Ms. Julie Weitz. Each scholar has a unique area of focus and will use their award in a variety of ways.
Wendy Calvin, Ph.D.
Wendy Calvin, Ph.D. will be traveling to Canada for her research. Calvin is a planetary scientist specializing in optical and infrared spectroscopy of minerals and ices. She uses remote sensing data sets, laboratory and field analysis to identify and map the surface composition of solid planets in the solar system, including Earth.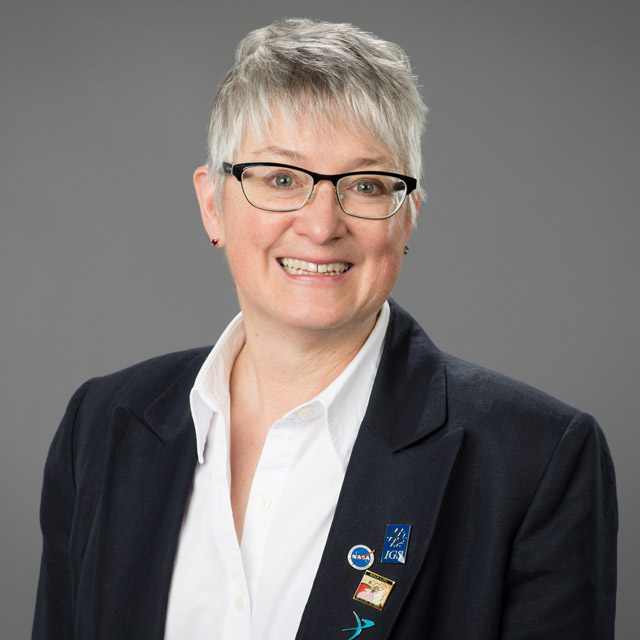 She has been a professor at the University since 2000, serving from 2015 to 2022 as the department chair of the Department of Geological Sciences & Engineering.

Calvin and her master's level student were studying spacecraft data of the Martian south polar cap. The data that researchers have access to from the south polar cap of Mars has been collected from orbit, since one cannot yet land on the polar caps of the planet. No one has successfully sent any spacecraft to the poles of Mars because it is very difficult to accomplish due to the temperature at the surface and the energy expenditures required.
From the orbital signatures of the ice collected, researchers know that the south polar cap of Mars is made of dry ice (carbon dioxide ice), on the upper layer, which is quite unusual. Calvin will be traveling to a colleague's lab in Canada at York University where there is a one-of-a-kind facility capable of condensing ices under Mar's surface conditions. By growing carbon dioxide ice on top of water ice in the lab, the researchers hope to see what the signatures look like to try and mimic the signatures of the orbited spacecraft data collected from Mars. Recreating the ices with similar signatures here on Earth is especially enticing so that researchers can then manipulate and experiment on physical specimens that would be similar to what would be found on the polar caps of Mars.
Calvin will be in Canada for the fall semester, running a number of week-long experiments in the lab to collect data as well as conducting some theoretical calculations and modeling. Calvin looks forward to research collaboration in addition to the experiments she'll be working on, as there are several schools with good planetary programs in the surrounding Canadian area and she hopes to participate as a lecturer in some seminars and guest lectures in the area during her fellowship term.
Calvin is very excited to be selected for the U.S. Fulbright Scholar fellowship among the large number of applicants. She has known about Fulbright fellowships and has been intrigued by international research opportunities for a long time, especially since she had a postdoc Alexander von Humboldt Research fellowship where she traveled to Germany. Calvin finally decided to apply to Fulbright to carry out the experiments at York University during her sabbatical year. She was very drawn to the specific research facility located there, which is uniquely set up to do the experiments she wants to, making writing her proposal straightforward as it is the only place in the world where she can accomplish the research she will be conducting.
Jenny Ouyang, Ph.D.
Jenny Ouyang, Ph.D. will be traveling to Colombia. Ouyang uses natural and laboratory experiments to test how, and at what rate, hormonally regulated traits enable organismal adaptation to changing environments. She has been at the University since 2016 and is an Associate Professor in the Department of Biology.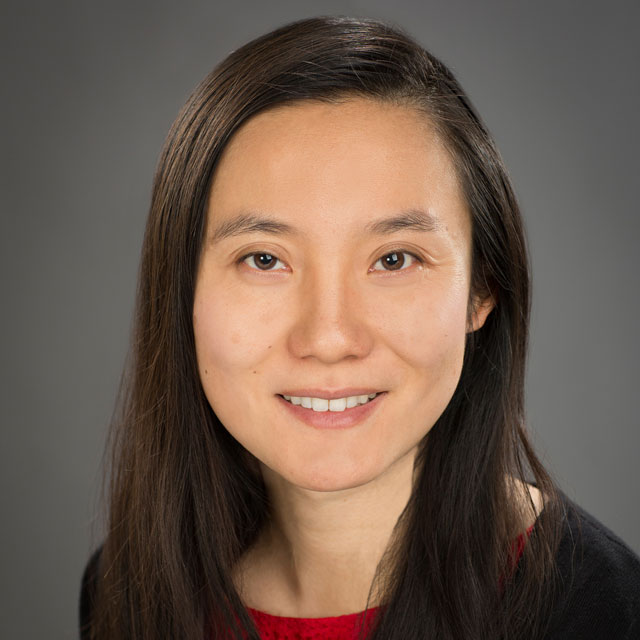 As part of her research, Ouyang examines how animals adapt to changing environments, especially in urban areas, as global urbanization increases. Her Fulbright fellowship is part of her yearlong sabbatical where she'll focus on researching birds, mainly house wrens, in various locations, both rural and urban, across the globe to see if the same behavioral patterns emerge that she has observed here in northern Nevada. The cities she has picked are at similar altitudes, but vary in latitude, history of development, and primary productivity.
Looking at the patterns she's already observed in the Reno/Sparks area, her lab finds that urban animals tend to have elevated glucocorticoid hormones and more risk-taking tendencies, so they are more likely to engage in searching for novel products, likely due to the presence of humans.
Upon completion of her research, she's hoping to find how we can change cities to benefit human and animal health. Ouyang will be examining the effects of pollutants, such as city light, noise and heavy metals to see how we can make cities more livable.
In addition to her research, Ouyang is excited to partake in bird watching since the tropics have some of the highest variety of birds.
"The amount of species you can see in one day there can be what you could see in the U.S. in about a year!" Ouyang said.
She will also be fostering international collaborations, mentoring students, giving seminars and networking with other universities, not to mention the incredible food she is excited to try and the culture she's eager to experience and learn more about.
"I value international experiences," Ouyang said. "My field work for my Ph.D. was in Germany and my NSF postdoc was in the Netherlands. My husband is from Italy. Whenever I go to a new place, it opens my mind to a new way of doing science, keeping things fresh and exciting, expanding on research creativity."
Ms. Julie Weitz
Julie Weitz will be traveling to Poland. According to her website, Weitz is a Los Angeles-based visual artist whose performance art practice responds to local surroundings with an attuned sensory awareness of ecological and historical context. Working across film, performance art, installation, drawing, and photography, Weitz synthesizes elements from Yiddish folktales, feminist performance art, clowning, and silent film to make powerful, and often political statements about the world and the project of humanity's survival.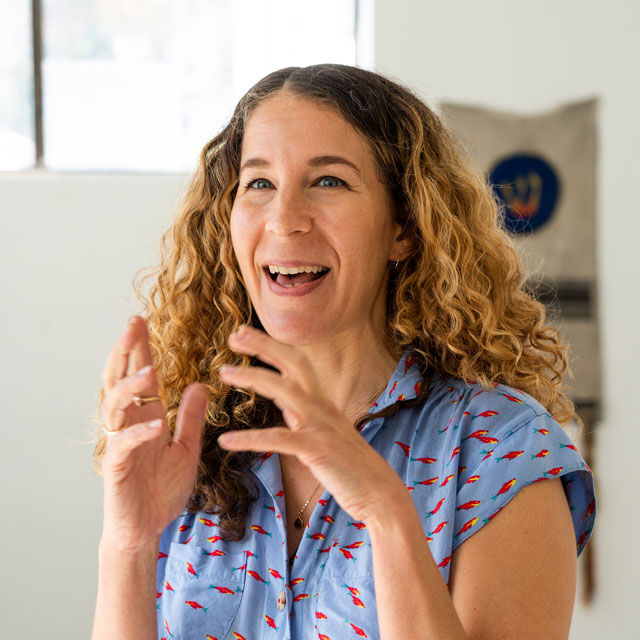 Weitz's artwork has been featured in Artforum, Art in America, The Los Angeles Times, The New York Times, BOMB and Hyperallergic. Her solo exhibition GOLEM: A Call to Action debuted at the Contemporary Jewish Museum in San Francisco, CA in 2021-2022.

Weitz has been teaching and mentoring as part of the University of Nevada, Reno's Low Residency MFA in Interdisciplinary Arts program for about seven years. The MFA-IA program was founded at Sierra Nevada College and acquired by the University of Nevada, Reno in 2021.
"It's a fantastic and unique program. There's a real sense of connection and resonance with the community because it's ten days of living and working together, so the faculty and students get connected in the working process in the summer and winter," Weitz said.
With the transition to becoming the University of Nevada, Reno at Lake Tahoe MFA low residency program based in Lake Tahoe, Weitz recognizes the unique positioning the hybrid program now offers to ground artists in the landscape of Lake Tahoe while focusing on the ripe, artistic space to develop new ideas as artists, embodying themselves in place.
"This program offers access to an MFA degree without the need to relocate in order to complete it, which opens it up to many students in various situations," Weitz said. "Like adults who are already established in their careers and cannot take years off in order to complete a degree or students with families who can't relocate their entire family for them to attend school."
In Poland for her Fulbright fellowship, Weitz will be staging site specific performances as different Yiddish folklore characters in the places where it once flourished prior to the Holocaust. By doing so, Weitz will be reclaiming Yiddish culture and representing it to the Polish communities, revitalizing it for many. The film and performance art project is called Doikayt (Hereness) and is a performance art project and film exploring themes of loss and healing through a diasporic lens. You can learn more about the project on the artwork section of Weitz's website.
Poland is a special place for Weitz and she's very honored to receive a Fulbright fellowship to go there. Her great grandparents are from Poland, so on a personal note she will be reconnecting with her ancestors in those lands to help her understand what their lives were like and to give herself space to mourn, feeling the shared sense of loss and displacement. She will be working with the local Polish communities to develop the performances, creating space for everyone to reconnect, heal, and revitalize.
Last summer she was doing research and kept encountering Fulbrighters who encouraged her to apply. Though she didn't know that artists could apply, she is thrilled to have gone through the process and been awarded a fellowship, as she is both an artist and an academic. This program is very supportive and offers the unique chance to develop her work and conduct research around cultural reconciliation and understanding. She is honored to serve as a cultural ambassador for the U.S. in the lands that she has a deep ancestral connection to.
The University's Fulbright Scholar support
The Northern Nevada International Center (NNIC) has been instrumental in assisting each of these awardees through the process of applying for and now receiving their Fulbright Scholar award.
Adilia Ross is the assistant director of the Office of International Students and Scholars and acts as the incoming Fulbright liaison who works with incoming scholars, both students and faculty. Ross helps to hold orientation and information sessions including an event in November during International Education Week.
Carina Black is executive director of the NNIC and acts as the outgoing Fulbright liaison who works with the University's outgoing Fulbrighters. She helps applicants to translate their applications into "Fulbright" language, delicately tailoring it to be written the way that the Fulbright Scholar program would like to see it. Jason Ludden is the outgoing Fulbright student advisor and helps outgoing Fulbright student scholars.
Both the OISS and the NNIC would love to increase the total number of both incoming and outgoing Fulbright scholars here through the University of Nevada, Reno and both offices work diligently to assist Fulbrighters and potential Fulbrighters to create and experience successful international research and engagement opportunities. There are over a dozen Fulbright opportunities for people in all stages of their careers.
More than 800 U.S. scholars (faculty members, artists, and professionals from all backgrounds) teach or conduct research overseas through the Fulbright U.S. Scholar Program annually. In addition, over 2,000 U.S. students, artists, and early career professionals from all backgrounds in more than 100 different fields of study receive Fulbright U.S. Student Program awards annually to study, teach English, and conduct research overseas.
The Fulbright Program is the U.S. government's flagship international educational exchange program and is supported by the people of the United States and partner countries around the world. The Fulbright Program is funded through an annual appropriation made by the U.S. Congress to the U.S. Department of State's Bureau of Educational and Cultural Affairs. Participating governments and host institutions, corporations, and foundations around the world also provide direct and indirect support to the Program. In the United States, the Institute of International Education supports the implementation of the Fulbright U.S. Student and Scholar Programs on behalf of the U.S. Department of State, including conducting an annual competition for the scholarships.
Visit the official Fulbright Program website for more information.