Camp activities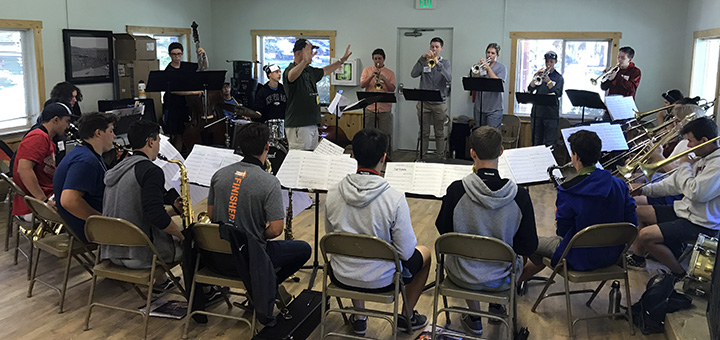 Campers have the opportunity to participate in concert bands, jazz bands and a variety of wind and percussion chamber ensembles during an action-packed week of rehearsals, clinics and concerts. (All campers are required to participate in a concert band). Evening activities include faculty and student recitals, clinics and performances by the University of Nevada, Reno music faculty and a variety of recreational and team-building activities. Students will receive small group instruction and optional private lessons from outstanding northern Nevada music educators and they will perform in ensembles under the direction of some of the finest music educators in the country.
Talent show
There will not be a Talent Show for the Middle School session. The High School Talent Show will be held on June 30. All talent show audition videos must be submitted by Monday, June 21. Instructions for how to submit videos will be provided to all registered campers prior to this deadline. The talent show will feature the finest student musicians at Lake Tahoe Music Camp. Campers wishing to perform must audition for the camp director during recreation time on the Monday of camp. Sign-up sheets will be available beginning Sunday at dinner time.
You must bring an accompaniment CD or piano accompaniment for the staff accompanist to play for your presentation. Piano accompaniment for solos must be emailed to ltmc@unr.edu at least two weeks before camp.
The talent show will have a judging component. Winners will be announced and will receive scholarships (full or partial scholarships) to next year's Lake Tahoe Music Camp.
All-camp concert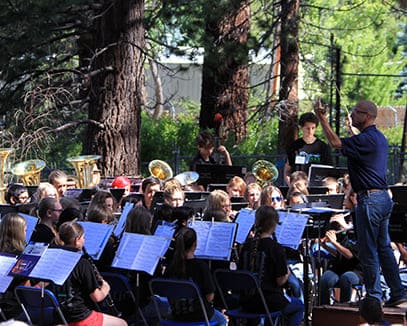 The All-Camp Concert will take place on June 29th for the Middle School session and July 3rd for High School session. Each concert begins at 9:30 a.m. and ends around 10:45 a.m. The concert, featuring campers and staff, is open to family members and legal guardians. This year pre-registration will be required to ensure we remain under the state's mandated maximum number for safe gatherings. More information about pre-registration will be sent prior to camp. Families will be allowed to bring two adults per camper to the concert (no limit on kids under 18), will need to bring their own chairs (low-back lawn chairs) and will be required to wear masks at all times while on camp grounds. No eating is permitted during the final camp concert. All will be asked and expected to physically distance from those outside their family while on camp grounds. Seating will be spaced so family groups are at least six feet from each other. Cars will be parked in a way that will spread people out once the concert is concluded. The gate to camp will open at 8:15 a.m. and pre-registered families will be able to enter at that time. Refrain from lining up at the gate before the opening of the gate. Campers are free to leave at the conclusion of the concert. All must exit campgrounds by 11 a.m.
Sample daily camp schedule
6 a.m.: Wake up
7 - 7:45 a.m.: Breakfast
7:50 - 11:45 a.m.: Music activity, practice, lesson or sectional depending on track
11:50 a.m. - 12:45 p.m.: Lunch
12:50 - 1:25 p.m.: Chamber ensembles
1:30 - 3:45 p.m.: Rehearsals or afternoon activities depending on track
3:50 - 5:50 p.m.: Recreational activities
6 - 6:45 p.m.: Dinner
6:45 - 7:15 p.m.: Cabin activities
7:15 - 9:15 p.m.: Evening activities
9:45 p.m.: All campers must be in cabins
10 p.m.: Lights out and quiet