Mentoring mentors
Every fall semester, the Graduate School at the University of Nevada, Reno hosts two, 2-hour Faculty "Mentoring Mentors" workshops open to all academic faculty, postdocs and other faculty with mentoring responsibilities. Workshops are 4-5 hours long, and offer the opportunity to discuss mentoring with faculty peers. Establishing an ongoing, supportive network of faculty mentors is a key function of this initial workshop. Nine of 10 of past faculty attendees found the workshops to be a productive use of time and would recommend the workshops to other faculty.
Topics covered in these workshops include: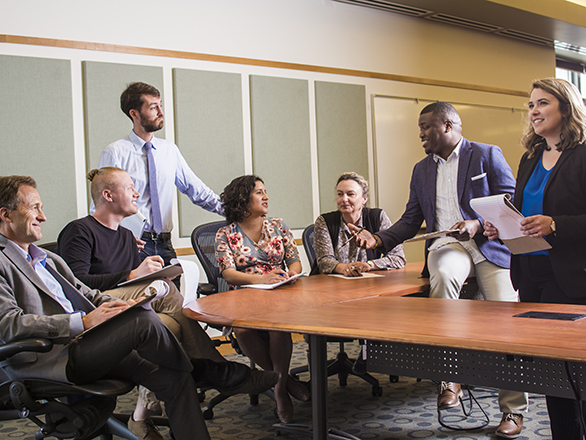 Aligning expectations
Fostering independence
Maintaining effective communication
Navigating common mentee-mentor conflicts
Equity and diversity
We are currently monitoring the COVID-19 situation and will have registration information available soon.
Trained faculty mentor facilitators
Our faculty hosts are trained in evidence-based mentoring practices through the Center for Improvement of Mentored Experiences in Research (CIMER), an NSF, HHMI funded program at University of Wisconsin Madison. CIMER resources are also available through the National Research Mentoring Network (NRMN), of which our University is a member.
Mentor/mentee resources
Effective research mentoring relationships are critical to developing the next generation of researchers. Learn how to improve these relationships at all career stages and promote cultural change that values excellence in research mentoring as a critical aspect of diversifying the research workforce.
The University of Nevada, Reno is a member institution of the NCFDD, an organization offering professional development, training, and mentoring resources to faculty members, post-doctoral fellows and graduate students at colleges and universities across the country.
The Individual Development Plan (IDP) is a document designed to guide mentees (traditionally postdocs, but graduate students will find the material valuable as well) toward an independent career. Completing and sharing an IDP between a mentee and advisor allows open discussion of goals, development of a plan for success and handle challenges that arise.