About our College
A founding college of the University, we have a long tradition of excellence in teaching, research and engagement programs that benefit the health and economic vitality of Nevada. We offer programs in:
agriculture, horticulture, rangeland & veterinary sciences
biochemistry & molecular biology
children, youth & families
community & economic development
health & nutrition
natural resources & environmental science
Nevada 4-H partners with AmeriCorps to bring opportunities to inner-city youth
Extension aims to make post-secondary education a reality for underserved Las Vegas youth
Claudene Wharton
Extension has been awarded a $280,000 AmeriCorps Program grant to expand its Nevada 4-H Youth Development Program in Clark County to engage more youth in underserved, inner-city areas of Las Vegas in STEM, civic engagement and other activities aimed at equipping the youth to successfully attend and complete some form of post-secondary education.
The grant will fund the 4-H Grows Here Project in Clark County, using AmeriCorps members recruited from the community to engage youth, and create and sustain 4-H clubs in the inner city aimed at youth ages 5-19, with an emphasis on low-income and middle school-aged youth, and youth of color.
AmeriCorps members will serve in various capacities to support the youth development program – building community relationships, educating youth in STEM or other skills, or serving as 4-H club leaders. Together, they will be responsible for educating 3,000 youth through workshops, and then transitioning at least half of them for longer-term 4-H club programs. Once active in 4-H clubs, youth will complete 4-H curriculum related to computer science, robotics, chemistry, rocketry, drones, eco-science and other STEM subjects. Finally, the youth will select and complete a project that incorporates what they have learned to address a community need or solve a problem.
Extension Director Ivory W. Lyles said, "Expanding the reach of 4-H to inner-city youth will create more true leaders who are prepared and engaged to take on critical challenges facing families, communities and businesses today."
Growing leadership, citizenship and life skills
4-H is a community of young people across America. Members learn life skills, make new friends, enhance self-esteem, achieve personal goals, develop positive relationships with peers and volunteers, and have fun learning and sharing as a family and a club.
New agricultural research and Extension center begins operations
Eureka County ranch to expand offerings of University's Experiment Station
Mike Wolterbeek
Our College's new Great Basin Research & Extension Center in Eureka County has begun operations in a new initiative for rural Nevada. The enterprise will address the related issues of sustainable grazing management of dryland rangelands, livestock, crop production under water-limited environments, and alternative water and irrigation strategies for crop production.
"This operation will address real world problems through research and Extension – providing useful knowledge to the ranchers and farmers of Nevada," Bill Payne, dean of the College, said. "It's also a Nevada showcase, as much of the world looks like this, and the knowledge we generate here will be useful throughout drylands of the world."
The initiative, overseen by our College's Experiment Station, is spearheaded on a 644-acre ranch in Diamond Valley near the town of Eureka, along with several grazing permits on nearby Bureau of Land Management lands.
Interim Center Director & Extension Educator Gary McCuin, said, "I am excited and intrigued by the potential that this Center has to help us meet the mission of this land-grant institution, and the needs of our producers."
Contributing knowledge & meeting needs
"Ranchers and farmers have unique challenges and problems that our research faculty can help them address and solve. This fits exactly into the goals of the Experiment Station – contributing knowledge and meeting stakeholders' needs." -Associate Dean for Research & Experiment Station Director Chris Pritsos
University recognizes impact of current and future agriculture teachers in week-long virtual celebration
NevadaTeach Agricultural Science Program hosts National Teach Ag festivities
Ashley Andrews
Our NevadaTeach Agricultural Science Program offers students dual degrees in secondary education and agricultural science. It's the first program, and now one of only two in the nation, to provide students the opportunity to earn these two degrees. It's designed to promote student success and develop high-quality teachers for Nevada.
There are 18 students currently in the program, and there are five alumni of the program.
To celebrate National Teach Ag Week Sept. 14-18 and National Teach Ag Day Sept. 17, Program Peer Mentor Noah Walls interviewed agricultural science teachers. Some are teaching in Nevada, and some are seniors in our NevadaTeach Program. Here is what they had to say.
I help students find their passion
"Teaching ag is about helping students find their voice and their passion, as well as helping them become premier leaders in our community, and I can't wait to have a hand in making that happen!" -Ally Protani, senior agricultural science student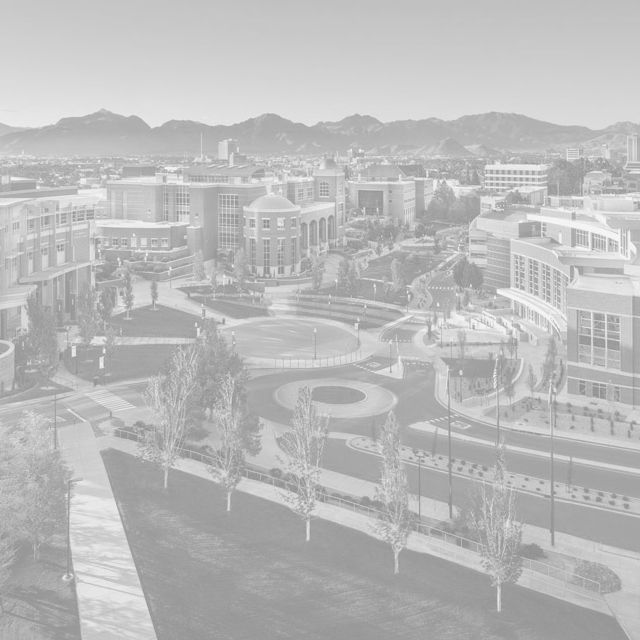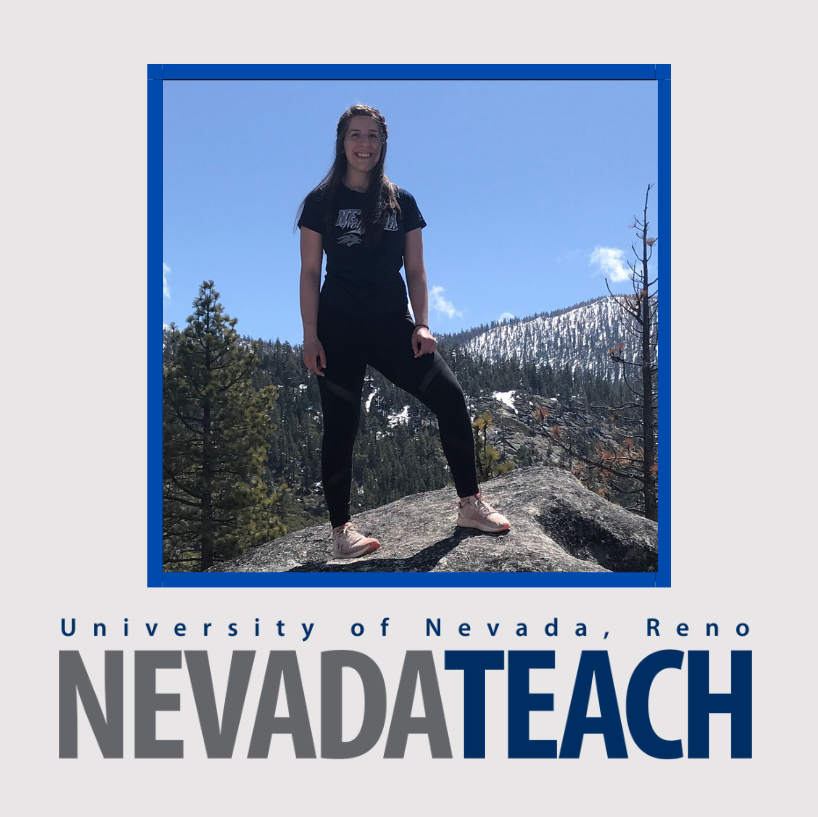 I build outstanding leaders
"As an ag teacher, it is my duty to show our students what outstanding leadership skills look like and to help them develop their own." -Melissa Jones, senior agricultural science student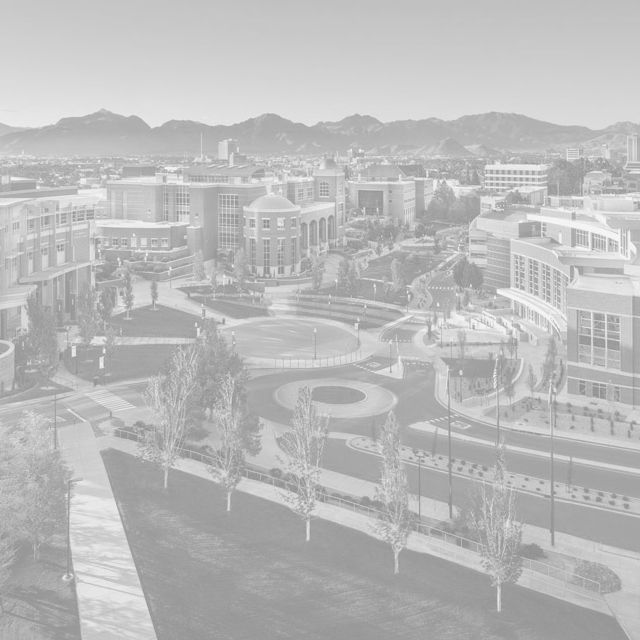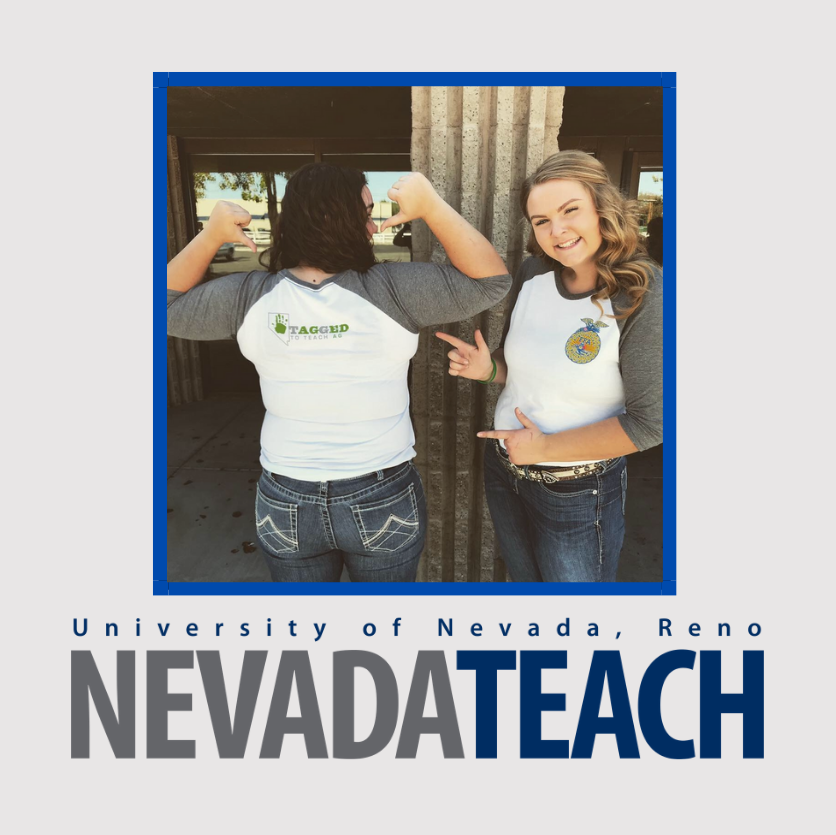 I believe in agriculture
"I want to ensure our population knows where and how food is produced, and how we can use science. I believe in the future of agriculture, and I see it as my job to ensure that others do as well." -Noah Walls, senior agricultural science student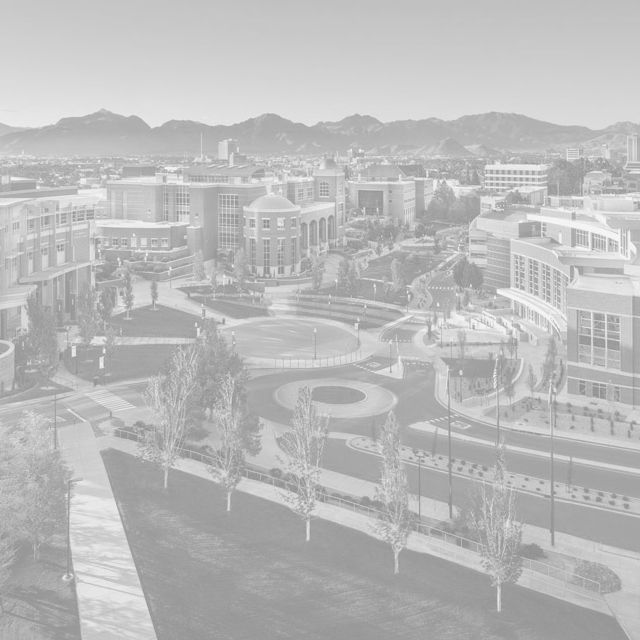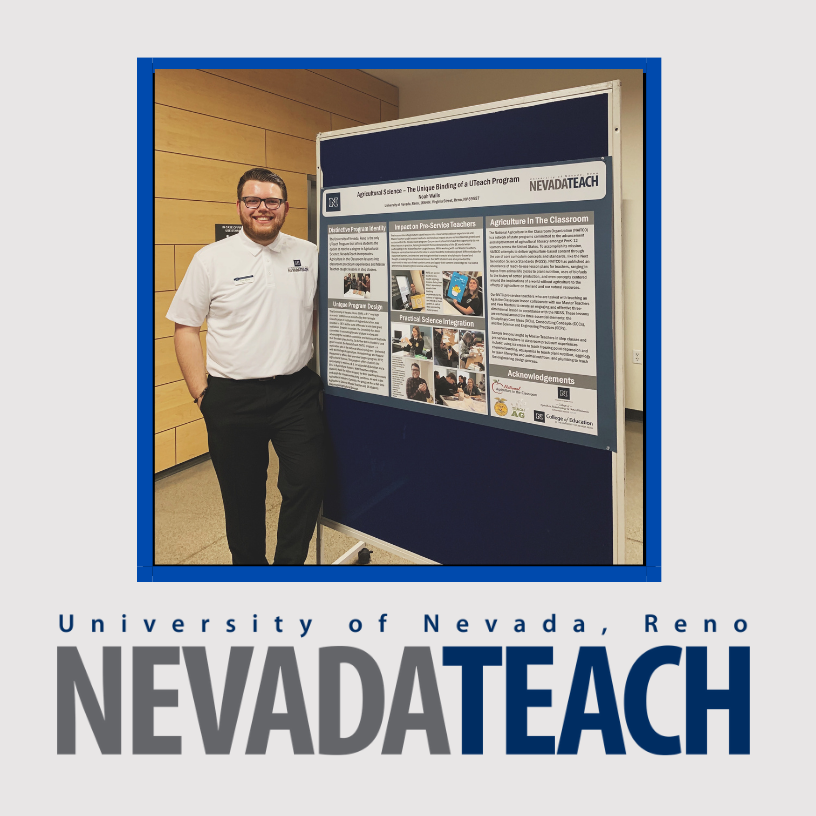 I improve and grow agriculture
"Being able to help others learn about how agriculture is in all aspects of our lives and how we are able to improve and grow agriculture is inspiring!" -Rosealee Rieman, senior agricultural science student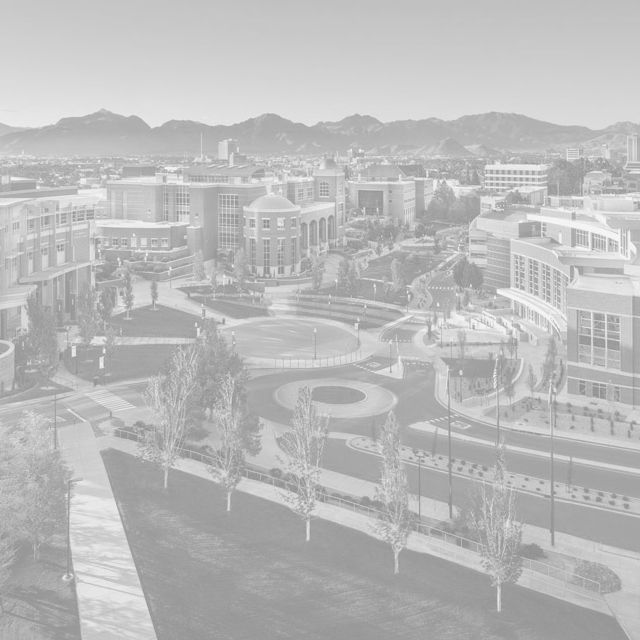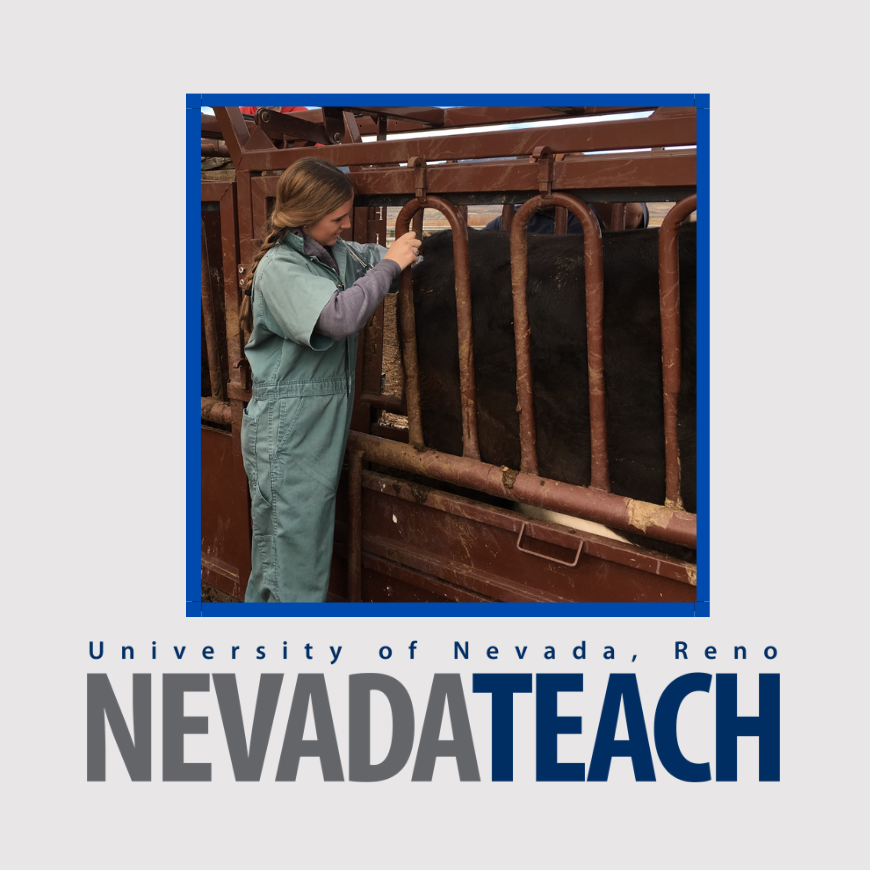 Growing Nevada's teachers
Graduating from NevadaTeach provides students with all of the coursework to pursue a teaching license at the middle or high school level, while earning a comprehensive and marketable degree in a STEM discipline. It opens the door to a world of career options while helping to improve education in Nevada.
Extension-trained Las Vegas teacher honored by the Council for Professional Recognition
Cedric Bell receives special recognition as one of the top 10 men in early childhood education
CounciLINK
Cedric Bell is a perfect fit for the early childhood profession, though he didn't begin teaching until he was nearly 40 years old.
"In 2009, my youngest son was on the way," he said, "so I decided it was time to stay home and watch my kids grow up. I joined the PTA and volunteered at the Boys and Girls Club as a basketball coach for 3- and 4-year-olds."
Acelero Learning, a local Head Start center, was right behind the Boys and Girls Club, which led Cedric to have a life-changing encounter about two years ago.
"I happened to be coaching the son of the center's director, who saw how good I was with children. She said, 'You've been here two or three years, and you'd fit right in over at Acelero. You just have to get your Child Development Associate® (CDA) credential.' So, I signed up for the course at the at the University of Nevada and began working at Acelero as a floater. I just got done with the CDA this May, in the midst of the pandemic, and I'm now an assistant teacher."
The course and credential helped Cedric up his game.
"The CDA made me a better teacher," he said. "It helped me understand why I was doing things a certain way... I learned more about how to approach certain kids and how to bridge the language barrier with kids who don't speak English. It's made me want to go on in school and earn my [bachelor's degree] so I can be a lead teacher."
Helping teachers help Nevada's children
"I love watching children progress from not being able to write their names to knowing the alphabet and counting. As you work with them throughout the year, you see that progress, and that makes me feel good." -Cedric Bell
University provides free resources for businesses
Extension providing free webinars and interactive townhalls
Mary Jane Belleza
In partnership with community organizations, Extension is providing free webinars and interactive town halls. Business owners can now learn more about organizing their financials, marketing and social media, and how to apply for grants and loans available.
"There was a lot of misinformation out there and lots of scared business owners when COVID hit," Extension Research Associate Michael Bindrup said. "Especially when businesses were deemed unnecessary and were shut down. So many businesses reached out to us in this time of uncertainty."
Growing businesses & entrepreneurs
"We want to see business owners and entrepreneurs grow, thrive and survive this pandemic because right now surviving this economic situation is a synonym for success." -Extension Business Development Instructor Juan Salas
Growing a stronger Nevada
Our programs work together to make an impact
Our teaching, research and engagement programs are intertwined and complement one another. Faculty who teach on campus also conduct research as part of our Experiment Station, allowing students to learn about and participate in research. Extension faculty engaging with communities identify research needs, as well as join Experiment Station faculty to conduct research. Faculty on campus help to develop Extension programs in communities.
Researching critical issues
Experiment Station faculty conduct research at experiment stations, labs and research facilities across the state, as well as teach classes and share and conduct research with students. The state-federal partnership tackles issues affecting Nevada's citizens, communities and economy.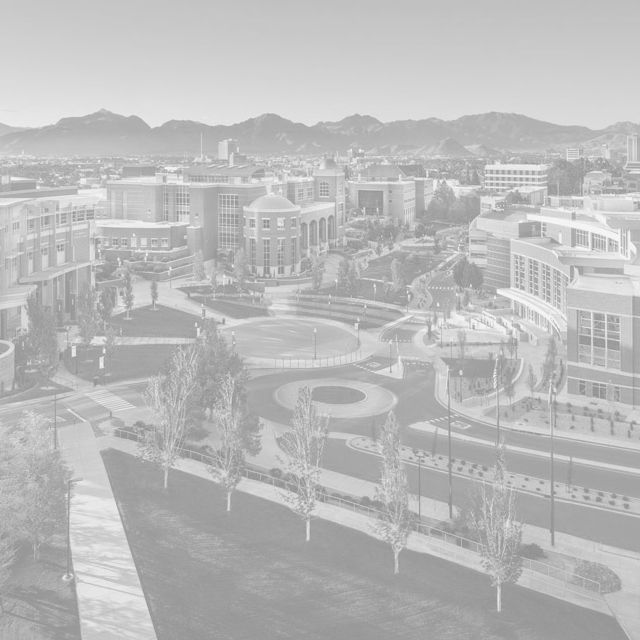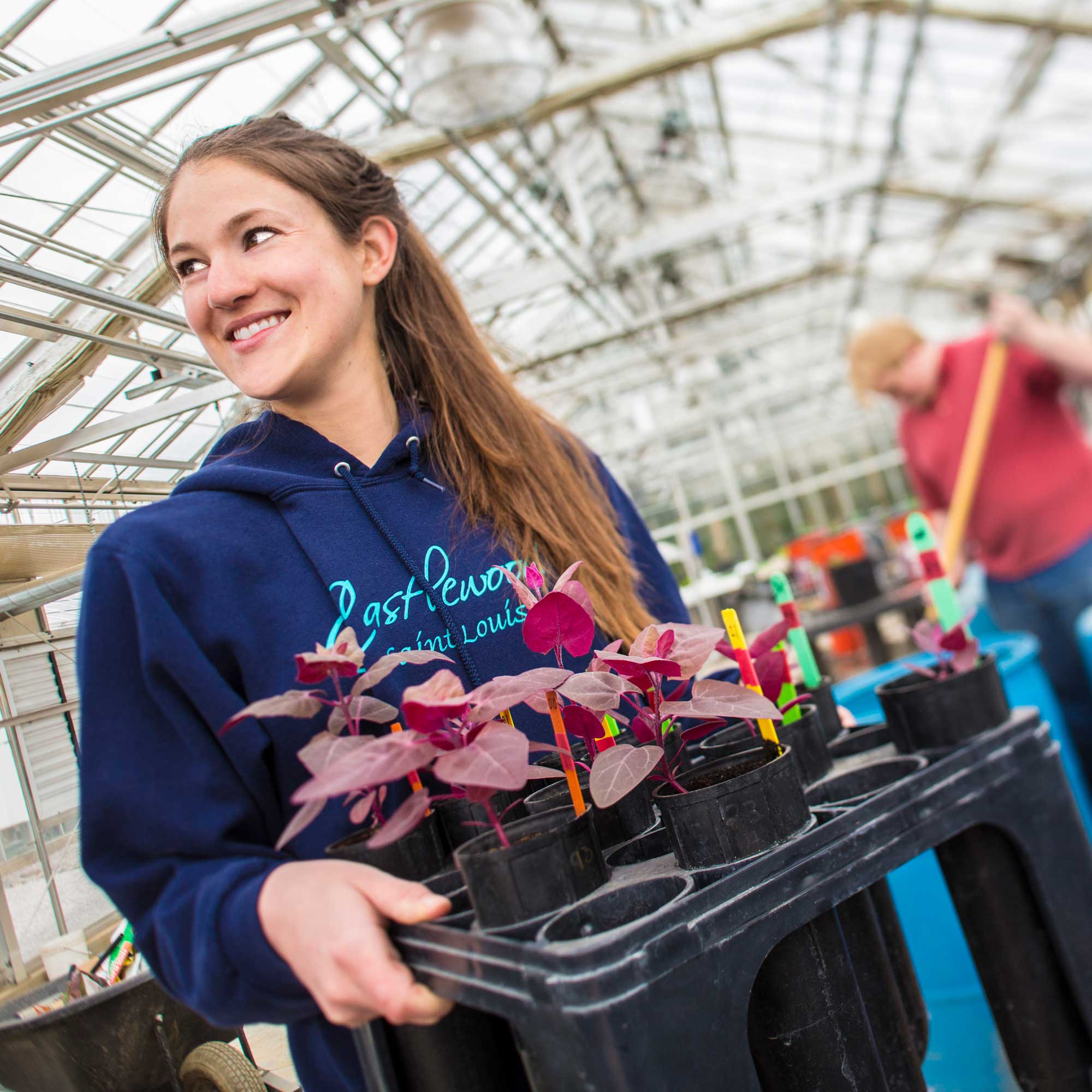 Teaching University students
We offer 17 undergraduate and graduate degrees to prepare students for high-paying, in-demand careers in agriculture, rangeland & veterinary sciences; biochemistry & molecular biology; natural resources & environmental science; and nutrition.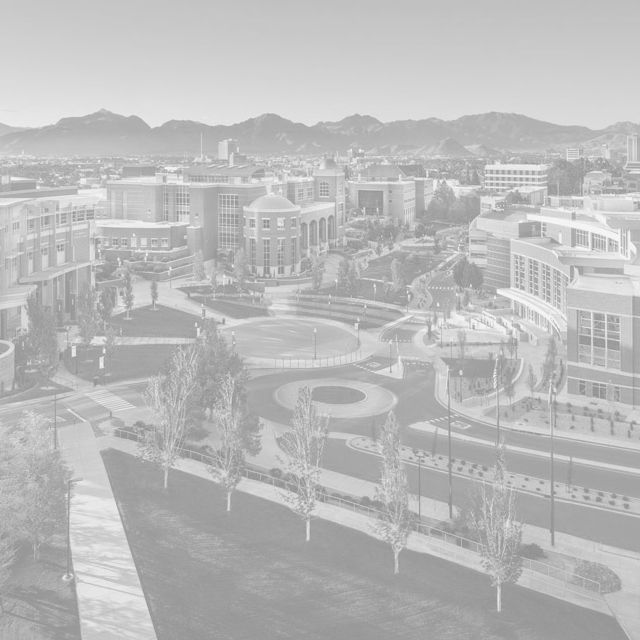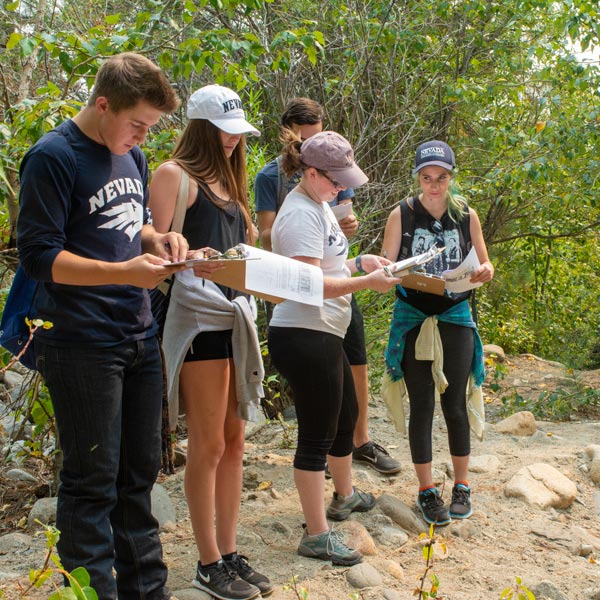 Engaging Nevada communities
Extension is engaged in Nevada communities, presenting research-based knowledge to address critical community needs. The county-state-federal partnership provides practical education to people, businesses and communities, fulfilling the University's land-grant mission.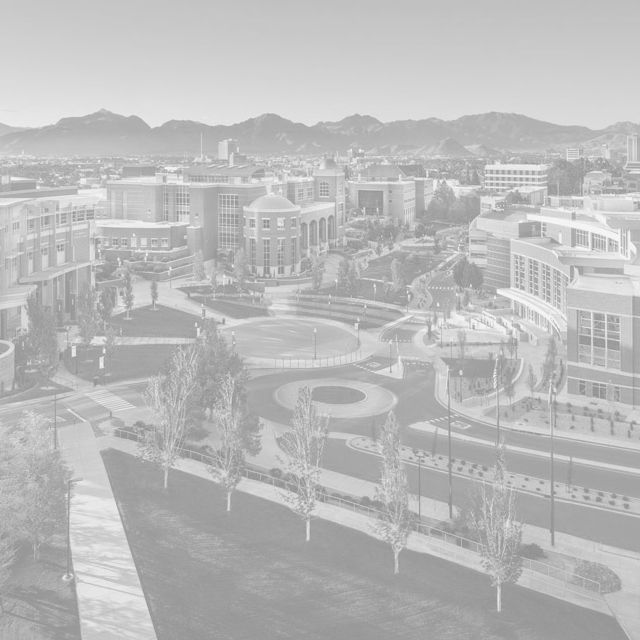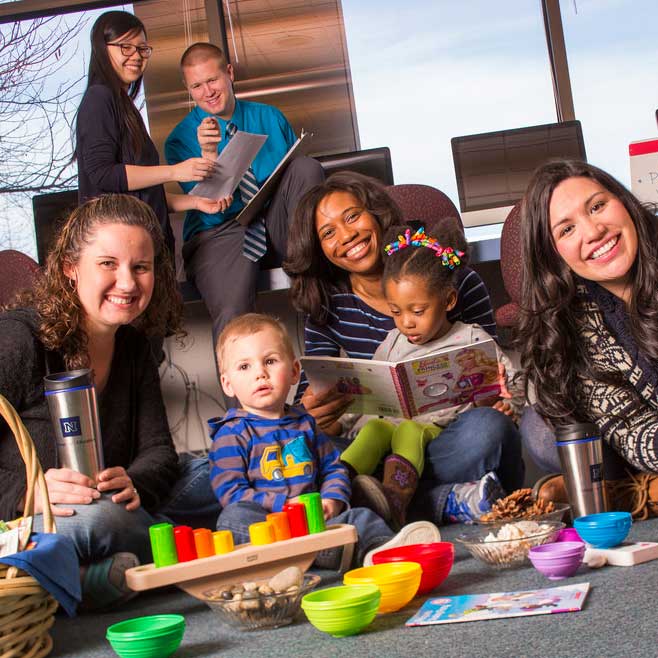 Want to help grow Nevada?
Consider making a contribution in support of classroom, lab or office space; graduate assistantships; student scholarships; or upgrades to the Nevada 4-H Camp. To learn more, please contact Mitch Klaich '02, director of development, at 775-682-6490.