First-Generation Stories
Learn about our first-generation faculty, staff, alumni and students at the College of Science and see how their experiences shaped them.
Meet Caitlin Strickland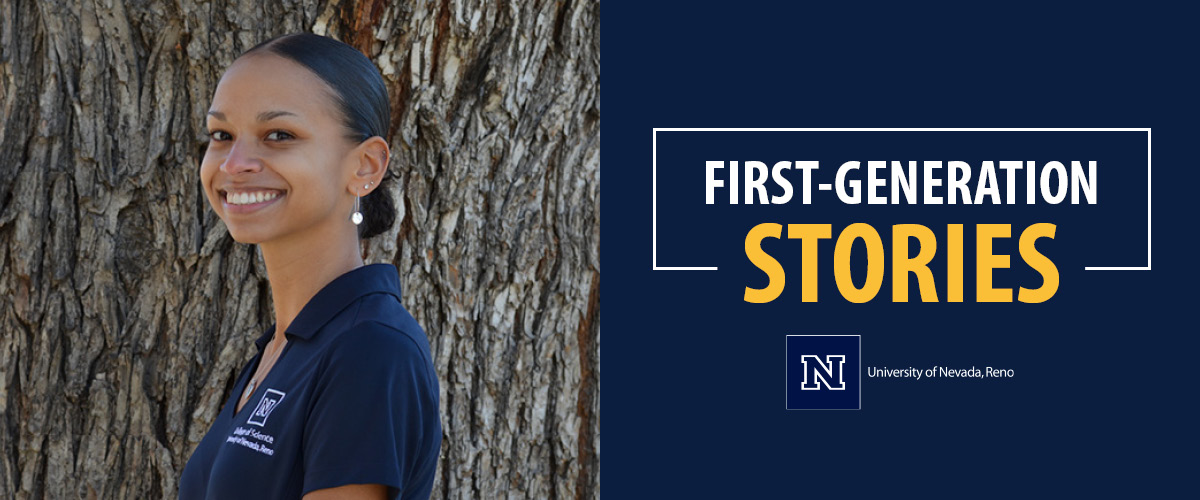 My name is Caitlin Strickland, and I am the first in my family to receive a college degree. I attended Elon University in North Carolina, and received my bachelor's degree in History, with Secondary Education Teaching Licensure. While I was in high school, my mother found it beneficial for me to apply to a college readiness program that was geared toward low-income, first-generation students and families. This program not only assisted us from our sophomore year of high school onward, but it also allowed us to receive support up until the day of our respective college graduation(s). This community-based organization runs workshops with students and families, are available during the school day, and also assist with fees for things such as transcripts, semester book fees, and other necessary (additional) expenses while in college. Evanston Scholars also provided each student with a mentor for the 6.5-year duration of the program. This program gave students and families a sense of community and great support, as this is a new, and often complicated, process for many families who are unfamiliar with the college process. The first-generation experience in college can look and feel extremely disorienting but finding those around you with similar backgrounds and experiences can offer comfort and guidance in "learning the unknown". I have always had a passion for working with under-and misrepresented student populations, and personally being first-generation student has allowed me to make meaningful connections with others both during and after my collegiate experience. Golden Scholars allows students to make these connections, and construct the support system that they desire, in order to be successful in their college years.
Meet Mick Hitchcock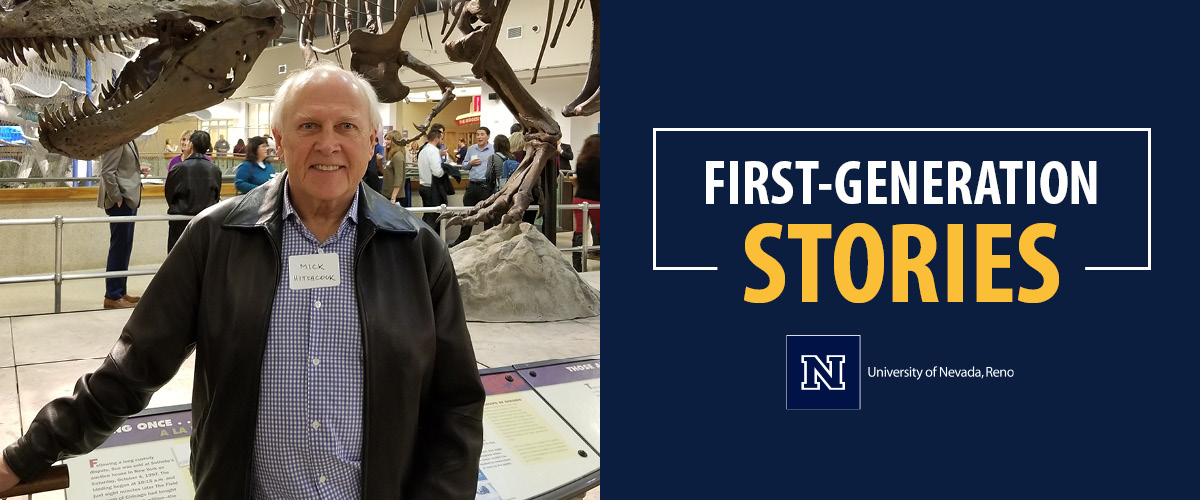 My name is Mick Hitchcock and I am on the College of Science Advisory Council.
I am a first-generation student from a working class family in England, and the only one of 3 brothers that went to University. I had always been inquisitive, taking things apart and putting them back together to find out how they worked. But my initial inspiration for education came from a high school headmaster who convinced me to skip a year so I could potentially go to University a year early. Then while at University, studying biochemistry, the lecturers and professors taught me how to question the interpretation of experiments, and how to design new experiments to provide support for the new ideas.
I found this interesting and so with these thoughts in mind, I decided to have a go at Graduate school. Unfortunately, the score of my undergraduate degree was not adequate for scholarship funding, so I had to find the finances to support myself. I was offered a lab teaching position, and I supplemented the minimal income with what is now called gig work (bartender, van driver, construction). This enabled me to start grad school. Later, after receiving a Master's degree, I was able to get a scholarship and go onto to get a Ph.D. in microbiology (in Melbourne, Australia).
I then (on the recommendation of a grad student in the lab underneath mine) came to the US and did post-doctoral work at Georgetown University, where my boss was Dr. Edward Katz. Katz had studied under Selman Waksman, the discoverer of aminoglycosides (a new type of antibiotic). I became interested in antibiotics and the pharmaceutical industry; I interviewed for several positions, but nothing came through.But the money was running out and I needed to do something. So, I interviewed at NIH (on the recommendation of a Georgetown grad student who had got her Ph.D. and was now working there). They wanted someone to work on a virology project that was attempting to clone interferon for its potential use as an antiviral agent. I had never worked with viruses or tissue culture, but I had taken a virology course at Georgetown and was willing to learn. So, they gave me the position and I worked with viruses and tissue culture and we isolated the messenger RNA that was to become the precursor of the cloned material.
From there, I was recommended for a position at a pharmaceutical company (Bristol-Myers) by a graduate I had worked with at Georgetown who was now at that company. I worked initially on antibiotics and developed new methods for evaluation of promising compounds. Later I switched to working on antiviral compounds with a Medicinal Chemist that had been hired (John Martin). We worked on compounds to treat diseases caused by herpes and then HIV. The program made some good progress with didanosine and stavudine, two early HIV drugs being developed and approved for market by the FDA. We also had interest in a group of compounds Bristol in-licensed from Europe, known as acyclic nucleoside phosphonates (ANPs), and were progressing our evaluation of these compounds.
What seemed to us a sudden change in the landscape happened when Bristol-Myers decided to merge with Squibb. Squibb had their own antiviral program, did not like ours, and halted the work. This resulted in the European inventors reclaiming their intellectual property on the ANPs. Meanwhile, John Martin had seen the writing on the wall and had left Bristol-Myers to become the head of R&D at Gilead. At that point, Gilead was a small biotech company with 40 people and no drugs and no revenue. John decided to bring the ANPs to Gilead, and when the dust settled, he asked me to join the company. We then went on to build the company (John became CEO), develop the ANPs into useful drugs, buy some other companies and have a global impact on treatment of a number of diseases (HIV, hepatitis B and C, influenza, Covid-19).
My career advice to students is build a network. All four of the positions I took after graduate school came about because of someone I had worked with previously recommending me for the position. But it is not just "who you know". It is who you know and how much they know about your capabilities and character. There are also ups and downs, so don't give up. Bristol-Myers merging with Squibb seemed like a low point at the time. However, it ultimately led to me joining Gilead and having a very successful career.
Meet Maria Fernanda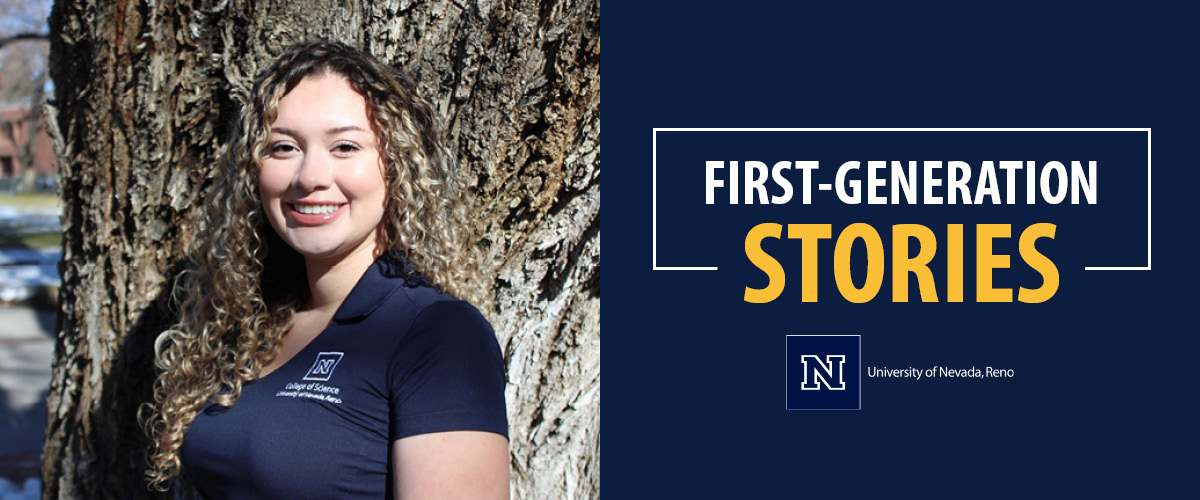 Hi, my name is Maria Fernanda, and I am a proud first-generation college graduate Latina! I moved to the United States from Nicaragua when I was 15 years old. I started my college experience at WNC and then I transferred to the University of Nevada Reno where I earned my Bachelor of Arts and Master's degree. As a first generation in a completely new country, I faced situations of uncertainty and moments where I asked myself if I could make it, not to mention the financial burden on my parents who left everything in their home country so that I could have better opportunities. Thanks to their unconditional support, as well as the support from classmates which whom I was able to build friendships, and professors I was able to successfully complete my undergraduate studies. Right after graduating I began my graduate studies where I was granted a Graduate Teaching Assistantship which gave me the opportunity to teach in the university setting and become part of that support system I needed for new students. I hope Golden Scholars provides a place where first generation students can build connections with others that might be facing a similar situation as them and allow them to achieve their academic and personal goals.
Meet Simon Poulson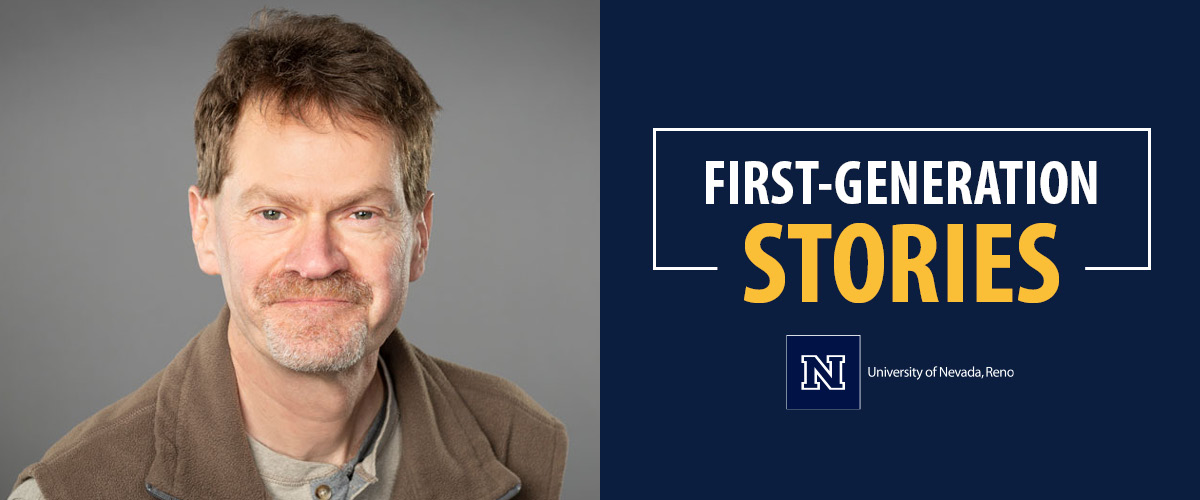 Hi! I'm Simon Poulson, a faculty member in the Dept. of Geological Sciences & Engineering at the University of Nevada, Reno, and I was a first-generation student a long, long time ago in a galaxy far, far away. I remember being super-excited about going to university, but also more than a little scared - but if I can manage to succeed at university, then I know that you can too! The best advice I might suggest is to don't be afraid of reaching out for a little help and support if you need it from family, fellow students, staff, faculty and the Golden Scholars program. To paraphrase an ancient wise man, we all get by with a little help from our friends!
Meet Amanda Yonan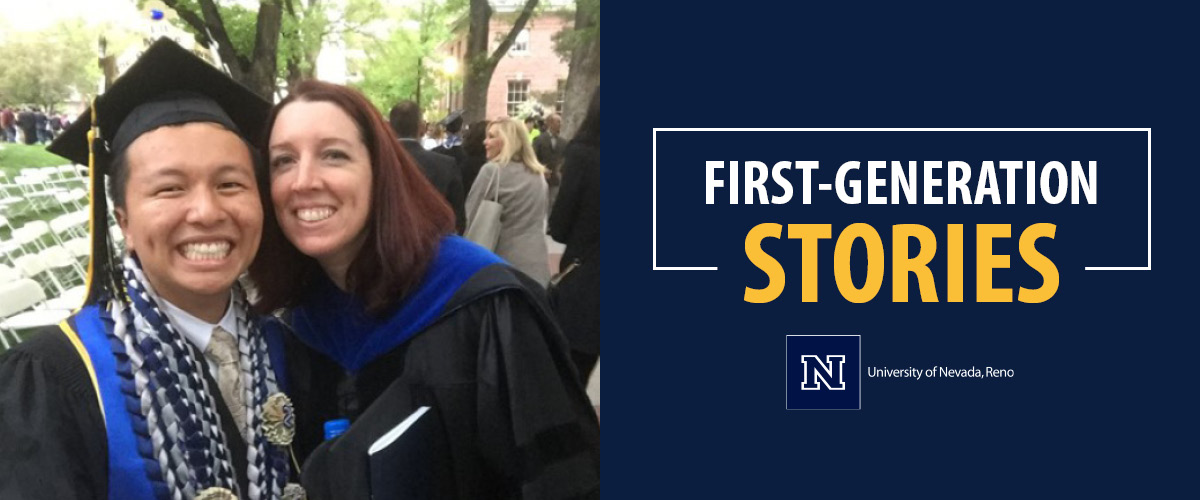 Hi, my name is Amanda Yonan and I am the first person in my family to receive a bachelor's degree, attend graduate school and earn a Ph.D. After graduating from high school, my original plan was to attend the University of California, Davis. Unfortunately, this plan was derailed because I did not qualify for enough financial aid. Instead, I spent two years at Modesto Junior College while I worked full time and lived at home. Eventually, I earned my B.S. from University of California, San Diego in Biochemistry and Cell Biology. This process made me appreciate what an opportunity a college education truly is. While at UCSD, I took a Genetics class and loved it. Genetics made sense to me in a way that nothing else had. Up to this point, I assumed that I would become a high school Biology teacher. Being a high school teacher is a good stable job, which felt like a reasonable goal. At that time, I knew nothing about graduate school or scientific research. Fortunately, a professor at UCSD suggested that I work in a research lab for credit. Being surrounded by highly educated individuals allowed me the opportunity to imagine myself earning a post-graduate degree for the first time. If I wanted to teach college level classes, like Genetics, I would need to earn a Ph.D. No one in my family had any idea how graduate school worked or the amount of effort it took and because I wasn't familiar with the process, I had no idea how I compared to others applying to graduate school. I wish I had a program like the Golden Scholars to help me navigate this process. Once I graduated with my Ph.D., I was lucky enough to get a job at a community college as well as the University of Vermont before moving to the University of Nevada, Reno in 2017. I make an effort to reach out to my students who are first generation or who have a difficult time paying for a college education because I know what sort of guidance I needed when I was in their place.
Meet Lauren Parker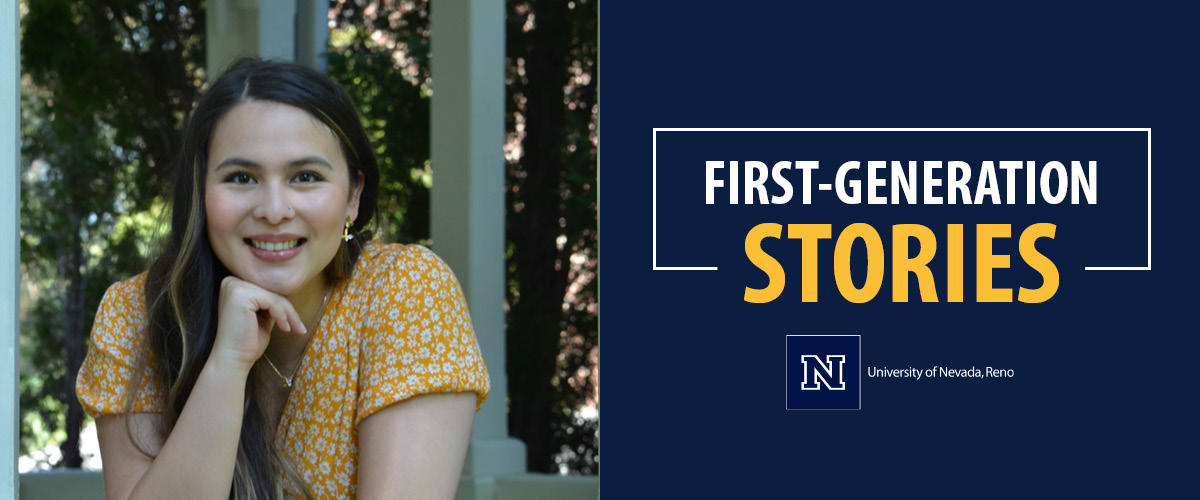 Hi, my name is Lauren, and I am the first in my family to receive a bachelor's degree. Being a first-generation student, a woman pursuing STEM education, coming from a historically underrepresented background, and being a transfer student, the road to receiving my degree was untraditional, and at times, very stressful. Due to financial aid issues, I could not attend the University of Nevada, Reno right after high school as planned. I was disheartened and upset that I couldn't have a university experience my freshman year like my friends, but knowing what I know now, I wouldn't change a thing. Sierra College humbled me and set me on a path for success. I transferred to the University shortly after to pursue my B.S. in Biology. While initially interested in pursuing medicine, my undergraduate research and teaching experience made me realize how much I enjoy being on a university campus and working with students. I am passionate about helping students in higher education, especially those who, like me, are a nontraditional student. I wish Golden Scholars existed while I was in school because my only regret that I have after graduating is not getting more involved and making more friends. I also think Golden Scholars would have helped me navigate the plethora of opportunities, resources, and services that I wasn't aware of back then. I believe that all first-generation students within the College of Science would greatly benefit from participating in Golden Scholars!
Meet Natalie Servellon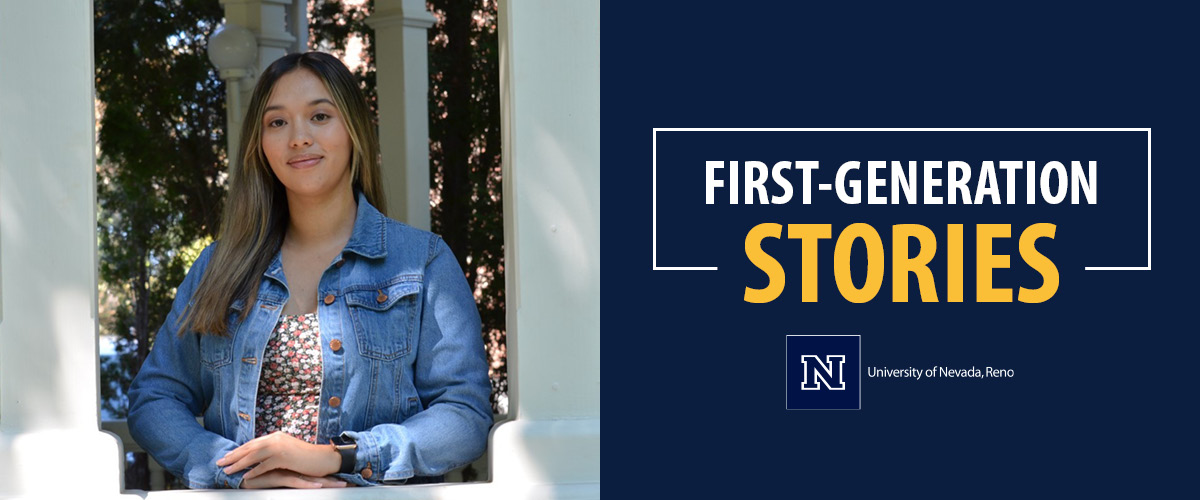 Hello, my name is Natalie Servellon, and I am a proud first-generation college graduate. I remember my first week being on campus as a college student and feeling a mix of emotions-excited, nervous, and overwhelmed. I asked myself multiple times, can I do this, as I learned how to manage my classes, prepare for the next semester, work, and personal time? As a college student, one has more autonomy; however, that does not mean we should not seek help from others. Our college is full of people who care about our students and resources to help them succeed both in their academics and personal life. Without the help of academic advisors, mentors, professors, and classmates, I would not have been able to navigate the college world or graduate with my bachelor's degree in Human Development and Family Studies. I have now returned to the university to share my knowledge and experiences with students and hope that students feel that they also can do it. Si se puede!
Meet Catherine Fernandez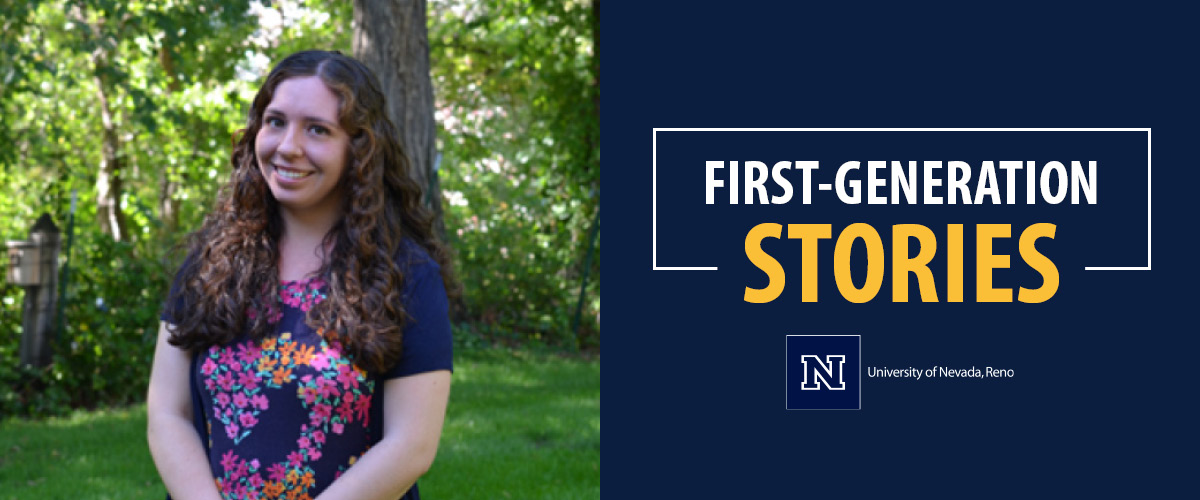 Hello! My name is Catherine, and I am proud to be a first-generation college graduate. I received my Bachelor of Science in Business Administration and my minor in Community Health Sciences, but the path getting there had more than its fair share of bumps. Being a successful student in high school couldn't have prepared me for how drastic of a change university would be. As one of the first in my family to go to college, I navigated the system of higher education on my own, and felt lost within it more times than not. It was only after I had graduated that I learned of the breadth of resources that were available to me, but never knew of during my time as a student. A program like Golden Scholars would've supported me in the ways that I truly needed it. The opportunity to be the person I needed when I was a student has me determined to make this program the best that it can be. I love working with students, and I'm eager to help create a space for other first-generations to share in community, academics, and aspirations for the future.
Meet Mitzi Garcia Hernandez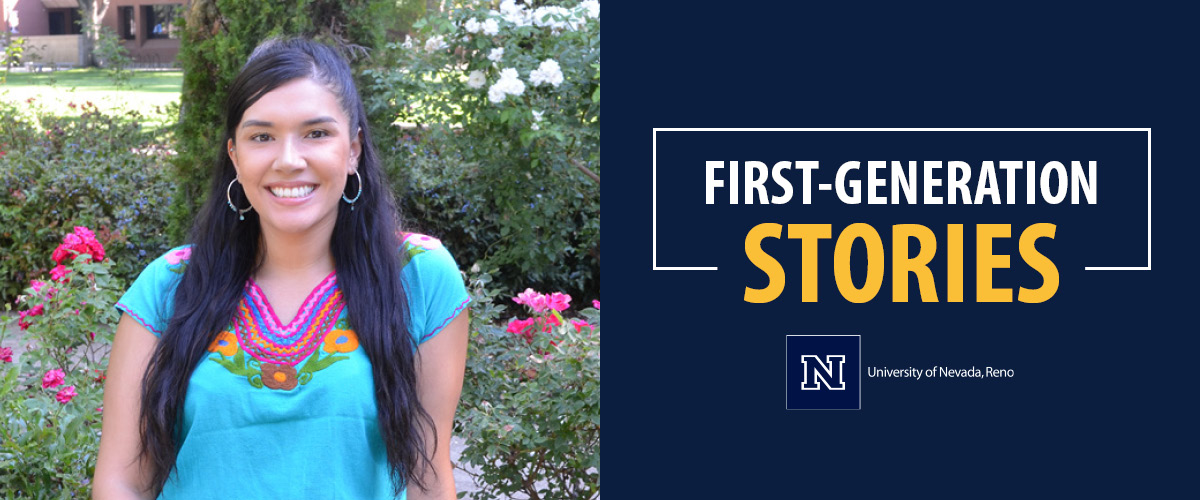 Hello! My name is Mitzi and I am a first generation Chicana college graduate! I completed my Bachelor's at the University of California, Santa Barbara and my Master's at San Jose State! During my first year as an undergrad, there were many instances where I felt disconnected with my peers and out of place within the university. I decided to join a Multicultural organization on campus and that really helped me connect with other first generation students of color who were having similar experiences as me! Through this organization, I was able to find my home away from home, build strong friendships, and create a strong support group who pushed me to succeed academically. I hope that Golden Scholars can have the same effect on first generation student in the College of Science!
Meet Diana Mendoza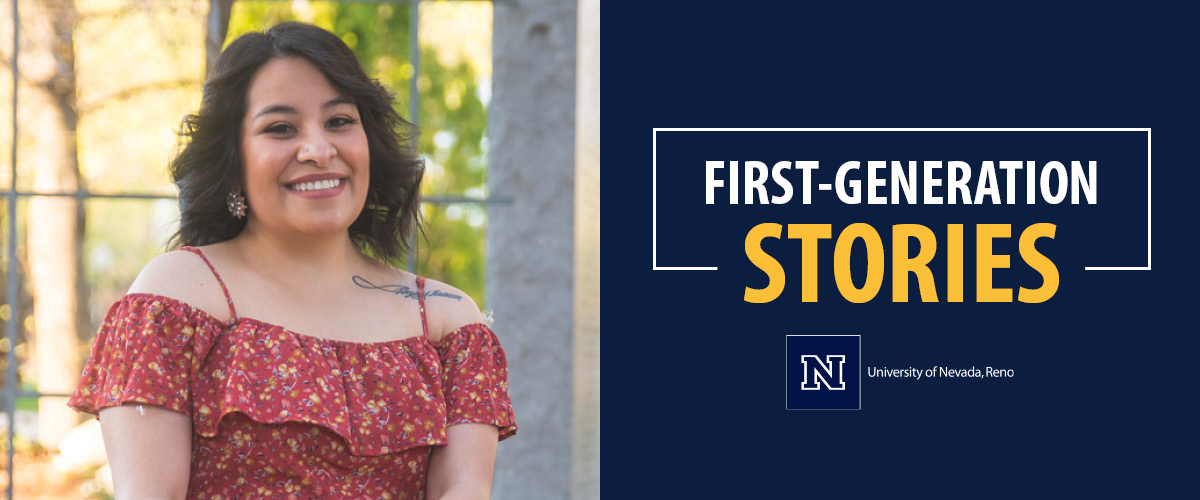 Hello! My name is Diana Mendoza and I am first generation college graduate! I am proud and thankful for the path that I took during my undergraduate career. I was a transfer student from TMCC, although I found that being a transfer student left me with so many questions, it allowed me to navigate and understand how to seek help in this process. As I made my way to the University of Nevada, Reno, I was very fortunate to find a program like Golden Scholars to take me on as a mentor. Dean's Future Scholars gave me an opportunity to work with local high school and middle school students to share my experiences with and guide them through the many changing faces of teenage years. I watched the unity that the mentors who grew up within the program had and wished I had found a program like Golden Scholars to have that unity with. My hope that Golden Scholars will be the opportunity that I received with Dean's Future Scholars, it will give you the place to share your experiences and change the perspectives of your own lives.
Meet Carolina Muñoz-Saez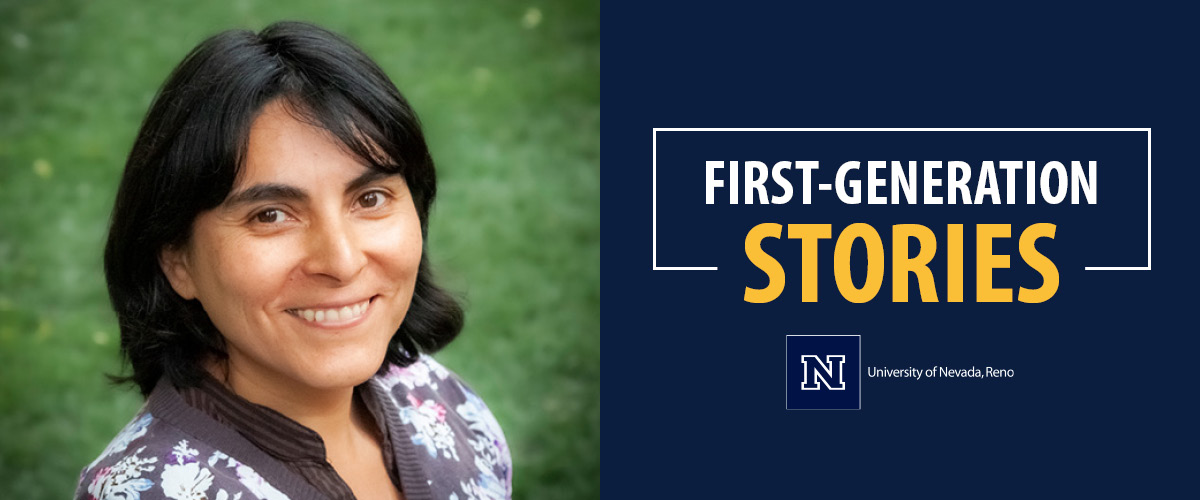 My name is Carolina Muñoz-Saez, I am geoscientist and an assistant professor at the Nevada Bureau of Mines and Geology. I grew up in Chile in a working-class family. I moved to the US for my Ph.D., and I have been living in the US since then. I am a first-generation college graduate, the only one in my family with Ph.D., and the only one living outside of Chile. I was passionate about science from a young age, spending hours watching documentaries about volcanoes with scientists collecting lava samples. But I didn't know about the possibility of a professional scientific career or that you could make a living doing research until I went to college. In college, I started getting involved in research projects with my professors, and I realized what was possible. However, before going to graduate school I had to work for a few years to pay my student loans and pay for English classes. As an immigrant and Latina in science, I understand how intimidating it can be to be a first-generation student. Generating a supporting community has been fundamental for my professional and personal success. Programs such as the Golden Scholar provide important resources to navigate college life by helping form friendships, receiving mentorship, sharing life experiences, and creating a sense of belonging and community.
Meet Brenda Lopez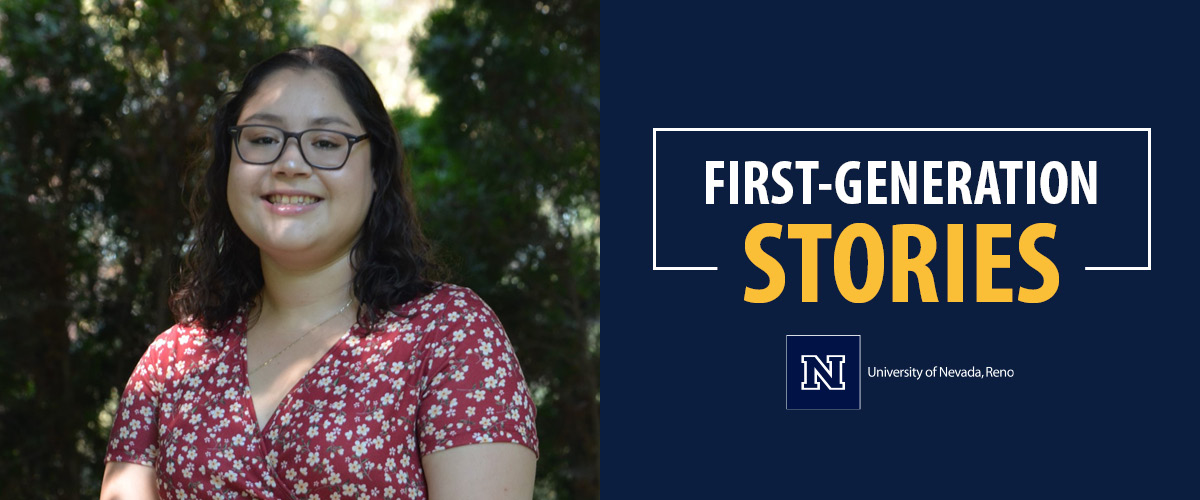 Hello! My name is Brenda Lopez, and I am an Academic Advisor at the College of Science. As a first-generation student, I am so excited that the College of Science offers a program that supports our students in reaching their goals in higher education. During my undergraduate career, I was able to prosper in my courses because I had the support of not only my family, but programs like Golden Scholars to guide and support me through graduation. Obtaining my Bachelor of Arts in Political Science and Spanish and minors in Sociology and Spanish Translation was a daunting goal I was able to achieve not only through my hard work, but with the guidance of my mentor in First in the Pack, resources on campus like the Math and Writing Center, and support from my professors who also wanted me to succeed. My academic success in my undergraduate career opened the door for me to continue my education at the graduate level. I was awarded a Graduate Teaching Assistantship which alleviated the financial burden that comes with higher education and gave me the opportunity to teach. Although I discovered that teaching was not my path, I did learn that helping other students progress in their educational careers was the path for me. That brings me to why I love working under student services. I am here to be one of the many helping hands at the University that facilitates the transition between high school and college and assists our students in reaching their academic goals.