Delta Phi Chapter of Delta Omega Honorary Society in Public Health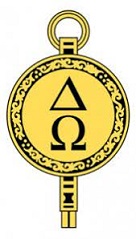 The Delta Phi Chapter is the officially recognized and qualified Delta Omega Honorary Society Chapter affiliated with the University of Nevada, Reno, School of Public Health. The Delta Phi Chapter was instituted to encourage and recognize exemplary scholarship, research and public health practice among its students, faculty and alumni.
Delta Omega Honorary Society was established in 1924 to recognize outstanding achievement in the field of public health. Currently, there are more than 100 chapters across the globe and membership includes influential public health leaders, Surgeons General, researchers and practitioners. Delta Omega supports an annual meeting of all chapters held during the annual American Public Health Association (APHA) meeting and organization-wide events like a Day of Service during National Public Health Week, faculty awards for Innovative Curriculum and an annual poster competition.
Delta Phi's first member induction took place in 2018 and it has since hosted an annual induction each spring. Like all Delta Omega chapters, membership in Delta Phi reflects the dedication of an individual to quality in the field of public health and to protection and advancement of the health of all people. Election to the society is based on outstanding performance including scholarship in students, teaching and research among faculty members and community service of alumni. Election to membership is intended to not only recognize merit but encourage further excellence in and devotion to public health work.
Students who meet eligibility criteria including academic performance receive an invitation in February to apply for membership and among the applicants, new members are selected based on their demonstrated leadership and service. Faculty, alumni and honorary memberships are selected through a process involving nominations from current members and deliberation among chapter leadership.
Learn more about the Delta Phi Chapter
President – Lynn Short, RDH, MPH
Vice President – vacant
Treasurer – Sung-Yeon Park, Ph.D.
Secretary – Michelle Granner, Ph.D.
Student Representative – vacant
Alumni Representative – Emily Wegener, MPH
Faculty Representative – Daniel Cook, Ph.D