About
Vision
To graduate a socially aware, compassionate global citizen that makes the world around them a better place.
Mission
The Multicultural Center is a critical hub of cultural, LGBTQIA+, gender-focused services, programs and social justice initiatives that support student success and increase graduation rates of students at the University of Nevada, Reno. The Multicultural Center empowers students to be innovative colleagues in creating a better-integrated community at the University and beyond.
What we do
The Multicultural Center is comprised of recruitment and leadership programs as well as student services for five main identity groups: Asian Pacific Islander Student Services, Black Student Services, Indigenous Student Services, Latinx Student Services and LGBTQIA+ Student Services. All of our student services are aimed at increasing student belonging and "preparing students for global citizenship."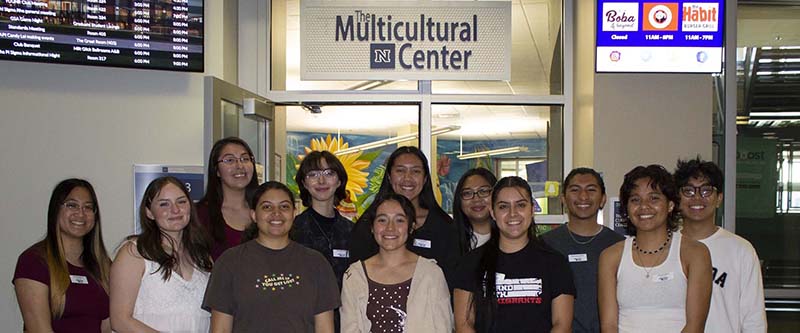 Our core values
We aim to incorporate our core values into all of our programs, events, initiatives and services.
Retention: We ground our work in enhancing, partnering and creating services and projects that increase the graduation rate of minoritized students.
Reciprocity: We strive to create meaningful community service opportunities for students through community action-based efforts.
Advocacy: We aim to promote the interests of students. Advocacy means arguing for, recommending or supporting a cause or policy. Advocacy is also about helping people find their voice.
Diversity Statement
The Multicultural Center is committed to the hard work of social justice. Whether advocating for equitable policy change or connecting informally with underserved communities, we apply community-centered values. For over three decades, we have been working towards social justice change and ensuring that the University of Nevada, Reno's composition reflects the state of Nevada. The core of our work is ensuring that minoritized students connect to the University of Nevada, Reno, from early outreach to alumni status. As a result, we can create a seamless educational experience for students.
We must continue integrating DEI work into all aspects of The Multicultural Center, our mission and day-to-day efforts. We are ready to plan and support President Sandoval in making the University of Nevada, Reno, a premier institution for diversity, equity and inclusion work.
Diversity, equity and inclusion key terms
The work we do here on campus is grounded in diversity, equity and inclusion (DEI), but there is often confusion about what those terms mean. Below are the definitions we use for each term.
Diversity: The traits and characteristics that make people unique, including the dimensions of race, ethnicity, gender, sexual orientation, socio-economic status, age, neurodiversity, physical abilities, religious beliefs or other ideologies.
Equity/Equitable:

Is concerned with social justice and fairness of policies. Not to be confused with equality, which seeks parity in the treatment of individuals and groups, equity seeks parity in the achievement of desired outcomes. Equity may, in fact, require "unequal" treatment, such as a deaf or hard of hearing student receiving an ASL interpreter to successfully complete a course. (NWCCU)

Equality: Seeking a situation where an individual and/or group has the same access. Refers to the legal, moral and political opportunities afforded people of all races. Both equity and equality are critically important components of diversity and inclusion.
Equity: Seeking equivalent treatment or outcomes for people with different needs and/or abilities so each person has the same level of opportunity.

Inclusion:

The behaviors and social norms that ensure people feel welcome, appreciated and valued as members of their communities. (NWCCU).
Want to learn more terms and definitions? Please visit the Division of Student Services' Key Terms and Definitions page to learn more about the key terms and definitions that we use in our work.