About our College
A founding college of the University, we have a long tradition of excellence in teaching, research and engagement programs that benefit the health and economic vitality of Nevada. We offer programs in:
agriculture, horticulture, rangeland & veterinary sciences
biochemistry & molecular biology
children, youth & families
community & economic development
health & nutrition
natural resources & environmental science
First-generation Ph.D. student Christina T. Igono presents, wins award at international conference of soil scientists
Igono's award-winning research conducted at Experiment Station facilities
"I didn't choose to study environmental and soil science but rather, this major chose me," Igono said.
Christina is a first-generation student. Following her passion for soil science, soil ecology and natural resources, she's earning her doctorate degree in Environmental Science from our College. In exploring her calling here, Christina said she has encountered constant challenges, support and opportunities to learn, grow and be better in all that she does.
And it all started when she was an undergraduate biology student in Alabama.
"I was just a desperate broke freshman student seeking a job on campus when I got the opportunity to work as a laboratory technician in a soil science lab," she said. "This part-time job quickly became a passion."
She realized she loved working in the lab and with its equipment, discovering things she never knew about soil. That feeling told her she was on the path to her career.
Love is a fire
"Besides being a student athlete playing soccer," Christina said, "I knew I had found another passion, and that was being an environmental soil scientist."
Without solutions to the world's challenges, all may be lost
"It is imperative professionals in my field develop sustainable agricultural practices, mitigate greenhouse gas emissions and reduce natural disasters, or we might not survive." - Igono
California and Nevada scientists study nitrogen pollution in dryland watersheds
Large research project conducted in California will shed light on dryland watershed pollution worldwide
Nitrogen pollution, largely from burning fossil fuels, industrial agriculture and wildfire can reduce drinking water quality and make air difficult to breathe.
Thanks to a $1.1 million grant from the National Science Foundation, we will soon have a better understanding of how much nitrogen arid ecosystems can absorb before they produce negative effects. The study is being conducted by scientists at UC Riverside; University of Nevada, Reno; and UC Santa Barbara.
The three-year research project will allow Homyak; Erin Hanan, fire ecologist with the University of Nevada, Reno, who is leading the study with Homyak; and collaborators at UC Santa Barbara to monitor how three dryland ecosystems in southern and central California process nitrogen, and to gauge saturation levels. From this information, they can then build models to help predict what may happen in the future and what we might do to mitigate detrimental impacts to our water quality and air.
"If we can get a better understanding of how nitrogen cycles through these drier watersheds, we can build models to help us predict what will happen under increased nitrogen loads and in a warmer, drier future," said Hanan, who is also an assistant professor in the College , and a researcher with its Experiment Station. "Dry ecosystems represent a third of Earth's total land surface, so understanding how they respond to pollutants is important."
In dryland ecosystems, the threshold at which nitrogen becomes problematic is largely unknown
"If we can get a better understanding of how nitrogen cycles through these drier watersheds, we can build models to help us predict what will happen under increased nitrogen loads and in a warmer, drier future." - Hanan
Photo Gallery | 4-H across the state
Snapshots of 4-H clubs throughout Nevada
For more than 90 years, Extension has administered a 4-H program in Nevada, part of one of the largest youth organizations in the U.S. Many 4-H alumni have become elected state officials, legislators and teachers, contributing greatly to the state and their communities.
4-H is a learn-by-doing life-skills program that teaches youth communication, self-concept, team-building, problem-solving, decision-making, self-responsibility, conflict resolution, aspiration-building, goal-setting, community leadership and career development. The youth learn through projects, in or after school, in a variety of subjects ranging from animal science to nutrition, leadership, public speaking, horticulture and other science and technology programs. Through these projects and interactions with other youth and leaders, 4-H youth learn how to make good choices, feel good about themselves, think critically and become leaders.
Take a look at the photos below to see what's happening at some of the 4-H clubs throughout the state.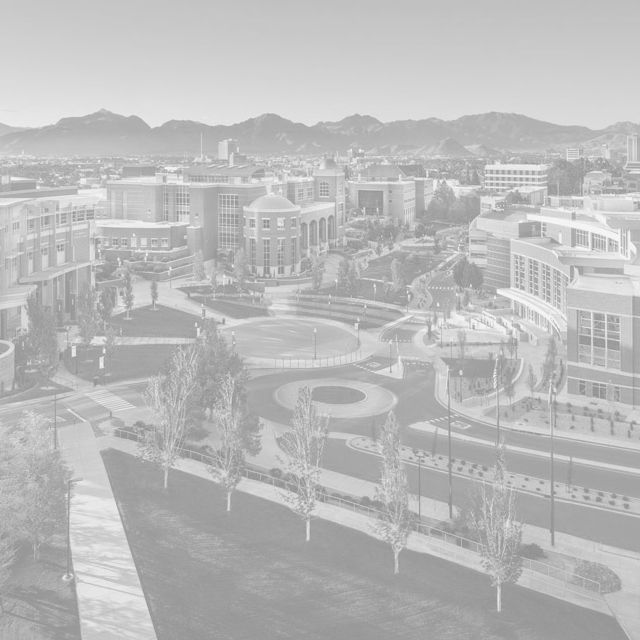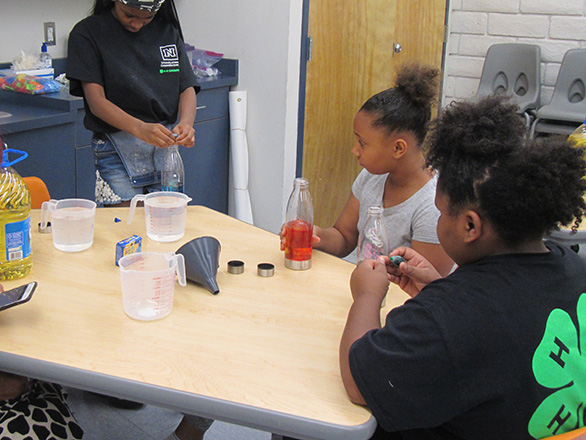 Sariah B. and sisters Asharie and Arionia Y. learn about density as they create lava lamps at the A.D. Guy Knowledge Center in Clark County. Photo by M. Clark, Alita Requena.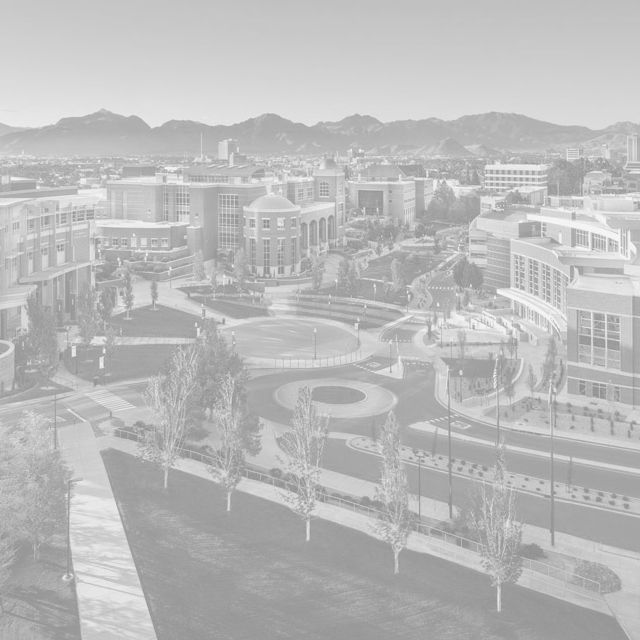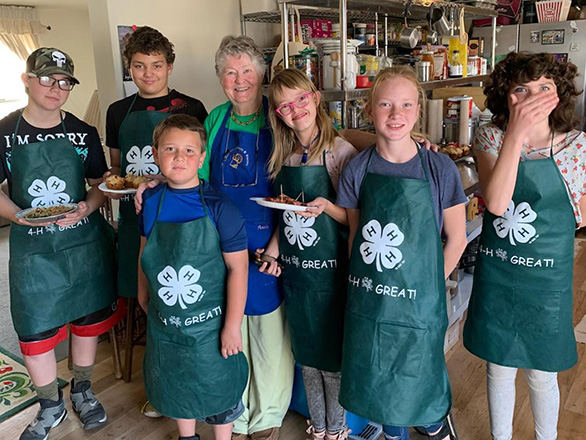 Aurora B., Christopher B., Kalib N., Leader Annabelle Younger, Serenity S., Dakota L. and Serenity D, part of the Home Ec 4-H Club in Central Lyon County, show off some snacks they made. Photo by Lyon County 4-H.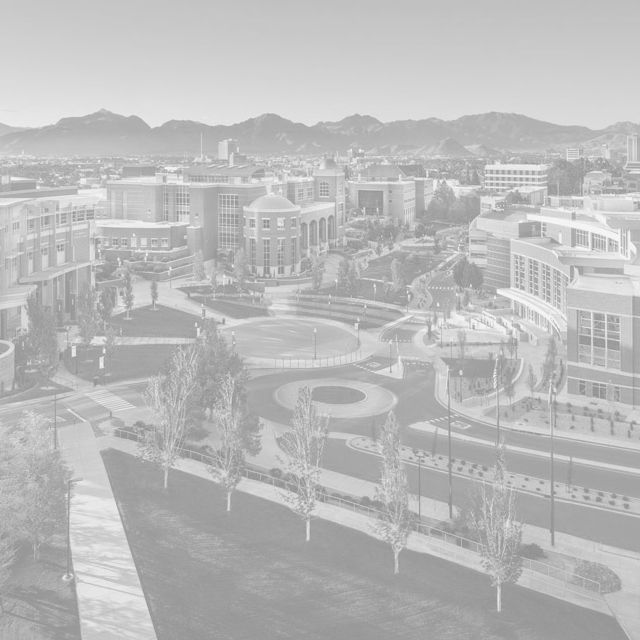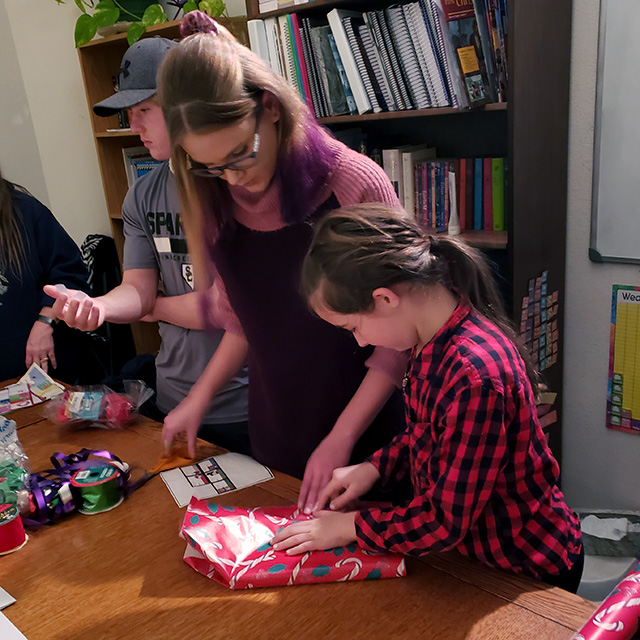 Mia H. (Ruby Mountain 4-H Club Secretary), and Kelly M. (Ruby Mountain 4-H Club member) wrap presents for their annual adopt-a-family holiday service project. Photo by Elko County 4-H.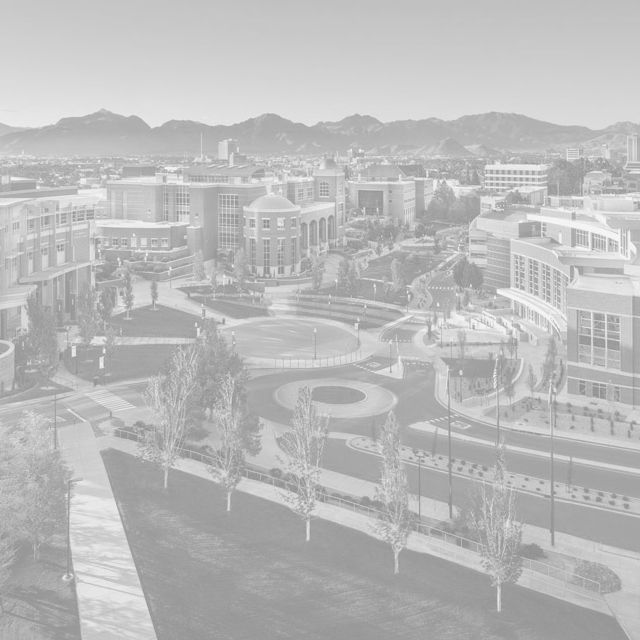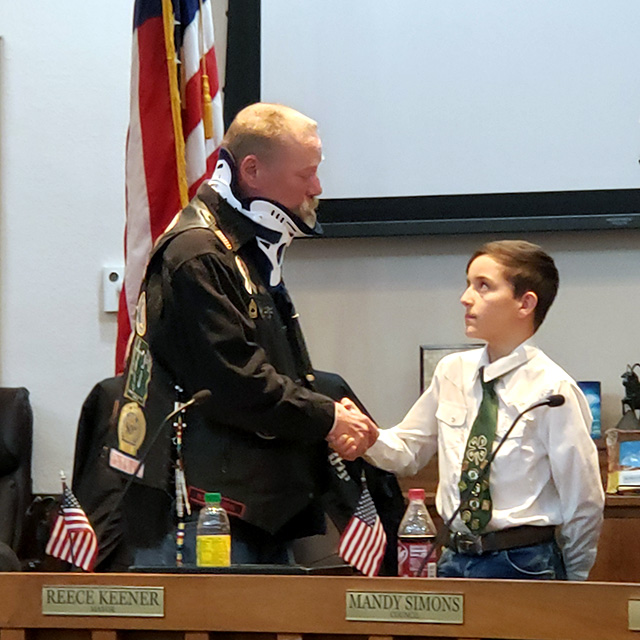 Ruby Mountain 4-H Club Member Peyton S. is recognized by POW*MIA Elko Awareness Association member Lee Foster for donating half his proceeds from the sale of his market pen of poultry to the association. Photo by Elko County 4-H.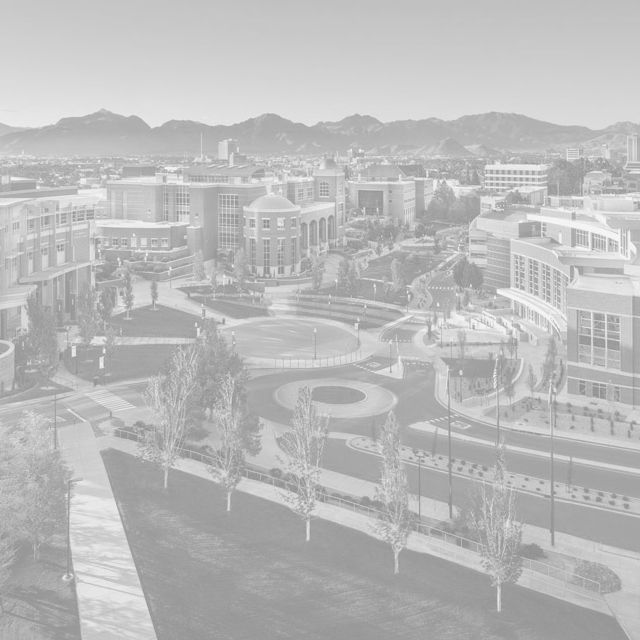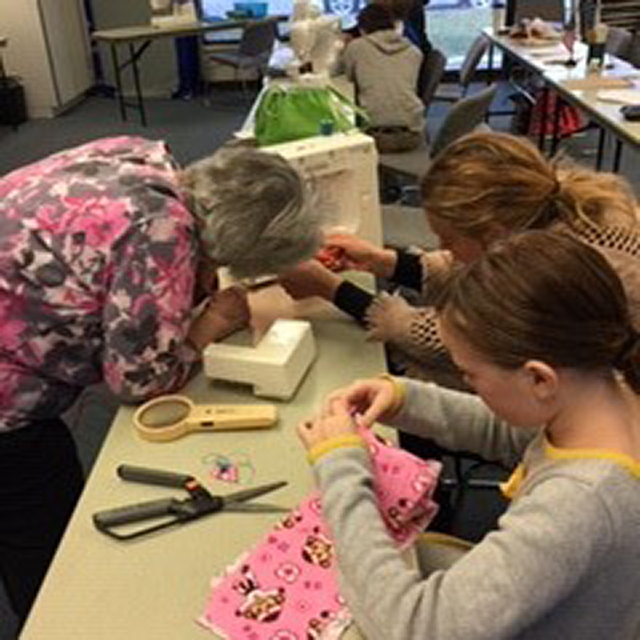 Members of the Sew 4 Fun 4-H Club in Carson City learn how to thread a bobbin. Photo by Sandy Wallins.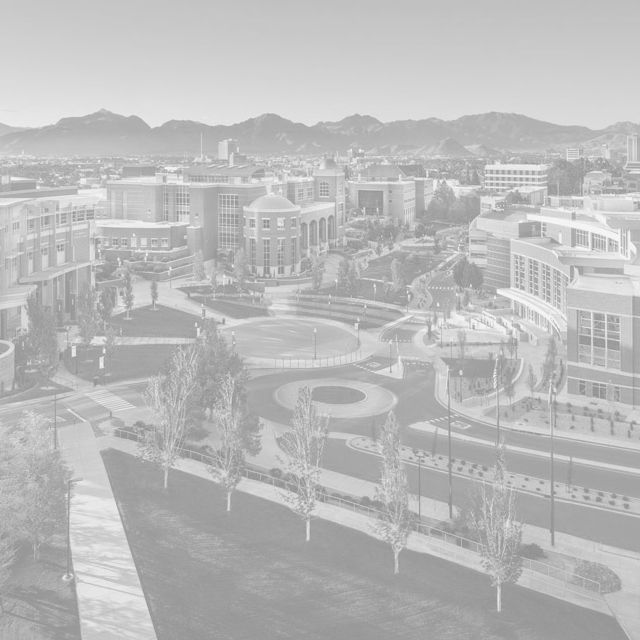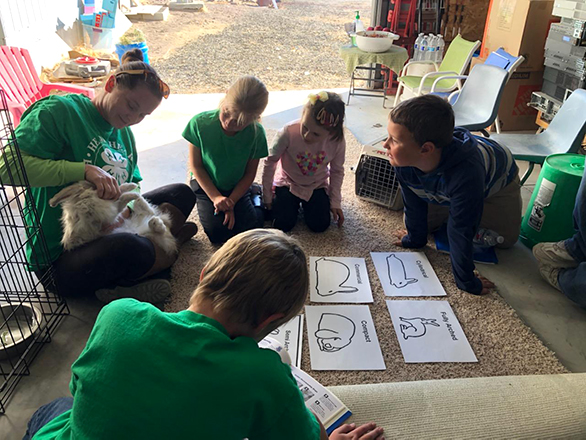 Cody S., Kalib N., Lina B., Laurin C. and Crystal C., with the Central Lyon Rabbit 4-H Club, learn about rabbits. Photo by Lyon County 4-H.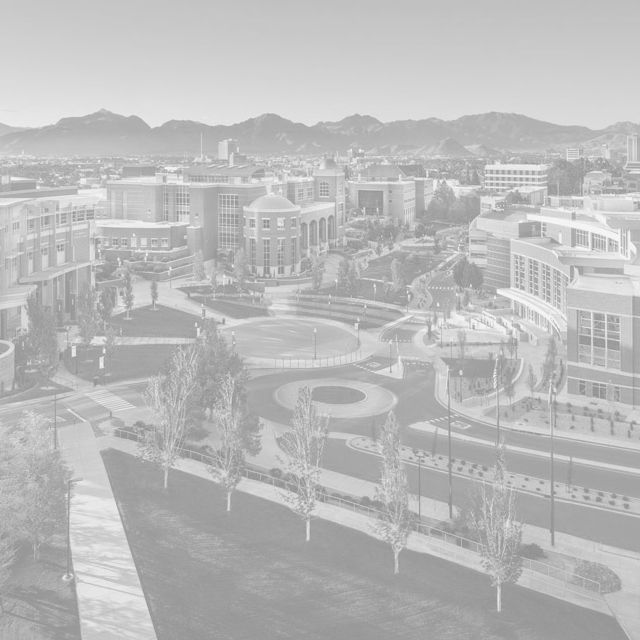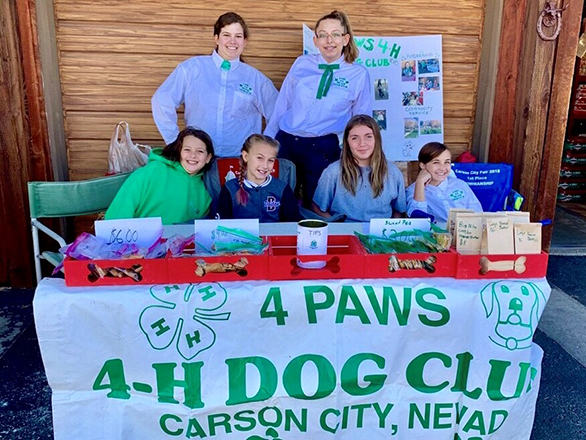 Members of the 4 Paws 4-H Dog Club in Carson City sell homemade dog biscuits and collect pet supplies for Pets of the Homeless. (Left to right) Back row: Lexi H., Morgan C. Front Row: Madison H., Kara H., Josslyn K. and Vivi M. Photo by Casandra Mellow.
4-H is a community of young people across America learning leadership, citizenship and life skills
Members learn life skills, make new friends, enhance self-esteem, achieve personal goals, develop positive relationships with peers and volunteers, and have fun learning and sharing as a family and a club.
Test your home for radon and reduce the risk of lung cancer
Extension offers free test kits at public meetings statewide
January is National Radon Action Month, and Extension's Radon Education Program is offering free short-term radon test kits to Nevadans from Jan. 1 through Feb. 29. Radon test kits are available at Extension offices and partnering locations, as well as at free presentations, statewide.
Radon is a naturally occurring, radioactive gas that is colorless, odorless and tasteless. It comes from the ground and can accumulate in homes, raising the risk of lung cancer. The U.S. Environmental Protection Agency estimates 21,000 Americans die each year from radon-caused lung cancer, killing more people than secondhand smoke, drunk driving and house fires.
In Nevada, one in four homes tested show radon concentrations at or above the EPA action level. According to experts, living in a home with radon concentrations at the action level poses a risk of developing lung cancer similar to the risk posed by smoking about half a pack of cigarettes a day.
The risk of radon-caused lung cancer can be reduced
A simple three-day test can determine if a house has a radon problem, and winter is an ideal time to test a home for radon. If radon problems are found, they can be fixed.
Associate professor uses innovative technology for dryland research
Robert Washington-Allen joins the College of Agriculture, Biotechnology & Natural Resources
University of Nevada, Reno welcomes Robert Washington-Allen to the Department of Agriculture, Veterinary & Rangeland Sciences in the College of Agriculture, Biotechnology & Natural Resources as an associate professor, graduate program director for the department and Range Club advisor.
Along with teaching and advising, Washington-Allen researches the sustainability of drylands using innovative technologies, including drones, laser scanning, ground-penetrating radar, virtual and augmented reality tools, geographic information systems, and remote sensing. His research focuses on the past, present and future sustainability of drylands at both local and international scales, with a particular interest in Nevada's drylands.
Washington-Allen wants to teach others to use technology and targeted grazing to reduce invasive grasses
"I'm excited to be here at the University, being able to pursue my passions in the rangeland sciences. I hope I'm able to instill the same kind of passion for innovation and application of science in our students." - Washington-Allen
Growing a stronger Nevada
Our programs work together to make an impact
Our teaching, research and engagement programs are intertwined and complement one another. Faculty who teach on campus also conduct research as part of the Experiment Station, allowing students to learn about and participate in research. Extension faculty engaging with communities identify research needs, as well as join Experiment Station faculty to conduct research. Faculty on campus help to develop Extension programs in communities.
Researching critical issues
Experiment Station faculty conduct research at experiment stations, labs and research facilities across the state, as well as teach classes and share and conduct research with students. The state-federal partnership tackles issues affecting Nevada's citizens, communities and economy.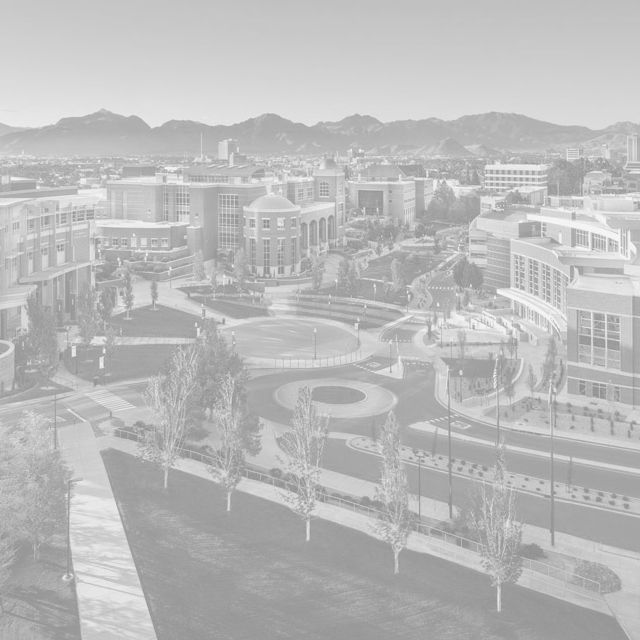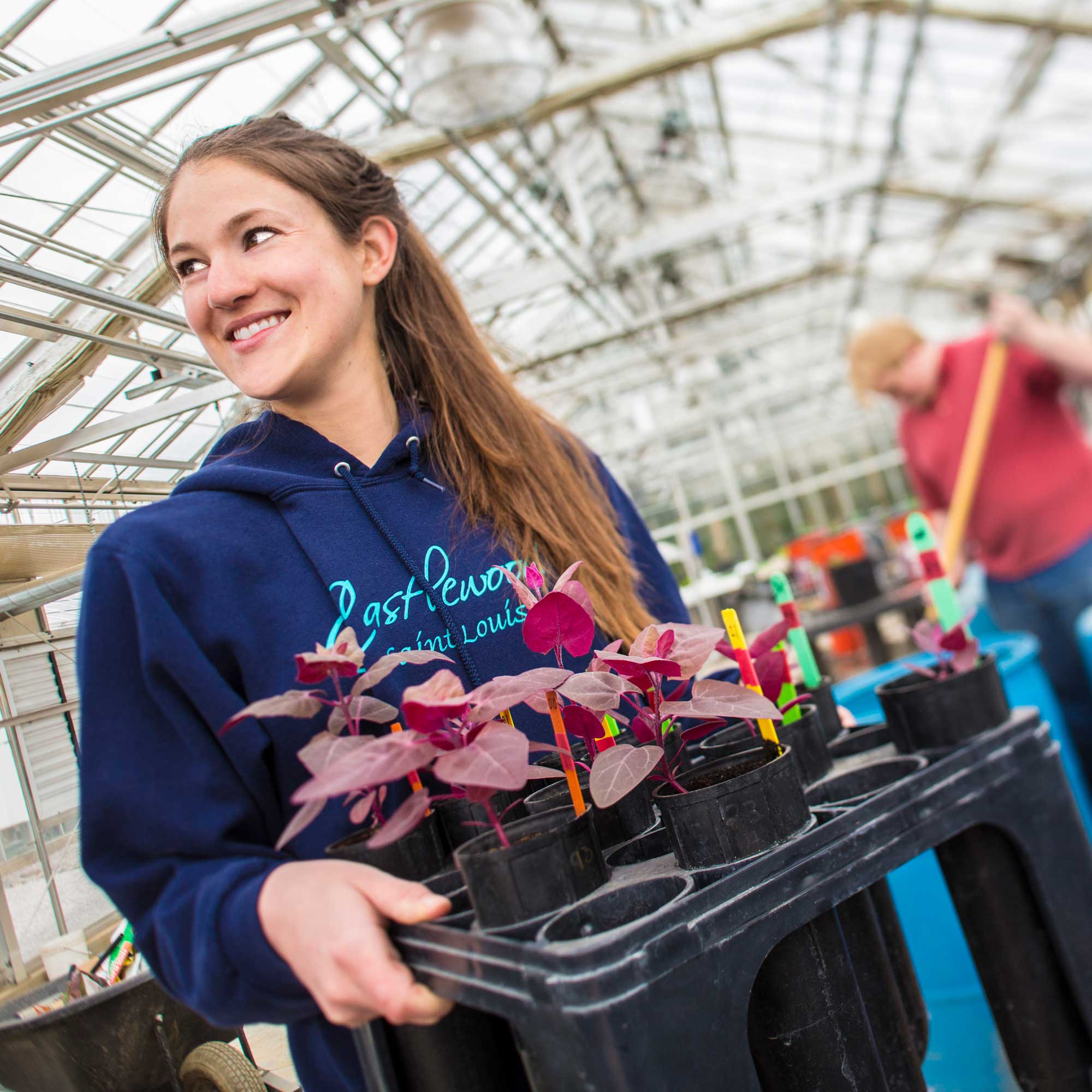 Teaching University students
We offer 17 undergraduate and graduate degrees to prepare students for high-paying, in-demand careers in agriculture, rangeland & veterinary sciences; biochemistry & molecular biology; natural resources & environmental science; and nutrition.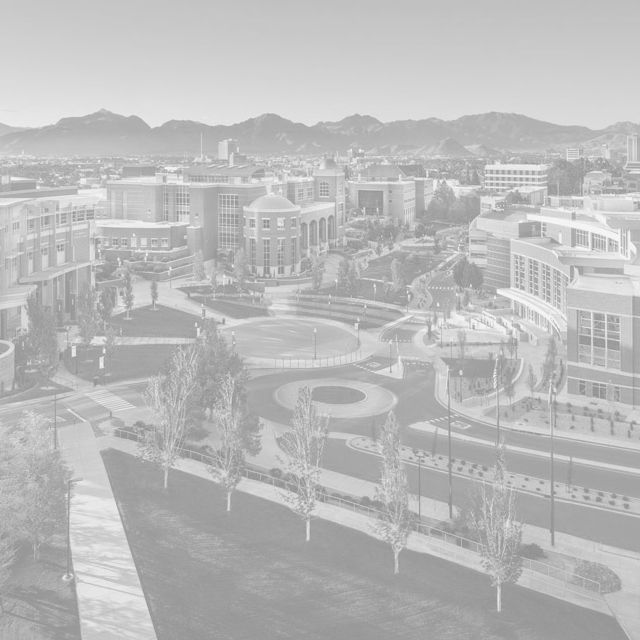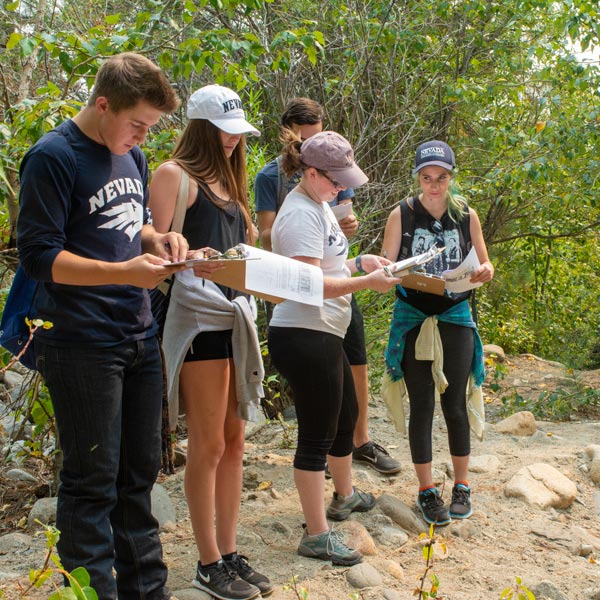 Engaging Nevada communities
Extension is engaged in Nevada communities, presenting research-based knowledge to address critical community needs. The county-state-federal partnership provides practical education to people, businesses and communities, fulfilling the University's land-grant mission.