Student researchers
Meghan Brock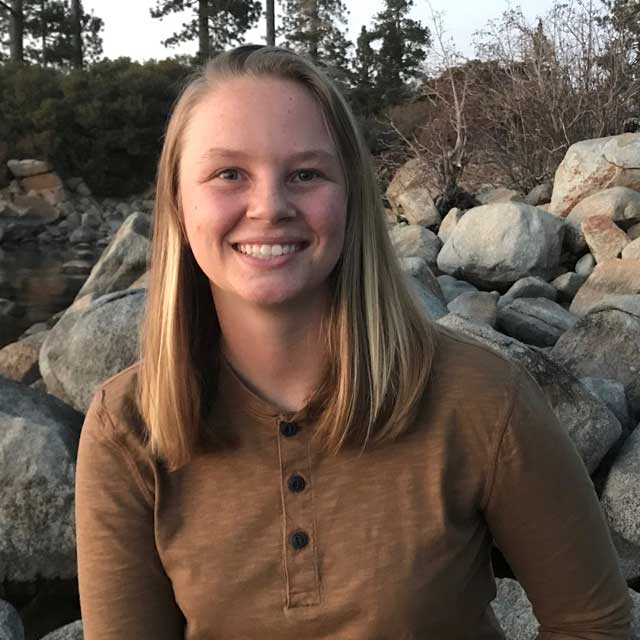 My name is Meghan Brock and I am pursuing a Master's in Environmental Engineering at the University of Nevada, Reno. As an undergraduate student at the University of Nevada, Reno, I studied Civil Engineering and participated in the American Society of Civil Engineer's Concrete Canoe Team where I was a team member, project manager, then coach. Now, as a graduate student I am working with the Nevada Department of Transportation to develop a comprehensive water management plan to reduce water usage and improve water quality state-wide.
Eric Dearden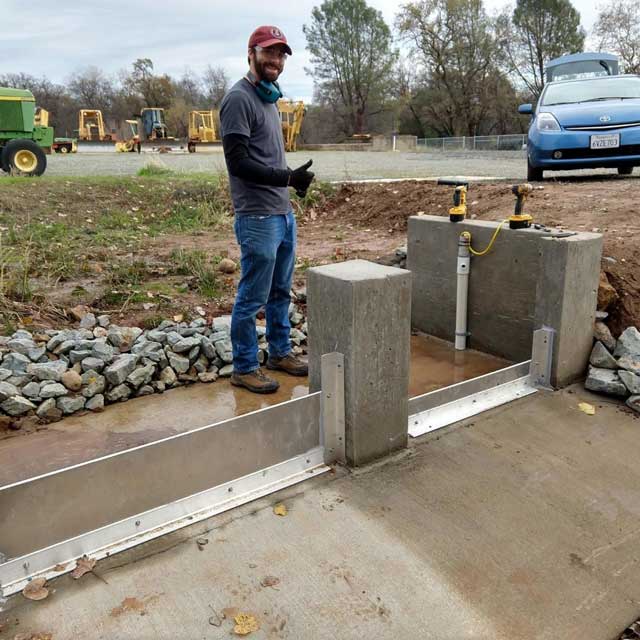 I started my M.S. in Hydrologic Sciences at the University of Nevada, Reno in fall of 2019 upon completing my B.S. in Environmental Science at California State University, Chico in spring of 2019. My motivation for studying hydrology stems from far too frequent encounters with fire, flood, and drought endemic to my childhood home in the foothills of California. During my undergrad at Chico State I was able to gain valuable lab, field, and computational experience through an internship with the Water Resources Institute (WRI), where I evaluated the efficacy of a stormwater biofilter at improving flood mitigation and filtering urban contaminants under the advisement of Dr. Sandrine Matiasek. I am continuing my exploration of urban hydrology with Dr. Keith Dennett by evaluating stream water quality as a function of land use and traffic density, and the efficacy of a constructed wetland at filtering anthropogenic pollution.
Callan Glover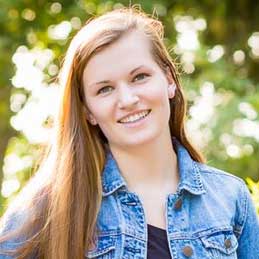 Callan is an M.S. student in hydrology at the University of Nevada, Reno studying wastewater treatment with membrane technology. She completed her bachelor's in hydrogeology at the Pennsylvania State University in 2015 and joined the Hydrologic Sciences program at the University to study water quality and water supply issues. The Hydrologic Sciences program closely overlaps with environmental engineering while also educating students on the dynamics of water supply in the environment and water law. Callan is studying forward osmosis membranes for decentralized wastewater treatment applications.
Tatiana Guarin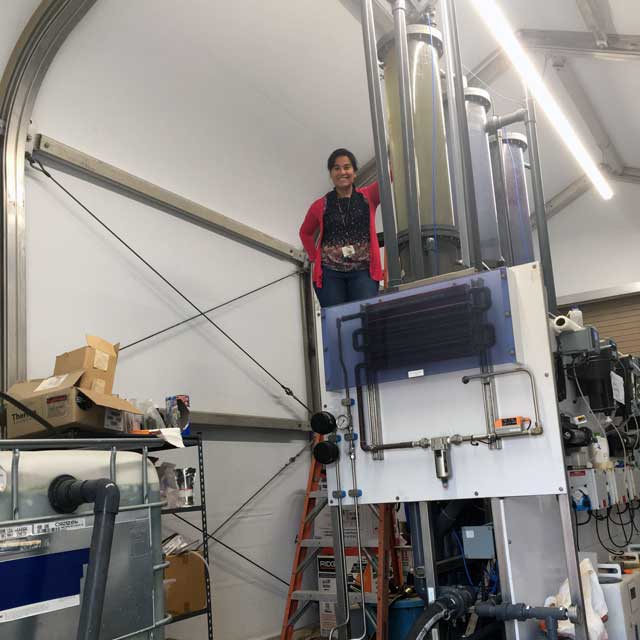 I am a doctoral student in the environmental engineering program at the University of Nevada, Reno. I got my B.Sc. degree in civil engineering from Universidad Industrial de Santander in Colombia. I also have a specialization degree in water resources and environment from the Escuela Colombiana de Ingenieria Julio Garavito. I have had the great opportunity to participate in both fieldwork and research in the lab during my Ph.D. studies. I have been working as an operator for a pilot biological treatment unit in Spanish Springs over the past eight months. In this project, we are targeting to remove nitrates and arsenic from groundwater so that it can be utilized for potable purposes. My research in the lab focuses on the implementation of a membrane-free (ozone/Biofiltration) treatment step for water potable reuse. We will be conducting bench-scale experiments to assess the microbial community shifts and the ozonation impact on the microorganisms.
Laura Haak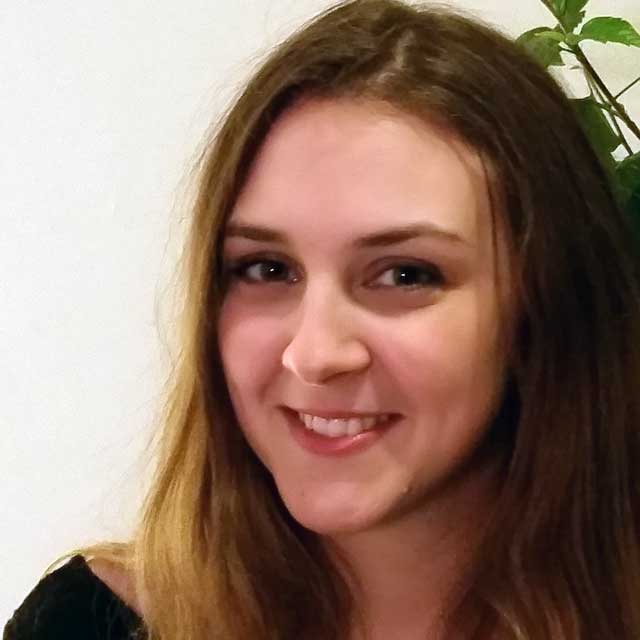 Laura is a Ph.D. student in Environmental Engineering. She completed her M.S in Environmental engineering and B.S. in Mechanical Engineering from Illinois Institute of Technology. At the University of Nevada, Reno, Laura has been able to pursue her research interests related to sustainable water resource management. Current research areas include the development of holistic water management decision making approaches and evaluation of water resource vulnerability.
Yasha Jathan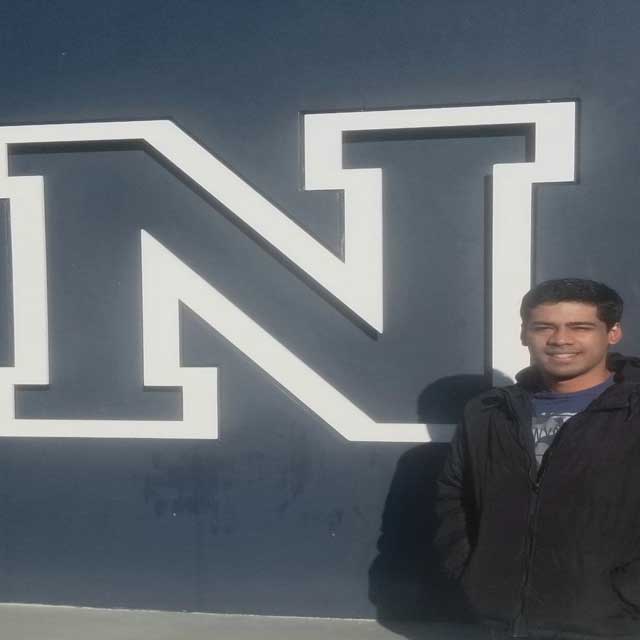 Yasha joined the University as a Ph.D. student in fall 2018. He has a master's degree in Environmental Engineering from VNIT, India. He has worked on developing a wastewater management plan for VNIT campus for his master's project. At the University of Nevada, Reno, Yasha is conducting a research on Dissolved Organic Nitrogen (DON) removal from wastewater by Enhanced Coagulation. His research focuses on investigating removal mechanisms and various factors influencing the removal of DON from wastewater. His work also involves evaluating the DON removal at pilot scale at TMWRF, City of Reno's largest water reclamation facility and his research is funded by City of Reno.
Libby McKenna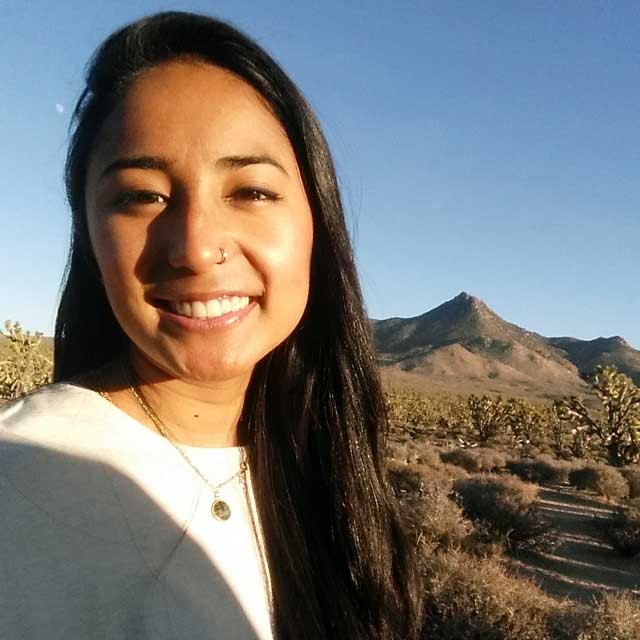 I wanted to study water and wastewater treatment because of its implications for communities I care about, from disenfranchised urban populations to my birth country of Nepal. As I researched water-based projects with humanitarian organizations, I realized I needed more than just a bachelor's in chemistry. I was drawn to the University of Nevada, Reno for its water and wastewater treatment courses and variety of research. As I pursue a M.S. in civil and environmental engineering, I am researching disinfection by-products in reclaimed water.
Lin Li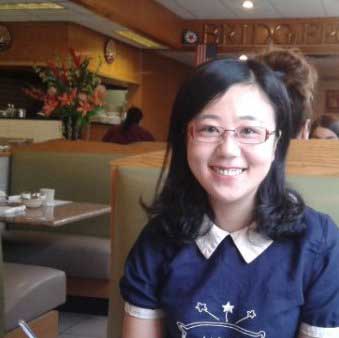 I graduated from East China University of Science and Technology with a master's degree and joined the University of Nevada, Reno in a Ph.D. program. There are a lot of hands-on research opportunities. Professors here always inspire our potentials in innovative studies. I hope I could be a talented and dependable environmental engineer/scientist when I graduate. We treat and purify water on the planet Earth and I am so proud of that.
Brett O'Hair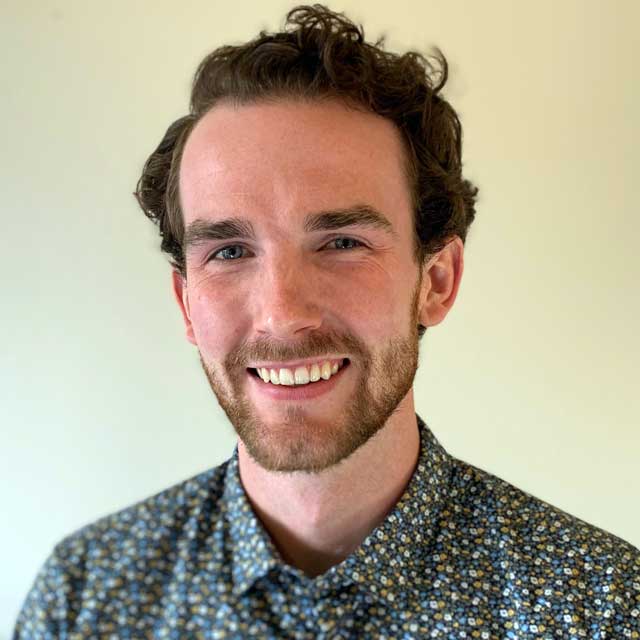 Brett received his Bachelor of Science in Civil Engineering from the California State University, Chico; this was where he learned the importance of sustainable water resource management and wastewater treatment. His desire to learn more about sustainable water practices led him to pursue a Master of Science in Environmental Engineering at the University of Nevada, Reno. He is researching methods to improve current stormwater management practices for the Nevada Department of Transportation.
Priyamvada Sharma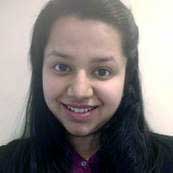 I'm native to Delhi, India, where residents near my home align themselves in a queue at a nearby tap to store the drinking water, supplied by the Municipal Corporation of Delhi. People suffer from scarcity of water due to water table depletion and dwindling supplies of water by the government. Water scarcity and water quality issues in my hometown inspired me to study about wastewater treatment and its reuse. I came to the U.S to pursue my masters and later worked in an environmental consulting firm in the field of biodegradation, transport and fate of contaminants in all different media — soil, air and water. My desire to learn more in the field of wastewater treatment and its reuse, lead me to the University of Nevada, Reno. Currently, I'm pursuing a Ph.D. and believe the University is a perfect place for me to conduct research and learn more about the wastewater treatment and its reuse applications. When I graduate, I would like to work for a consulting firm to find solutions for the plethora of existing problems.
Utsav Thapa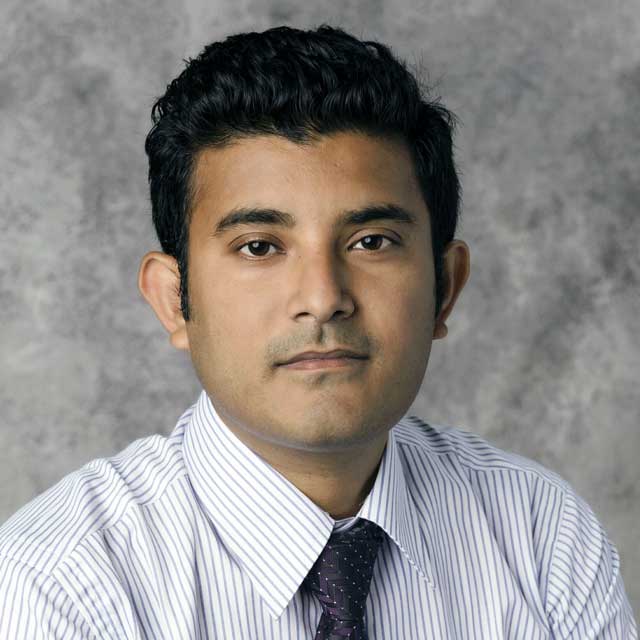 I am Utsav Thapa, a Ph.D. student in the Department of Civil and Environmental Engineering. I am from Nepal, a country with mountains, hills, and rivers. Since childhood, I was always fascinated by the flowing water from the snow-capped mountains to the rivers and the water tank in my town. I completed a bachelor of agricultural engineering from Tribhuwan University, Nepal and worked for a consulting company for four years. I got an opportunity to enroll in a master's of agricultural and biosystems engineering from South Dakota State University, South Dakota, USA. As a graduate research assistant, I worked on a project related to my area of interest. I worked on a water quality project that uses effective and low-cost techniques to remove nitrate-N and dissolved phosphorus from the subsurface drainage water. I used woodchips bioreactors and metal shavings to remove the nutrients loads in the water. This experience of research provides me with great insight into water quality and its management in the USA, especially the hypoxia zone in the Gulf of Mexico. After I completed my master's, I was in search of an innovative and exciting study in the field of water quality at various universities. My search end at the University of Nevada, Reno with Dr. Hanigan's research group. I am currently working on removing pharmaceuticals from the human urine using waterless urinals sealants. The removal of pharmaceuticals from the urine will potentially reduce pharmaceuticals loads in the wastewater and conserve water quality.
Yingshi Feng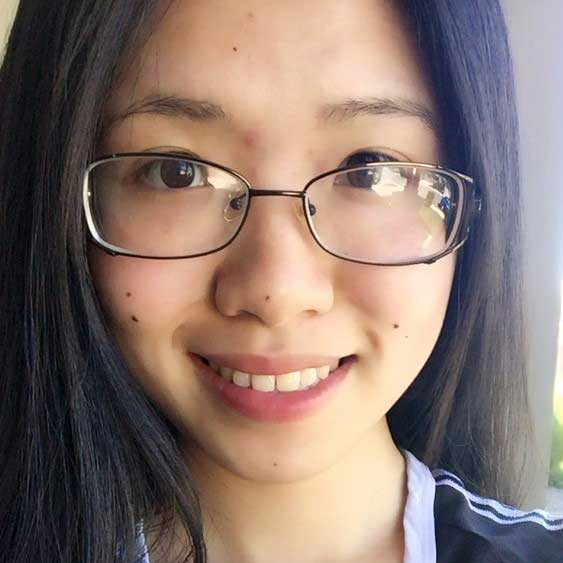 Yingshi is an undergraduate student in chemical engineering at the University of Nevada, Reno with plans to pursue a M.S. in materials science. Yingshi works in the lab assisting graduate students. It is a great opportunity to get involved with research and explore wastewater treatment possibilities. She plans to focus on energy production using microbes.
Vahina Li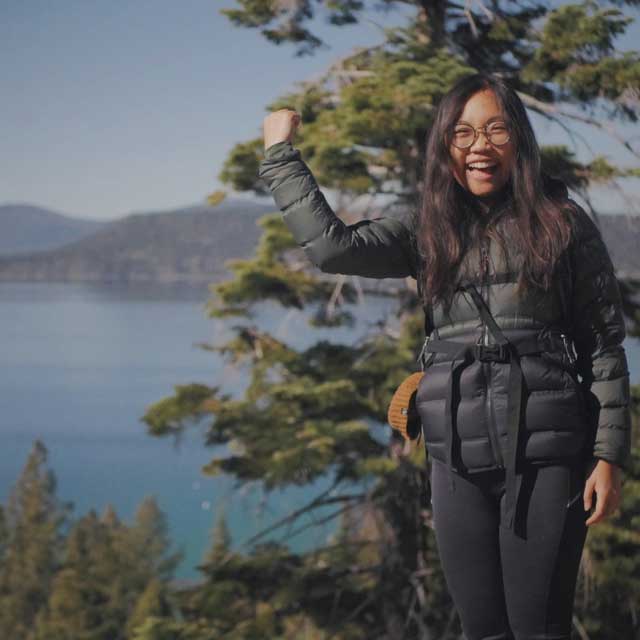 I am an undergraduate pursuing a B.S. degree in environmental engineering and will be expecting to graduate in May 2020. Upon graduation, I hope to work internationally to implement small-scale water treatment systems for developing countries and centralize access to potable water for these communities with considerations to financial thresholds and available resources in these areas. The environmental engineering program here at the University of Nevada, Reno has provided me with an immersive experience between allowing me to spearhead my own projects within various water related courses and granting me the opportunity to work on projects with real life application in the lab. Currently, I am working on a pilot-scale project with a hearty team of Ph.D. students, fellow environmental engineering professors, and one other undergraduate researcher focusing on dissolved organic nitrogen in the wastewater at Truckee Meadows Water Reclamation Facility (TMWRF). Our research focuses on optimizing the coagulation process through the means of utilizing wet and dry lab skills with consideration to various wastewater parameters.