At the end of each semester, the University of Nevada, Reno and the Nevada Alumni Association recognize one undergraduate student from each school or college who fit the Senior Scholar program criteria. The scholars are given a framed certificate, a commemorative booklet and a Senior Scholar pin to honor their achievements.
---
Vanessa Ribeiro
Senior Scholar from the Reynolds School of Journalism
Mentor: Nico Colombant
Vanessa's journey to higher education was filled with challenges. Being a first-generation and low-income student, college was an ambitious but not guaranteed feat for her. Vanessa is grateful to the University for affording her the opportunity to attend college on several scholarships. Nevada was the first institution to invest in her worth and abilities, making higher education a reality for Vanessa. She is grateful for the sense of community and belonging that she has found at the University, a place that has shaped her into the person she is today.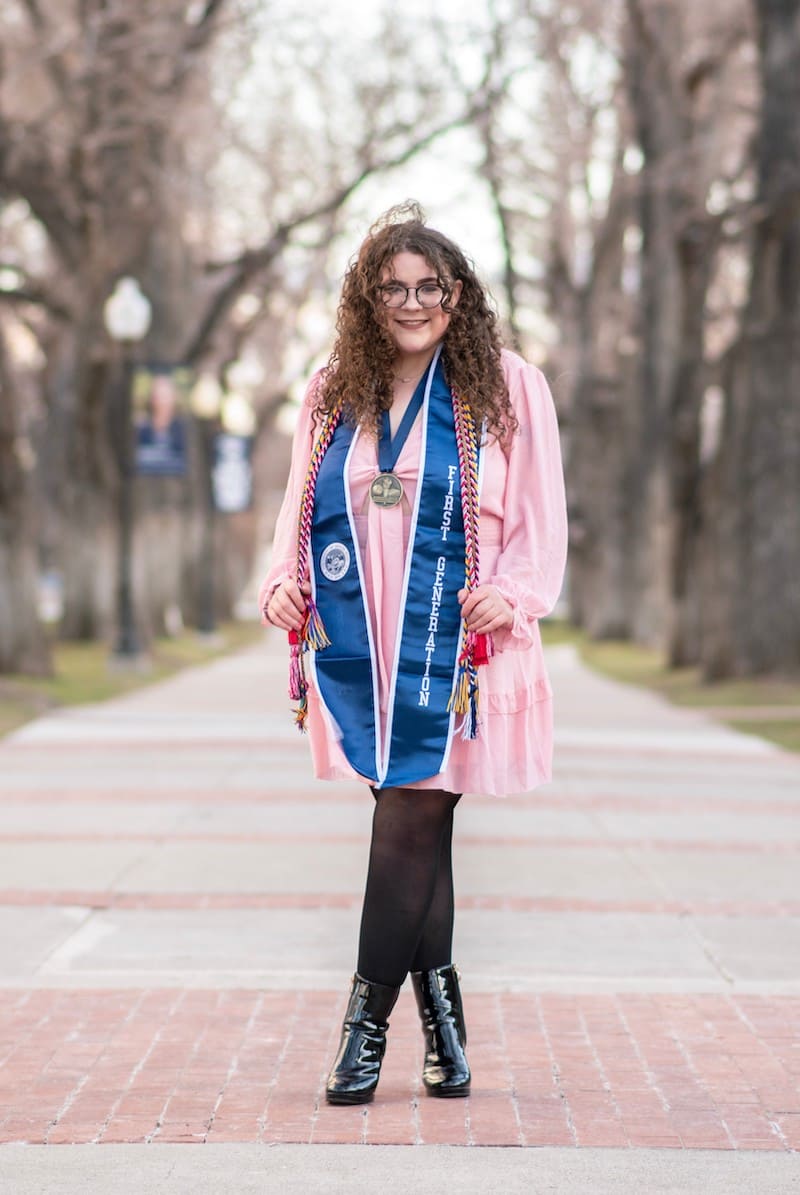 Vanessa's passion for journalism was sparked by the purpose, ethics and power of journalism. The more she learned about the field, the more drawn to it she became. She discovered that journalism is about sharing human experiences, forming connections and bearing witness. Vanessa has found multiple passions and she knew from the start that this field was never going to be one she would leave.

One of Vanessa's favorite memories in college was in her sophomore year when a professor of hers showered her in compliments after she had submitted an article she had written and spent a lot of time on. Having someone with incredible accolades reaffirm that she was on the right track and that she had something to offer was an incredibly inspiring moment for Vanessa.
Vanessa's mentor is Nico Colombant, who is an unorthodox, incredibly blunt and an unapologetically truthful professor, who she is so grateful for. He has given her the most real world, applicable feedback that she can learn from every time. He saw something special in her and offered her the grace and empathy she needed to succeed, and more importantly, believe in herself. He has prepared her to be a driven, active journalist and has challenged her in ways that will only make her more courageous in how she reports. He trusts her love for storytelling over anything else and that is something she will never take for granted.
Following graduation, Vanessa plans to pursue a career in journalism. She wants to continue to uplift, empower and include the voices of those who are often overlooked and forgotten. Vanessa hopes to use journalism to make others feel seen and heard in the most humanitarian sense of the word. She plans to use her role in the field to be the role model that she never had, pushing others to be the best version of themselves. Vanessa knows that there is a long road ahead of her, but she is ready to face the challenge head-on.
---
Devin Wright
Senior Scholar from the School of Medicine
Mentor: Dr. Pradyumn Srivastav
Having grown up in the area, Devin chose to attend the University after touring the campus while she was a senior in high school. As a child, Devin would visit the University's clinic for their services, growing her desire to pursue a degree in speech pathology.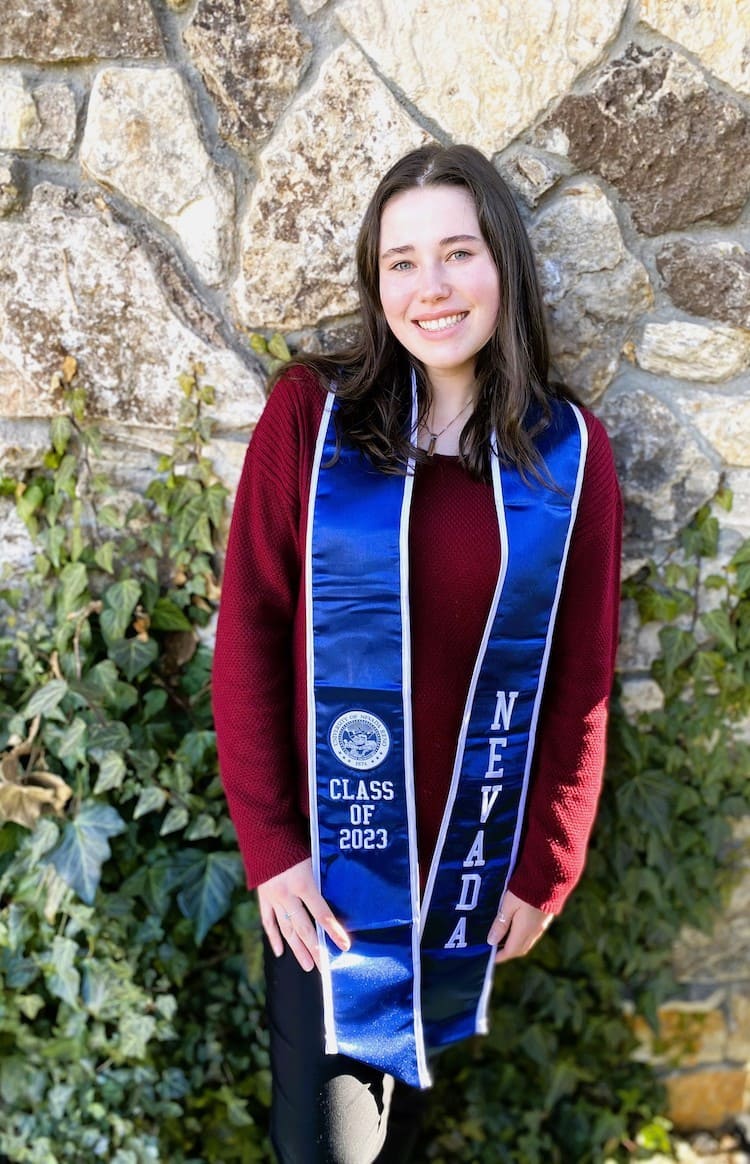 At the University, Devin's passion for her studies grew as she met different professors and peers and learned more about her field. She hopes to help those in need who have dealt with similar difficulties as herself by working in a clinical setting after obtaining her Master of Science degree in speech language pathology.

Some of Devin's fondest college memories stem from getting to know her colleagues and working through assignments and stressors with them. Whether they were working in the library for projects or celebrating after getting through difficult finals, laughing and destressing with her friends are some of the best memories she made during her time at the University, and she will always cherish them.
Assistant Professor and Clinical Supervisor Pradyumn Srivastava has been Devin's mentor throughout her time at the University. She selected Dr. Srivastava as her mentor because his classes were some of the most interesting to her, and from day one, she could tell how passionate he is about the field. Learning from someone as knowledgeable as Dr. Srivastava has been invaluable, and his classes have challenged Devin to be the best she can be.
After graduation, Devin plans to continue her education at the University by attending the graduate program for speech language pathology. She hopes to become a valuable asset to a clinical setting where she can help patients of all ages.
---
Erika Leitenbauer
Senior Scholar from the Orvis School of Nursing
Mentor: Kirstin Combs
Erika's hometown is just outside Reno, so when it came time to choose a college, the University of Nevada, Reno was a natural choice. She had already visited the campus as a child and was impressed with its beauty, but it was the nursing school and public health program that really drew her here. Erika knew that this was the place where she could achieve her ultimate goal of working in healthcare.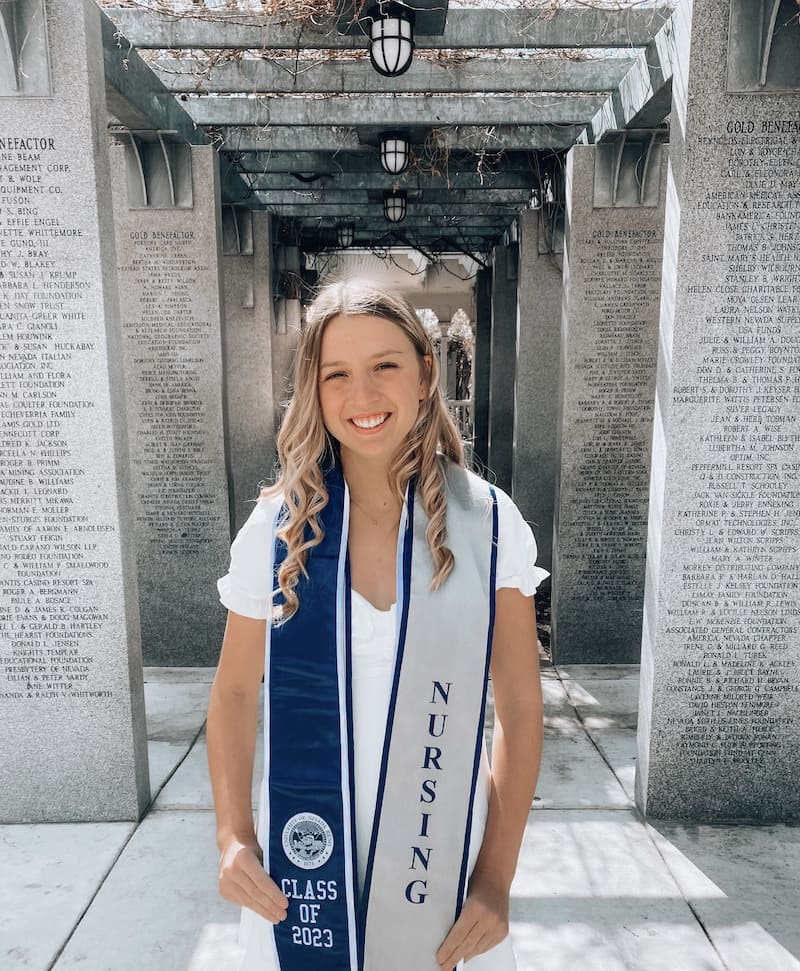 During her high school years, Erika worked in an assisted living facility where she discovered her passion for caring for older adults. However, it wasn't until her sophomore year of college that she decided to major in nursing after hearing great reviews from some of her friends in the program. Erika chose nursing because it allows for direct caregiving opportunities and the chance to make a difference in patients' lives and the health of the community.

Erika's favorite college memories revolve around spending time with her best friends. From TV binge-watching nights to ice cream runs, she cherishes the memories they made together over the past four years.
Professor Kirstin Combs has been Erika's mentor for several years, providing her with invaluable teaching and nursing skills. Erika chose Professor Combs because of her compassion, both for her patients and her students. Professor Combs has helped Erika grow her confidence and provided her with unwavering support, making her feel at ease in any situation.
After graduation, Erika plans to begin her nursing career on the neuroscience floor at Renown Regional Medical Center, where she hopes to continue to grow her nursing skills and passion for the profession.
---
Catrina Aglubat
Senior Scholar from the Honors College
Mentor: Dr. Mariann Weierich
Born and raised in Reno, Catrina chose to attend the University because of her love for the area and its beauty. Additionally, she applied specifically for the Honors College seeking an academic challenge and to be part of a community of like-minded, goal-oriented students and mentors.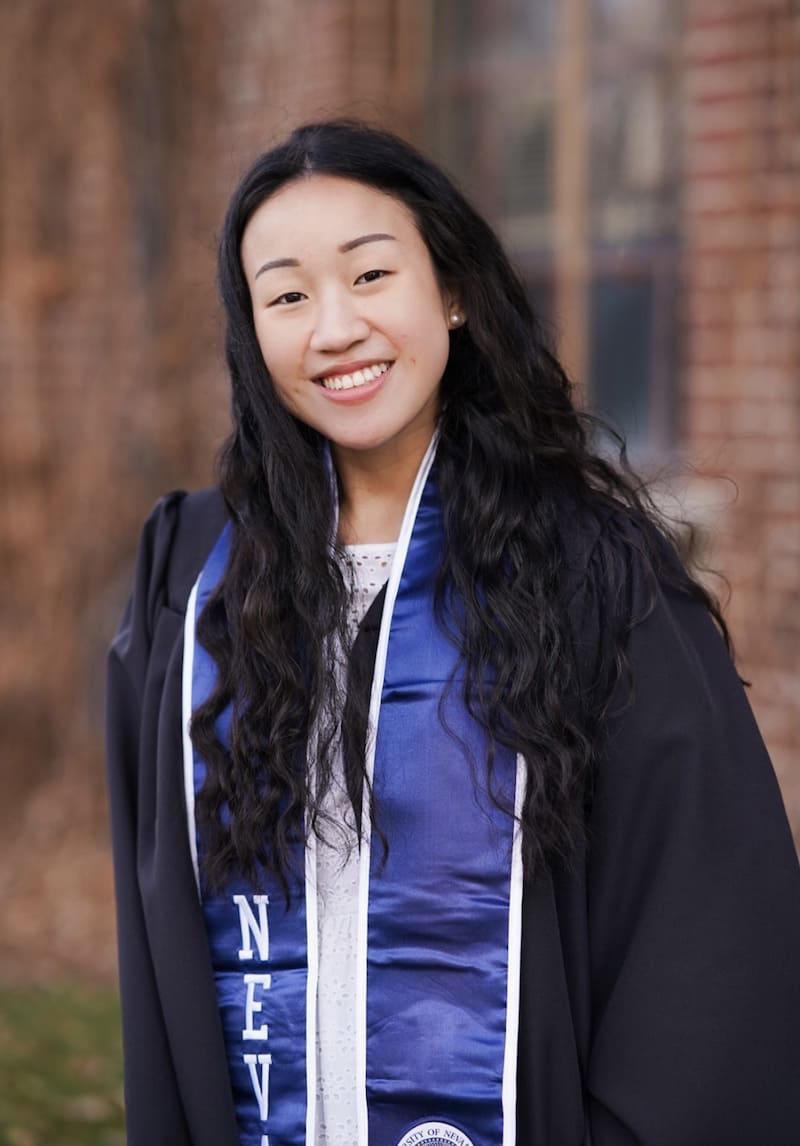 Catrina was inspired to study psychology after hearing her parents discuss the importance of good and widely available mental healthcare due to their occupations. With a passion to understand the current field and where it can still improve, she plans to make a difference by enacting those improvements in the future.

Although Catrina doesn't have a single favorite college memory, she cherishes small, mundane moments with her college friends, like going to a coffee shop, meeting each other's pets and planning to study in the Knowledge Center rotunda. She believes every interaction is precious and that's what's going to stick with her for the rest of her life.
Mariann Weierich has been Catrina's mentor since her sophomore year. Catrina selected Dr. Weierich because of her unparalleled mentorship, sincere generosity and deep care. Dr. Weierich has not only supported and advised her through research and academic endeavors, but also helped her grow as a professional and individual. Catrina feels confident and excited about her future in this field, and she owes that in large part to Dr. Weierich and the faith she's had in her since the beginning.
After graduation, Catrina plans to work full-time as a post-baccalaureate research assistant and apply to a doctoral program in clinical psychology. Her ultimate goal is to become both a scientist and practitioner, administering therapy, interacting with patients and conducting research on treatment outcomes. She's also passionate about making mental health resources and services accessible to people from marginalized groups with histories of trauma, so she plans to continue advocating for this cause regardless of what career path she takes.
---
Konnor Kost
Senior Scholar from the College of Science
Mentor: Dr. Elizabeth Pringle
Majoring in biology and chemistry, Konnor's passion for science led him to choose the University due to the outstanding opportunities available here. From genetics to ecology, Konnor has enjoyed exploring different fields and expanding his knowledge in these areas. He also enjoys teaching and has taken joy in teaching anatomy labs for the last two semesters.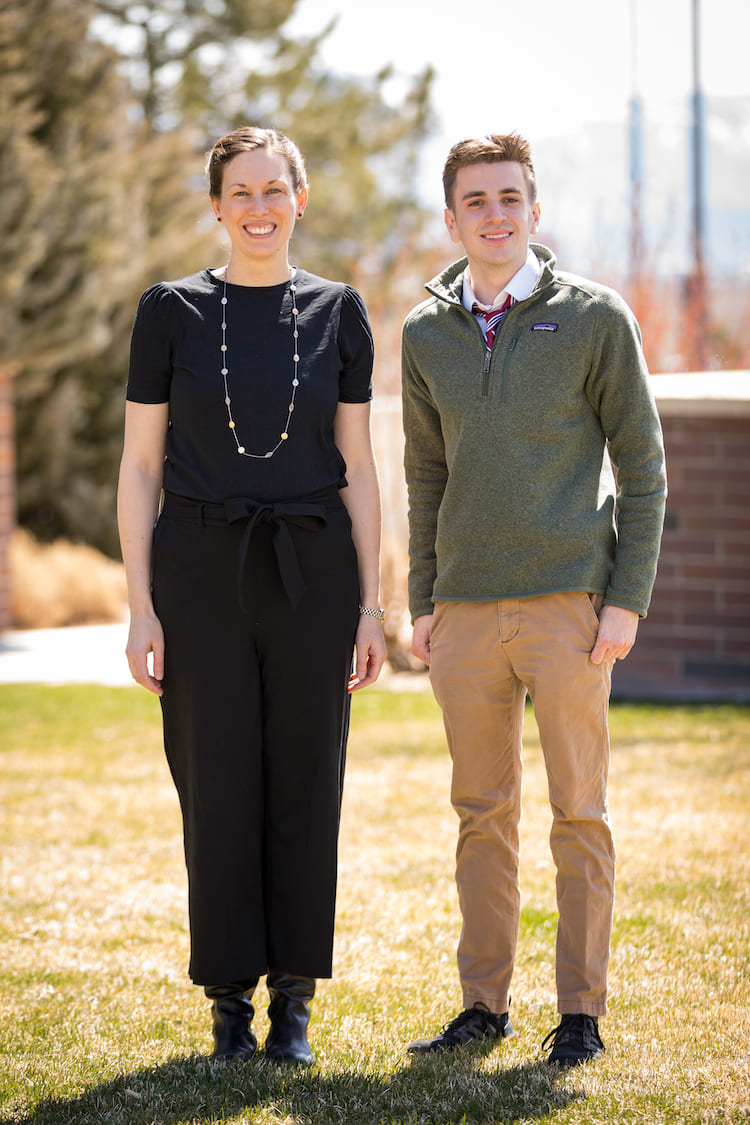 Konnor's favorite college memory was teaching anatomy labs, where he had the opportunity to show his students anatomical structures and share his knowledge of the subject. He has also been involved in research in the Ecology, Evolution and Conservation Biology department, working with Dr. Elizabeth Pringle. This experience has helped him take on greater responsibility and has opened him up to the research process in general.

Konnor selected Dr. Pringle as his mentor due to their four years of working together in the research lab. Dr. Pringle's guidance and mentorship have been extremely helpful in opening Konnor up to take on greater responsibilities and learn more about what he was researching. This experience led him to complete his own research project with the Office of Undergraduate Research. Konnor is truly grateful for Dr. Pringle's mentorship and the experiences he has gained through it.
After graduation, Konnor plans on attending medical school to fulfill his dream of becoming a doctor. Konnor has always been interested in the healthcare field and is eager to make a difference in people's lives. He has already obtained a Certified Nursing Assistant certificate and is excited to further his education in medical school.
---
Andrew Paiz
Senior Scholar from the College of Liberal Arts
Mentor: Rosie Trump
Andrew's decision to attend the University was largely influenced by the positive impression he had of the dance program, thanks to the guest classes taught by the University's dance professors at his high school. After attending a jazz dance class taught by Professor Nate Hodges, Andrew was convinced that Nevada would be the right fit for him.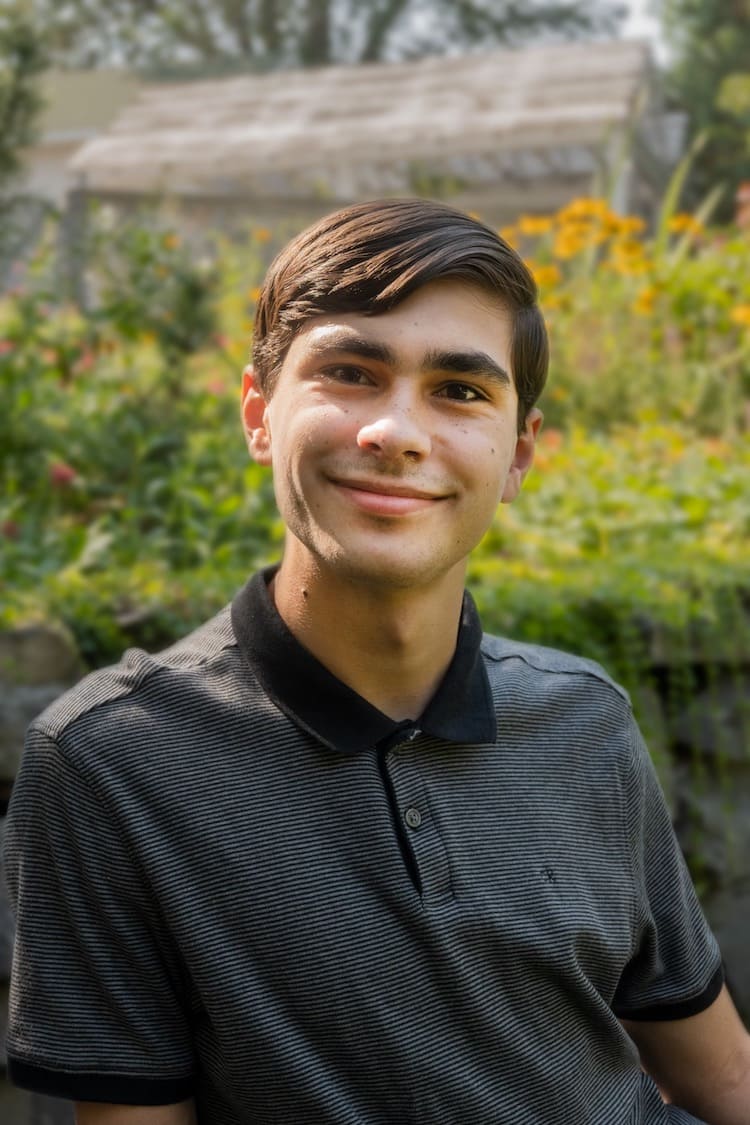 Although Andrew knew he wanted to major in French from the beginning, he initially declared dance as a minor. However, his love for dance and the opportunities that he saw in the dance department compelled him to switch to a dance major within the first week of college. Andrew has since become heavily involved in the department, even serving as its Student Representative this semester.

His favorite college memory was choreographing for the 2022 Fall Dance Festival. Andrew's piece, "Les ténèbres," was an exploration of the emotions that one experiences when dealing with mental illness. He drew inspiration from his prior dance experiences, including working with guest artists like Rosie Herrera Dance Theatre and incorporated his French studies into the piece.
Rosie Trump has been Andrew's mentor during his time at the University and he selected her for her unwavering support and encouragement. Working with her as a choreographic mentor has helped Andrew become a more thoughtful choreographer and he values the knowledge she has imparted on him.
Andrew's plans after graduation are still in the works, but he hopes to continue creating choreography that moves people and potentially teach dance or English abroad.
---
Shannon Keegan
Senior Scholar from the College of Engineering
Mentor: Dr. Ann-Marie Vollstedt
Shannon chose to attend the University because of its excellent engineering program, great financial aid options and the amazing campus. Her interest in math led her to discover the perfect major in engineering, as she not only gets to solve problems on paper, but also develops skills to create things and solve problems in real life. Shannon initially decided on mechanical engineering because of its breadth and the variety of career paths it offers, but she eventually became interested in robotics and was positive that she made the correct choice.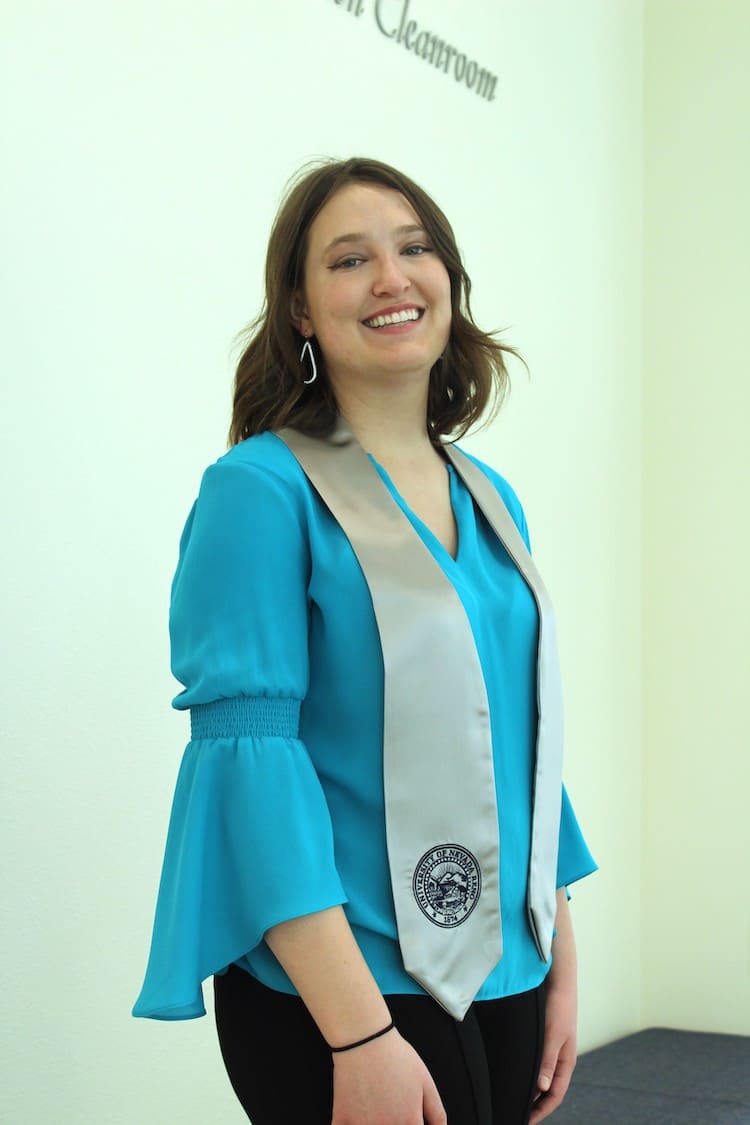 Shannon has had many incredible experiences throughout college, but her favorite memories come from living in Great Basin during her freshman year. She lived in the Engineering Living and Learning Community, and her and her friends were constantly in the social lounge, playing board games, video games and card games. From hanging out in the social lounge to going on late-night crazy adventures to Lake Tahoe and planning trips to San Francisco and Mammoth, all of these were the foundation of her college experience and will forever hold a special place in her heart.

Shannon's mentor, Ann-Marie Vollstedt, has been a significant influence on her since college orientation. As part of the CREATE program, Dr. Vollstedt was Shannon's mentor and she has been one of her biggest supporters throughout her college career, encouraging her to pursue her goals and helping her get her first internship at Duraflex International.
After graduation, Shannon has a job lined up at Northrop Grumman as an associate mechanical engineer in their aerospace division. She is excited to start working in the industry and further develop her engineering skills. Down the line, Shannon hopes to one day work on robotics and eventually either head a robotics team or shift direction and head into engineering management.
---
Maile Callorina
Senior Scholar from the College of Education and Human Development
Mentor: Dr. Jessica Gallo
Maile chose to attend the University to experience life away from her hometown and to push herself to be more independent. She fell in love with the energy of the campus and is glad she ended up at Nevada. Maile discovered her passion for teaching through the PackTeach program, which helped her realize that she wanted to pursue a career where she could make a positive impact on her future students.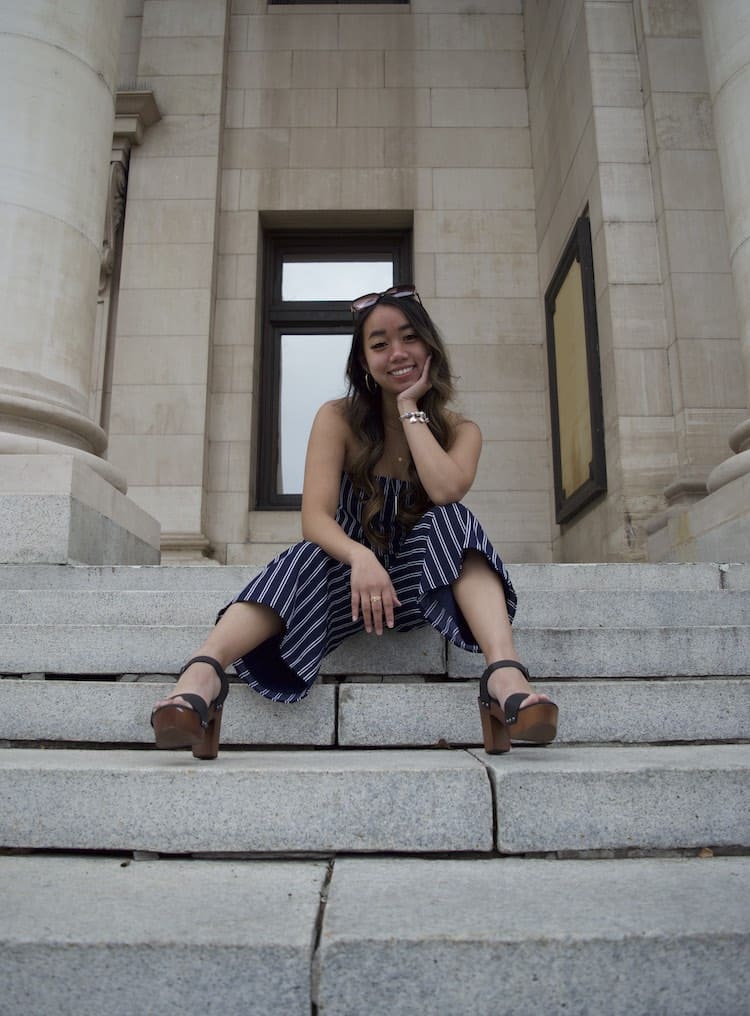 One of Maile's favorite college memories is joining her sorority, Kappa Phi Lambda. The sorority taught her valuable professionalism skills, such as event planning and advocating for culturally diverse movements. More importantly, Kappas provided her with a lifelong sisterhood and helped her realize the legacy she wants to leave after graduation.

Maile's mentor throughout her academic journey has been Dr. Jessica Gallo. She selected Dr. Gallo because she brings a safe and inviting energy into the classroom and is an advocate for education on all platforms. Dr. Gallo's commitment to social justice, mental health and cultural awareness has inspired Maile to become an educator who considers the lives of her students and their intersectional identities. She trusts that Dr. Gallo will give her honest advice and hopes to follow in her footsteps as a good educator.
After graduation, Maile plans to pursue a master's degree in higher education administration at the University. She hopes to use her bachelor's degree in education to start teaching at the middle or high school levels in Washoe or Clark County. Her long-term goal is to pursue a career in student affairs at higher education institutions.
---
Mykel Broady
Senior Scholar from the College of Business
Mentor: Bret Leary
Mykel chose to attend Nevada because of its status as a Carnegie R1 research university and the ample opportunity to learn from other passionate lifelong learners. His decision to major in marketing and management was based on two significant factors: broad-application and purpose. Through this major, he is empowered to use his creativity in a plethora of fields while also leading other bright minds towards their unique purpose.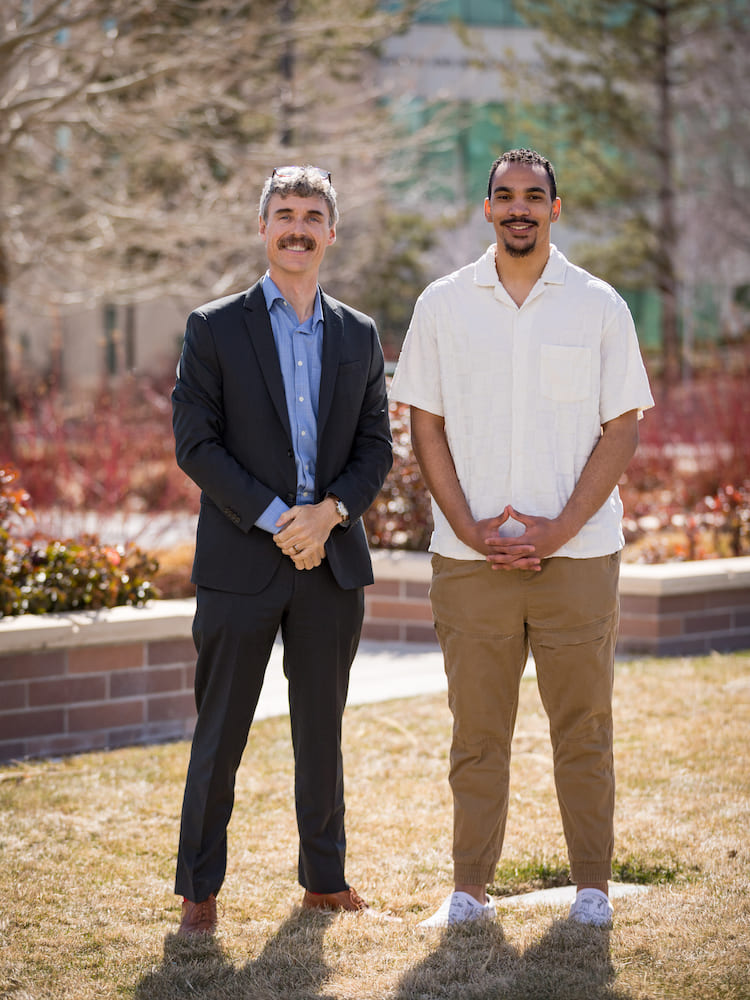 One of Mykel's favorite college memories is when he informed a professor at the beginning of a semester that he would be his top student from a class of over 200. Despite the weight of such a promise, he finished the semester as his top student thanks to actively listening during class lectures and engaging in office-hour conversations. This memory inspired him to never doubt his profound capabilities and to embrace the ever-growing power of learning.

Bret Leary has been Mykel's mentor and he selected him because Bret is one of the greatest individuals he has had the pleasure of learning from. As a genuine professor who cares deeply about his students and their success beyond the class, he has inspired Mykel to harness the power of vulnerability and utilize the incredible support system he has. Furthermore, Mykel is confident that although time may pass in between their interactions post-grad, Bret's love and desire to support him will always stay.
Following graduation, Mykel plans to inspire many to truly embrace the ever-growing power of learning. He intends to grow The Mykel Broady Podcast, write books and support various nonprofits to make a meaningful difference that will long-outlive him.
---
Nicole Choma
Senior Scholar from the College of Agriculture, Biotechnology and Natural Resources
Mentor: Dr. Mae Gustin
Nicole chose to attend the University because of the diverse range of courses offered. She was unsure which biological field she wanted to specialize in before college, but the University's wide variety of interesting and unique courses allowed her to explore and determine her interests.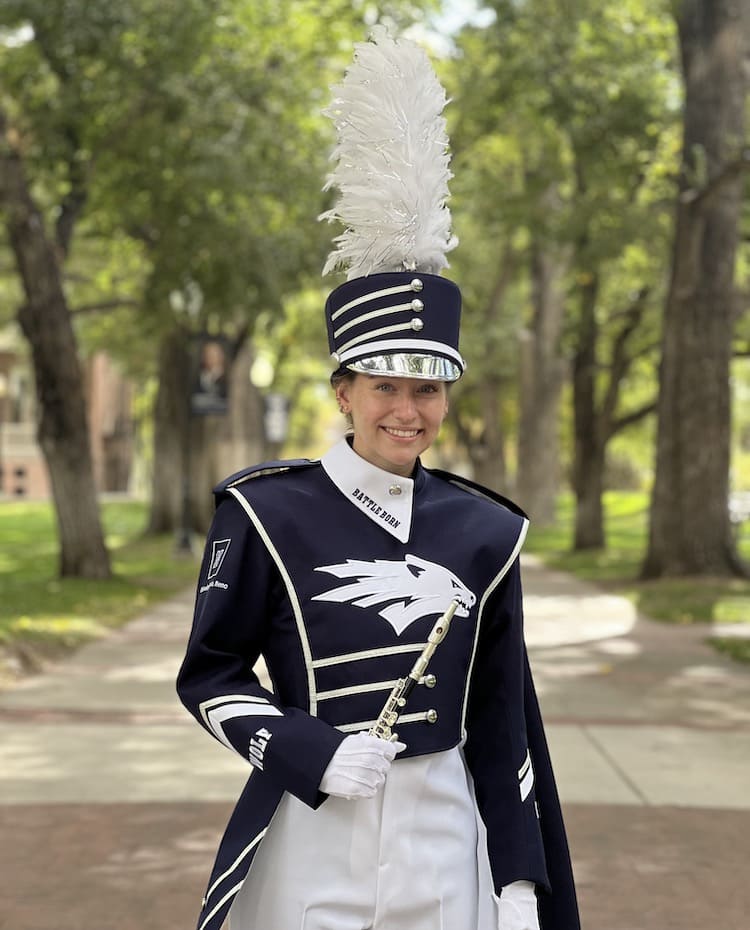 Growing up camping, hiking and exploring national parks, Nicole always had a love for being in nature. As she got older, she wanted to develop a deeper understanding of the world around her. Studying environmental science and biology has allowed her to do so and will allow her to work to protect it and its inhabitants in a changing world.

One of Nicole's favorite college memories is performing at football games in the Wolf Pack Marching Band. In both the heat and freezing cold, it was always exhilarating to run onto the field with 100-200 of her peers and put on a show for the crowd.
Mae Gustin has been Nicole's mentor for three years. Nicole selected Dr. Gustin as her mentor because she has always provided her with valuable experiences and opportunities. From her, Nicole has learned a great deal about research, teaching and the life of a scientist. Dr. Gustin has inspired Nicole to follow her dream of becoming a professor and has provided her with guidance in the process of obtaining that goal.
Following graduation, Nicole plans to attend graduate school and study animal behavior. Eventually, she hopes to become a professor.
---
Katelyn Miller
Senior Scholar from the School of Social Work
Mentor: Jose Parra
Katelyn decided to attend the University to experience something new. Being born and raised in Las Vegas, the University was a great option as it is different from Vegas, yet still in-state, making it convenient for her to visit her family. On a Nevada Bound trip during her senior year of high school, Katelyn immediately fell in love with the campus. She loved the fact that Reno experiences all four seasons, has a sense of a smaller community and knew that the University was where she belonged.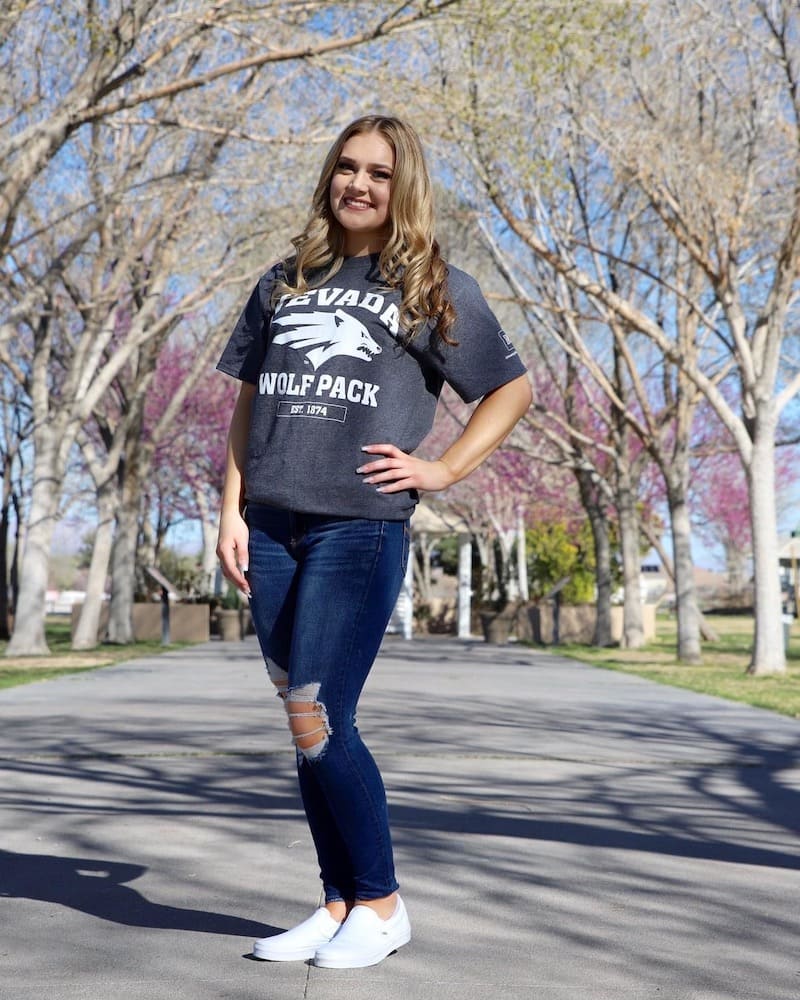 Katelyn was always interested in helping people, but was not sure how she wanted to do so. During her second semester of freshman year, she was introduced to social work and what social workers do. She was fascinated by the field and the numerous options for social workers. After her first introductory course for social work, Katelyn knew she belonged in the field.

One of Katelyn's favorite college memories is interning at the Northern Nevada RAVE Family Foundation. This nonprofit organization provides respite to caregivers with children with disabilities as well as children in the foster care system. She learned not only about disabilities but also, the nonprofit world and what it takes to keep a nonprofit running effectively.
Katelyn selected Jose Parra as her mentor because he is informative, genuine and caring. She has taken two classes with him, Structural Oppression, as well as Social Work Methods with Organizations, Communities and Legislatures. Jose is not only knowledgeable on what he is teaching, but he also genuinely cares for his students. Jose has always made Katelyn feel important and valued her opinions. She has thoroughly enjoyed both his classes and has learned so much. Katelyn will carry what she learned from Jose into the field.
After graduation, Katelyn plans to continue her education and is currently in the application process for the online Advanced Standing Master's program for social work through Nevada. She plans to move back to Las Vegas to be near her family again and complete her master's degree online through the University.
Upon completion of her master's degree, she would like to pursue a career in mental health, and her long-term goal is to become a licensed clinical social worker and provide therapy to trauma victims.
---
Elizabeth Yurcisin
Senior Scholar from the School of Public Health
Mentor: Dr. Pamela Sandstrom
As a Reno native, Elizabeth has always felt connected to the University. Attending sporting events and imagining herself as a student on campus made her decision to attend the University of Nevada, Reno a no-brainer.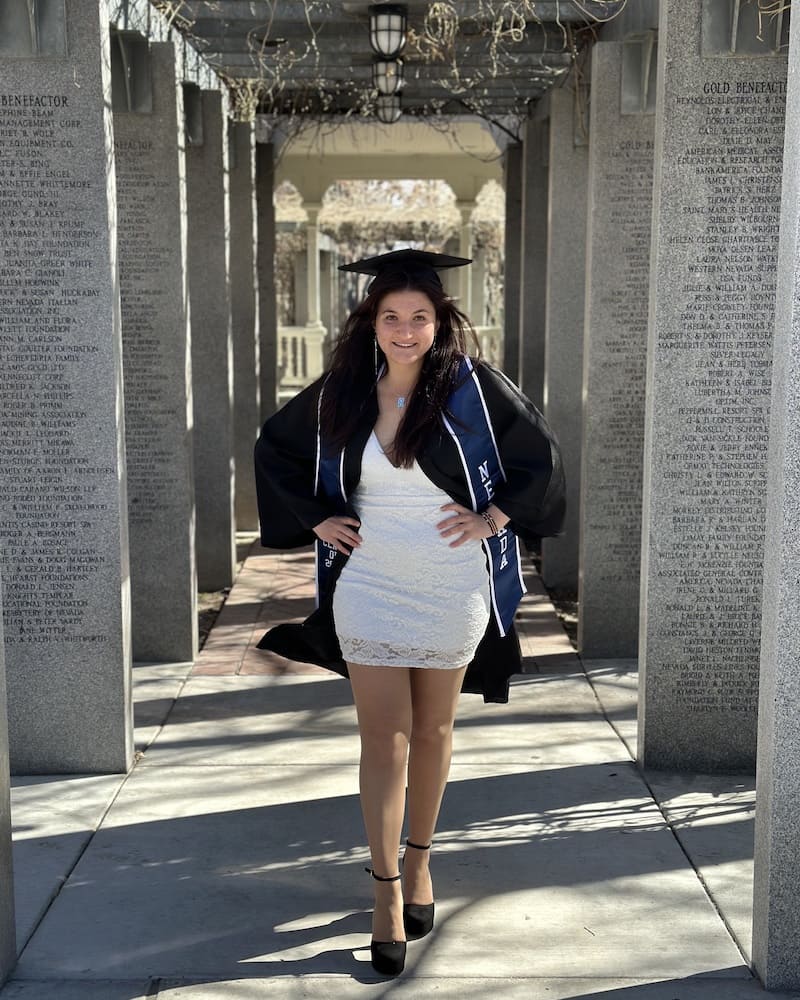 In high school, Elizabeth's experience with physical therapy sparked her fascination with the movement of the human body. Her involvement in her high school's sports medicine program and other opportunities to learn about the human body solidified her decision to major in kinesiology.

One of Elizabeth's fondest college memories was attending the Welcome Week concert in 2021 and meeting Sage the Gemini. Alongside making lifelong friends and staying fit in the Fitness Center, Elizabeth has also enjoyed being a teaching assistant and a part of the Anatomy and Physiology's Dissection Team.
Dr. Pamela Sandstrom has been Elizabeth's mentor for four semesters. Elizabeth initially applied to be Dr. Sandstrom's teaching assistant for her Fundamentals of Life Science course and found the experience to be highly impactful. She admired Dr. Sandstrom's dedication to her students' success and modeled much of her teaching style around hers. After one semester as a teaching assistant, Elizabeth became Dr. Sandstrom's Course Coordinator, and Dr. Sandstrom has continued to guide her both in and out of the classroom. Elizabeth believes that Dr. Sandstrom is truly a one-of-a-kind mentor.
After graduation, Elizabeth plans to undergo a second spine surgery during the summer and use her recovery time to complete the final touches on her graduate school applications. Her long-term goal is to attend medical school with a specialty in radiology.