The College of Education & Human Development's Center for Learning and Literacy Wolf Pack Bots Robotics Team recently won first place for the Innovation Award at the Northern Nevada FIRST® LEGO® League (FLL) Qualifier. Strong mentorship and hard work pay off as the young Wolf Pack Bots progress to the Northern Nevada FLL Championship on February 4, 2023 in Carson City, Nevada.
Rachel Salas, director of the Center of Learning and Literacy, coaches and leads this program with the help of graduate student mentor Monika Bharti and undergraduate student mentors Nanami Duncan, Vivana Reyes, and Lanielle Pavlik.
Salas sees this program as a way to positively impact the youth, many of whom have been recruited from the Center's literacy tutoring program. Most team members identify as multilingual, are in grades four through eight and come from different Title 1 schools throughout Washoe County. The team consists of members from predominantly racially and linguistically marginalized populations.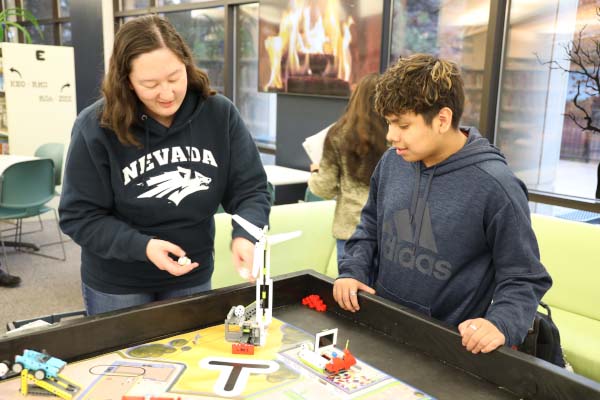 Salas began the Center's FIRST® LEGO® League robotics program in 2017. She said the program continues to help children gain confidence in themselves and their abilities. Salas was also honored with the coach/mentor award at FLL Nevada State Championship in 2021.
"My goal is to provide kids with the tools to be confident and who believe in themselves and have that worldview of 'the sky's the limit: I can do this,' whether a girl or a boy, whether they have a disability, a speech impediment or have been labeled as an English learner at school. That's empowerment, the way I see it," she said.
The impact of the program is positive and multifaceted. Through participation in the FLL program, students have improved their reading, writing, speaking, listening and researching skills. Literacy and STEM skills are used constantly throughout the program, demonstrating the tight linkage between literacy and STEM. Team members and their parents consistently validate that the team members have developed greater communication skills and confidence in themselves and their STEM identity because of their participation in the Wolf Pack Bots program.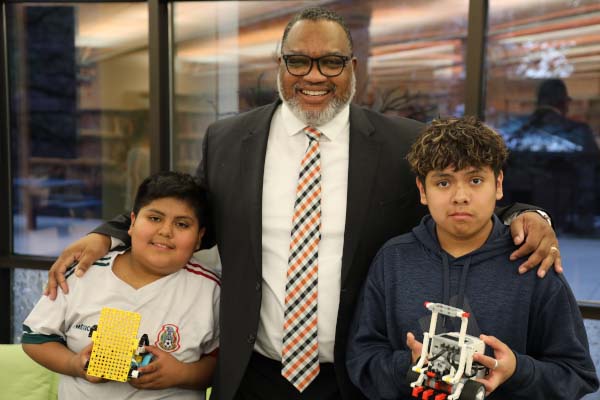 "It's incredibly humbling to have such an outstanding yet innovative program like Wolf Pack Bots," said Donald Easton-Brooks, dean of the College of Education and Human Development. "One of our missions in the college is to construct more bridges between STEM and teacher education. Wolf Pack Bots is one of our unique connections in that not only does it achieve our mission, but it also connects underserved students to technology that they would have never had the chance to use while improving their language and math skills in such a strong way. Because of Dr. Salas, that is a win-win for the University and the state of Nevada, which is why we are committed to long-term support of the program."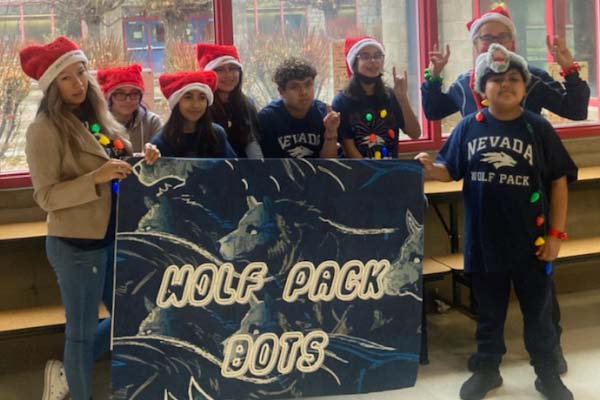 This year's theme for the FIRST® LEGO® League season is "Superpoweredsm," which encourages students to learn about different types of energy sources, storage, distribution methods, and ways in which energy is consumed." The Wolf Pack Bots were tasked with designing and programming a robot that can accomplish missions, related to this theme, using a provided game mat with LEGO® pieces.
The University's K-12 Robotics Center at the Innevation Center acts as an open space where the Wolf Pack Bots robotics team designs, builds and tests their creations. The K-12 Robotics Center also provided expertise and supplies for the team's innovation project, 3D wolf swap gifts given to other teams at the qualifier and team embroidered hats.
"The Innevation Center and its staff have always been welcoming and supportive of the Wolf Pack Bots," Salas said. "Ania Calvill-Mason and her staff provide us with space when needed, and no matter what crazy ideas the team may have for an innovation project Daniel Smith and his incredible team at the Makerspace are always willing to assist us! The Innevation Center has been an invaluable resource for the Wolf Pack Bots."
Last year the team won the Innovation Project and Global Innovation Nomination awards at the Northern Nevada FLL Championship and the Global Innovation Award Nomination for the Nevada region. This award rewards teams for their problem-solving, creativity and inventiveness with an opportunity to further pursue their Innovation Project solutions.
To learn more about the Wolf Pack Bots program, visit the Center for Learning and Literacy website.