When Rachel Salas, director for the Center of Learning and Literacy (CLL), participated in the First LEGO League (FLL) program with her daughter many years ago, she observed the amazing benefits it had for young students. By building robots with LEGO pieces, participants learned STEM, robotics and language concepts without realizing it.
Now, Salas, along with University student mentors, coaches the Wolf Pack Bots, a team currently comprised of students in grades 3-6. Salas, who began the Center's First LEGO League robotics program in 2017, said the program continues to help children gain confidence in themselves and their abilities.
"This was an activity where they got to come and shine and excel and I still see it today," she said. "This program is worth it. We'll keep this going no matter what."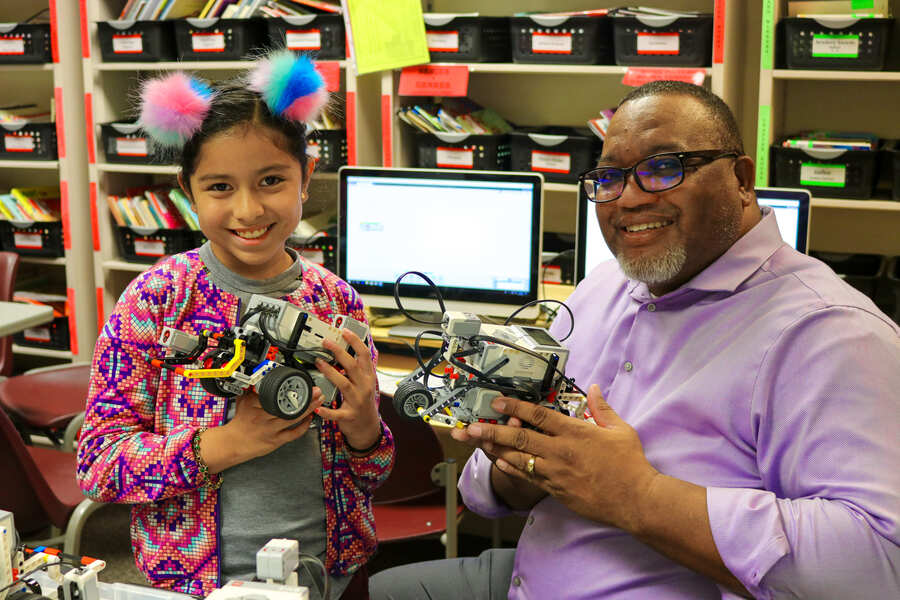 "It's incredibly humbling to have such an outstanding, yet innovative program like Wolf Pack Bots," said Donald Easton-Brooks, dean of the College of Education and Human Development. "One of our missions in the college is to construct more bridges between STEM and teacher education. Wolf Pack Bots is one of our unique connections in that not only does it achieve our mission, but it also connects underserved students to technology that they would have never had the chance to use while improving their language and math skills in such a strong way. Because of Dr. Salas, that is a win-win for the University and the state of Nevada, which is why we are committed to long-term support of the program."
Empowering students through robotics
Salas was inspired to begin the Wolf Pack Bots because of a student she worked with in the CLL tutoring program. Despite having a diagnosed speech impediment and learning disability, she said this student had a great attitude and had been attending the tutoring sessions for several years.
Then, Salas noticed a change in him as he approached middle school. Bullying at school caused him to think negatively about himself, and it was affecting his self-esteem.
"He started to come in to tutoring sessions and use words that we would tell him he couldn't use, like 'I'm a failure'," she said. "That's when I realized I had to do something."
Remembering how beneficial the FLL experience was when she participated with her own daughter, she created the robotics program for students in the second through eighth grade in the Washoe County School District. Each year, LEGO reveals a science-related theme, and participating groups receive a game mat with LEGO pieces. This game mat has missions related to the theme, and the goal is to design and program a robot that accomplishes these missions within two and a half minutes. To assist with brainstorming, Salas also works with the team to find researchers in the community, such as University faculty and staff or local experts, to speak with the children and help them formulate ideas for their research problem and possible solutions to it. This interaction leads to the formulation and creation of the innovation research project.
After the student was part of this program, Salas observed a positive change – he was great at building, and regularly took a leadership role among his other group members. Over time, Salas witnessed his natural teaching abilities flourish and his confidence grow. Robotics became a safe place for him.
"My goal is to create confident kids who believe in themselves and have that worldview of 'the sky's the limit: I can do this,' whether a girl or a boy, whether they have a disability, a speech impediment, or have been labeled as an English learner at school. That's an empowerment, the way I see it," Salas said.
The program has only grown since then. Like the student above, a majority of the Wolf Pack Bots team members are recruited from the literacy tutoring program. Most of the students involved are also Black, Indigenous and People of Color (BIPOC) who speak a home language other than English, and Salas said it's fantastic to see robotics empower students to think of themselves as more than their labels.
Mridul Gautam, University vice president for The Division of Research & Innovation and professor of mechanical engineering, remarked on how a robotics program like this can be beneficial to young students.
"Learning robotics at a young age is invaluable, especially to those from underrepresented backgrounds. By taking them places like the University campus, the Innevation Center and the K-12 Robotics Center, they will not only learn more and gain confidence every day, but will understand all the opportunities available to them," he said.
Opening in early summer 2021, the University's K-12 Robotics Center will act as an open space where K-12 robotics competition teams can design, build and test their creations.
Support from University, community
Although the pandemic made meeting in-person more difficult, the Wolf Pack Bots found a way to continue. The group previously met in the William J. Raggio Building on campus, but due to COVID-19 restrictions, the team could no longer gather there.
Fortunately, the University of Nevada, Reno Innevation Center offered space to the group so they could keep preparing for the competition. Salas said she and the team were grateful, because without it this season wouldn't be possible.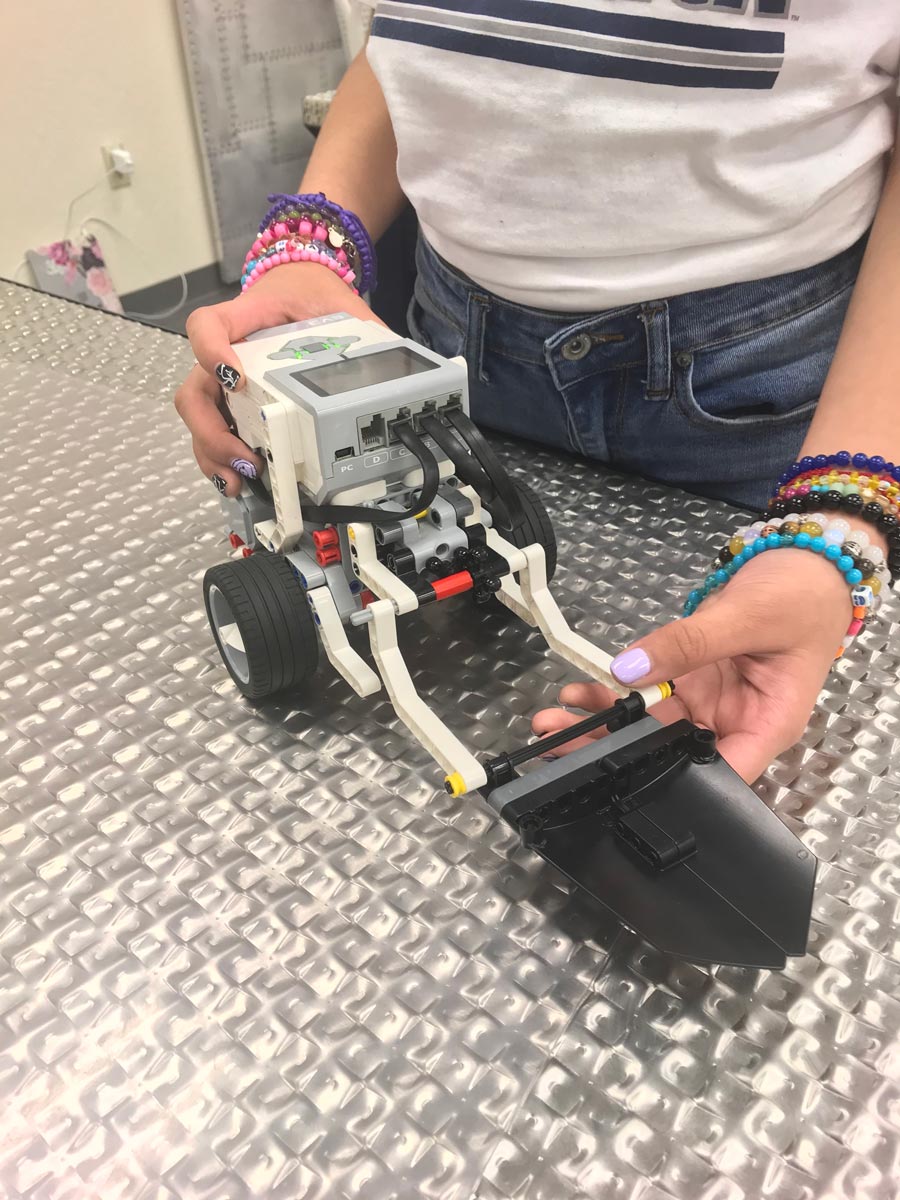 With this support, the team won the state-level Innovation Project Award at the FLL Nevada State Championship in May 2021. Salas was also honored with the coach/mentor award. This year's theme was "RePlay" and the game mat contained missions related to staying physically active during the pandemic. Wolf Pack Bots built a robot named "Wolfy" to complete these missions, and for the research project aspect of the competition they developed an idea for a fitness application called "Fit4Kids," or "Fitness4All." This application provides short exercises that can be done at home or outside and encourages kids to be active for at least four minutes a day.
The Wolf Pack Bots gained enough points overall to advance as one of two Nevada teams to the nine state regional FLL Western Edge Invitational which takes place June 11-13, 2021.
In addition to the support from the College of Education & Human Development and the Innevation Center, Salas emphasized how instrumental the work of University student mentors, including one graduate student and four undergraduate students, is to the success of the Wolf Pack Bots. She said they not only support the team with their help, but also act as role models for the children.
"It does take a group, and it's nice to have their support. I think it's great for my little students to see this is what college students do; they give back to their community, they work with others. It's not just about going to school and forgetting about the rest of the community."