The past will soon meet the future of workforce development in the historic Southside Studio, operated by the University of Nevada, Reno in downtown Reno. K-12 robotics competition teams help to stimulate interest and development in robotics, computer science, engineering and automation, and these teams need large, open areas in which to design, build and test their creations. The upstairs space of the former Southside School – which was once used as the combined gymnasium and performance stage – offers an answer. It will be home to the K-12 Robotics Center|University of Nevada, Reno, opening in 2021.
Tesla and the Economic Development Authority of Western Nevada (EDAWN) are supporting the project and share the University's vision to create a space that encourages young people's interest in these critical fields of study.
Mike Kazmierski, EDAWN president and CEO, sees the K-12 Robotics Center helping to answer a big question: "Where are we going to be as a region in 10 years? If we are going to be a tech hub, we need to reinvent how we think about and teach technology."
EDAWN has added the position of regional robotics coordinator to its team to support programming and connect the region's robotics-related efforts, people and organizations. In this role, Caroline Hanson is already coordinating with the team at the Innevation Center which oversees activities in the Southside Studio and the K-12 Robotics Center.
Chris Reilly, Tesla's director of recruiting & workforce development, is confident the K-12 Robotics Center – and other efforts to encourage robotics-based curriculum and activities happening across the state – will lead more students toward careers in advanced manufacturing and engineering fields. Many Tesla employees tell Reilly their involvement in high-school robotics competitions sparked their interest in these future-oriented career possibilities.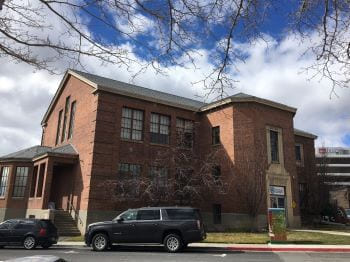 Tesla is investing in the development of the Southside Studio, located across the street from the University's Innevation Center and on the same block as The Discovery Museum. The current remodel is addressing ADA accessibility, adding a new HVAC system and adding a space for woodworking to complement the Innevation Center's well-equipped makerspace. The historic nature of the building, including the old gym floor and the stage area upstairs, will be retained.
"It will be a place where kids and parents, coaches, teachers and University faculty, all come together," said Mridul Gautam, the University's vice president for research and innovation and professor of mechanical engineering. "The kids will learn to design and build, and they will see the opportunities and the support for their future success."
"We are especially interested in encouraging underrepresented and first-generation students to be part of this," Gautam said.
Washoe County School District noted that already almost all Washoe County high schools have some robotics-based curriculum or programming in place, and Reilly envisions a day when all high schools in Nevada offer curriculum and programs in robotics, putting a larger number of students on the path toward careers in robotics and automation.
"Having dedicated spaces in our community centers and at our schools will help accelerate this," he said.
"It will be an educational platform that creates a pathway to careers and success," said Kazmierski.
As of January 2021, renovation of the space is underway. After completed, initial use of the space will be limited to comply with restrictions on public gatherings. However, this doesn't stop the broader impact: the network of interest gathering around the K-12 Robotics Center will provide support to students preparing for competitions such as the FIRST Robotics Competition, which is happening remotely in spring 2021.
The Southside Studio is located at the corner of Liberty and Sinclair Streets. It remains the home of Sierra Nevada Journeys, a science-education nonprofit organization serving Nevada and California, and it will also expand the space available for early-stage entrepreneurial companies engaged with the Innevation Center.
To contact the K-12 Robotics Center, email the Innevation Center. For volunteers, organizations or businesses wanting to be involved, email Caroline Hanson, EDAWN regional robotics coordinator.