Current courses
Independent study: Post-fire restoration
(NRES 408a)
In the new independent study program, students will be trained in the art and science of post-fire landscape restoration to support ecological and social recovery. Education and trainings will occur within the burn scar of the 2016 Little Valley Fire in West Washoe Valley. This wildfire originated from a prescribed fire on the University's Whittell Forest & Wildlife Area, burning approximately 2,300 acres and 23 homes. Both the landscape and local community are still recovering from this wildfire and in need of active restoration. As part of this course, students will receive on-the-ground education in fire ecology, fire behavior and forest restoration from Whittell director, Sarah Bisbing, and forest manager, Hunter Noble, as well as foresters with the Humboldt-Toiyabe National Forest, the Nevada Division of Forestry, and the University's Living with Fire program. Students will also be trained in active post-fire restoration, including hazardous tree falling, reforestation and erosion control. Additionally, students will have the opportunity to engage in community outreach and the promotion of fire-adapted communities in collaboration with the director of Living with Fire.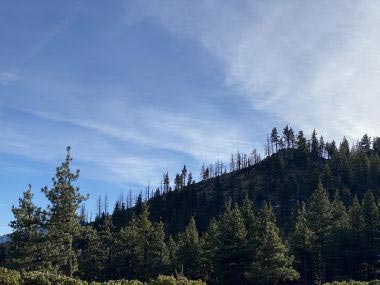 The course is open to all students (from any major on campus) interested in learning and working in a post-fire environment to support ecological and societal recovery following a catastrophic wildfire. For the active restoration component of the course, students must be able to hike off trail up steep terrain, carry a heavy pack (40+ lbs), and have interest in or experience with running a chainsaw. Students may also register for the course to train solely in community outreach and extension and will be exempt from these minimum requirements.
All students will be required to follow COVID-19 protocols as outlined by the University, including wearing masks and maintaining distances of a minimum of six feet from instructors, guest instructors and other students, even when in a field setting. Additionally, until vaccination, all participants will drive separately, with exceptions made only for roommates or family members (i.e., defined as family units). Students will be required to sign field trip waivers and volunteer forms to participate in this off-campus, field-based course.
Course Details
Students may register for 1-3 credits

1 credit = 40 hours of class/restoration time
2 credits = 80 hours of class/restoration time
3 credits = 120 hours of class/restoration time

Class and field lab dates and timing will depend upon student, faculty and landowner availability
Register in MyNEVADA for course NRES 408a - Post-fire restoration