Super Readers are Superheroes literacy program
Nevada has one of the lowest high school graduation rates in the country. One contributing factor, as reported in Education Week, 2022, and the National Center for Educational Statistics, 2013, is that Nevada's youth are deficient in literacy skills. The Super Readers are Superheroes literacy program aims to improve the literacy skills of Nevada's elementary-aged students, develop and promote their confidence, and provide program implementation and evaluation experiences to graduate student staff. The program used is an adapted and condensed version of the McGraw-Hill Corrective Reading Program, which contains a total of 30 lessons at two different difficulty levels. These lessons are tailored to participants reading below a third-grade level and disseminated through Truckee Meadows Boys & Girls Club sites.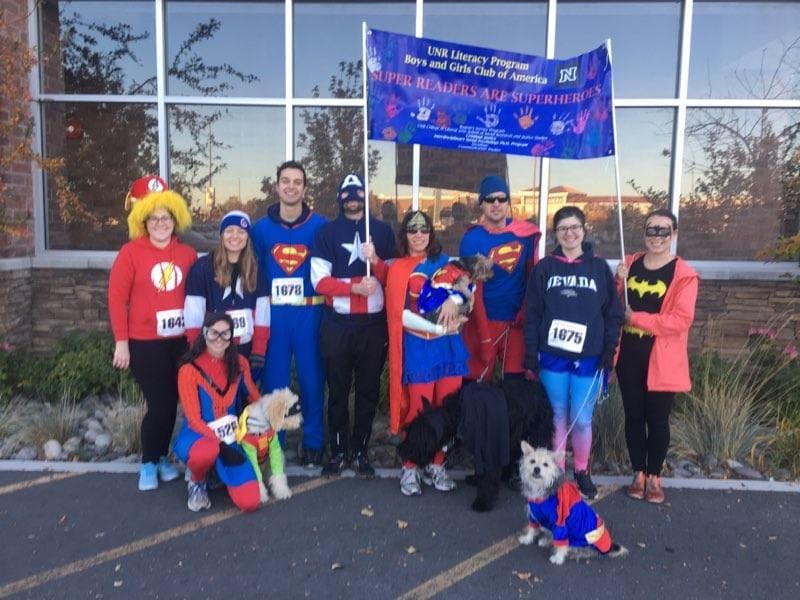 History
The literacy program was founded in 2014 by Drs. Monica Miller and Christine McDermott with the goal of improving children's literacy skills through standardized program implementation. The program has humble beginnings, originally being implemented to only 11 participants and later expanding to reach over 260 students in one school year. Our graduate student employees have won Literacy Awards for their service in delivering this program.
Funding
The program is funded by a Regent Service Grant, with additional aid from the University's Criminal Justice Department, College of Liberal Arts, Interdisciplinary Social Psychology Ph.D. Program and School of Social Research & Justice Studies.
Fundraising
In addition to implementing literacy lessons for at-risk youths, the literacy program participates in local fundraisers that benefit public education. Pre-COVID, the literacy program participated annually in the Run for Education to benefit the Education Alliance of Washoe County. For more on these events, see the 2017 Literacy Run and the 2019 Literacy Run.
Contact
Monica K. Miller, J. D., Ph.D. | (775) 784-1287 | mkmiller@unr.edu
Referenced articles
Aud, S., Wilkinson-Flicker, S., Kristapovich, P., Rathbun, A., Wang, X., and Zhang, J. (2013). The Condition of Education 2013 (NCES 2013-037). U.S. Department of Education, National Center for Education Statistics. Washington, DC. http://nces.ed.gov/pubsearch.
Education Week. (2022, March 24). Nevada earns a D on state report card, ranks 51st in nation. Education Week. https://www.edweek.org/education/nevada-earns-a-d-on-state-report-card-ranks-51st-in-nation/2015/12