Discover Science, the podcast
Episode list and transcripts
Discover Science: William F. Tate IV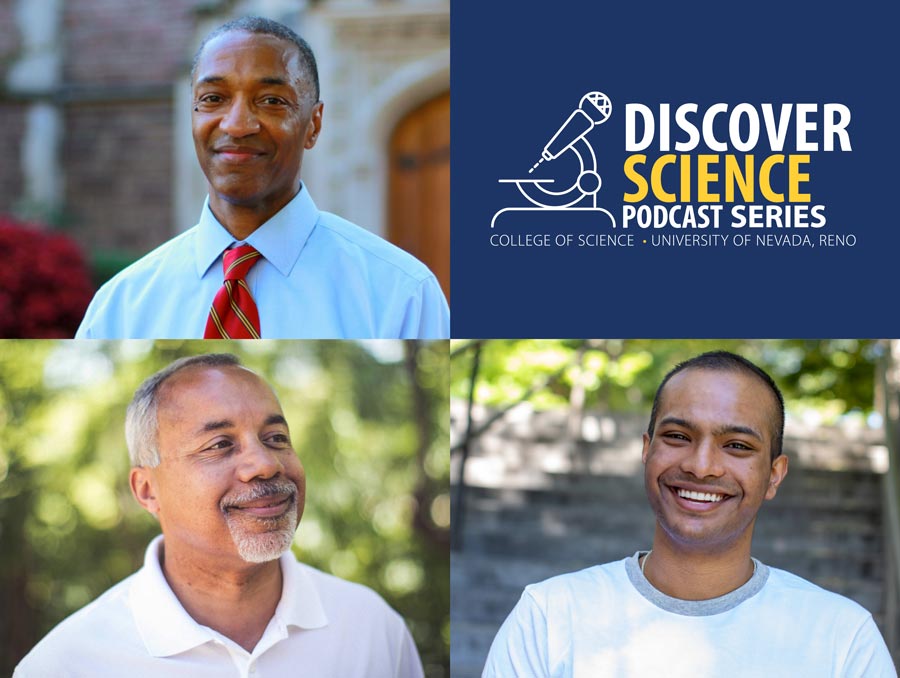 According to Tobler's first law of geography, "Everything is related to everything else, but near things are more related than distant things." On this episode of the Discover Science podcast, Dr. William F. Tate IV sits down with former College of Science Director of Advising, Recruitment and Retention Blane Harding as well as 2020 physics graduate Ohidul Mojumder to illustrates the complex relationship between place, race and STEM attainment and the uneven contours of the education pipeline.
Since recording this podcast, Tate has accepted a position as executive vice president for academic affairs and provost at the University of South Carolina beginning in July 2020. Most recently, Tate served as the Edward Mallinckrodt Distinguished University Professor in Arts & Sciences and Dean of the Graduate School and Vice Provost for Graduate Education at Washington University in St. Louis. For over a decade, Tate's research has focused on the development of epidemiological and geospatial models to explain the social determinants of educational attainment as well as health and developmental outcomes.
Listen to Discover Science: William F. Tate IV
Blane Harding: As professors, researchers and educators, we believe having a quality education is a human right that should be available to all. However, barriers pursuing education, particularly in science, technology, engineering and math with the STEM programs in education exist in our country that are based not on an interest or a lack of drive, but on characteristics like a person's zip code.
I'm Blane Harding, the Director of Advising, Recruitment and Retention for the College of Science at the University of Nevada, Reno.
Ohidul Mojumder: I'm Ohidul Mojumder, a physics student in the College of Science. Welcome to our Discover Science podcast, an offshoot of our public lecture series of the same name, where we speak with the world's leading scientists, researchers and educators about important subjects that influence our world.
In this episode, we are joined by Dr. William F. Tate IV, the Edward Mallinckrodt Distinguished University Professor in Arts & Sciences at Washington University in St. Louis. Dr. Tate serves as a Vice Provost for Graduate Education and Dean of the Graduate School of Arts and Sciences.
For over a decade, Dr. Tate's research has explored the complex relationship between where and how a person grows up and their ability to pursue a STEM education. He has published two books on the subject, and has received numerous amounts of accolades for his research, including the Early Career Award and the Presidential Citation from the American Educational Research Association. He was also elected to the National Assembly of Education in 2017 and served as a member of For The Sake of All research team, a multidisciplinary group that is studying the health, development, and well-being of African-Americans in the St. Louis region.
His Discover Science lecturer asks the question, is space plus race greater than STEM attainment? Here we are with him today to talk through the answer. Welcome to the show, Dr. Tate.
Dr. William F. Tate IV: Thank you for the introduction and the invitation to participate.
Mojumder: It's an honor to have you here today. The first question that I have for you is the idea of comparing someone's geospatial location and academic achievement, it sounds somewhat abstract when you first hear it. Can you give us a big picture of your research, and give us a little bit of insight?
Dr. Tate: Let's take a state university anywhere in the United States. We have 50 flagship state universities. Most of them have an Honors program. If you were to back map those individuals who are residents of the state in the Honors program, you will find a pattern in a zip code. You could predict which students were in the Honors program based upon the zip code. The zip code would be predictive. We could predict who might be entering the very best private schools in the United States based upon where they live, what high school they attended. High schools are geospatial locations. They're embedded in communities. Those communities have certain attributes. The students who matriculate in those communities have certain attributes. Usually what I say is they have certain investments in them that have positioned them to be, for example, in an Honors program. Well, you could take that same type of thinking and say who might perform very well in a science course or physics or chemistry or statistics. Largely, we can predict because there's social determinants around them that actually cluster in space.
Let's just take a straight forward one. We know that the biggest predictor of whether someone does well in science or math is their teacher. Teacher effects are quite powerful. We also know that teacher effects cluster: that highly qualified teachers who have a great STEM background tend to be in the same places. Those students who matriculate in a geospace with very good STEM teachers, who are highly qualified, are more likely to perform well on the ACT or the SAT, to enter your Honors program or to be part of an engineering major. All these things are clustering. The big question is, why do some schools have outstanding STEM teachers in the high school levels and others don't? Why is it that some students have a great k-8 education in STEM areas? In fact, why is it that some kids actually get science in elementary school and some don't?
The reality is that it's geospatially determined. There are some schools that where clustering happens that they actually take science, or they actually have a very good math teacher. Many young people are clustered in school districts that don't even have certified teachers in math and science. They're being held accountable by State standards and other things that they really don't have a true shot at, and unfortunately it does end up being geospatially located.
Mojumder: From your initial remarks, it seems like this geospatial location has some relation to a socioeconomic status or a socioeconomic background. Can you further go on about this?
Dr. Tate: Right. You're absolutely correct. We have historically organized ourselves with boundaries that delineate our socio-economic background. They're very well articulated in our communities and housing policy that started way back in the 1930s and '40s in the United States, organized our neighborhoods in certain types of ways. We subsidize the suburbanization of many communities, and then used redlining and other strategies to keep people out of these communities based upon their race or class. The artifact of that is that it's an archaeological dig of discrimination. You end up looking around the totality of the United States and you have a very affluent highly, just, rich suburbs on every metric, not just financially, but they have everything at scale. You have some urban communities that now have been gentrified, they have the same attributes. Then you have in urban communities those that have been underdeveloped over time, they lack the kind of health care and education that you normally would need in order to protect the brain, because how do you do STEM? It's in your mind, it's your brain. If you don't have food, dentists, insurance, all the things that are necessary so that your brain can fully mature and be successful at doing things that are cognitively demanding like STEM, then you're at a definite loss as compared to colleagues who might be in a suburban area where they have all of that at scale.
This is the reality of the American divide. It used to be an urban/suburban/rural divide, but with the big changes in our urban communities, you're experiencing really right here in Reno. As I came into town they said Google was here and other places. I guarantee you that over time, your achievement in STEM is going to go up 100% because there will be new geospatial communities created that will benefit those folks who are working in those environments. The parents there will insist upon it, and those students will grow. Then there'll be another set of people indigenous who might not actually have access to the same resources, and you will see the disparities unfold, and it will be geospatially oriented.
There are ways to intervene on that, and we can chat about it, but most certainly it's something that I would be concerned about if I were living in this community.
Mojumder: Actually, I was born and raised in Reno. Throughout the years, I've seen changes occurring, expansion of the city itself, but one thing that's very characteristic to Reno is that there's a mix of urban, suburban, and rural populations in one city. How would this differ with any of the other research that you've looked at previously?
Dr. Tate: If I were mimicking what I did in St. Louis, we want to be a biotech hub. We put a map out and we laid out where all the biotech companies were. In our community, they line up on the highway of 64-- 4064 is our main thoroughfare. The biotech companies, in a non-random fashion, organized around the highway. That's not surprising because people need to get their workers in and out. Medical facilities tend to cluster around highways too. We know that these are the communities where there's going to be work that's high-tech.
The big question then is, what does achievement look like in those communities where the workers are actually going to have access? Parents are going to be there, and they're going to want good schools around there, and they're going to want to have housing next to where they work. They don't want a long commute. You're going to see patterns emerge here. Wherever the companies go, and it's probably going to be on your highways, they will begin to have clusters of excellence. You'll see certain type of food establishments, you'll see certain types of schools, whether they be public, private or charter, will emerge, and there will be an investment in having a very high-quality STEM environment in those places. It's a zero-sum game because it's a finite number of people who are actually of quality who can teach these classes so we don't produce them fast enough. These disparities become inherent unless you can, at the same time, rapidly increase the number of people who are really great STEM teachers and have them be aligned in places where those companies don't line up.
Fragmentation of our neighborhoods and the like is a form of segregation. That leads to disparity of all sort. A big question is, can you be an elastic community that's more inclusive and it actually takes seriously having talent dispersed around the geospatial realm of this environment, giving everybody an opportunity to contribute?
The communities that do that well are the ones that have produced a genius that you never would have found because they didn't have the opportunity structure.
Harding: I think that's very interesting, Dr. Tate. When we talk about, and you take a look at a variety of different universities and institutions and they're all concerned about culture. Whether it's the chief diversity officer, it's an inclusion officer, they're talking about how culture is getting in the way of the success of Black and Brown kids and so forth and so on. My question is involving this debate over the impact of culture to me is not necessarily culture, it's their lived experiences. They can go hand in hand, but I think they're separate. You seem to focus on those lived experiences. What role do you think culture plays in the lack of attainment in the STEM degrees?
Dr. Tate: The lived experience that I was talking about in terms of these big structures, these are deeply influential and a life course, but also, in a similar fashion, it would be naive not to acknowledge that culture influences choice. A big question is, which one is more impactful? I like to tell people they're both impactful. That the structural issues are impactful, but the culture and choices that we make, depending on what our culture values, is also impactful.
Rarely have I met a parent who didn't aspire for their child to have a true opportunity. I think there is the issue of being educated, even parental education, making sure that our parents understand that there are opportunities in STEM. I wouldn't just limit it to the STEM, I would say in the art and in creative work is more broadly, there are a lot of opportunities in the extent to which parents understand how to navigate the systems we have in place is important.
One other thing, we're supposed to be the experts, those of us at the university, in terms of creating educational infrastructure. We need to be the loudest about when it's underdeveloped prior to the collegiate experience. I want to have the very best students in my classes. By that, I mean the ones who really want to be there, and have had some opportunities to develop their minds. If I can see that their pre-K through 12 experience is underdeveloped, we should be shouting from the rooftops to fix it.
Harding: Yes, I agree with that completely, but we tend to focus on them once they get here.
Dr. Tate: Then we spend billions of dollars on remediation, which, generally, you're remediating on 12 years of experience, and it's extremely challenging to pull off.
Harding: Very true.
Mojumder: Actual changes in the school district itself are very difficult to attain. Is there any way that students themselves can try and go for these changes or push themselves forward to be more successful in the future?
Dr. Tate: It assumes that the student would actually know what they don't know. The dilemma is that we know what the pathways are for a successful matriculation at a place like the University of Nevada, Reno. As you know now, you're in physics, you understand the background. You could be an advocate, of course, but it would be hard for a ninth grader to fully understand that I don't really have access to AP Chemistry, and that's going to be impactful for my life, or I don't have access to a teacher who actually understands calculus, and so I'm not going to be able to learn it in such a way that I can apply it and use it when I get to Reno or whatever school they want to matriculate in.
It's important for us as citizens, and I count anyone over the age of 18, in adult life who's voting, should be really invested in making sure that all the young people have these structural things that we know are there so that if they do make the right choice, as you've articulated, that the choice mirrors the opportunity. That's what we really have to work on, the choice that they make mirroring what the new opportunity structure is. In too many places, it's underdeveloped in our rural communities, as well in some of the underdeveloped parts of our urban communities, is geospatially located.
The beautiful part about that is, based upon your question, is we could put a map up and say where we need to go get help. We can see it. That's why I use maps. I could use regression analysis or hierarchical linear models or all kinds of sophisticated statistical techniques, but I put everything on a map so you can see where you live relative to where other people live and what's happening in terms of the differential opportunity color coded with statistics undergirding it, and then you too could intervene and be a citizen scholar trying to make a difference for the life of a young person.
Harding: You talked a little earlier about the zip codes and identification of zip codes being predictors. Do you know of any strategies that low-income communities have used to actually bring in quality teachers? Because if they're quality teachers, they have options. They're going to go the better school district as opposed to go to the poorest school district.
Dr. Tate: You just nailed it. Therein lies the dilemma. Once the cycle of the community is started, that cycle is extremely difficult to intervene on. Part of that cycle is what are the benefit structures for a teacher in a community? If the suburban community where I live is redshirting teachers, giving them a full salary to trail after another teacher versus the other community that doesn't have that, I would rather be in this place that's going to support me as a professional. If one of the districts has a better retirement program, that's the case where our urban district in St. Louis has its own individual retirement program. Everybody worries that it might not be sustainable, versus the state takes over this retirement program for every other district in Missouri. If I have a choice in terms of long term where I'm going to invest my time, I'm going to go to the place that's going to ensure that my retirement is stable. These are the differential things that begin to happen in a cluster again in geospace. All these policies and benefit structures begin to accrue in the functioning communities that are doing very well. Some people will say money doesn't matter. The only people who say that are people with money. Everyone else knows that having a financial infrastructure, the incentives and the like makes a huge difference.
I haven't even dealt with one other piece about the geospatial infrastructure. We've been just talking about the public facing part of it. What also happens in geospace when there's a very affluent or middle-class family, they invest their family resources into the children over and above what can happen in a distressed financial community. Those students then accrue better public resources along with better family resources, doubling and tripling the investment in their education and health development. It makes it very, very hard for the student who doesn't have the family resources and the public resources, all again geospatially located, to compete.
STEM is extremely competitive. Anyone who's ever thought about being a scientist or an engineer or a technologist knows that those courses are cognitively demanding, correct?
Mojumder: Yes, of course.
Dr. Tate: The students, they are competitive. They want to do well. Imagine if you have deficiency of some sort, not because of your own making, because you just haven't had the resources at the time in order to compete. That's talent loss. As a society, there's a cost to that.
We're talking about it at a very high level where that student actually makes it to college but maybe they end up switching majors, let's say, because they can't do the STEM major because they don't have all those accrue resources. They end up graduating. They can still go add value, and their children have a shot at the STEM degree, because they're going to end up moving to a community with the value added that we just talked about. It takes a generation to get to that.
What happens to the student who doesn't even get to college? They're geographically-bounded. They don't make it. They didn't have all the family and public resources before. Let's say they graduate from high school. Maybe they can compete to get a job that pays a reasonable wage. Not likely, because our economy has changed so radically. The manufacturing world that those people used to go to doesn't exist anymore. They're stuck in low-paying jobs. They're not going to be able to cross over into the geospace that we talked about. Worse yet, imagine if they don't graduate from high school and don't have the credential and/or the networking experiences associated with that. What's going to happen to them? They end up in a cycle of generally engaging with our criminal justice system. They end up with very, very poor health outcomes that we, as a society, end up subsidizing because they don't have insurance, so it's going to cost the rest of us. Once they enter into that realm, it just spins. Where do they end up living? They all live in the same places. They cluster geospatially. We keep them bounded by our rules and policies in certain areas.
They may have children and they end up in school. What's going to happen to them? It becomes a cycle. That cycle is extremely difficult to intervene on. That's why I say when you have a community that's emerging like yours with the new economy, that the extent to which you can design something that might provide opportunities for people indigenous, including the STEM opportunity and good healthcare, because they need that to develop the brain, is foundational to breaking that cycle.
Harding: Many distressed communities, not all, but many distressed communities are communities of color. I know we have a program here on campus where we're trying to increase Latinos, male and female, going into education and going into K through 12 education. If we were to increase, and there's not a lot to begin with if you take a look at the numbers and percentages, if we're to increase the number of teachers of color that are in K through 12, do you think that would have an impact on this distressed communities? Because they would have a tendency, at least from my experience, to go back to those communities, to give back to those communities because they want to be part of the solution, not the problem.
Dr. Tate: There have been a couple of studies that delineate that it is an empirical fact that having a mentor/teacher of your ethnic background, racial background, is an impactful part of your social development and your achievement. The extent to which we can do that is extremely important and it could be impactful. A lot of people are concerned that teachers who are not of the same background wouldn't be impactful. That's not what the research says. It just says having someone who you can identify with is actually an impactful experience. I think the extent to which schools are able to pull that off, we should do it.
Mojumder: It seems like we keep circling around the topic of incentivizing ways to develop these communities, to invest in these communities. What are some ways? Would it be political reform on the local level, on the national level? What are some ways that we can combat this and break the cycle?
Dr. Tate: Every community has a different history and a different design. The extent to which fragmented communities can figure out to create a more unified home, the more likely they are to be able to generate revenue that can be shared. They won't compete against themselves, and they're going to have a greater good around schooling in all municipal services. Imagine an inelastic environment where it's fragmented. One of those communities is going to get all the business. The high-end affluent suburb. That one will flourish while all the others are floundering.
That one will have the good schools. That's where the Honors program will be. That's where all the corporate types will live. That's where the golf courses will be. That's where Whole Foods will be. That's where Starbucks will be. That's where everything that everybody wants will be in that place. That's where the opportunity will flow from, and the rest of the community will flounder. This will be the demise of America if we don't fix it, and if we don't deal with the rural community and actually help them as well. It's both urban and rural. Some people just think it's urban. It's both. So many folks are just woefully underdeveloped because of this thinking.
Harding: Yes. The harm is the product of those that are in control that actually have the ability and the capacity to dictate them.
Dr. Tate: Well, I'll leave it right there. We need the will, politically.
Harding: Yes, true.
Mojumder: Honestly, it was a pleasure speaking to you today, Dr. Tate. He has a kind of eloquence to the way he speaks that makes it quite a pleasure, and it was nice speaking to him.
Thank you to our listeners for listening. I hope to see you guys at the next Discover Science lecture, and then the next Discover Science podcast.
Discover Science: Gabriela González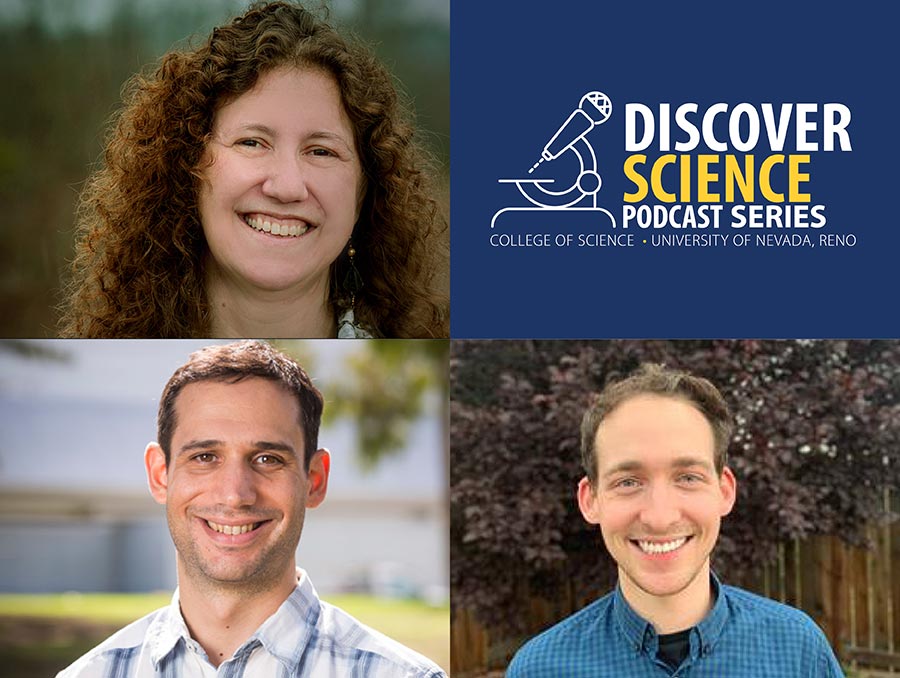 More than 100 years after Albert Einstein predicted gravitational waves—ripples in space-time caused by violent cosmic collisions—LIGO team scientists confirmed their existence using large, extremely precise detectors. Listen as LIGO team physicist Dr. Gabriela González speaks with Physics professors Drs. Richard Plotkin and Thomas White about the discovery of gravitational waves, lasers in space and the value of science communication.
Dr. González was born in Córdoba, Argentina, studied physics at the University of Córdoba, and received her Ph.D. from Syracuse University. She is currently a professor of physics and astronomy at Louisiana State University. She has received awards from the American Physical Society, the American Astronomical Society and the National Academy of Sciences.
Listen to Discover Science: Gabriela González
[music]
Dr. Thomas White: At 5:51 on the morning of September 14th, 2015, a team of scientists witnessed something many thought was impossible: the direct detection of gravitational waves. These ripples in space-time caused by violent cosmic collisions, in this case, the collision of two black holes had been predicted by Einstein over 100 years earlier, and even he thought there would never be proof of their existence. Welcome to the Discover Science Podcast Series, where we sit down with some of the country's leading scientists and researchers for a conversation about the incredible discoveries that shape our world. I'm Thomas White, a professor of physics here at UNR.
Dr. Richard Plotkin: And I am Richard Plotkin, a professor of astronomy here at UNR.
White: Today we sit down with one of the scientists who first detected that great cosmic collision, Dr. González Gonzalez of the Laser Interferometer Gravitational-Wave Observatory or LIGO for short.
Plotkin: Gabby is a professor of physics at Louisiana State University. She was elected as the spokesperson for the LIGO collaboration from 2011 through 2017. She's the winner of numerous awards, including the 2019 SEC Professor of the Year, the Bruno Rossi Prize from the high energy astrophysics division of the American Astronomical Society, which was awarded to both her and the LIGO collaboration, and she is also a member of the US National Academy of Sciences and she's a fellow of the American Academy of Arts and Sciences. Gabby, thank you very much for joining us. We're really thrilled to have you here to kick off our podcast series.
Dr. Gabriela González: Thank you, it's an honor to be here.
Plotkin: You're, of course, a world-renowned expert on gravity and gravitational wave astronomy. For the listeners at home, can you just explain in simple terms, what's a gravitational wave?
González: Like you said, this is something that Einstein predicted right after publishing his theory of general relativity, which is a theory of gravity. It has a fancy name, but it's just a theory of gravity. It says that bodies attract each other because they deform the space-time, they curve the space where they leave weaker the space. I will say because we have mass.
Plotkin: Hopefully not too much.
González: Not too much. Not as much as the sun does and that's why the earth goes around the sun. It's not because there's a force of gravity like we learn in school from Newton's theory, it's because it follows the shortest path which is the curved one. Following that theory, that means that when the bodies move like the earth around the sun, then the space-time also changes, and if the bodies are moving in an oscillatory fashion like the earth around the sun, then the space-time has curvature like waves, and those are gravitational waves.
Plotkin: So is that like a boat disturbing water as it goes through?
González: That's right, except that it's in all three dimensions and time, so clocks are oscillating too.
White: These gravitational waves, they were predicted, like you said, over a century ago, and the LIGO project itself is now a decades-old project.
We were just wondering, what is it that kept you motivated this so long in this search because you must have had years where you were finding nothing, and not even ensure if you would find something, so what was your motivation through that period?
González: I have decades in this, not many decades. Almost three, but there are people, the pioneers in this field, they began thinking about this way of measuring gravitational waves in the '70s, so this is a question you should ask them, especially Ray Wise in MIT. He was the one who thought that if you use lasers measuring distances between mirrors, and if you put those mirrors kilometers apart, and if you build a vacuum system for the laser to travel, then you might be able to measure gravitational waves.
White: That's what you do, right? That's basically how LIGO works?
González: That's basically how LIGO works. Actually, what we do is we make the laser go through a beam splitter, so it splits in two, and then it travels four kilometers, that's two and a half miles on each side, and then bounces on mirrors all in a vacuum system, and then those lasers come back. When they come back, if the distances are different, which is what a gravitational wave would do, then the beams are not in face anymore. That's why we call this an interferometer because we measure the face or the interference of these beams.
White: When Dr. Weiss came up with this in the '70s, did he imagined that this could be done? The technology at the time surely was not advanced enough for this.
González: It was not and actually, even in those times when we read those original proposals to the National Science Foundation, they said this is probably going to take two faces. We need to be build two big facilities because if you see a signal in one, you need to confirm it with seeing the same signal in another facility. So two observatories were built, one in Hanford, Washington, and the other in Livingston, Louisiana very close to where I live. I'm from Argentina, so my accent is much more Southern than Louisiana. Yes, we have these two observatories.
I think he imagined that this could be big, he knew it was going to take time, but the quest for doing these and building such a sensitive instrument was so exciting. It wasn't just discovering gravitational waves. This started when you asked what kept me going. I think what kept me, and he, and all the people going on these, they are very proud, they are very excited in contributing to the sensitivity of these instruments. You said that we discovered them, but I haven't told you yet how small these gravitational waves are.
Plotkin: Please tell us.
González: The first one that we discovered is still the largest one, it's still has a record of largest amplitude. What we measure was these two and a half miles getting longer and shorter, longer and shorter a few times by a distance that was smaller than an atom, smaller than a proton, it was four parts in a thousand of the proton.
White: Oh my, that is incredibly small.
Plotkin: I can't even imagine that, it's insane.
González: It's like comparing an atom to the distance between the earth and the sun.
Plotkin: I remember many years ago, I got to tour the Livingston LIGO Detector in Louisiana. Things I remember was they're telling me they could essentially hear trees falling down from miles and miles away because this thing was so sensitive to logging in the area.
González: That's right. Of course, sometimes those trees fall closer than that because the detector is in the middle of a logging forest, so if they log very close, then sometimes we have to stop, but that doesn't happen very often.
White: In retrospect, would you have positioned the detector somewhere else?
González: We know now a lot better about what to avoid, and we probably would have looked for some more solid ground, rocky ground, not so close to the coast. One of the noises that we hear apart from trees falling, that is actually once in a while, so it's not so bad, but the noise that bothers us the most is produced by the surf waves on the coast and they are resonant waves.
White: Wow, how far are you from the coast?
González: We are quite a few miles from the coast. We are like 60 miles depending on how you measured of course. Louisiana is a swamp, so it doesn't really have a coast, a well-defined coast, but this is something that you can measure in a seismometer anywhere in the world, but if you're closer to the coast, then that kind of noise is larger.
White: I think the next detector should be built in Nevada then. Large, flat, nowhere near the ocean.
Plotkin: That's quite a problem.
González: We are thinking about what we call third-generation detectors, which are longer, better, not cheaper. They are actually more expensive, but we would like to make facilities that are 10 times longer, 40 kilometers instead of four kilometers long. The longer you make the detector, the more you have to compensate for the curvature of the earth.
White: That's amazing.
González: Because the laser travels in a straight line, but the earth is not flat, we know it's not flat.
Plotkin: So even over only 40 kilometers, you have to worry about that.
González: Then you have to worry about that, you have to build some ground so that the laser is going to be straight.
Plotkin: Let's talk about the exciting moment, the first discovery of when you saw the first retrocession gravitational wave. This is in September of 2015 at 5:51 AM, very early Eastern Daylight Time. A signal is detected in both twin detectors. Often we have this image like we'll see in movies of a scientific discovery of this eureka moment.
The one I always think of like in the movie Contact when Jodie Foster is in the New Mexico desert listening to radio signals from outer space, and she finds aliens and she jumps into her car, back to control center screaming out coordinates, "Point it here, point it here."
I imagined those dramatic things are amazing if that's how it works, but it was mentioned it's mixed with something mundane at the time. What were you doing?
González: I was sleeping. Actually, it is an interesting story because we were preparing to take data, we hadn't begun taking data regularly like we do now in what we call observing runs, where we try to take data 24 hours a day, 7 days a week. We were preparing for doing that and we were doing tests in interferometer pushing the meteors, simulating gravitational waves, calibrating the output of the detector. People were introducing noise in the detector to see how much noise cars introduce when they break, for example, and they had been working until very late in the night and they had stopped working.
When they stop working, then we begin testing the analysis algorithms. We take data and we do the analysis, computers do the analysis automatically, and then computers put the results on web pages that when people wake up at that time, now we have alerts and they receive phone messages, but at the time since we were testing, then these web pages appeared then people were looking at that. At 5:51 in the morning Eastern Time and Louisiana Central Time, so it was 4:51 in the morning, but people in Florida who wake up early and people in Germany where it was close to noon already, they saw these web pages saying there is something here.
Plotkin: They receive this in real-time or they process it afterwards?
González: No, it was hours later. They all thought that this was another test, that this was like the tests we had been doing in the previous days. They called up the operators on side and said, "Are you still doing tests?" They said, "No, everything is fine."
White: They thought it was a fake signal.
González: They thought it was a fake signal and it took us a day to convince ourselves that this was not a test.
White: Wow.
Plotkin: Did you know from the outset what you had, that would be a Nobel Prize-winning result?
González: Actually, when we saw it, it was so large in amplitude, I mentioned, this is still the record largest amplitude we've had. We could tell from the frequency of the signals that if they were produced, if it was a gravitational wave, it had been produced by two big black holes of a size that nobody had measured before. That was another reason to think this cannot be real. This is too good to be true.
Plotkin: There was no known physical explanation for how you could, that blackhole thing.
González: That's right, there were no black holes known of that size. Before our discovery was 20 solar masses, 20 times the mass of the sun, and this signal, it was produced by two black holes, each one having 30 times the mass of the sun, creating in the end, a bigger black hole.
White: What is the frequency or infrequency of the collision of two black holes of such magnitude? How often do we expect to see such a collision?
González: Of course, these things are happening all the time, but they're too far away, and then the signals are very small. The red gravitational wave is going through the earth all the time. The problem is that they were too small for our detector to measure. Now, this first discovery was in 2015. We have improved the sensitivity of the detectors quite a bit in the last observing run that we started on April 1st of this year. We have discovered 33 candidates in the first six months, so about one week.
White: Wow, pretty good.
Plotkin: That's amazing.
White: If I remember correctly, the press release was around five months after the discovery, so I wondered if you could comment on your feelings in between those two points in time. How did you keep it under wraps? Did you want to talk to people about it? What were your instruction?
González: As I told you in the beginning, we could not believe this was real yet, so we had to be really, really sure before we claimed we had discovered something. We had not started taking data with a detector. We didn't know where the data was like and we know the detectors are very noisy, so it was unlikely that it could be that the new detector decided to have noises that looked like gravitational waves. We couldn't know that until we took some data. That first day, we decided, well, now we have to begin taking data, so we stopped everything else. We began taking data.
We were going to take data for seven months, but we said we're not going to
wait seven months, weren't going to take data for one month, analyze that, and then see whether the signal is still significant with respect to the noise. That took a month to take the data, another month or two to analyze it, to deduce what were the masses of the black holes, to do all the analysis. We were going to write a scientific article and send it for peer review and wait for the response before we had a press conference because we wanted a thousand people looking this over, but we all wanted to see a gravitation wave there, so we were very afraid that we had forgotten something.
We waited for the peer review, it was positive, and then it was on February 11th, 2016 when we went on stage saying we did it.
Plotkin: You were famously a part of that press conference. What's that kind of experience like? I guess what I wonder is is that a fun experience or is it nerve-wracking?
González: It was nerve-wracking. In fact, we had been rehearsing this almost every day and it had been getting worse, and worse, and worse, and worse, so we were so nervous that we were sure this was going to be a disaster, but we have to do it. Then, in the end, I think it went okay.
Plotkin: I can tell you from an outsider's view that it went amazingly well. It was one of the best presentations of research that I've ever seen. I remember the next day, I was working in Australia at the time, so the press conference came very early in our mornings. I didn't get to see it live, but our entire work shut down. It's all everyone was talking about. We were watching replays all of it. It was a big deal.
González: It was a very big deal. There are so many coincidences in this history. We didn't plan it for this, but that day was the first day that was celebrated as the international day of women and girls in science, and there we were two women scientists among five people. That's not a fraction of women scientists, it was nice to represent that.
Plotkin: Yes, it was fantastic.
White: Outreach and science communication is important to us at UNR and I do lots of outreach events here. Happy Hour With a Scientist was one that we did recently. I wondered if you could give your opinion on why you think science education to the general public is important, especially given your position as the spokesperson for LIGO for six years.
González: I think it's an obligation that we have as scientists. We do our science, which is really expensive. People need to know what we do with money and people need to know that we do cool things, and they need to know also, and I think appreciate that, that we do this kind of science, not because it is applied right away for creating useful technology, which eventually happens, but we do it to understand the universe and that's in the sense of being human. Humanity is almost defined by being curious.
Plotkin: The example that I always remember was when they were going to service the HoloSpace telescope and it was the public, I feel, that just had the general outcry in saying, "We love these images. We love seeing what's out there in outer space."
González: That's right and they weren't asking what are going to get out of that, we were going to get images off the sky
White: Now we have some questions that was submitted from some students in the physics department. The first one is from Emily Chao, a final year physics student and she asks, what is it like working a LIGO? What do you do day-to-day?
González: Of course, now I'm traveling a lot and giving talks like the one today and tomorrow at UNR, but when I am at LIGO with my graduate students, I have a group with graduate students and postdocs and undergraduate students, we work in a very big team. Anything that we do is about 10 people at least doing it. In general, in the collaboration that I led the time of the discovery, we had more than a thousand people in 20 different countries.
Plotkin: Wow, I can't imagine those telecoms.
González: We are talking on the phone all the time in different time zones or sometimes we have to wake up at midnight, sometimes people wake up at 2:00 AM to attend telecoms, but we do it all on teams. We actually have four experiments. We have a very careful schedule of what can be done when.
Plotkin: Our next question comes from Donna Depollo who is a junior physics student, and she asks, who are the physicists or people who you looked up to throughout your schooling?
González: My two biggest mentors were my PhD advisor, Peter Saulson at Syracuse University, and actually later this week, I'm going to his 65th birthday party here. We are celebrating his retirement and his birthday. He's been a great mentor and a leader in the fields in the early times, designing the detectors, helping with the design of the initial LIGO detectors, and then the advanced ones.
Plotkin: So you still work with him closely?
González: I still, yes.
Plotkin: That's amazing.
González: I consider him and his wife my family in the US. Still, my parents, my brother, all my family is still in Argentina except for my husband, but Peter and Sara are my family in the US. Then Ray Wise. Ray Wise, after getting my PhD, I went to work at MIT with Ray Wise. His tenacity and his curiosity, I don't know how he keeps all these things in his head, but he knows about everything, and if he doesn't know, he finds it out and he writes the programs, and he is still active. I think he's long '80s and he still comes to Louisiana works with people, with electronics, with the vacuum systems, fixing things. That's who I want to be.
White: I think a physicist never retires. They just keep going and going.
Plotkin: Yes, sounds about right.
White: Trying to understand everything.
González: That context, yes.
Plotkin: Curiosity never goes away.
González: That's right.
White: Our next question is from Jacob Molina, a sophomore physics student, and he asks, of the courses you took during your undergraduate and graduate career, which ones did you enjoy the most and which ones do you think were the most useful?
González: The courses that I liked the best, well, it was probably the first product costing mechanics where one really learns how to apply the math to things that look simple but they're not so simply when you really want to describe them in detail.
White: I'm currently teaching graduate-level mechanics, so I'm really glad you said that if any of my students are listening.
González: When I taught, that's the one I like the best, and you use that all the time.
Plotkin: Andrew Sunquest, whose another physics student here, he asks, if you weren't a physicist, what do you think you would do?
González: I would be a teacher. I love teaching. That's what I thought I was going to be. My mom was a high school math teacher. I really wanted to be like her, so I wanted to be a teacher. I really love teaching, so that's the beauty of being a professor that I teach, I have students, and then I also do research, so I have the best of both worlds.
White: We have one more final question. This is not from a student. What does the future hold for gravitational wave astronomy? New detectors, new science, what's the next holy grail?
[music]
González: More than 400 years ago, Galileo used the telescope for the first time, and 400 years later, we have a number of kinds of telescopes and we are still building bigger and better telescopes, so that's going to be the field of gravitational wave. We will be building new detectors and measuring new gravitational waves from new sources, from centuries to come.
White: I can't wait.
Plotkin: Yes.
White: Also, LIGO in space sounds.
Plotkin: It sounds amazing.
White: Right.
Plotkin: Let me get this straight, it's spaceships shooting lasers at each other in space.
González: It's three satellites, five million kilometers away.
Plotkin: Five million kilometers.
González: Actually, I think the latest is two and a half millions, but still.
Plotkin: Wow, give or take a few million.
González: They would be orbiting around the sun, not around the earth but around the sun in an orbit behind the earth. They would be about 20 degrees behind the earth, and there would be these three satellites with lasers shooting at each other, getting a few photos at the end of those two and a half million kilometers.
Plotkin: Amazing. Thank you very much for doing this, this was a lot of fun for us.
White: Hopefully it was a lot of fun you.
González: It was a lot of fun for me, thank you. Those were very good questions.
White: Thanks for listening to this episode of the Discover Science Podcast Series and we'll see you guys next time.
[00:24:52] [END OF AUDIO]
Discover Science:
COVID-19, thinking back and looking forward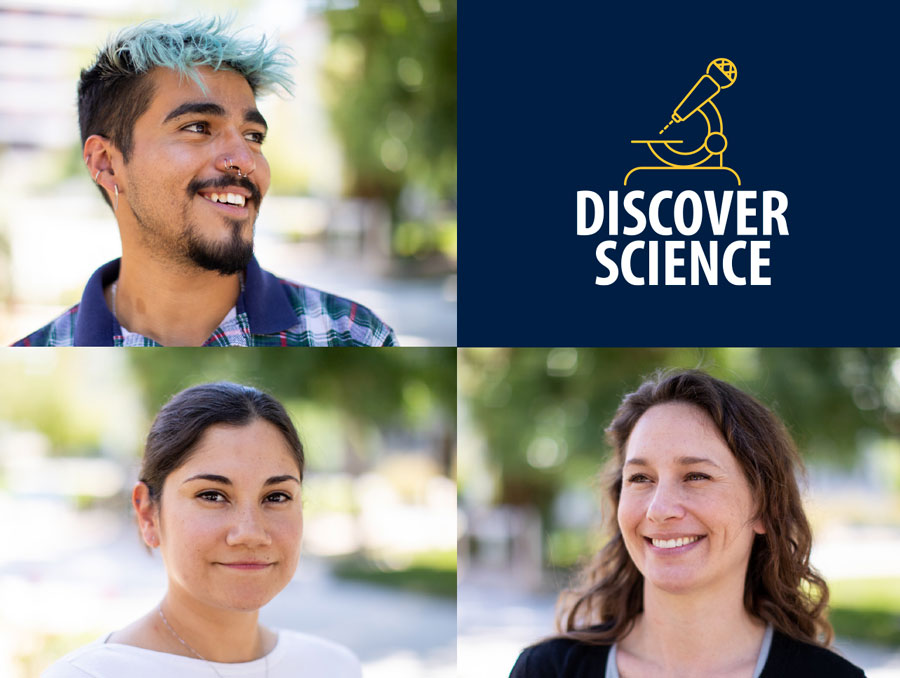 It's the summer of 2021. The COVID-19 global pandemic has been central to life around the world for almost a year and a half. However, the light at the end of the tunnel seems to be getting brighter. Vaccines are available and social distancing measures have been lifted for vaccinated individuals across the country. However, many remain unvaccinated and new variants of the virus threaten progress made.
In anticipation of the Discover Science Lecture visit from Moderna COVID-19 vaccine developer Kizzmekia Corbett on April 28, 2022, members of the Department of Microbiology and Immunology discuss the COVID-19 vaccine technology, hesitancy, distribution and more.
Listen to Discover Science: COVID-19, thinking back and looking forward
[music]
Christopher Sanchez:
This podcast was recorded on July 14th, 2021. A lot has changed since then. The Delta variant of COVID-19 threatens much of the progress we've made towards the return to normal life. This conversation, we had in July about the importance of getting vaccinated, overcoming vaccine hesitancy and vaccine distribution feels more important than ever. Learn more about the COVID vaccine and find out how to get vaccinated, if you haven't already, at unr.edu/vax. That's unr.edu/V-A-X. Thanks for listening.
Cyprian Rossetto:
It's the summer of 2021. The COVID-19 global pandemic has been central to life around the world for almost a year and a half. However, there is light at the end of the tunnel. The vaccine is here, and since it's become available, cases has plummeted in our community. Businesses are open, summer barbecues are happening, and there's an overwhelming communal sense of relief and resilience. While we look forward with hope, we must acknowledge the experiences, both good and bad that got us here, as well as the challenges we still face in our community and around the world due to the global COVID-19 pandemic. For myself and the students I have with me here today, all of these experiences are filtered through the lens of science. Welcome to the Discover Science podcast, an offshoot of the public lecture series by the same name. Where we discuss the important subjects in science that influence our world.
Cyprian Rossetto:
My name is Cyprian Rossetto. I'm an assistant professor in the Department of Microbiology and Immunology here at the University of Nevada, Reno. I'm here today with Vanessa Gutierrez, an alumni of the college of science, microbiology and immunology undergraduate program, and a recent graduate of the cell and molecular biology doctoral program at UNR Med. Also here is Christopher Sanchez, a fourth year undergraduate student in the microbiology and immunology program. We're here to discuss all that we've been through this past year and a half and all that we have ahead of us framed by our collective experiences as scientists and researchers. Thanks for being here today, Vanessa and Christopher.
Christopher Sanchez:
Awesome. Thanks for having us. Super excited to be here.
Vanessa Gutierrez:
Rally excited to be here.
Cyprian Rossetto:
All right. Let's start off with a little bit about what it was like to study virology and immunology while experiencing a global pandemic.
Vanessa Gutierrez:
Yeah. I think for me personally, it felt like a really rewarding experience. I feel proud to be a virologist. There's also been a lot of pressure as well. As a scientist, people expect us to know everything. We also make mistakes. We are just people. Then, however, that kind of makes people not trust us anymore. But science is always changing and that's one of the most exciting parts about being a scientist. We evolve with the change and we can be part of that change. Directly for my work, actually, it didn't affect too much. As a scientist and as a virologist, we were one of the first people that kind of needed to jump in and help with the global pandemic that was going on.
Christopher Sanchez:
Yeah. Definitely from the undergraduate perspective, all my classes shifted more towards focusing on the pandemic and focusing more on the virus that has been affecting the planet for the past year and a half now. It's been really cool seeing the shift in content to that. For myself, I'm in a research lab where we focus on making medication for different types of diseases. We recently started one for SARS-CoV-2, the protein that is used by SARS-CoV-2 to get into the cells. It's been really cool working on that project. We tried publishing our paper through PubMed. Unfortunately we didn't get it, but it was still really cool to work on that project. Myself, I'm working in HIV therapy.
Cyprian Rossetto:
How about a little bit more about how the pandemic affected the academic side as far as having to do your classes online, also having to interact with your instructors and fellow students online. How did that change and are there things that are going to be helpful in the future or things that you're looking forward to as we go into the fall semester and get to be back in person?
Christopher Sanchez:
Right. Definitely that shift towards online was very hard at first, I think, for professors and students. Professors had to adapt a whole new platform to teach students in a very short notice. Especially during that spring semester, it was kind of rough. Then on the student side, it was hard to not get all the same resources that we were accustomed to for the past few years that we've been in college. That was hard. But it also did have some benefits, for sure. For example, I loved re-watching lectures and being able to pause the lectures and write my notes down and follow along with the professor versus in-person where I can't really pause a professor. I personally am very excited to go back to in-person because I feel like I learn at a deeper level in-person than I do online. I feel like a lot of students can resonate with that. I think as a collective whole, we are all excited to jump back to in-person classes.
Vanessa Gutierrez:
Yeah. As a graduate student, I was at a point during my doctorate degree where I didn't actually have to take any classes. For me, it was more of an impact for research. I know sometimes we would want to attend seminars, so the nice thing about having more of a Zoom virtual platform was that I could kind of multitask. We were still able to access all the seminars and talks that we wanted to while also still being able to be in the lab. But one of the things that I was able to also jump in and kind of had an impact with the pandemic was that, our department in microbiology and immunology we got together and the hospitals needed help for making viral transport media. That was one of the things that we jumped in and we needed all hands on.
Vanessa Gutierrez:
We all got together in the middle of the pandemic, tried to keep our distance from each other, masks on and everything. But all together, we were able to make some of that VTM media and provide that to all the hospitals that were needed to provide that testing that was needed at the time that was really crucial.
Cyprian Rossetto:
From an instructor's perspective, there are things, like Christopher mentioned, being able to go back and watch the recorded lectures and integrate that into our in-person classes is going to be incredibly important. I think another benefit going forward is how we're going to deal with if people get sick. Having the ability of students to still join and participate even if they can't physically be on campus for a number of different reasons. But to still have them be able to attend a lecture in that capacity would be a huge benefit going forward.
Vanessa Gutierrez:
Yeah. Definitely if somebody is sick, you definitely don't want them to be in your-
Christopher Sanchez:
Especially now.
Vanessa Gutierrez:
... lecture spreading their germs.
Christopher Sanchez:
Yeah.
Cyprian Rossetto:
Well, and that's definitely going forward, one of the things that is going to be a huge consideration that I don't think people had thought about before. A lot of times the mentality was, "Okay. I'm sick, I have a cold, but I can still show up." But now there's going to be a lot more consideration about, "I should probably stay home if I'm sick. Not only for myself, but not to expose other people that I come in contact with to potentially any other kind of infection that could spread." Let's talk a little bit more about now the vaccine that's available. Can you talk a little bit about when you first learned about the vaccines that were under development and then when they got the emergency use? What did you think about that?
Vanessa Gutierrez:
Yeah. It was really exciting at the time because it was a new technology using mRNA as a vaccine. That was super exciting. But along with that, came a lot of hesitation, a lot of fear. When the Emergency Use Authorization came by, everybody was kind of like, "This is happening too fast. Are we sure about this?" I personally was really excited about it. Things got really, really bad and I understood why that UA was approved. I was excited. I was ready to get my vaccine. It was really exciting times when that happened, just considering and hearing about all the stories all around the world about people suffering and not having access. The vaccine was really a big, big turn for the pandemic.
Christopher Sanchez:
I feel like it's really important for us to trust the people who made these vaccines. Because when I have an issue with my car, I go to a car mechanic and I trust them to fix my car because I know nothing about cars. Or if I go to my dentist, they know everything about teeth, for example. I don't know anything about cleaning my teeth or pulling out my teeth or any of that stuff. But I think it's just interesting how people have such a pushback on the people who have studied this for so long.
Cyprian Rossetto:
Yeah. I think you bring up a good point, is that even though for a lot of people the mRNA technology was new, this had been researched for years and they had everything in place. The only reason we were able to get the mRNAs to the point where they could be studied and go through the clinical trials as quickly as they did, was because of the years of basic research that had been put into them. If you look back at the start of the pandemic, there were almost every single type of vaccine platform that we know they were all under investigation. Going forward, the mRNAs kept being very successful at preventing severe disease, preventing hospitalization. Those were ultimately the ones that got the Emergency Use Authorization. But I think that's one of the things that some of the people who are vaccine hesitant, they maybe don't know all the research that went into them even before this pandemic.
Cyprian Rossetto:
All the research that had been done to show that these are completely safe vaccines. I feel like if they knew that information, that maybe it would help some people have a little bit less hesitancy to get the vaccine.
Christopher Sanchez:
It's also important to recognize that this is an ancient process. mRNA is not a mocha that we made. Living things have been using the system to make proteins and other functional stuff in the cell. I think if people would not only understand the research that there was for making the vaccine with the mRNA, but also the process of transcription and just simple surface level biology as to where mRNA comes from in the cell and what it's used for in the cell, I think that will also make it less scary as well.
Cyprian Rossetto:
Yeah. Even that some people are hesitant because they don't want a vaccine that was grown in a certain cell type. If that's the case, actually this is the perfect answer to that because it's not. It's just RNA that's made through the process of using enzymes. There's no cells that are actually involved in making this vaccine. Actually, the process of making this vaccine, it's really interesting.
Vanessa Gutierrez:
Yeah. It was interesting because a lot of people, I mean that I've talked to, they've always mentioned, "Well, okay, there's an mRNA. Then how did they know exactly where to target? What mRNA to what protein." Well, there's just been so many years of research. There's been so many coronaviruses that have been around that have been the basis to understand how these viruses work. With a lot of research, it was determined that spike was the best target for inducing an immune response. That's how we know that that was the target for making an mRNA vaccine. This is not something that we came up with in a few days. This has been a work in progress and we're still trying to improve and get more information out of the things that we don't know.
Cyprian Rossetto:
Yeah. Exactly. There had been years of work done on Middle East Respiratory Syndrome, another coronavirus. Also, the first SARS outbreak had a very similar coronavirus. All of that information, especially the information and research that had been done on the major glycoprotein, the spike glycoprotein that's used for entry, that was all information, and actually also how to stabilize spike in the pre-fusion confirmation so that it is in a specific antigenic form when it enters and is used as a vaccine, all of that information had been done before this pandemic even started. To utilize that information, that was the reason why we were able to get a jumpstart on these mRNA vaccines and get us to the point where we were then able to have a successful vaccine that we can give to people to prevent severe disease.
Christopher Sanchez:
Exactly. I mean, the first SARS was back in 2003, 18 years ago. We've had 18 years to focus on that. In 2012 for the Middle Eastern one, that's nine years. We've had so much time, and then now you've used that research and then the funding we have now, and the prior knowledge behind that to build this beautiful piece of technology that can be used to save so many lives.
Cyprian Rossetto:
You talk about funding, a lot of the funding was for starting production of the vaccines before we knew whether or not they were going to be successful. That's another reason why when they did show to be protective, that we did have some that were already manufactured that could be immediately rolled out and given to those people that are on the front lines. The healthcare workers, people who are elderly in nursing homes, where we saw that there was a higher proportion of cases in those specific areas. We were able to protect those populations first. Then as more vaccines got manufactured, then it could be given to other people. I know for myself, it was knowing that my parents who are older could get the vaccine, and also for students who are working in my lab. I was still working from home primarily, but the students were the ones who were going in lab. Of course they were masked and social distancing, but it's not without risk to be out in a public area. When they could get vaccinated, that's when I was really happy.
Christopher Sanchez:
Yeah, definitely. I mean, looking at the elderly and people who are more heavily effected, those demographics that are more heavily affected, we have to keep them in consideration. To say that, "I might not get a severe disease from this, so I shouldn't have to get the vaccine or I shouldn't care about it as much. I shouldn't have to wear a mask because I won't be affected by it as much." Is insane to me. Because how can you just not think of other people who would get a horrible outcome of disease with this new disease? There has been cases of young people getting horrible disease and dying. I mean, it's not old people, but just really insane to me that people have the lack of sympathy for people who would get horrible disease from COVID-19.
Cyprian Rossetto:
Yeah. That brings up a good question. Have you personally had to deal with anybody who's been hesitant to receive the vaccine, and how have you interacted with that person and what have you said?
Vanessa Gutierrez:
Yeah. I was just going to, say so many times I've heard that same response that you've mentioned. Just people being hesitant, people just being selfish, really. Just caring about, it's not going to affect me, so why do I care? But really it does affect everybody in one way or another. Personally, within my family, they've either not had access to the vaccine or they have been hesitant. One of the really nice things about some of the vaccines that are available is that, yes, the mRNA is available and it's two shots, but there's also a Johnson & Johnson, which is just a DNA vaccine. One shot and you're good to go. That was one of the concerns of my brother actually. He does not like shots. He does not like vaccines. He was very hesitant. Thankfully though, he reached out to me and he was like, "You're a scientist. You kind of know about this stuff. Can you kind of talk to me and explain to me what am I missing? What are the best options for me?"
Vanessa Gutierrez:
Thankfully, you could just go to Costco for example. He was able to get the vaccine that he wanted. He just wanted one shot to be done. Still have protection. I mean, he really just wanted to take his mask off. To be able to live his life freely, and that's totally fine. I think we all want that. But to get to that point, you do need a vaccine. He was able to get his Johnson & Johnson vaccine, his one shot, his DNA vaccine. He was all good to go, and he was really happy. Two weeks later, he took his mask off and he said that it was the best decision he made. That's just one of the examples of, that we have all these varieties of vaccines that can be applied to anybody who maybe doesn't want an mRNA vaccine because for whatever reason. There are other options, and that's what's nice about-
Christopher Sanchez:
Right. I think it's reasonable for people to be afraid of shots in general. To have a piece of metal probe inside of your skin is probably not the most pleasurable thing for anyone. But I think the science community and the medical community overall has a great transparency behind it, which is what I think people need to realize. Myself personally, my aunt didn't want to get vaccinated and she worked at St. Mary's. She was pregnant and she got COVID. Brought it back to her house, and she got everyone in the house sick and she refused to seek care. She's like, "I'm going to be fine." Then her heart failed. They had to save her baby through an emergency C-section. She almost died. Then they were fine.
Christopher Sanchez:
Then my godmother, which is her mom who lived in the house with her, she was heavily ventilated or ventilated for eight months. She just got out of her ventilation three, four months ago. She's doing okay. Not the best obviously having eight months of ventilation on you. But it's just weird to me how my aunt was so hesitant to get the vaccine and she's a nurse. It's not just people who are outside of the medical community who are hesitant, there's so many people who are hesitant and it's just very interesting to me.
Vanessa Gutierrez:
Yeah. I think that people are afraid of what they don't understand or don't fully understand. I think that's maybe where some of the vaccine hesitancy kind of comes in. I feel like that's definitely a big issue and it's something that as scientists, we should probably try to figure out. I mean, just provide as much information as we can and try to explain to people we're not hiding anything and this is just how it is. Sometimes we make mistakes because we're just people, but we learn a lot from those mistakes that we make. We are always trying to improve and we care about people. While these bugs are incredibly fascinating, we don't want them in us and killing people and causing disease. Yeah.
Christopher Sanchez:
Yeah. It's definitely so important for us to be transparent about everything. Like you said, we're only humans. We really rely on what we say through facts and research. It's hard to be a scientist and to find exact answers because there's really never an exact answer to anything, and it's always going to be changing. We can't have all the answers and we're trying our best. We are using the best technology we have, the best minds to get the answers that we think are going to be the thing that gets us through this pandemic, for example.
Cyprian Rossetto:
Yeah. One last question about the vaccine, a little bit more about your personal experience. How did that go? Where did you get the vaccine at, and what did you feel after you got your first shot?
Christopher Sanchez:
Yeah. For me, I got it in the Reno Rodeo arena four months ago. I was definitely one of the last people just because since I'm an undergrad researcher, I wasn't qualified for the [inaudible 00:20:48] qualifications to get the vaccine. I had to wait for the state rules to be changed. That's when I got mine. I got Moderna. I was super, super excited after my first shot. I was psyched. I couldn't wait to get my second one. Then I got my second one, and then I went home to Vegas and I visited my family. It was so nice to see everyone and know that I am much safer vaccinated than I would be unvaccinated. I just felt good visiting them at that point, because I was vaccinated.
Vanessa Gutierrez:
Yeah. My story was a little bit different. I did not go to the Reno Rodeo arena. At the time that we got vaccinated, I believe it was back in February, something like that maybe. Yeah, around that time. They had been vaccinating all the healthcare workers, all the priority people and some people opted not to get the vaccine. This vaccine already been thawed and obviously it would be unstable within a few hours. They didn't want it to go to waste, and so they reached out to the microbiology and immunology department and they thought, "Hey, do you guys want to get vaccinated?" Of course, we were all like, "Absolutely. Let's ..." Everybody was lining up, emailing back and like, "Yeah, just tell me when. I'll be there." Our entire department jumped in, which was awesome.
Vanessa Gutierrez:
We were able to get our first shot. This was vaccine that would have been wasted and thrown away if our department hadn't jumped in and gotten the vaccine. We got our first shot. I didn't feel a single thing. I just got a sore arm, so that was pretty nice. Then the second shot, that was interesting because some of the co-workers got some pretty intense symptoms where they were bedridden for a day or two. Some people had fevers and things like that. For me, I got Moderna actually, and I had what's called a COVID rash. There was a rash around the site of injection. I was a little sore and hot. I was a little worried. I was like, "This looks a little different. I wasn't expecting this.' But it went away within a few days. No serious symptoms. It was pretty great. I was super, super excited to get both my shots. I felt relief. I felt, okay, I don't have to worry about potentially dying or ending up in the hospital, or passing it on to people unknowingly if I was to not show symptoms or things like that.
Vanessa Gutierrez:
It was definitely a big relief. I was so proud at that moment too. It was just like, "Wow, us scientists, we're getting our vaccine. This is so cool. Look at this. This is so novel." It was really, really exciting, but also a big relief. After that, I felt safer going onto airplanes and being in a little bit more densely populated areas. It was really, really nice to just not be super paranoid and concerned all the time.
Second speaker (female) : Cyprian Rossetto:
Yeah. I completely felt the same way. I ended up having mine down at the Livestock Event Center where you're in your car and you go through these stops where eventually it leads to somebody giving you the vaccine. I just also remember too being so grateful to the nurses and the volunteers who were not only giving the shot, but then you needed to wait 15 minutes afterwards and they had volunteers there to making sure that you were okay. I remember this relief and then being so grateful for everybody who's given their time and their effort to be there and making sure that our community is safe and that we're protecting each other. That's one of the things too, we live in a society where we interact with so many other people during the day knowingly or unknowingly. The thought of transmitting it to somebody who maybe that person doesn't get sick, but then they take it home and transmit it to somebody else who does get sick.
Cyprian Rossetto:
And that person ends up in the hospital or ends up with severe disease. To be able to not only to protect myself, but protect my friends and family and protect my community, it was just this kind of overwhelming feeling of relief and just being incredibly grateful.
Christopher Sanchez:
Yeah. It's so cool that we have such easy access. Or maybe not all of us, but in the US at least, there's a much higher vaccine rate because of the access we have for vaccines. It's interesting to see around the world, how not many countries have such high vaccination rates as us. If all these first world countries are being vaccinated and traveling everywhere and their population is not vaccinated, then that just leads to more chance for mutations and their population to get sick. Then that's not good. I wonder how the global or how different countries around the world who have little access to the vaccines are going to approach the issue of vaccinating their population. Because in my family, in Mexico, my uncle died in February and he left his wife and his kids without the moneymaker of the house. There was no way for him to get a vaccine because the medical infrastructure in Mexico was not ready for the waves of COVID that would hit them. I can imagine other countries and their struggles with their population for vaccinating them.
Vanessa Gutierrez:
I'm so sorry about your uncle. It's absolutely terrible.
Christopher Sanchez:
Thank you.
Vanessa Gutierrez:
But I think that we all have a connection of somebody related within our family that has lost somebody due to COVID. I have a few stories. One of the ones that I really want to emphasize is, one of my good friends from high school who lives in Nicaragua, and that's where I lived for about 10 years, they don't have a vaccine plan. Their healthcare system is poorly funded and underprepared. There's not enough ICU beds. There's a very, very slow vaccine rollout. They're still at the point where they're only vaccinating people 50 and above. One of my good friends, Alma, she unfortunately got COVID and she contracted it from her work. Thankfully she's okay. She didn't get it super severe. She's around my age, so she's around 27 years old. But what was really interesting is that, while here in the US you're able to just get tested and it's for free, you just show up and you're good to go.
Vanessa Gutierrez:
You get your test and your results within a few days now. For her, she actually had to pay out of pocket. Not just for one test, for multiple tests. It's about $150 to get tested, which is insane. On top of that, she needed medication and things like that. Somewhere around $300 is how much it would cost her. A lot of people, the medium income is about $300 a month. Obviously a lot of these people can afford it. I remember talking to her and she told me, she's like, "Well I don't know if I can really get tested because I can't afford it. I feel like I have it. I'm just going to wait it out and hope that I don't die and don't have to go to the hospital and don't have to ramp up all these bills and things like that." It was just really sad to hear how these people don't have either access to the vaccine, or they don't have access to basic healthcare testing and things like that.
Vanessa Gutierrez:
It's just really frustrating, I think, because there's people here in the US that have access to everything they need and they're choosing not to get the vaccine for whatever reason. It's kind of frustrating. But thankfully, due to her job, they were able to cover a lot of her testing and things like that. She was able to confirm that she was positive and took the necessary measures that she needed. She was able to get her medication and was able to fully recover. That's one of the stories. I think about maybe a month ago or so, my family finally got access to the vaccine too. What's interesting is that, they got different types of vaccines. The ones that they sent to Nicaragua are not Moderna or Pfizer, and those are the ones that need to be kept at minus 80. Nicaragua does not have the capabilities for those types of storage. Instead, they sent out AstraZeneca, which was the one manufactured in India. They also sent the Sputnik Russian vaccine. They were able to have access to those.
Vanessa Gutierrez:
I remember talking to some of my family and they were telling me that there's just these massive lines of people who wanted to get vaccinated and they didn't have enough vaccine to vaccinate everybody. It was just so sad because it's like, okay, there's these people who actually want the vaccine and then they don't have access to it. It's just a very frustrating situation. I'm sure that this happens all over the world. I know people from India too, India they're in a very tough situation right now. It was interesting too because the vaccine that was made in India was sent to Nicaragua, but then yet their own population didn't have access to their own vaccine that was manufactured in their own country. That was just really interesting. I think that other countries are definitely jump in, help with this vaccine rollout because due to this is why we're seeing so many variants and why COVID is still around. If you were able to vaccinate everybody at a faster rate, we would see a much, much faster improvement for sure.
Christopher Sanchez:
Right. Then looking at health systems of countries, for India, for example, I know it's mostly privatized. It's like 10% is public. I don't know how the government would possibly make connections to the privatized places where people seek medical attention. It's also, for a lower income country to make vaccines, you would want to make profit and not disperse off ... This sounds obviously bad, but it's better to sell it to another country for a higher price. You know what I mean? So that the country's income can increase. I don't know if there has to be some sort of intervention for higher income countries to come into the lower income countries to provide the vaccine.
Vanessa Gutierrez:
It's basically, for example, India, if they were to say, "Okay, let's make our vaccine. But instead of vaccine our own population, let's sell it so that we actually make money."
Christopher Sanchez:
Right. Yeah, exactly. Yeah. It's ...
Cyprian Rossetto:
Yeah. I think that'll be in the future, we're going to have to come up with a better plan because we are a global society. It's obvious that viruses and other microorganisms, they don't see those boundaries between countries. They don't see ... If one country has a virus, it's most likely going to spread to other countries. We have to think of it on a global scale. We can't think of it just country by country because we're only as good as the worst country as far as the cases and hospitalizations. We really have to look at it on a global perspective and have vaccine rollouts that not include just the countries like the United States or Europe, but countries around the world. How do we get the technology to those countries as well? We have intellectual property that maybe prevents some vaccine manufacturers from being able to create vaccines in other countries.
Cyprian Rossetto:
We should maybe come up with a plan where we don't have intellectual property for vaccines. Where we give that information and any country that can manufacture the vaccines, then have the capabilities of manufacturing the vaccines. Because you can't have something where one country has vaccines and another country doesn't. When people are at a point where we can look back and think about how we handled this pandemic ... Because in the future, there will be another one. I mean, unfortunately, as much as we try, there will be another one. Right now, we just have to decide how can we be better at the response to the next pandemic? Part of that is going to be the vaccines and how they were rolled out, not only in countries like the United States, but the global rollout to protect everybody. Whether we're having manufacturing facilities in place in different parts of the world that can ramp up if there is a pandemic, or having technology or intellectual property that can be distributed to other countries around the world, these are all considerations that have to be thought about.
Vanessa Gutierrez:
I think this gives us a lot of opportunity too, to improve our technology. There are still limitations to the mRNA vaccine. It's not perfect. If we can improve the storage capabilities of an mRNA vaccine, maybe ... I know that there's some work where they want to introduce two different targets too, and how we can improve that in the vaccine. I think obviously having the basic research that we need that will lead to the improvement of the mRNA vaccines is absolutely crucial. Ideally, if we could improve it and reduce the cost, then maybe that could help solve some of the issues that we currently have.
Cyprian Rossetto:
Yeah. You're absolutely right about having to take into consideration things like storage in areas. Some places are going to have availability of the minus 80 freezers. Other places are not going to have that as an available storage. In some places, will it be that the mRNA is appropriate? Other places, is it going to be maybe a protein based with an agiment that's going to be easier for them to distribute? It doesn't have to be a one size fits all, but we need to understand the differences in locations and then try to figure out strategies. Even thinking back to how can we predict vaccine success, this is something that is incredibly difficult. Because if you look at all the vaccines that we have, some are really successful. Some of them are attenuated vaccines. Some of them are strictly protein based vaccines. Some of them are inactivated vaccines. Now we have the mRNA.
Cyprian Rossetto:
But to have all of those different platforms and to be able to, if there is the next pandemic, look and see what the virus is, and then stick those into the platform, see which one works best and then be able to distribute them based on the differences in locations, all of that we can plan and do better for the next one.
Vanessa Gutierrez:
Yeah, I totally agree.
Christopher Sanchez:
Yeah. Do you think that the next pandemics will come from the corona variant family or ...
Cyprian Rossetto:
Well, for years, people assumed it was going to be influenza. That was what all of the pandemic scenarios really were geared towards, was pandemic influenza. Mainly because of the 1918 and how that spread globally and the number of deaths associated with that. Coronaviruses because of the first SARS and MERS, they were kind of on the radar, but there wasn't a whole lot of effort being done mainly for surveillance. We know that there are reservoirs, whether it's bats or other animals that we have coronaviruses in these animals. There hadn't been as much surveillance as I think probably now we recognize needs to be. It really wasn't what people were assuming was going to cause you the pandemic. It really was influenza.
Christopher Sanchez:
Yeah. I mean, the flu has the perfect genome. It's segmented and then perfect way to mutate like that, or to accumulate a new genome.
Cyprian Rossetto:
Well, yeah. With influenza, the issue is potentially reassortment. Because of the different strains that circulate not only in our population, but also we have avian influenza and then within pigs as well, you can have an animal or a human get coinfected with different strains. The virus will reassort because of the segments of the genome, and then now you have a new strain that hadn't been seen in the human population. That's where influenza, that was one of the reasons why people were [crosstalk 00:37:41]-
Christopher Sanchez:
It's more of a spotlight that could be the next pandemic. But now we see obviously that-
Vanessa Gutierrez:
Influenza mutates enough that we need a vaccine every single year.
Cyprian Rossetto:
Yeah. That's another thing too. Is, I like to remind people, "Yeah, don't forget about influenza because that is ..."
Vanessa Gutierrez:
It's still around.
Cyprian Rossetto:
It's still around. Everybody, get your coronavirus vaccine, but also make sure that you keep up on your yearly influenza vaccine.
Vanessa Gutierrez:
It was super interesting seeing the trend of influenza this past year too, because of lockdown and because of the COVID vaccine and stuff like influenza rates were down.
Cyprian Rossetto:
Yeah. I mean, they were almost non-existent, which was great. It just shows the power of masking and social distancing. I mean, it really cuts down on respiratory infections in general.
Vanessa Gutierrez:
Yeah. Lesson learned, don't be around people.
Cyprian Rossetto:
But I think when we look at coronaviruses and influenza, then that kind of reminds me that as far as research, people are very interested in coming up with antivirals that aren't necessarily for one specific virus, but can be given for all RNA viruses. Both influenza and corona are RNA viruses. That's one piece of the puzzle that we're still missing a little bit with this current pandemic. If we had an antiviral that was in a pill form that people could have at their house, and if they knew immediately when they were infected, could take that, that could also be another way to stop the spread. There's a lot of research going on right now with antivirals and trying to figure out not only for SARS-CoV-2, but again, for other viruses that come along. Can we have something that's already been approved that we can just immediately roll out?
Christopher Sanchez:
Yeah. Of course.
Vanessa Gutierrez:
Yeah. Low resistance too.
Christopher Sanchez:
People would be more willing to take a pill than a vaccine.
Cyprian Rossetto:
Than a vaccine. Yeah.
Christopher Sanchez:
I think vaccine is obviously the best form of prevention, obviously. But if the medication is there that's a pill and people are willing to take that, then that's definitely way better than not getting a vaccine at the end of it.
Cyprian Rossetto:
Yeah. I mean, you're absolutely right. Some people, while they may be hesitant to get a vaccine, they're perfectly fine taking an antiviral drug. If we had both available, I mean, that would be a wonderful way then to have different things for the population.
Christopher Sanchez:
Right.
Vanessa Gutierrez:
I'm sure my brother would agree with you.
Cyprian Rossetto:
But as far as from a researcher and a scientist perspective, that's one of the things that I'm really interested in looking at, even though my lab doesn't study antivirals.
Vanessa Gutierrez:
Or RNA viruses.
Cyprian Rossetto:
My lab also doesn't study RNA viruses. I think there's so much potential for antivirals right now. I think going forward, that's going to be a big, huge area of research. It could be incredibly powerful, both for SARS-CoV-2, but for any other pandemic that comes along.
Vanessa Gutierrez:
I mean, something similar with what was done with HIV and antivirals, where they're just putting multiple drugs into one pill that could target multiple viruses, that would be a really, really nice technique to use.
Christopher Sanchez:
A little cocktail medication?
Cyprian Rossetto:
Yeah.
Vanessa Gutierrez:
Mm-hmm (affirmative).
Christopher Sanchez:
I mean, for HIV, when they first came out with some antivirals for that, it was a one type of thing. Then that was obviously not effective because of it's high mutation rates. But having the three, it was statistically impossible for HIV, these all mutations to block all three of them.
Cyprian Rossetto:
Yeah. I think that's probably what a lot of researchers are looking at now. Is that there are studies going on individually, but is there a way to create this cocktail that targets multiple steps that the virus needs in order to replicate? Then would that be a drug that is really able to knock it down?
Christopher Sanchez:
Yeah. I mean, you said, if I remember correctly from last year, the RNA viruses are the most present types of viruses in the human population verses DNA.
Cyprian Rossetto:
Yes. For you eukaryotic organisms, at least as far as we know, which again is limited by our technology, but as far as we know, there are more known RNA viruses than DNA viruses for mammals.
Christopher Sanchez:
Right. By having that blanket antiviral to effect all RNA viruses or at least some, most, that would be huge because you would affect a lot of those viruses that affect a lot of people.
Cyprian Rossetto:
Yeah. If we do look at the approved antiviral that we have, remdesivir is approved to treat SARS-CoV-2, that targets the replication of the RNA itself and it targets the RNA dependent RNA preliminaries. The nice thing about that is, that is an enzyme that's found in all RNA viruses and it's not an enzyme that's found in the cell. That's a perfect target because whenever you develop an antiviral, you're always concerned about off target effects. If you're specifically targeting a enzyme that only found in a viral infected cell, you limit the potential off target effects. A lot of research is going into trying to see if we can take what we know about remdesivir and maybe modify it so that it either is something that can be taken orally rather than, right now remdesivir needs to be given IV. Or can we look a little bit closer at the molecular modeling between where remdesivir is binding and slightly change it so that it is more effective?
Christopher Sanchez:
Dang, that's so interesting. Wow. That's so cool.
Vanessa Gutierrez:
That could be the next thing.
Cyprian Rossetto:
Yeah. I mean, that's why it's interesting because again, it's not something that I study in my lab, but I'm super interested because I do think there's so much potential for antivirals.
Christopher Sanchez:
Right. Dang. That's really, really cool.
Cyprian Rossetto:
Yeah. But I mean, going forward, antivirals are just going to be one piece of it. We're going to need vaccines. We're going to need antivirals. We're going to need more PPE. I think that was another thing that in the beginning was an issue, was not having adequate PPE. Then to have a plan.
Christopher Sanchez:
Yeah. Also, I feel like it's the responsibility of leaders of countries or local leaders of communities to give out proper information, because that can obviously spread not only fear, but they can spread misinformation that's just not good for the population or for the pandemic in genera or for anything. That's also really important, but ...
Cyprian Rossetto:
Yeah. No, and I think, for scientists, for politicians to acknowledge the limitations that we have and to be honest and say sometimes we don't know. This is what we know right now, and we're going to do things based on what we know right now. But that might change in the future because we'll get new data or technology will change and we'll have a better understanding of the pandemic. I think that's one of the things that we can learn going forward.
Vanessa Gutierrez:
Yeah. I mean, because of the improvement in technology, we're able to pick up all these different variants of coronaviruses because we have the technology now. Otherwise we would just think that we're treating the same thing.
Cyprian Rossetto:
Yeah. Really.
Vanessa Gutierrez:
Yeah. They're just slightly different.
Cyprian Rossetto:
Yeah. I think one last question before we wrap up is, what was the thing that you were most excited to do after lockdown stopped and you were able to go out again? What were you most excited to go do?
Christopher Sanchez:
That's such a crazy question. I was so excited to do so many things. But to point out something in particular-
Vanessa Gutierrez:
I was excited to get on a plane again. Even if it's still with mask, I'm definitely looking forward to flying without a mask. But just getting on an airplane again, that was kind of exciting.
Christopher Sanchez:
Right. Yeah. I would say traveling, actually. I love traveling. I love personally road car tripping. I love driving so much. I drove to Colorado, which is a 14 hour drive from here right after. I stayed with my friends for a month and it was so much fun. We went to the lakes, we went hiking, went bar hopping. It was so great. It was so much fun. To go back to school in-person this coming ... I mean, I started my summer session, which is in-person. But to have make my full schedule in-person, I'm really excited for that. To see new people, meet new people. I think everyone will be more willing to meet new people and branch out from what they were used to before the pandemic, because they saw how fast things can change. Maybe people will be more outgoing and more social, and I'm really excited to meet new people.
Vanessa Gutierrez:
Yeah. I'm definitely looking forward to going back to a concert. I haven't done that in a very long time and I haven't been in a crowd of people. That's going to be very interesting. But I was traveling last week too. I was in North Carolina and we did so many things too. We went to museums and seeing all these people out and about, and I was just like, "Oh my God, there's so many people here." But it's so exciting because it feels so normal. It was really great to have that feeling of normalcy back.
Christopher Sanchez:
Yeah. It feels so taboo to see people without masks. [crosstalk 00:47:14]-
Vanessa Gutierrez:
Yes. Oh my God, the first time-
Christopher Sanchez:
Because waking into a place without a mask, crazy. Insane. I felt not good. [crosstalk 00:47:20]-
Vanessa Gutierrez:
Yeah. I remember the first time going to the grocery store and they're like, "Okay, vaccinated, people can take their mask off." I'm like, "I am vaccinated." I'm scoping people to see what else they're doing. I'm like, "Okay, they do have their mask on." It felt really relieving, but it was also a strange feeling because we spent so much time wearing masks everywhere we went. I remember there was an announcement on campus that you didn't have to wear your mask anymore, and I was like, "Okay." Some people were like, "I think I might keep my mask on." I was like, "No, I am taking that thing off." I remember taking it off and seeing people's faces, which I hadn't seen in a year, and I was just like, "Oh my God, I can see you smiling now." Which is so exciting.
Christopher Sanchez:
How about you, Dr. Rossetto?
Cyprian Rossetto:
Yeah. I just appreciate being around people again. My family, my parents, to be around them and not be worried that I was going to potentially transmit something to them that would make them sick. But I think, or I hope that that appreciation stays a while and that we don't take for granted being able just to be with each other. I mean, even being able to go into the lab without having to wear a mask to be able to sit next to somebody while we go over data and not have to go over data through Zoom.
Christopher Sanchez:
Right here, we're all sitting in a room and it's talking, seeing each other's faces is awesome.
Cyprian Rossetto:
Yeah. I'm probably a little bit hesitant. I still will wear my mask when I go into a grocery store just because ... I don't know. I still worry a little bit about unvaccinated people, but that's just my own concerns. We're doing good.
Vanessa Gutierrez:
Better to be safe too. I mean, it doesn't hurt anybody?
Cyprian Rossetto:
Yeah.
Vanessa Gutierrez:
Yeah. That's good.
Cyprian Rossetto:
I'm glad we can all see each other again.
Christopher Sanchez:
Nice big smiles.
Cyprian Rossetto:
All right. Well thank you both for being here and sharing your experiences. Thank you to the Reynolds School of Journalism for letting us record in their studio and for their dedication to training the next generation of science communicators. Finally, thank you for listening. We hope you'll join us for the next episode of Discover Science.
Christopher Sanchez:
Thank you guys for having us.
Vanessa Gutierrez:
This was really fun. Thank you so much.