Pack Line campus shuttle route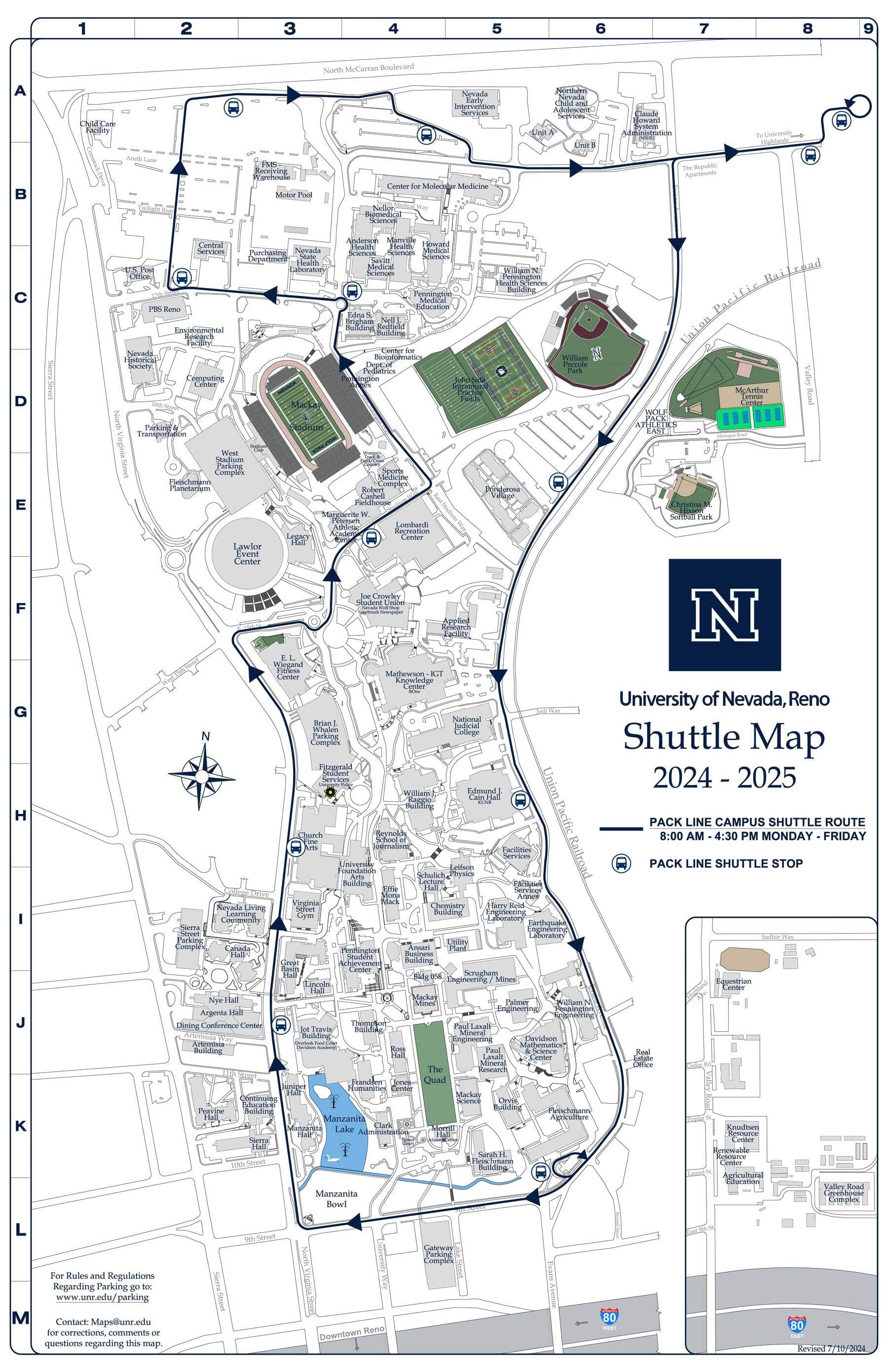 PACKTransit operates a basic service in one continuous loop around the campus. This service line, called PACKLine, will serve 10 stops from 8 a.m. to 4:30 p.m. Monday through Friday.
The PACKTransit campus shuttle operates only during the Fall and Spring semesters and discontinues service during Summer and Winter breaks.
PACKLine stops
Outside Jot Travis Building

Outside Church Fine Arts

South of Lawlor Events Center along East 15th

Street

Between Family Medicine Center and Anderson Health Sciences

North of 17

th

Street, just east of the U.S. Post Office

North parking lot

Southwest of Special Children's Clinic

At The Highlands and Saga Reno Apartments

Northeast of Ponderosa Village along Evans Avenue

Outside Edmund J. Cain Hall

Outside Fleischmann Agriculture
Starting at the stop in front of the Jot Travis Building, which is the Dorms' North stop, the campus shuttle moves north on Virginia Street, stopping at Church Fines Arts. It then continues north on Virginia Street, turning east on E. 15th Street. The shuttle proceeds east on 15th Street and goes around the traffic circle west of the Joe Crowley Student Union, to head back west on 15th Street and stop south of Lawlor Events Center. The shuttle then turns north on Virginia Street and east on 17th Street. The shuttle proceeds through the 17th Street and West Stadium Way intersection. At the circle at 17th Street and East Stadium Way, the shuttle proceeds to the east side of the traffic circle just past the Family Medicine Center at the traffic circle, serving the School of Medicine stop. It then continues west on 17th Street until it turns north between the U.S. Post Office and Central Services for the Post Office stop. It continues north and then it then turns back east just south of North McCarran Boulevard to service the North Green Lot stop. The shuttle continues east through the north Tan lot north of the School of Medicine, servicing the Enterprise Lot stop, and then meets up with Enterprise Road. The shuttle then crosses Evans Avenue, along Enterprise Road to The Highlands and Saga Reno Apartments where it circles back around towards Evans Avenue. The line follows Evans Avenue south where it stops at Ponderosa Village. The shuttle then continues south where it stops at Cain Hall and continues to a small circle made just south of Fleischmann Agriculture serving this stop. The shuttle then loops back heading west on 9th Street. At North Virginia Street the line heads north to meet back up with the original starting location at the Dorm North stop.
*The image above is a route map showing the basic shuttle service route. In order for passengers to board at The Highlands or Saga Reno Apartments, they must purchase an East Campus Resident Shuttle Access Pass from the University of Nevada, Reno Parking and Transportation Services Department.
---