Over a span of three days, the University of Nevada, Reno held five commencement ceremonies and celebrated the accomplishments of its students. The in-person ceremonies were held on the University's historic quad and featured speakers from the University's faculty and student body, the Nevada System of Higher Education's Board of Regents, local indigenous leaders, the University's alumni association leadership and U.S. Senator, Jacky Rosen, who sent in a special video message.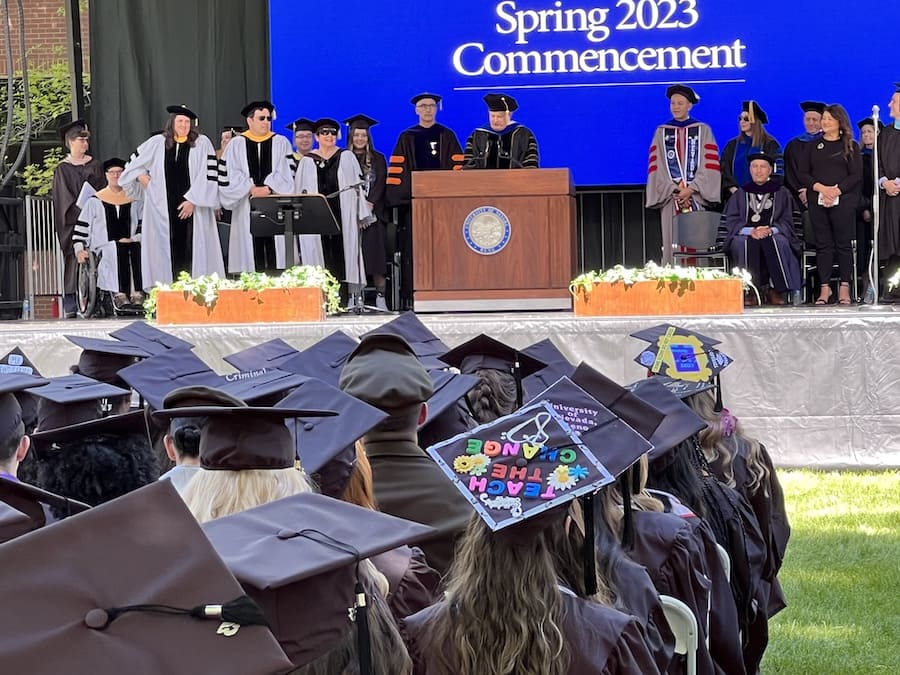 Executive Vice President and Provost Jeffrey Thompson served as the master of ceremonies. Indigenous blessings were given by elders Stanley Hooper, Newe Elder, Melba Rakow, Wašiw Elder, and Reynelda James, Numu Elder. University President Brian Sandoval gave a welcome address, which included leading the graduates in a final Wolf Pack Chant as students.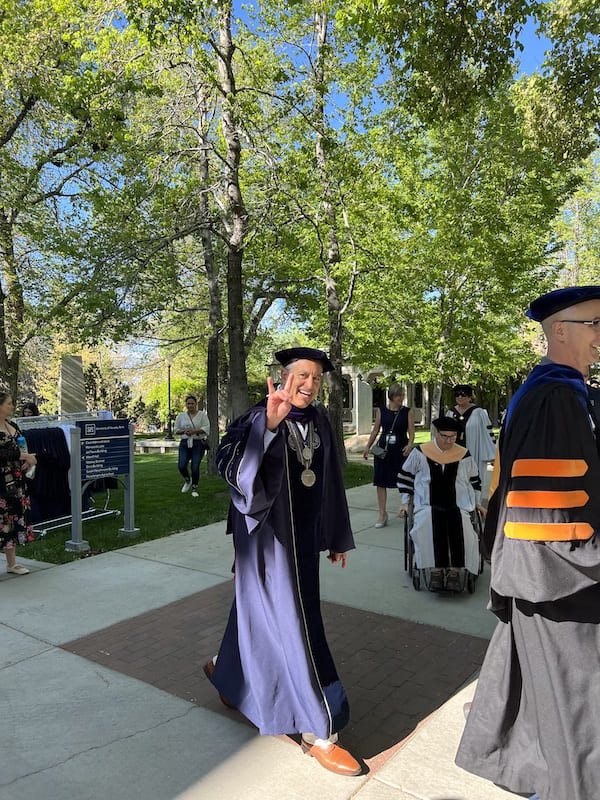 "One hundred years ago, 55 University graduates were told that they could not afford to stand still," President Sandoval said. "Today, I tell you the same thing. Don't stand still. You are the leaders and innovators of the future."
Each ceremony was unique with President Sandoval telling stories about exceptional graduates from the schools participating in that ceremony. Those stories include:
Sandy Kordi, a student who immigrated to the U.S. from Syria when she was twelve, graduated summa cum laude with a bachelor's degree in Psychology and Sociology.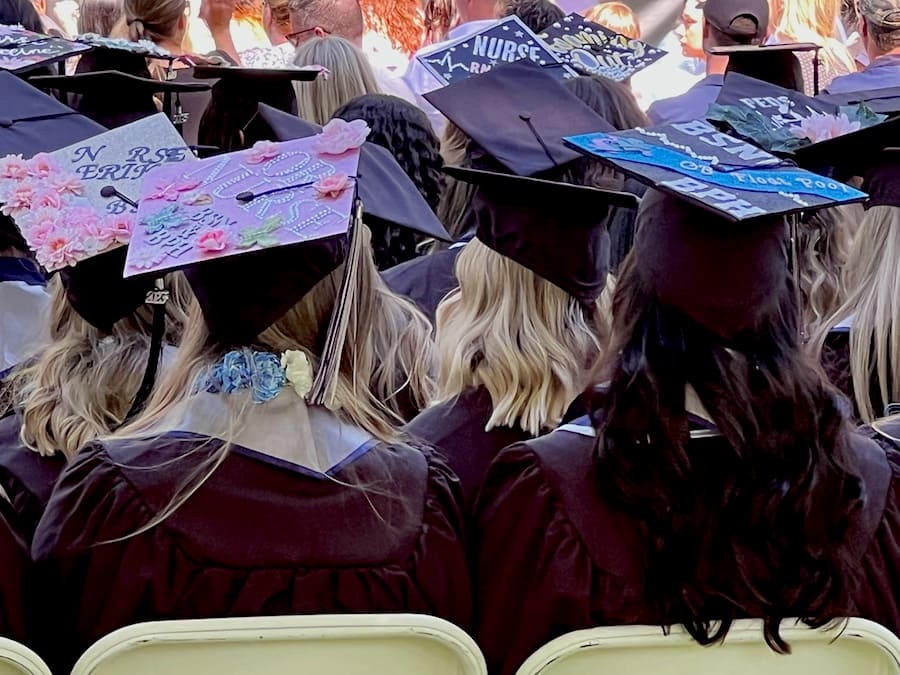 Aafreen Ali was also acknowledged; she is the eldest daughter of South Asian immigrant parents and one day wishes to open a clinic back in her father's village to improve the status of women's health and reduce mortality rates of women and babies there. She graduated with a bachelor's degree in Nursing.
Graduating from the School of Social Work, Jacob Colacurcio, a Latinx, first-generation college student, hadn't envisioned himself on a college campus while growing up. However, he worked diligently throughout his time at the University and started working with the Boys and Girls club as a teen aid, finding a sense of comfort and belonging as he learned to advocate for individuals from marginalized communities.
Abbey Leff graduated with a bachelor's degree in Biology after taking a full course load during the height of the pandemic and working three jobs: personal training, emergency room admission and scribing in gynecological oncology. She graduated in three years and plans to attend medical school.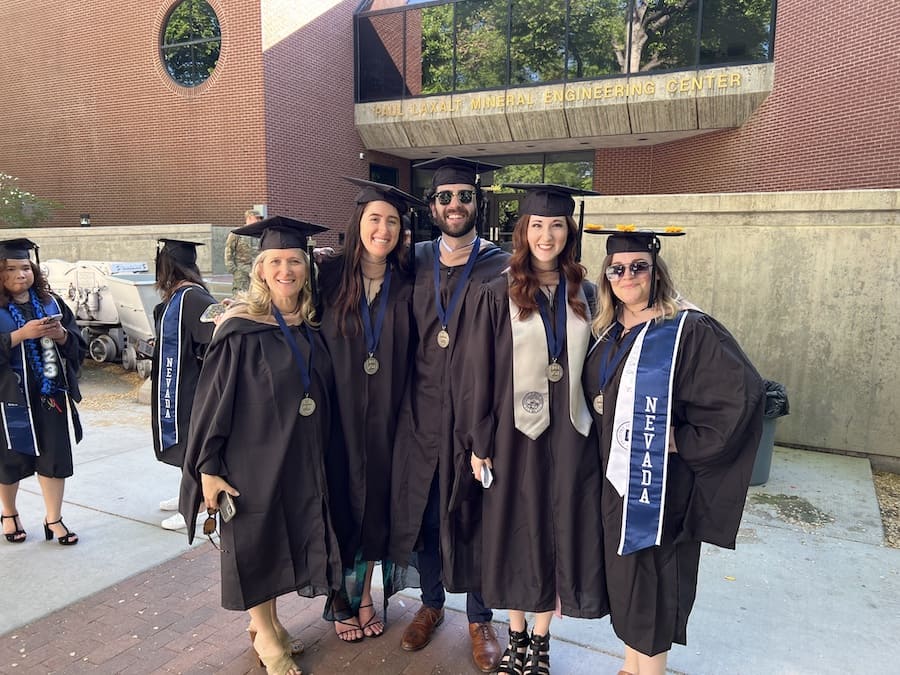 Camellia Chang was acknowledged from the College of Business. She was born and raised in China and while attending the University, she studied in four major fields: Accounting, Finance, Information Systems, and International Business. She also earned two minors in Business Analytics and Statistics.
Kingkini Sengupta earned a master's degree in Journalism. Originally from Kolkata, India, Sengupta wrote for the student news organization, Our Town Reno, and focused on the topic of homelessness in the Reno community while studying. Sengupta also produced a documentary with her classmates called "Caribou to KRBU."
From the College of Agriculture, Biotechnology and Natural Resources, Nayelli Lara-Gutierrez graduated with a degree as a first-generation student. She completed a bioassessment internship with the Nevada Division of Environmental Protection.
Shannon Keegan also graduated an Engineering degree, majoring in Mechanical Engineering. Keegan was one of the first students in Engineering's CREATE Program for academically talented, financially eligible engineers.
Emily Murawksi, a graduate from the School of Public Health, exemplified The Wolf Pack Way. She was diagnosed with type I diabetes when she was four, so she understands the challenges that people face when trying to secure affordable healthcare and medicine that is crucial to staying alive. She plans to continue to advocate for policy change that encourages health and wellness in the community and improving access to healthcare for disadvantaged communities.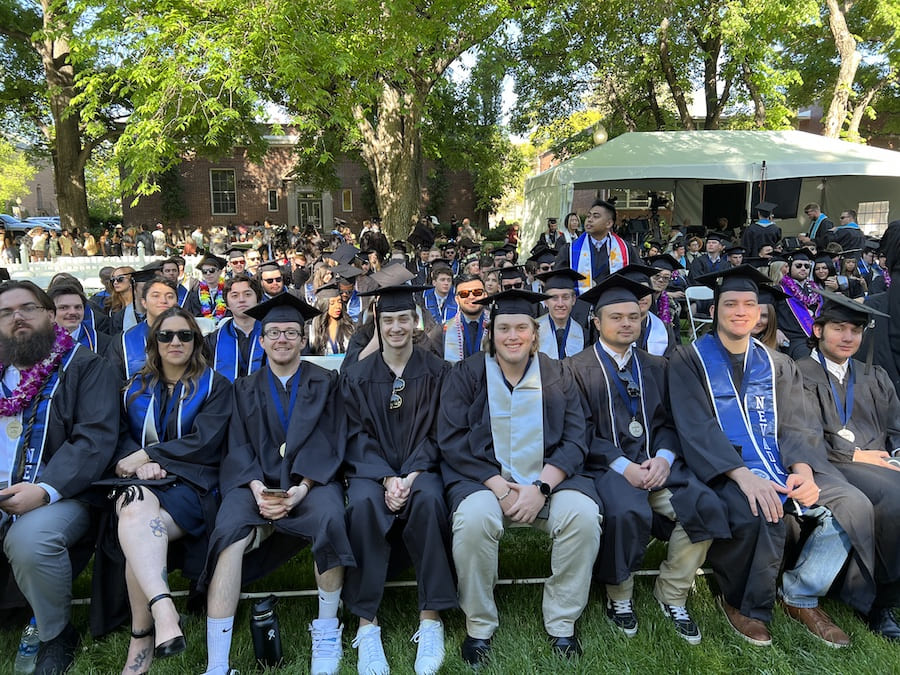 Anarita Ibarra, a graduate of the College of Education and Human Development, was born and raised in Reno and is a proud alumna of the Dean's Future Scholars program. She was raised by immigrant parents who worked multiple jobs to prioritize her education. Ibarra is a role model to her six siblings and is the first in her family to attend university and graduate with not only a bachelor's degree but now a master's degree in Human Development and Family Science.
In addition to the stories of individual graduates, special presentations were given during the various ceremonies.
On Friday afternoon, Jimson Huang, a student from both the College of Engineering and the College of Science, double majoring in Computer Science and Engineering and in Mathematics with a minor in Big Data, was honored with the University of Nevada, Reno Herz Gold Medal for Outstanding Scholarship. In addition, the Board of Regents' Distinguished Nevadan Citation was awarded to Judge Peter Breen, Dr. Susan Desmond-Hellman and to Justice James Hardesty. Maggie Carlton earned an honorary degree for her tireless work in public service for the people of Nevada.
You can read more information on the spring commencement webpage including a link to the full commencement program.