In an endeavor to spark a love for mathematics among all students, the North American Chapter of the International Group for the Psychology of Mathematics Education Conference held its annual conference in Reno, Nev. on Oct. 1-4 at the Atlantis Casino Resort Spa.
Hosted by the College of Education & Human Development at the University of Nevada, Reno, this year marked the 45th anniversary of the conference. The conference theme was "Engaging All Learners." During the conference, experts shared their work, knowledge and ideas with fellow scholars in mathematics, psychology and education.
Conference Chair Teruni Lamberg, Ph.D. and professor of elementary mathematics education, stated, "It is an exciting opportunity to learn from each other to push our thinking in our research and the impact we can make in our communities."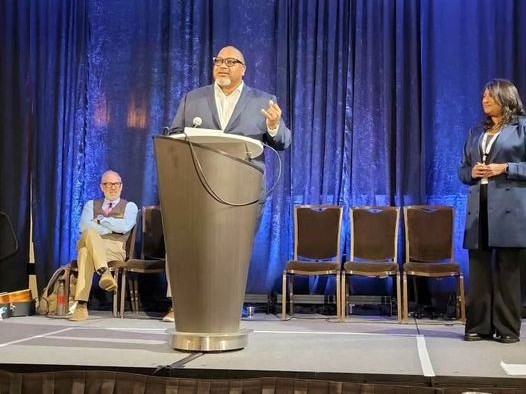 Dean of the College of Education & Human Development, Donald Easton-Brooks, Ph.D., welcomed the 500 attendees from around the world at the opening event. The Dean was also proud to sponsor the graduate student reception on Monday evening.

"The conference was a great hit," Easton-Brooks said. "It was an honor to host some of the best math education professionals in the world. Dr. Lambert and her team brought together some of the best minds."
Faculty committee members include Lynda Wiest, Ph.D. and Glenn Waddell, Jr., Ph.D. from the College of Education & Human Development, as well as Diana Moss, Ph.D. and Rachael Welder, Ph.D. from the College of Science.
Often perceived as daunting, mathematics can become an exhilarating journey when students are engaged and inspired. So, the conference aimed to explore ways to make learning math a joyful and inspiring experience for every student. With a focus on student engagement and interest, the event shed light on innovative strategies, learning environments and research agendas to enhance math education.
The conference featured keynote speakers and panel presentations from renowned educators. Each day also covered major themes of motivation and embodied cognition, connecting math to real-world experience, culture and technology and play experiences.
Participants brought their innovative ideas and collaborated with international scholars who share a deep commitment to making a difference in the lives of students. The "Engaging All Learners" conference ignited a passion for math learning that will resonate far beyond its duration.
"As a research community, we care about helping students become better math learners and supporting teachers to teach more effectively," Lamberg said.
Lamberg is a researcher, scholar and leader in mathematics education. She has served as Chair of Psychology of Mathematics Education in 2007, Co-Chair in 2011 and Conference chair in 2007, 2011 and 2023. She also serves as Chair of the American Education Research Association Sig: Research in Mathematics Education. She also served on the Board of the Nevada Math Council and California Math Council. She is also the program coordinator for the Master of Elementary Education and Master of Science in Elementary Education Programs. In addition, she is also the program coordinator for the STEM doctoral program.