Micah Lilo, a third-year student within the School of Public Health at the University of Nevada, Reno is an expert multitasker. As a public health major and student athlete, developing and implementing daily organization skills are crucial to his success. Not only is he a linebacker for the Wolf Pack football team, but he is also an accomplished student researcher, the director of programming for the Hawai'i club and a member of the University's pre-medical fraternity, Phi Delta Epsilon.
"Before every week starts, I make a block schedule of all the things I have planned for each day," said Lilo. "This helps me understand when to focus on homework, getting in extra film or lifting for football, and working in the lab."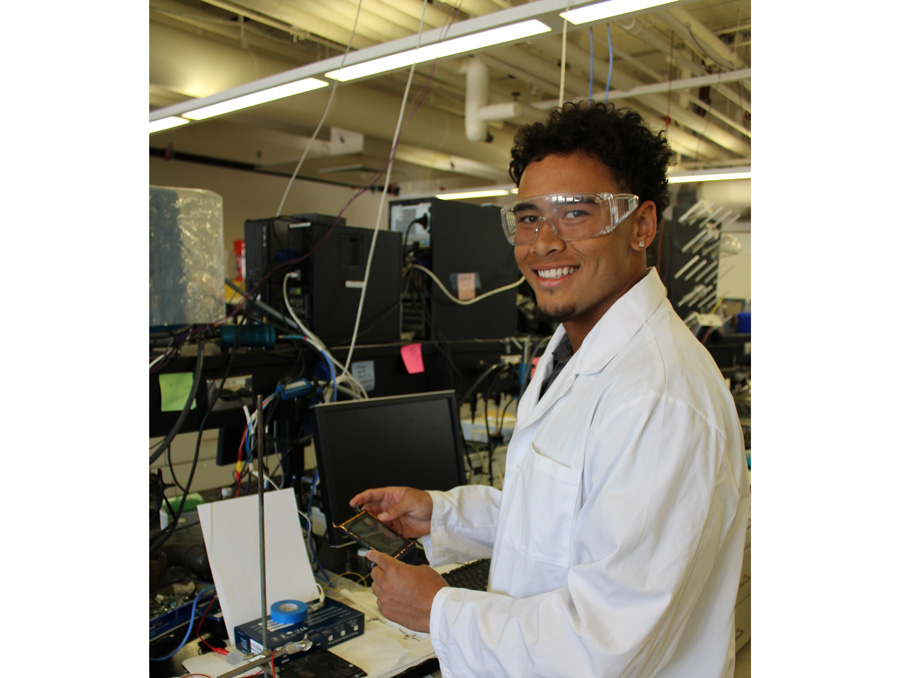 Lilo received a Nevada Undergraduate Research Award (NURA) through Undergraduate Research, part of Research & Innovation, for Summer and Fall 2022 that supports his research being conducted under the mentorship of Christopher Barile, associate professor in the Department of Chemistry.
"Dr. Barile is such a great mentor and is one of the main reasons why I applied for the NURA award. I did not know much about it or that I even met the requirements until he encouraged me to apply," said Lilo. "Dr. Barile has allowed me to do so many things that I never thought I could do. I would say that he brings out the best of me and I am very grateful to have him as my mentor."
The Barile research team addresses problems associated with energy conversion, storage, and efficiency at the intersection of electrochemistry, inorganic chemistry and materials chemistry. In 2021, Barile received a National Science Foundation CAREER award, a prestigious award that recognizes role models in research and education who are leading scientific advances in their field and within their university. That same year he also earned the University's Foundation Early Career Innovator Award for his development of energy saving, dynamic- or smart-window technology that gained national attention.
Working in the Barile lab, Lilo's focal point is a project aimed at dynamic windows. "Dynamic windows are an exciting technology to save building energy consumption by an average of 10%," he explains.
"Dynamic windows are windows that can change transparency using the application of voltages," said Lilo. "The research supported by NURA funding that I am doing investigates different chelating agents to put into our Zinc electrolyte in hopes of improving the durability of our dynamic window. The overall goal for the dynamic windows project is to make the optical window that can be used in buildings to help reduce energy consumption."
Exceptional time management and organization abilities go hand-in-hand with Lilo's commitment and love for STEM. STEM has inspired him to become a problem solver and advance his critical thinking skills. "I use these skills when I'm on the football field, in the lab and in the classroom. I love how the things I learn from STEM apply to all parts of my life," said the redshirt sophomore.
With the lifelong dream of being accepted to a medical school and eventually becoming a doctor, Lilo credits much of his current successes to his experiences at the University. He notes the importance of building relationships with people and staying involved within the University community to enhance one's academic and social journey.
"Being involved in many organizations around campus has taught me how to collaborate and communicate with people in different settings. I've also been lucky enough to meet so many great people and form relationships along the way," said Lilo. "My parents always told me that the relationships I make with people in college will last a lifetime and I believe that wholeheartedly."