Brian Huynh graduated from the Mackay School of Earth Sciences and Engineering in 2018 with a degree in Mining Engineering. During his undergraduate studies, he held roles as Associated Students of the University of Nevada Senator, Vice President of Nevada Blue Key Honor Society, President of John Mackay Club and Peer Mentor for TRiO Scholars. He maintains strong relationships with University faculty members and serves on the Mackay Executive Advisory Board.
Upon graduation, Huynh began his career with Freeport-McMoRan in Bagdad, Arizona. During his time at the open pit mining operation, he held roles as Mine Operations Supervisor, Short Range Mine Planner and Project Manager. Huynh has recently transitioned to corporate headquarters in Phoenix, Arizona and is a Transformation/Agile Facilitator.
In 2021, Huynh was named one of the inaugural Wolf Pack Way alumni. Each of the Wolf Pack Way alumni have exhibited successful careers and exceptional dedication to their work and their communities.
What does it mean to you to be a Wolf Pack Way alumnus?
It's an incredible honor to be a Wolf Pack Way alumnus. The University gave me the tools and resources to be successful both as a student and as an industry professional. To still have ties with the University provides me an opportunity to give back to the institution that helped shape who I am today.
What is your most memorable experience at the University?
There are a few, but I'd say the 2017 College of Science Scholarship Luncheon. In 2015, I switched majors from Biochemistry to Mining Engineering. I was fortunate enough to receive a scholarship and I remember listening to a senior Mining Engineering student give his speech. His words gave me confidence that I had chosen the right college, and inspired me to tell myself, "I'm going to work hard, and I'm going to be standing up there one day." Two years later, I was asked to speak at the 2017 College of Science Scholarship Luncheon. It was an unforgettable opportunity to thank the donors, faculty, and family members that helped support me through college.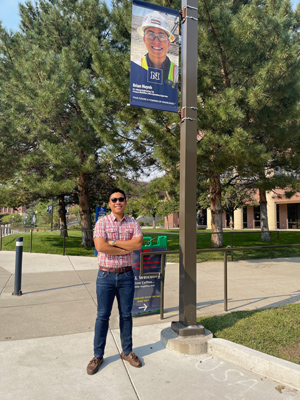 What person or resource on campus was most instrumental to helping you succeed?
TRiO Scholars was instrumental in my journey through college. To use an analogy from Willy Wonka and the Chocolate Factory: as a first-generation student college was the golden ticket for me. TRiO taught me a lot of chocolate is involved and that we aren't perfect and sometimes give into temptation during our journey to understand the meaning of the golden ticket. In other words, TRiO taught me persistence with my goals, finding humility in failure, and that sometimes you need to walk in someone else's shoes to get a better perspective. The entire TRiO Staff, especially my coach Chris Westin, made an everlasting impact on my journey.
What was the most important thing you learned at the University that put you on your path to success?
The value of teamwork and friendships. We live in a highly collaborative world and understanding how to bring out the best in others is an invaluable skill. When you work together and feed off one another's ideas, that's often when the best work is done. Everyone has different life experiences, and it's important to see the world through various lenses.