After a year unlike any other, the University of Nevada, Reno will celebrate graduates of its 2020 and 2021 classes with in-person Commencement ceremonies this month.
The University will hold eight in-person Commencement ceremonies Wednesday, May 12 through Saturday, May 15 at Mackay Stadium to recognize 8,350 degrees awarded between the 2020 and 2021 graduates.
"A number of people in Student Services and across our campus have worked diligently over the past couple of months to develop our plan to hold in-person commencement ceremonies," University President Brian Sandoval said. "It contains a number of health and safety precautions based on the latest guidelines from the County and State. It will require cooperation, patience and understanding. It will be a different kind of ceremony, more socially distanced and more controlled. But it gives us an opportunity to gather safely as an in-person community to celebrate our newest graduates."
The University conferred 3,143 degrees and certificates last spring, 1,949 degrees and certificates in winter 2020 and will award 3,258 this spring.
2021 graduates: Commencement for 2021 graduates will be held Thursday, May 13, Friday, May 14 and Saturday, May 15. Ceremony times will be 9 a.m. and 4 p.m. each day. A virtual ceremony for 2021 graduates will be held Friday, May 14, at 10 a.m.
2020 graduates: Commencement for 2020 graduates will be held on Wednesday, May 12. Ceremony times will be 9 a.m. and 4 p.m.
University graduates and their families are encouraged to join the Commencement conversation online by using the hashtag #NVGrad2020, #NVGrad2021, #NVGrads and #PackPride.
Important Commencement ceremony information
Graduates can only attend the ceremony of their specific college.They will not be able to attend any other ceremony. Those with dual degrees will be assigned one specific college. Face coverings that completely cover the nose and mouth will be required at all times for all graduates and guests in attendance. Tickets are required for the event. Each graduate is allowed a maximum of four guests.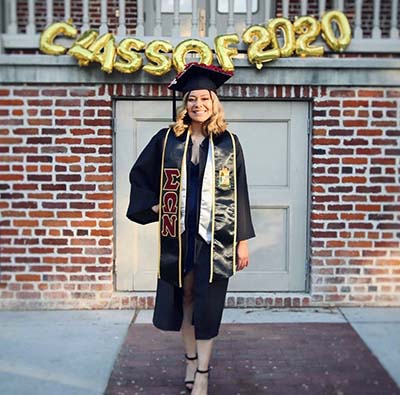 Security
Guests are asked not to bring any items into the event that cannot be searched. Wrapped gifts are one example of this. Glass and reusable bottles and coffee mugs, such as Hydro Flasks, will not be allowed inside the venue. Only disposable, sealed plastic water bottles are allowed. Balloons will also not be allowed into the venue. Concession stands will be selling water and coffee. Please check the Spring Commencement web page for a list of items prohibited and allowed.
Parking and directions
Please check the Commencement website for Commencement parking and entrances.
Footwear
Only flatbottomed shoes are allowed on the Mackay Stadium turf. Replacement footwear will be provided to any graduate, faculty or staff member who does not follow the guidelines.
Health screening
Attendees will be asked to complete an on-site health assessment and are encouraged to download the COVID-19 Trace app.
Interesting Commencement facts
Most popular majors:

Undergraduate: Community Health Sciences, Psychology and Mechanical Engineering
Graduate: Masters in Social Work & Masters in Business Administration

192 different majors will be represented
This year's oldest graduate is 75 years old and the youngest graduate is 18 years old
The average age of graduates is 24
The University is recognizing Latin Distinction awarded to 302 graduates
This is the first time Commencement has been held in Mackay Stadium; Mackay Stadium built in 1966
In 1891, the University's first graduating class consisted of three students
Graduates will join a network of more than 100,000 University alumni
How to watch Commencement
For family members and friends who cannot attend Spring Commencement this year, there are many options to watch the ceremonies live from a mobile device or on TV. Tune in or log on to watch during the scheduled ceremony times.
Television:

Wednesday, Thursday and Friday, May 12-14: Nevada Sports Net (NSN)
Saturday, May 15: KRXI FOX 11 News

Streaming online: