When the Orvis School of Nursing students were no longer allowed in labor and delivery rooms because of safety precautions related to COVID-19, the school had to get creative on how to continue to provide students with crucial labor and delivery education. Fortunately, the Orvis is able to offer up to 50% of curriculum through simulations so they were able to purchase a maternal childbirth simulator through generous outside donations.
The birthing simulator, named Lucinda, provides a variety of experiences for nursing students. She can even give birth several times a day. Even though students are now allowed back into labor and delivery rooms, Lucinda still provides a variety of scenarios that students would rarely be able to see in real life.
"Lucinda augments the clinical experience. She is so valuable because we can provide a variety of experiences in a rapid-fire fashion. This permits the development of standard obstetrical nursing skills to a variety of more advanced skills to each student," said Shannon Richard, Professor, and Coordinator of Simulation at Orvis School of Nursing.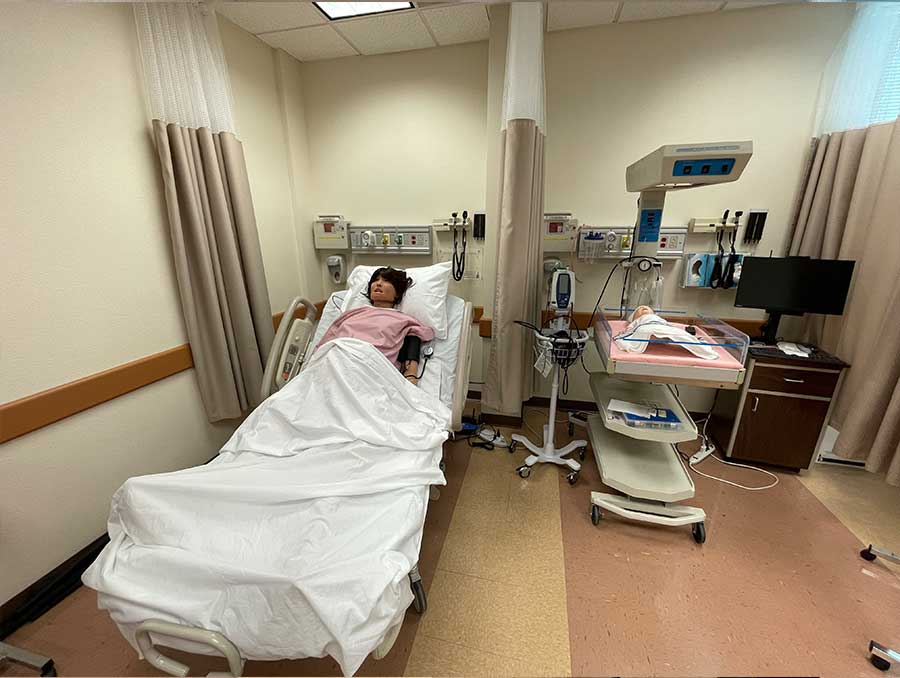 Lucinda simulates obstetrical challenges such as breech delivery, shoulder dystocia, (pre)eclampsia, and obstetrical emergencies like post-partum hemorrhage. The students can monitor integrated maternal-fetal physiology with mom's changing vital signs along with fetal heart rate and fetal response during contractions. The school can also simulate the baby's early or late decelerations alongside the mom's contractions. Lucinda has interchangeable cervices so the school can offer progressive stages throughout the laboring process. Post-delivery, students can examine the placenta (that Lucinda delivers) and examine for retailed placental products that may indicate postpartum hemorrhage.
One thing that makes Lucinda unique from other birthing simulators is a virtual reality feature. Through virtual reality, the school can overlay the technology on the actual manikin to see a 3-dimensional view of the internal organs including the placenta, and observe the baby's transit down the birth canal. For cases like postpartum hemorrhage, the virtual simulation will change based on nursing interventions such as massaging the fundus and cannulating the bladder. Using the headset by itself, students can view birthing scenarios in the classroom setting, away from the manikin. The only thing required for this is open space.
Lucinda can also act as a non-pregnant patient for scenarios from medical, surgical to critical care. The Orvis School of Nursing also has Luna, the baby that can be simulated as a newborn or up to six months of age. This manikin is designed for neonatal assessment and resuscitation skills.
"In the clinical setting, students can attend for an entire semester and not experience a live birth due to the timing of mother nature. But in simulation, we can offer exposure to rare situations to increase the future nurse's confidence when those situations arise in clinical," explained Richard. "Students can work together as a team to develop novice and advanced skills. Students can trial communication skills, work on team building, and manage patient care in a controlled and safe environment. As they say in simulation, today's simulation is tomorrow's patient."
Lucinda is one of six simulation manikins owned by the Orvis School of Nursing that continue to help students practice critical skills during nursing school. The Orvis School of Nursing's goal is to expose students to a variety of circumstances involving teamwork, troubleshooting, and clinical reasoning to promote safe and compassion during care at the bedside.