As the COVID-19 global pandemic unfolded, nurses were recognized for all the compassionate and tireless work they brought to the bedside. The word hero emerged as a worthy title, and the Orvis School of Nursing Class of 2021 students were no exception.
While many were sheltering in place to avoid the virus, nursing students were full speed ahead running into the chaos with an even stronger desire to be nurses.
Among this resilient, motivated group, several students volunteered within the community and at local hospitals, risking their own well-being to help others, while other students managed to complete their studies while suffering unthinkable losses.
Nursing students overcoming all odds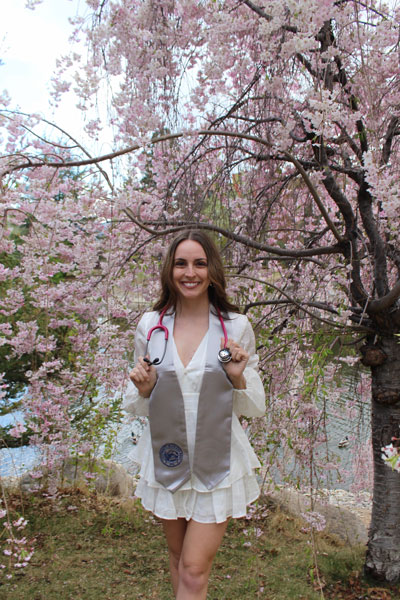 Tayler Luna, who is graduating with her Bachelor of Science in Nursing, lost her father to a sudden catastrophic cardiac event two weeks before classes started this Spring. Her Dad, Larry Luna, was a University of Nevada, Reno alumni who graduated in 1986 with a BS in electrical engineering.

Tayler made the tough decision to move into this rigorous final semester, despite this life-changing loss. She has shown tremendous grace as she successfully completed her degree.
Nikki Stone, is also graduating with her BSN this semester. Nikki's mom had been quite ill through most of Nikki's time in nursing school. She was transitioned to hospice care earlier this semester and while juggling classes and clinical, Nikki served as her primary caretaker.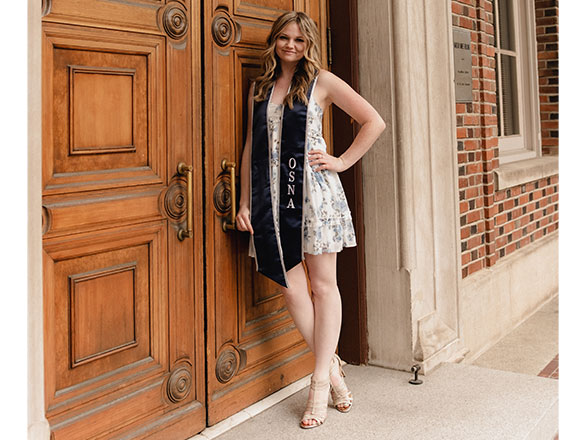 In the middle of April, Nikki's mom took a turn for the worse and died with Nikki holding her hand. This courageous young woman has not missed a beat.

Both of these young women will continue to touch lives and move mountains in their roles as nurses.
Nursing students stepping up in the community
While many students were forced to take their studies remotely, nursing students remained in hospitals and seizing opportunities to volunteer throughout the community.
Anahi Guerroro Silva is graduating with a Bachelor of Science in Nursing and during her studies, she worked at an assisted living facility as a caregiver. She recalls it being stressful yet heartwarming to help during this time.
During the end of the summer, the memory care side of the hospital was hit with COVID and Anahi volunteered to work on that side. They had low PPE and were short-staffed. Anahi had to reuse her N95 mask for more than a week straight.
She ended up getting COVID but thankfully recovered. "It was a humbling experience and I'm happy to help our older adult population during this stressful time," said Anahi.
Throughout the pandemic, there was a constant request for volunteers to assist with COVID-19 vaccination preparation and administration. Taylor Tito and Kate Hirsh, both graduating with a Bachelor of Science in Nursing helped administer vaccines and provided COVID testing alongside many of their classmates.
Taylor personally got the chance to help during a testing clinic where she geared up and worked outside for a full day.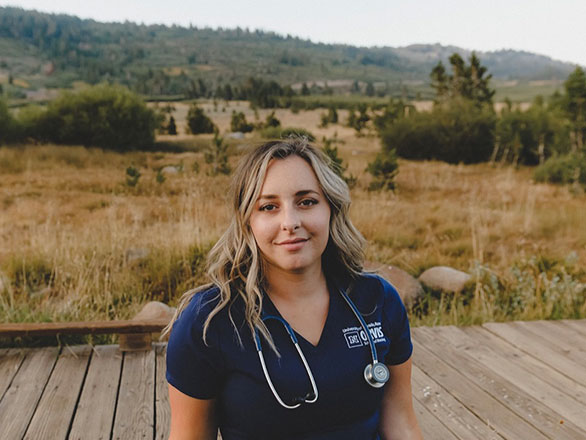 Orvis students could also be found throughout local hospitals during the pandemic. Students like Zohra Benbrahim, graduating with a Bachelor's of Science in Nursing worked in the COVID ICU as a nurse apprentice helping treat COVID patients.

As the COVID-19 pandemic unfolded nursing students did not retreat. They showed courage, resiliency, and the ability to carry on despite being surrounded by turmoil. As they head into the workforce, many already with jobs in local hospitals they'll continue to provide this elevated level of care to the community and the world.