One of the most successful and impactful higher education tuition programs in the state of Nevada is the Nevada Guarantee, a free University of Nevada, Reno tuition program for low-income Nevada residents, which includes the complete cost of tuition, fees and books plus all the academic and social support needed for graduating in four years or less.
"The Nevada Guarantee, formerly known as the Pack Advantage, has been in place for 10 years at the University of Nevada, Reno and we have had around 10,000 students total go through the program, with the opportunity to graduate debt free," Shannon Ellis, vice president of Student Services at the University, said. "As a land-grant institution, it is our mission to offer a quality, top-tier education to Nevada residents. This program is for all of those students who want a four-year degree. We want them to know, they belong at this University and we are committed to do what it takes to get them here."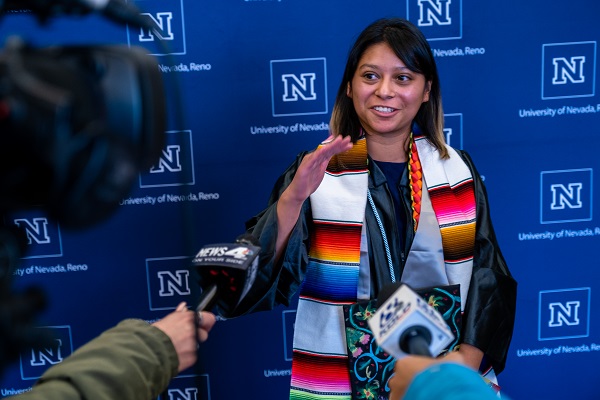 The University's goal is to offer a counter-narrative to the many reports centered on university and college students graduating with record amounts of debt. In fact, at the University, more than 50% of students graduating leave with no debt and the total amount of scholarships and grants at the University is $87 million annually. In Fall 2019, 81% of new freshmen received grants or scholarships. The University estimates that approximately 30% of high school students in Nevada currently qualify for the Nevada Guarantee.
"I thought for sure they were going to convince me to take out a student loan," Yoni Covarrubias, a sophomore criminal justice major at the University of Nevada, Reno, said. "Like many first-generation college students my biggest hesitancy about going to college was money. When I walked out the doors of the University's financial aid office, I had an entirely different perspective. I knew I was going to be a University student."
Covarrubias, is one of more than 3,000 students at the University currently benefitting from the Nevada Guarantee, which is open to all majors and available to students for each of their four years at the University.
Offering small, intimate class sizes, the University has put in place a number of different programs and services to ensure students feel welcome and included on campus. As part of the Nevada Guarantee program, students participate in the First in the Pack mentorship program, designed to help first-generation college student retention, academics and professional development. In addition, the University offers more than 300 student clubs and organizations and a number of different student success services from financial counseling to mental health services as well as jobs on campus for low-income students.
Additionally, the University added 32 professional academic advisors in the last seven years, which has helped reduce its student to advisor ratio from 1000-to-one to its goal of 350-to-one, the nationally recognized standard for effective advising. Strong advising programs help ensure students take the courses needed to graduate on time.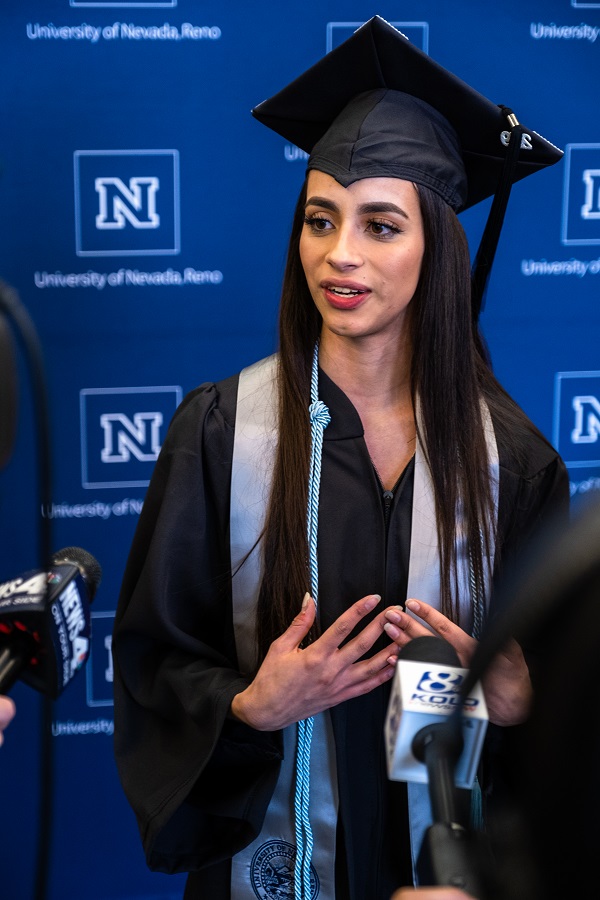 Dayna Torrecillas is a University freshman veterinary sciences major who currently receives over $26,000 in aid through 10 grants and scholarships including the Nevada Guarantee. She expressed her support for students who want to attend the University but may not know where to start.

"I never knew what a first-generation college student was until I was told that it was someone who was the first in their family to go to college," Torrecillas said. "I think it's so important for high school students in Nevada to know that just because their family didn't go to college, doesn't mean they should count it out. There are so many different opportunities available and I want to show that a first-generation student is able to get college completely paid for. You just need to put yourself out there. "
Torrecillas credits her high school guidance counselor with connecting her to the resources she needed. In addition to receiving his help and support, she said she also regularly checked the University's website and did everything she could to put herself out there.
"I was always told that college isn't for everyone," Torrecillas said. "It's for those who are determined to make something out of themselves. I knew that was me. The Nevada Guarantee pays for my tuition and my books. By simply working with your advisors and the people at the University, you can get farther than you might ever think possible."
Covarrubias echoed Torrecillas's statement stating he's been to the financial aid office at least 12 times in the last year and a half.
"You have to take the initiative and reach out to the resources at the University," he said. "Luckily, with all the help I have, I go to class and sleep well at night knowing that I won't be in debt when I graduate."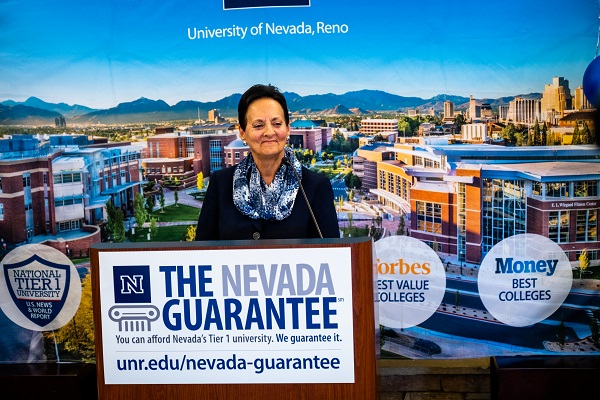 Both students said the University has helped them find their path in life. Torrecillas anticipates switching majors to education stating she wants to give back because of the mentorship and education she received along the way. Covarrubias, who started as a journalism major, now wants to go into law enforcement after finding a passion for criminal justice.
"The cost of a University education can be incredibly daunting and confusing when you're not sure where to begin," Ellis said. "We encourage all prospective students to reach out and talk with our financial counselors to see exactly what's possible. The result just might surprise you."
This Saturday, Dec. 7, 2019, nearly 250 Nevada Guarantee recipients will be walking across the stage at the University's two Winter Commencement Ceremonies.
The Nevada Guarantee is open to all eligible Nevada residents. Students who do not qualify for Nevada Guarantee may qualify for additional grants and scholarships and are encouraged to reach out to the University's Office of Prospective students to learn more, admissions@unr.edu or 775-784-4666.
See the entire Nevada Guarantee press event, which took place Thursday, Dec. 5, on the University of Nevada, Reno Facebook page.
Perla Gonzalez Roman:
My experience today is one of excitement and joy.
Perla Gonzalez Roman:
Being the first to graduate in my family. I'm very excited to show others that is possible,
Perla Gonzalez Roman:
and there is an affordable way to do so at the University of Nevada, Reno.
Perla Gonzalez Roman:
For those who feel stuck and unsure whether they can attend the University of Nevada, Reno.
Perla Gonzalez Roman:
I will tell them that there is a way for prospective students to receive their degree
Perla Gonzalez Roman:
from the University, and graduate debt-free through the Nevada Guarantee Program.