The latest edition of the journal of the University of Nevada, Reno's Latino Research Center, "Border-Lines Volume XI," has been released. "Border-Lines" is a refereed journal that contains articles, poetry, prose and testimonials, both in English and Spanish, that embrace transformational and intersectional politics in research with and for Latinx communities and interlocutors.
"I am so honored and grateful to be the editor of this journal," Communications Studies Assistant Professor Robert Gutierrez-Perez said. "This is a prestigious journal; it's been around longer than a decade and is fully funded by the University. I really wanted to honor that prestige and also represent the transformations and changes I've witnessed both on campus and within the community."
The Latino Research Center has welcomed a new Education, Research and Outreach Coordinator, Diego Zarazua, and an administrative assistant, Marie Recinos-Lopez. This July, the LRC will welcome Julie Lucero as its new director. The LRC has also undergone renovations and remodeling, which have transformed the space to further accommodate the academic needs of students. Gutierrez-Perez says the LRC and the journal are respectful and welcoming of all Latinx people within the University and in the Northern Nevadan community.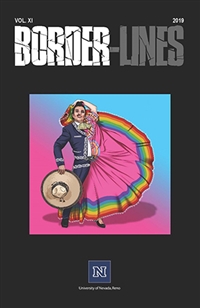 "I want readers to see themselves in the journal," Gutierrez-Perez said. "The cover of this volume – the artwork by Antonio Castellanos – inspired the theme of the volume: embracing the pride and beauty of Jotería. When I look at this image, I see someone living their truth and it's so vibrant and powerful. The journal focuses on queer Latinx communities, but the written work itself is intersectional. Everyone can see apart of themselves in it.
"There's quantitative research that discusses the relationship between fertility and power in Latina, black, and white women," Gutierrez-Perez continued. "There are also personal poems and media critiques. This journal is inclusive, interdisciplinary and intersectional. I hope that the work helps deconstruct the power, privilege and oppression of the queer Latinx community by reconstructing the narrative and focusing on transformation, pride and inclusivity."
The journal is comprised of submissions from across the nation, which an international and interdisciplinary editorial board reviewed. The LRC accepts submissions for the journal year round.
"I really want to thank the College of Liberal Arts Dean Moddelmog who has been essential in making this journal," Gutierrez-Perez said. "Dean Moddelmog's commitment to support and fund 'Border-Lines' has allowed this journal to continue and thrive."
Border-Lines is available for purchase through the Center's website. There is also a special combined discount for the past 10 volumes.