Dr. Violeta Mutafova-Yambolieva and her research group have been declared the recipient of the Excellence in Laboratory Safety Award for consistently having one of the best-managed labs on campus. Dr. Mutafova-Yambolieva has also been recognized with this year's prestigious Foundation Professor Award. She is currently a professor of physiology and cell biology at the University of Nevada, Reno School of Medicine, where she's been for more than 25 years.
"Dr. Mutafova-Yambolieva documents laboratory procedures and inventory records diligently, and leads by example when attending safety assessments or updating her training records alongside members of her group," Chet Carpenter, Laboratory Safety Manager for Environmental Health & Safety, said. "Her lab has always been proactive in reaching out to EH&S with questions or concerns, and has been quick to implement any enhancements to her safety program that were recommended by EH&S, sometimes even before EH&S has returned to their offices. She has consistently been among the best-managed research groups on campus. The sustained excellence of her safety program has greatly contributed to the safety culture of the University."
Dr. Mutafova-Yambolieva will be recognized at the University's annual Honor the Best Ceremony on May 9 for her meaningful achievements. This ceremony aims to celebrate students' and facultys' great accomplishments.
"I believe that my responsibilities as a Principal Investigator are to maintain a positive safety culture, to ensure that everyone receives proper safety training, to support proper laboratory practices, and to act as a good safety role model," Dr. Mutafova-Yambolieva said. "It is an honor to receive the 2023 Excellence in Laboratory Safety Award and a recognition of the effort of my team and I to keep high safety standards. We are very grateful for this recognition."
Research & Innovation is continually working on initiatives to recognize faculty and reward creativity, productivity and innovative research endeavors. The Excellence in Laboratory Safety Award is the latest to be added to the annually selected honors through the division of Research & Innovation, with the first award presented in 2021.
"The genesis of this award comes from Vice President of Research & Innovation, Mridul Gautam," Luis Barthel-Rosa, interim director of EH&S, said. "Mridul was part of the Association of Public and Land-grant Universities (APLU) task force on lab safety in 2016. The task force identified 20 recommendations to improve the safety culture in academic research laboratories as a response to tragic incidents at universities. Mridul then led the charge for EH&S and the University of Nevada, Reno to implement several of the recommendations, one of which was establishing a safety award that recognized excellence in laboratory safety."
Eligible nominees include all research groups that are led by a University faculty member whose research involves laboratory work and use of any combination of chemicals, biological materials, lasers, radioactive materials or physical hazards. The winner is selected by EH&S staff members after nominations are presented from a faculty-led Laboratory Safety Committee. Two additional research groups are selected as runners-up and receive a group certificate.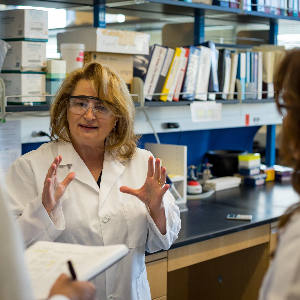 "I have been involved in biomedical research for many years and I am well aware that the laboratory environment can be a hazardous place to work," Dr. Mutafova-Yambolieva said. "The safety of my team, the environment and the public has always been of high priority. Safety is everyone's responsibility."

Her Foundation Professor Award was presented during a ceremony at Morrill Hall this spring, along with two fellow 2023 recipients, Marta Elliott, professor and chair of the Department of Sociology in the College of Liberal Arts, and Christopher Herald, professor and mathematics graduate program director in the College of Science.
"Their outstanding research and teaching achievements have made a lasting impact at the University of Nevada, Reno," University President Brian Sandoval said of the recipients at the 2023 Foundation Professor Award ceremony.
Dr. Mutafova-Yambolieva's research is focused on extracellular purinergic signaling in living systems and its role in regulation of visceral organ functions, and has been continuously funded by the National Institutes of Health and the American Heart Association. She teaches medical students in cardiovascular physiology and graduate students in neuroscience.