Since 2018, the Dean's Future Scholars (DFS) program in the College of Education and Human Development has received regular food donations from a very special donor. Joy Crowley, or "Alegría," meaning "Joy" in Spanish, as the students and staff affectionately call her, has been donating much-needed food, beverages and non-perishable items to college students who are on the go.
Joy Crowley is no stranger to the busy life and needs of college students as her late husband, Dr. Joseph N. Crowley, served as the University of Nevada, Reno president for a record-setting 23 years, from 1978 to 2001. When Crowley stepped down from the University presidency, he was the longest-serving president at a single institution among the nation's principal universities. His 23 years as president mark the longest single tenure of any of Nevada's chief executives. Today, his generous legacy is carried on as Joy gives back to the University and its students.
Crowley shops twice a month to stock the DFS Lounge with delicious food and snacks provided at no cost to the students. Crowley grew up on a farm and has a keen interest in providing fresh produce to the students. Even from a young age, Crowley noticed and understood the negative impacts that food insecurity had on the families living in her farming community.
Her continued donations throughout the years have fed hundreds of DFS students and created a vital hub in the DFS Lounge, located on the 4th floor of the William J. Raggio Building. There, students can relax, work on homework, use the computers, access free printing. and enjoy a meal or snack at any hour of the day and any day of the week.
"Joy has been filling student bellies since the fall of 2018," said Jill Fontana, NSHE Specialist for DFS. "She is one of the most generous, kind-hearted people I know. She comes to campus every two weeks to keep our students fueled for their classes because she knows the impact it will have on them and their well-being."
These donations have been a pillar to busy college students who often do not have the opportunity or financial means to eat a healthy breakfast or lunch. For example, on Tuesday mornings, you'll find the DFS Assistant Director, Manuel Ortiz, using fresh ingredients to make breakfast for college students. The DFS Lounge is filled with the aroma of bacon, pancakes and eggs; all made possible through Crowley's efforts.
Ortiz stated, "The majority of our DFS students are juggling multiple jobs and college classes, so finding time or access to food is often a big barrier. Their faces light up when they see the prepared food, and they feel good knowing that someone in the community is looking out for them."
Low-income families often face barriers surrounding unemployment, food insecurity, lack of transportation, challenges with childcare, and access to healthcare, making accessing educational opportunities more difficult. In fact, 49% of DFS parents have not earned a high school diploma, and a large percentage of DFS mothers and fathers did not have the opportunity to continue their education past elementary school.
"Algeria is unique because she is someone who always keeps basic needs in mind," Victor Garcia, DFS graduate assistant, said. "It is incredibly hard to study or focus when you are feeling hungry. Often times money and food at home are tight, and buying food on campus can add up quickly, so it is amazing to have one less worry."
Through the tremendous support and kindness of many community donors, the DFS program has successfully improved educational outcomes for low-income, first-generation college students for 23 years. The DFS program's unique long-term approach allows students to be recommended during their sixth-grade year and are provided free mentoring and summer programming through high school graduation.
Last year, 396 program participants attending 34 different schools received mentoring services from university students. Over 80% of the mentors are alumni of the DFS program and reflect the backgrounds of the students that they serve. In collaboration with the Washoe County School District, basic needs like food and transportation were also addressed last summer, where 3,347 lunches were served, and 27 different bus routes were provided throughout the Reno, Sparks and Pyramid Lake regions.
With students in grades six through college, coming from all parts of Washoe County, the DFS Lounge on the University campus remains a home away from home for students. Executive Director, Dr. Mariluz Garcia, has emphasized the importance of creating a space on campus that is accessible and welcoming for all students to feel comfortable, connected, and able to get the help they need. The DFS Lounge and program services have a high return on investment resulting in an overall University retention rate of 79% since 2006 and where DFS students have earned 231 bachelor's degrees, 49 master's degrees, and two doctorate degrees from the University of Nevada, Reno.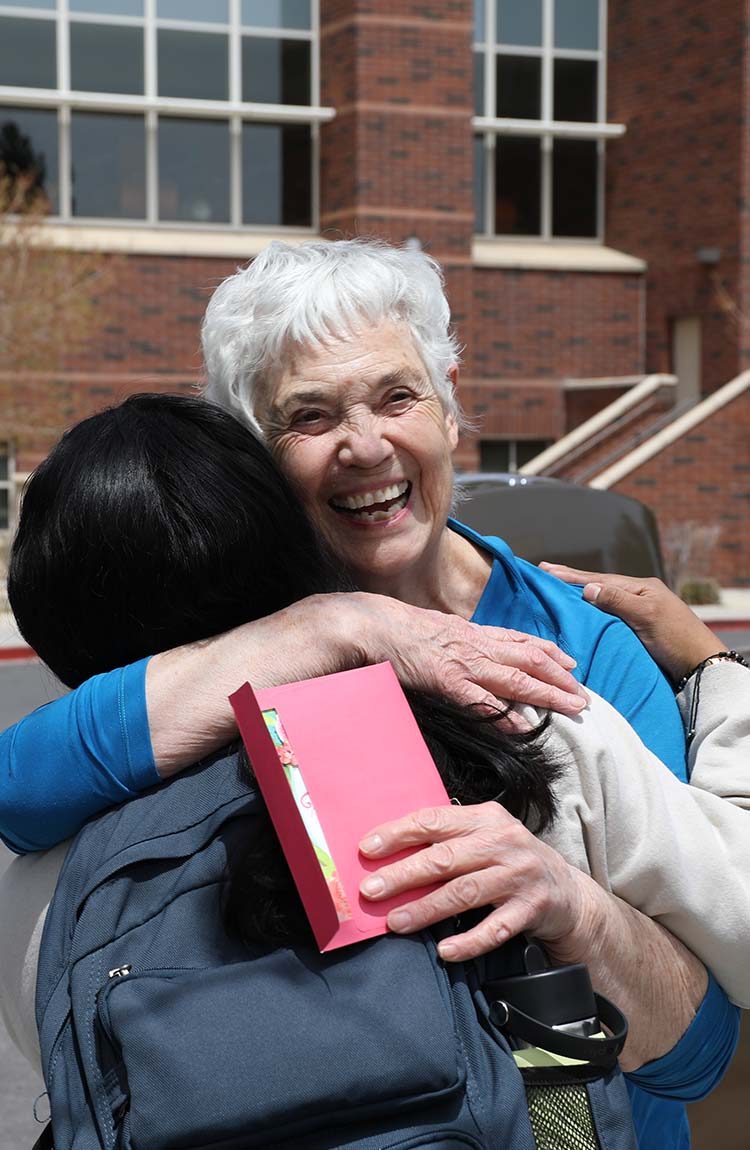 "We know that food is such a simple way to bring people together, and donations like this help address a critical need that we are facing throughout our community," Garcia said. "However, Joy's food donations have had a much larger reach beyond the DFS program. We regularly see new faces of college students visiting from other programs and departments, which creates a stronger sense of belonging and connectedness on the University campus." Joy Crowley's willingness to personally shop and deliver food to the University of Nevada, Reno, is a notable example of the powerful impact that one individual can make. The College of Education and Human Development is grateful for the variety of gifts, donations, and time that is generously given by community members who support students at every stage of their educational pathway.
Learn more about donating to Dean's Future Scholars.