Associate professor of biology Jamie Voyles was recently named the Mid-Career Researcher Award, a distinguished recognition from the Nevada Board of Regents. Voyles received her bachelor's degree in zoology, her master's in integrative physiology, and her doctoral degree in public health. Voyles's postdoctoral training included microbiology and host immune defenses.
"It feels incredible to win this award," said Voyles. "I feel deep gratitude because, of course, I did not get to this point on my own! Rather, I had the generous help of so many different people: support from all across the University, from the Office of the Vice President of Research, within the College of Science, and also from our own department. This includes faculty, administrators, and the incredible staff across campus. Most importantly, the students and postdocs of my lab are the unsung heroes. They deserve this recognition as much (or more) than I do!"
Voyles is a passionate researcher in the College of Science whose scientific work focuses on disease resilience in amphibians. From finding frogs thought to be extinct in dense Panamanian rainforests to creating agar frogs in the lab during the COVID-19 pandemic, Voyles has adapted to a host of hairy situations. She is on the executive committee of the Resilience Institute Bridging Biological Training and Research (RIBBiTR), funded by the National Science Foundation, which seeks to better understand how organisms become resilient to diseases and climate change.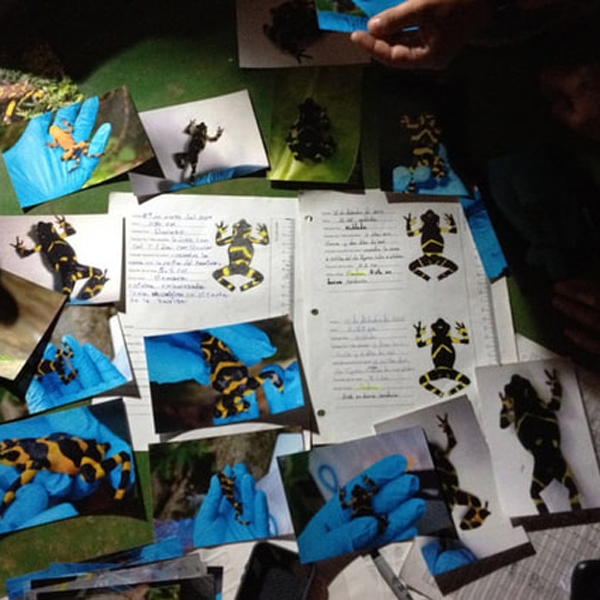 Voyles is also a staunch advocate for inclusivity in science, starting with her lab, showcased by her lab's website and her mentorship. Voyles received grant funding to launch a program called STEM Sisters, which provides an opportunity for young women in high school and even undergraduates to learn more about science through laboratory training and mentorship. At the end of the program, students were able to present their research at multiple symposia.
"It says a lot to recognize women in science," Voyles added. "We know that their work is equally important and yet sometimes undervalued across different scientific fields. I hope that other girls and women see that they can also pursue the areas of their own curiosities, follow their scholarly interests, and ultimately be highly successful in research."
Voyles won a prestigious NSF CAREER Award in 2019, and her research has been highlighted in publications such as the Atlantic, the New York Times and the BBC. Voyles was a panelist in 2020 helping guide other researchers at the University to a CAREER Award, and was recently a judge for the 3 Minute Thesis competition.

"Jamie Voyles's name comes up often, as her work in the lab makes headlines," Interim Dean of the College of Science Katherine McCall said. "But her work to improve the diversity of students in biology and ecology is equally, if not more, important. I look forward to following her accomplishments as her career progresses."
Voyles said she is redirecting her energy and efforts to advancing diversity, equity and inclusion initiatives across the University.
"I will always be a scientist at heart and treasure my time in the field and in the lab... no matter where my career leads!" Voyles said. "I don't know exactly what that will look like in my career in the future but, at the moment, I'm making small steps towards that goal and look forward to seeing what the 'big steps' will entail."
The Honor the Best event will be held on May 10 and will celebrate the accomplishments of faculty, staff, students and programs from across the University.