The University Libraries' Jon Bilbao Basque Library, along with the College of Liberal Arts' Center for Basque Studies, recently welcomed three graduates from the University of the Basque Country to the United States. The graduates Mirian Gomez, Ainhoa Sarasola Ugalde and Martin Saenz de Urturi Erice are vising the University for the next six months as they work to complete professional internships with the Basque Library and the Center as part of the Basque Country's highly competitive Global Training Program.
The Global Training Program encourages recent graduates from the University of the Basque Country to apply for global internship opportunities outside of the Basque Country. Applicants are put through an intensive interview and vetting process. Selected interns are paid a small stipend and carry out activities and projects related to their academic and professional profile in companies or organizations in foreign countries, with a practical, previously planned training program.
"Since there were more than 300 applicants vying for 64 internship positions, I feel very fortunate to be here," Center for Basque Studies Intern Mirian Gomez said. "I am looking forward to experiencing new ways of working, while growing personally and professionally. I am living, working, and solving problems in a different culture, language and country. Wow!"\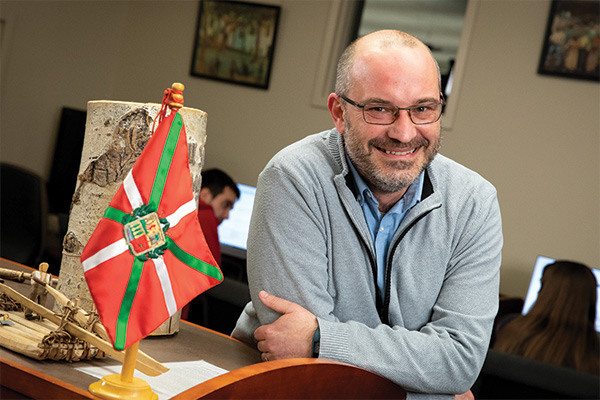 This year, 2022, marks the first time three Basque graduates were selected for the program, making the long and adventurous journey to Reno to complete their internships. In year's past - 2017, 2018, 2019 only one intern was assigned to the Library. In 2020, the program grew. Two interns were assigned to the University. One to the Basque Library and one to the Center.

"Helping interns embrace their first international experience and giving them a chance to develop professional skills while working and thinking in a new language and culture feels like a great way to train and cultivate new talent," Basque Librarian Iñaki Arrieta Baro said.
Getting to know the interns
"It is Martin and my first time visiting the U.S.; Mirian has been to New York once before," Sarasola Ugalde said. "Being in Reno and on campus has been great. In the Basque Country we like to socialize after classes, but in the Basque Country there aren't many on-campus options. It has been really fun to go to the Wolf Pack Men's Basketball games and participate in club activities to experience what life is like for students at an American university."
Mirian Gomez
Mirian Gomez studied journalism at the University of the Basque Country and graduated in 2020. She said, at the time she finished her studies she was applying for internships to gain experience, but had no luck due to the challenges of the pandemic.
"I moved to England to study English when I finished my journalism degree," Gomez said. "I started a master's degree in marketing, e-commerce and communications management while there, and as I was finishing that second degree I felt prepared to start my career and find a job."
"While looking for opportunities I learned about and decided to apply for the Global Training Program," she said. "I received notice I'd been accepted in November 2021. I arrived in Reno in January 2022."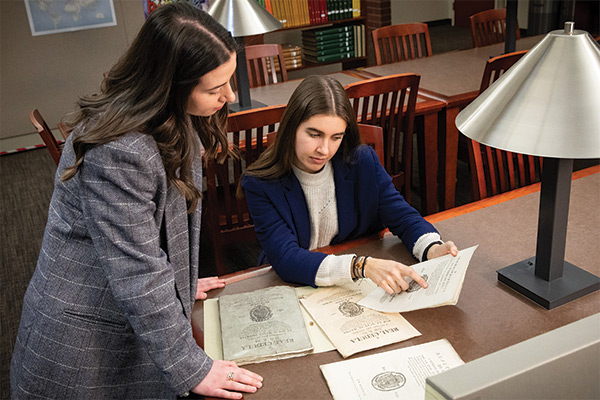 Gomez is working for the Center for Basque Studies assisting with marketing the Center and digitizing books from the Center for Basque Studies Press. Many of the books she is working with are from the 1980s and have not been previously available online. Once books are digitized, they are loaded to the Center's space in ScholarWorks, the University's institutional repository and made available online so users everywhere can access the information.

Gomez is very proud of her Basque heritage and feels strongly this year's interns will be helpful because they know the Basque language and culture intimately.
Ainhoa Sarasola Ugalde
Ainhoa Sarasola Ugalde earned a degree in History, and a Master's in teacher training from the University of the Basque Country. She worked as a teacher before applying for the Global Training Program.
"I applied for the program because I wanted to go abroad and study, or work or both," Sarasola Ugalde said. "It felt like the right opportunity at the right moment. I liked the idea that I could work as an intern in an area I thought I may want to have a career in, library archives. I was super excited when I learned I was accepted!"
Both Sarasola Ugalde and Martin Saenz de Urturi Erice are working in the Basque Library to analyze historic and culturally significant Basque posters. They are describing the posters and adding descriptive metadata to the items to get them cataloged, online and available to users.
Most of the posters the interns are working with are political in nature, ads for events, and much more.
"The largest part of the 6,000 items in the collection, arrived from the Basque Country between the 1980s and the 2000s, while others showcase the activities and events organized by Basque associations in the United States," Arrieta Baro said. "As happens with other types of documents, posters and banners record social-political issues at the time of their production. What makes these Basque posters so special is that they can be approached from a variety of research fields, from ethnic and cultural studies to aesthetics and the fine arts. The core of the collection has been digitized and access can be requested by researchers, while Digital Services, the Metadata and Cataloging Department, and the Basque Library work on making it available through Islandora."
Sarasola Ugalde said when she reported to the Basque Library for her first day she was struck when she saw the large map of the Basque Country hanging in the Library.
"I felt so proud to be playing a small part in keeping the Basque culture, history and language alive," Sarasola Ugalde said. "Even in the Basque Country we don't realize how important our country is. I am so far from home, but I am also very close to home. Seeing that map was very touching."
Sarasola Ugalde is also working with different documents from the Basque Country held within the Basque Library's collection.
"I am working to describe things from my country," she said. "It feels familiar in many ways because I know about some of the things I am reviewing or describing. Speaking Basque and being Basque is a big advantage when working with materials like this."
Martin Saenz de Urturi Erice
Martin Saenz de Urturi Erice also graduated from the University of the Basque Country with a degree in History, as well as earned a Master's degree in Archives and Libraries from University Carlos III of Madrid. Saenz de Urturi Erice wants to work in a library setting and said he finds the field and work very interesting.
Saenz de Urturi Erice has an interest in learning how to use digital technologies to build digital collections and assign the proper metadata to make the information findable and useable online.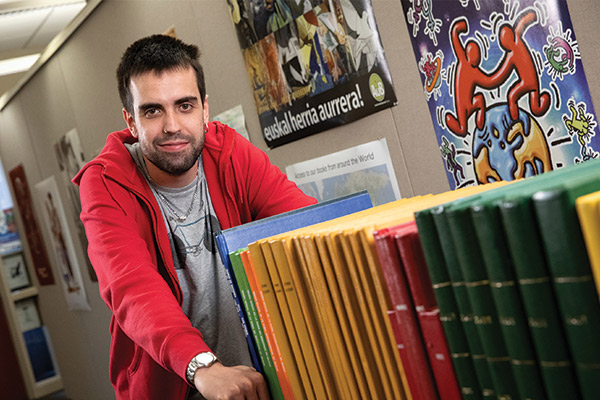 "I am working on the Basque poster and slide collection," Saenz de Urturi Erice said. "It helps to be Basque when looking at these items because there is an awareness for context that only a Basque person would be familiar with."

Prior to the Global Training Program, Saenz de Urturi Erice worked in Vitoria-Gasteiz, the capital city of the Basque Autonomous Community at an institution focused on Basque culture.

"My exposure to cataloging in the Sancho El Sabio Foundation prepared me to come to Reno," he said. "I handled new acquisitions, inventories, donations, and cataloged collections. My past experience was a great fit for the internship."
About the University Libraries
The University Libraries embrace intellectual inquiry and innovation, nurture the production of new knowledge, and foster excellence in learning, teaching and research. During each academic year, the Libraries welcomes more than 1.2 million visitors across its network of three libraries: the Mathewson-IGT Knowledge Center, the DeLaMare Science and Engineering Library and the Savitt Medical Library. Visitors checked-out more than 80,000 items and completed more than two million database searches.
About The Jon Bilbao Basque Library
The Jon Bilbao Basque Library at the University of Nevada, Reno (Renoko Euskal Liburutegia) is a research library for those interested in Basque Culture and the Basque Diaspora. It is a memory institution for the Basque Community throughout North America, and a comprehensive portal to access Basque studies in English for researchers and institutions.