An interdisciplinary team of researchers from the University of Nevada, Reno, the University of Utah and Washoe County's Hispanic/Latino community are conducting a research study examining the impacts of housing instability on Latino and Hispanic family health in Northern Nevada. The study is funded by a Robert Wood Johnson Foundation Interdisciplinary Research Leaders grant, the first to come to Nevada. The highly competitive award brings together academic and community partners to work on critical health research as equal collaborators while developing skills to become community leaders and policy advocates.
Nevada's housing crisis is multi-faceted in character and impact and manifests across communities in different ways. While state and local responses understandably prioritize housing stock and affordability, housing instability takes all forms, including displacement, lack of proximity to services, overcrowding, and poor home and neighborhood quality.
Nevada's Hispanic/Latino community is a population largely underrepresented in traditional housing metrics that focus on shelter as the primary marker for housing stability. Nationwide data show that Hispanic/Latino persons rely less on public services, instead turning to social and family networks for support instead of homeless resources. As a result, Latino and Hispanic families are more likely to live in overcrowded households, are more likely to rent and are more vulnerable to market forces that contribute to high housing cost burden and displacement. According to a study published in the Journal of Social Distress and Homelessness, how and where Latinx families engage with services is complicated by immigration status, language and ethnic discrimination.
Housing instability reverberates through all aspects of economic, social and physical life for Nevadans. As a social determinant of health, housing instability in the Hispanic/Latino community impacts mental health and well-being at an individual and familial level according to Salud America. Declined mental health disrupts networks of care and support that create resilience through crisis. During the pandemic, Black and Hispanic households experienced the greatest levels of housing instability, including threat of eviction, according to the Joint Center for Housing Studies.
Despite what is known at a national scale about ethnic and racial disparities in housing instability, there is little systematic data to understand the cultural, ethnic and legal texture of housing instability in Nevada and its health-related consequences for Latino families. Washoe County now comprises nearly 25% Hispanic/Latino population, concentrated largely in a few zip codes. These are zip codes that the Reno Gazette-Journal reported experienced the highest rates of COVID-19, score highest on the community needs index according to Washoe County, and by way of community stories are targets for gentrification according to reporting from This Is Reno. Furthermore, undocumented Nevadans are excluded from all federal and many state and local aid and services, with federal sources being the primary source of housing support for precarious populations.
The grant was awarded to a team of three fellows: Jessie Clark, Associate Professor in Geography, Julie Lucero, former Director of the Latino Research Center at UNR and current Associate Dean of Diversity, Equity, and Inclusion in the College of Health, University of Utah, and Victoria Rios, former Northern Nevada Director at Faith in Action NV and community research and engagement lead.
The project utilizes a community-based participatory research (CBPR) mixed-methods approach that centers community voice in all stages of research. Critically, a seven-member Community Advisory and Research Board (CARB), composed of both Latino individuals who have experienced housing instability and who work in key sectors in the community, meets monthly to guide the research. The project was derived from the work of Faith in Action (formerly ACTIONN), which spearheaded the creation of Washoe County's first Affordable Housing Trust Fund in 2019, and the ongoing community organizing efforts of Rios in the Hispanic/Latino community.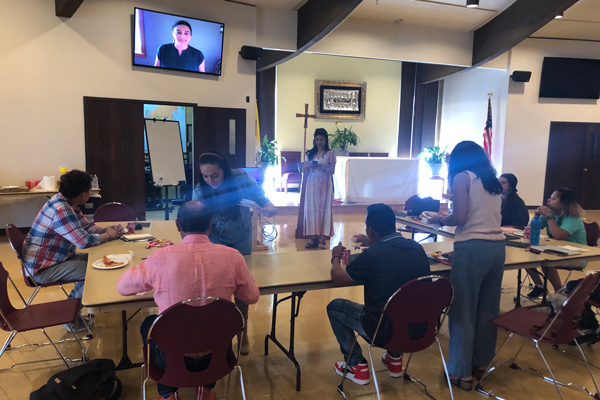 Through community engagement, it became clear that Washoe County's Hispanic/Latino and undocumented populations faced a unique set of challenges regarding housing and health. An ongoing knowledge gap at an institutional level and pandemic-induced disruption of services exacerbated these conditions. A concentration of resources available to documented persons and the unhoused means those who are sheltered but are living and working on the margins are overlooked.

"In the midst of an ongoing housing crisis, thousands of immigrants are living in fear of eviction, permanent job loss and even deportation," said Rios. "Housing justice is an essential part of racial, social and economic justice. Addressing housing disparities requires the transformation of institutions and systems that drive racialized dispossession of land, displacement from home and social insecurity, historically and in Nevada today. Every child's first experience should be in a place, a home, where love and care are served. They should never have to learn about the pain their parents experience when forced to immigrate because their home is no longer safe."
Preliminary qualitative research began in Spring 2022 with agency interviews and family focus groups. The mixed-method approach involves census-based map analysis, agency interviews and community-based focus groups and mapping. The team anticipates using the data to support fair housing legislation, an expansion of Spanish language services and information, and improved representation for the housing challenges of undocumented persons.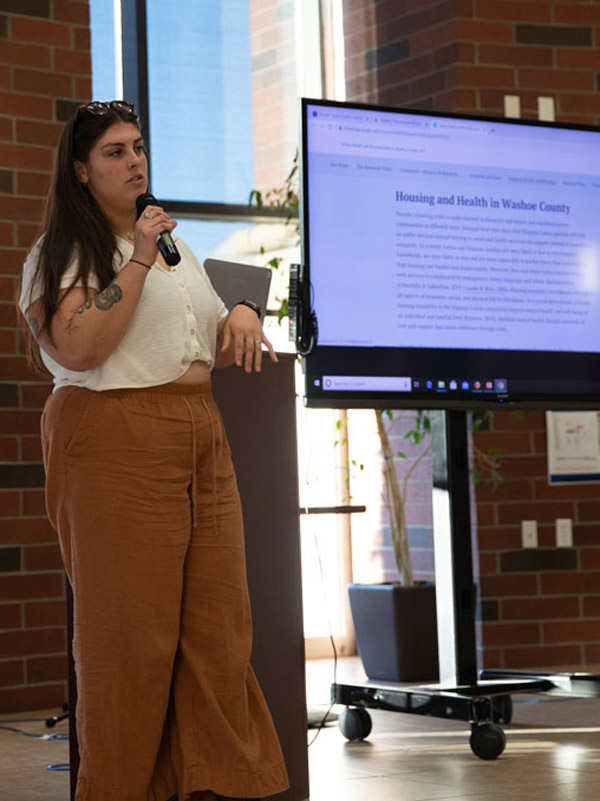 Cecilia Alonso, Juan Manuel Briones, María Fernández, Jose Neri Jimenez, Oscar Macias, Ebert Rodriguez, and Fatima Rivas are the CARB members. In addition to the CARB, the team is supported by a cross section of academic and community collaborators. At the University of Nevada, Jafeth Sanchez, director of the Latino Research Center, is a co-investigator. Master's student in geography Francesca Rodriguez-Hart and project mentors librarian Chrissy Klenke and geographer Scott Kelley guide the geospatial components of the project. University of Nevada alumni Abigail Navarro-Munoz and Karla Rodriguez serve as community research organizers. The project's StoryMap is designed and managed by Francesca Rodriguez-Hart and Jessie Clark.

Focus groups for participating families will be held in winter and spring of 2023. Visit the project StoryMap to follow and learn more about the project and how to become involved.