Sustainability and its intricacies have led environmental journalist Andrew Revkin to some places one might expect, like the Amazon, or even the Arctic. But they've also led him to the White House and the Vatican. The people he's met in his reporting are household names: Bill Gates, Megyn Kelly, Newt Gingrich. Revkin has written books that have been turned into movies, wrote for the New York Times for 21 years and is working at Columbia University's new Climate School, where he runs programs and webcasts aimed at making information matter through better use of evolving online communication tools. On September 8, Revkin will be at the University of Nevada, Reno to share the most important lessons he's learned in his 34-year sustainability reporting career with the community.
Climate-exacerbated catastrophes have been the topic of headlines and news chyrons all summer. But after reporting on the changing climate for more than three decades, Revkin said climate change doesn't worry him in a gut-twisting way.
"As you get older, you think about your mortality more. It's kind of a bummer to say, 'Climate change reminds me of mortality,'" Revkin acknowledged. "I began to accept the aspects of the challenge that are beyond politics, beyond technology. It's a little bit like the serenity prayer. Change the things you can change, accept the things you can't, and know the difference. Science can help you know the difference. Science and innovation can help you change the things you can change. But there are things that are just going to play out. That's where I've come in my journey."
Revkin has changed his strategies for balanced reporting over the years. He recalled a 2004 research paper about "balance as bias" in reporting, an issue he said has become more apparent in the last 20 years.
"When I look at the climate issue and climate coverage, the simplest way to avoid the mistake of balance as bias is to stop and look at the story you're writing," Revkin said. He realized that bias can emerge from language, and is cautious now about the language he uses in his writing. That's the broader theme of his "Sustain What" webcast, where he talks with experts. "Sustainability" is an increasingly popular buzzword, but Revkin asks, "Sustain what? For whom? How?"
Many of these lessons are lessons he will share with his students at the new Initiative on Communication and Sustainability at Columbia University.
"The more people tuned to the possibility that there is an upside out there still, the more apt we are to get through this unique juncture we are at and come out the other end of this century with a planet that still functions and societies that have a cooler relationship with themselves and with the environment around them," he said. For Revkin, the most important part of it all is to be able to communicate with one another.
He has implemented that heavily in his own career, communicating directly with his audience on his Dot Earth blog with the New York Times via a comment section that became more of a forum. But Revkin has been learning from those who interact with his writing for a long time.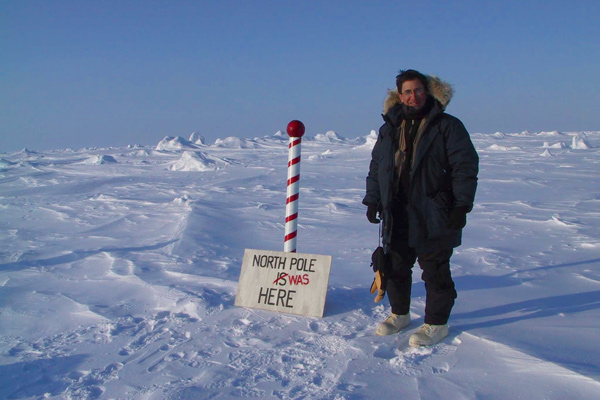 "That process evolved over time, way before I started Dot Earth," he said. "When I was at the North Pole in 2003, an enterprising editor on the young website, the New York Times website, she said while I was on the sea ice, 'Well let's do a reader forum.' And they posted a little note on the website that said, 'Andrew Revkin's on the sea ice floating at the North Pole with scientists.' This is way before 'ask me anything,' before AMAs, but this was an AMA. And I thought, 'This is cool, I'm here writing a story but I'm also describing the process of writing.' All of this got me more excited about breaking down the wall between audiences and writers."
Revkin continued to break that wall down through his Dot Earth blog, where he had the opportunity to discuss with people who wanted to learn more about a topic, who knew more than he did on a topic, and who knew nothing at all about a topic. And as researchers begin to do more interdisciplinary work, Revkin said that communication and collaboration across knowledge areas has become more important than ever.
"One of the grand challenges, I think right now, is how to foster, how to create conditions that enable the cross talk that is required to not only conduct research but to make it meaningful to communities at risk," Revkin said.
Andrew Revkin's Discover Science lecture will be held on September 8 at 7 p.m. in the Davidson Mathematics and Science Center. Registration through Eventbrite is now open. Other Discover Science lectures in the 12th season include exoplanetary scientist Sarah M. Horst, Nobel laureate physicist David Wineland and children's book author and former Smithsonian Institute Under Secretary Eva Pell.