During a time where quality COVID-19 testing and reputable scientific information is in high demand, the Nevada State Public Health Laboratory (NSPHL), part of the University of Nevada, Reno School of Medicine, continues to step up. The lab was the first public health lab in Nevada to run COVID-19 diagnostics tests, and has become a major testing center throughout the pandemic. The NSPHL participates in several research projects and offers guidance to regional and state officials. All the while, the lab's efforts often involve collaboration with University faculty and students, regional partners and federal organizations.
"The Nevada State Public Health Laboratory has served on Nevada's front line in the fight against COVID-19," said UNR Med Acting Dean Melissa Piasecki, M.D.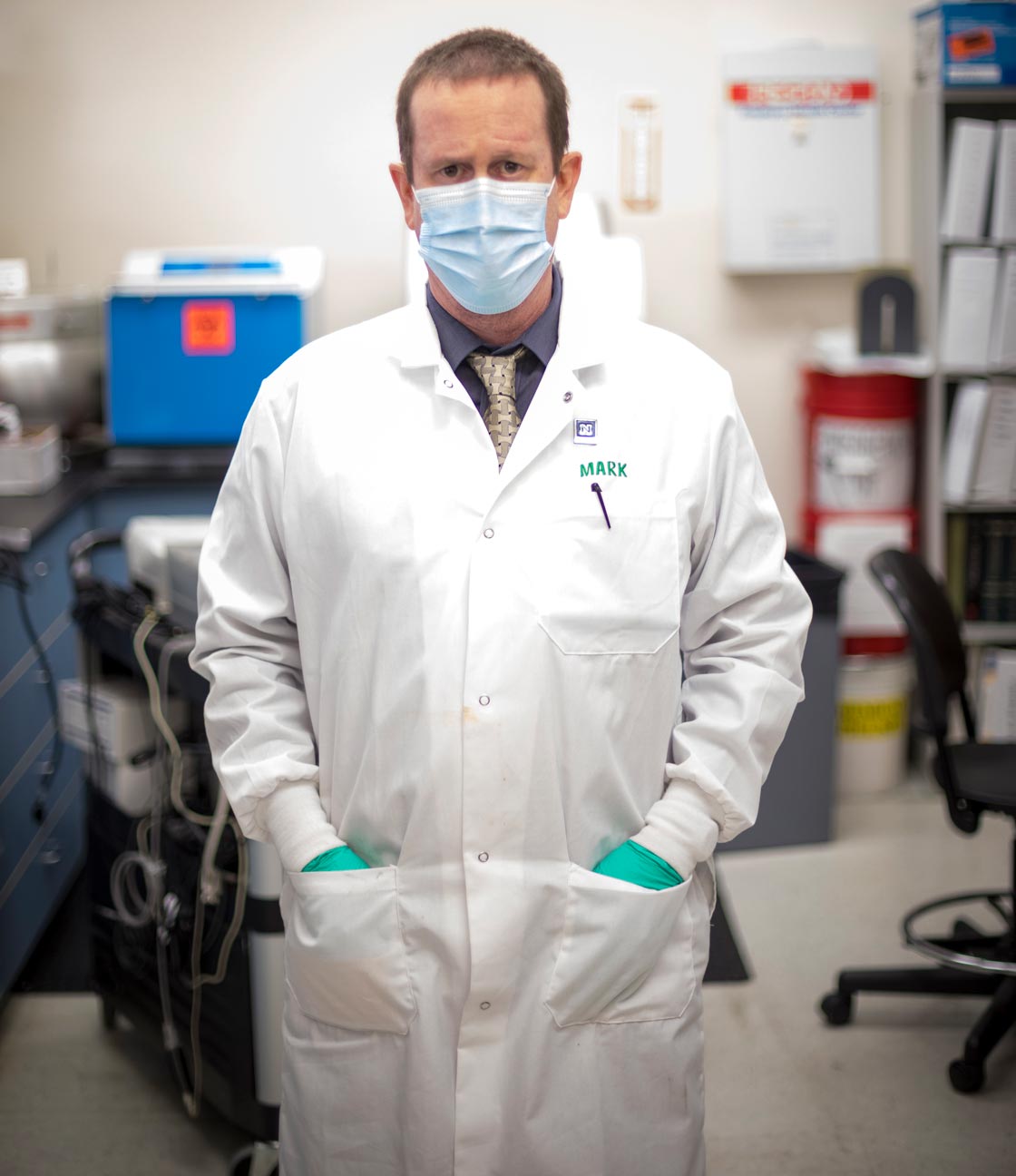 Director of the NSPHL, Mark Pandori, Ph.D., said the pandemic has reinforced the importance of their lab in times of crisis. As a public health lab, he added they must have a dedication to quality, especially when it comes to COVID-19 testing where the results can have a considerable impact on someone's life and the possibility of further spread. On top of this, the lab continues to perform other duties essential to public health statewide, such as responding to and monitoring infectious disease outbreaks, screening newborns for genetic and metabolic disorders, detecting and tracking foodborne diseases and testing water quality.
"Dr. Pandori and the NSPHL took immediate action to support testing statewide in the early days of the pandemic," said Piasecki. "Their innovative approaches helped Nevada obtain FDA status as one of only three states that developed, evaluated and conducted novel methods of COVID-19 testing, which expanded testing capacity and increased access to health care providers and their patients."

Another crucial aspect, described Pandori, is their duty to inform the public. Because the public has access to so much information, professionals like Pandori with an extensive scientific background can help individuals determine facts from fiction. Since the beginning of the pandemic, Pandori has had a more prominent voice in the public, making numerous media appearances and providing guidance to state leaders, including Nevada Governor Steve Sisolak.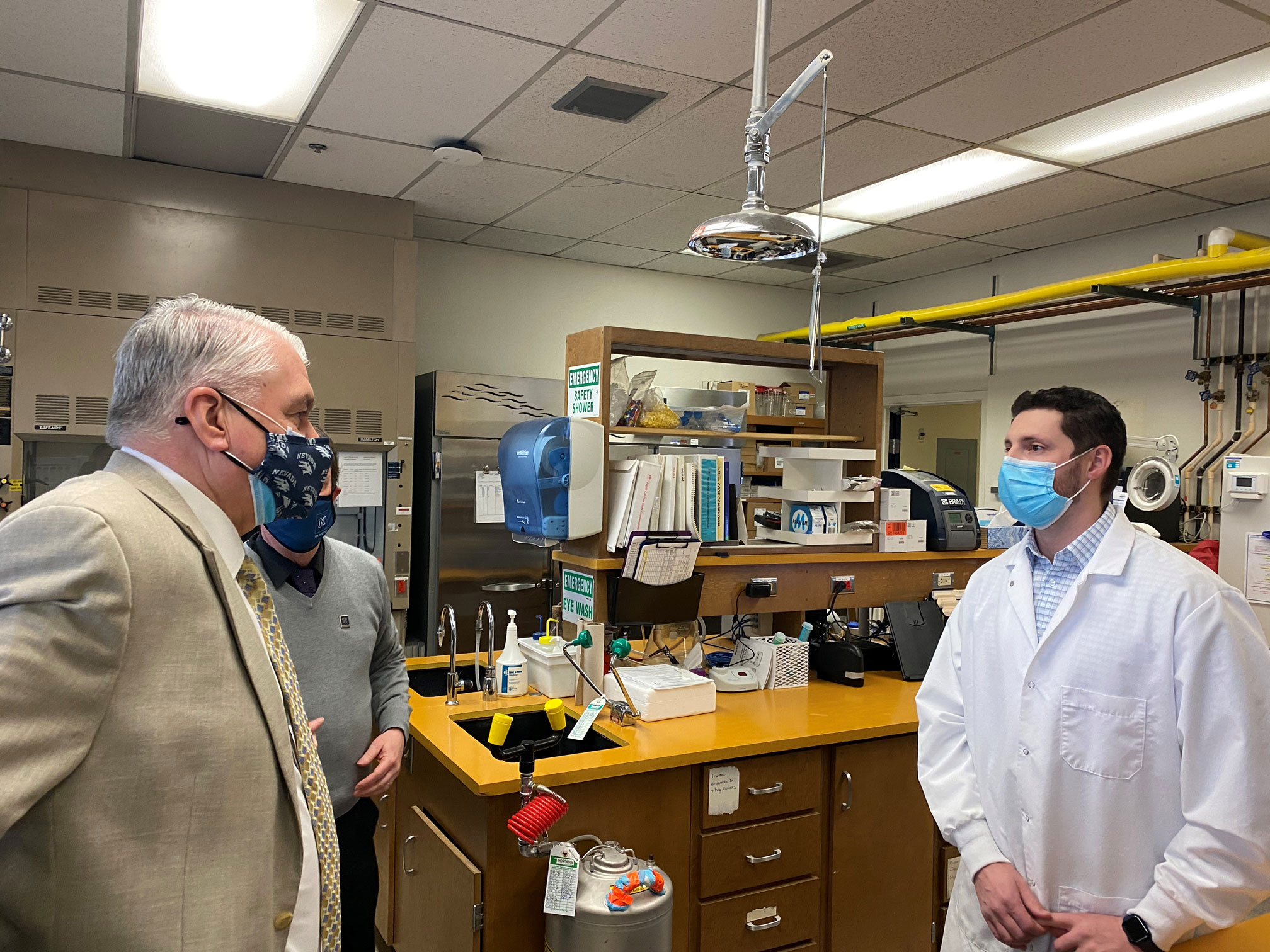 "It's important for experienced laboratorians to take the knowledge they have and use that to educate [public officials] and the media," he said. "Now, when political folks and the media are consuming science, it means that their audiences are consuming science…and it's forced me to become a better communicator about science, because I'm really talking to everyone now."

Research related to COVID-19 has been a significant part of the NSPHL's COVID-19 response. The lab has written several research-based papers, with a number of these research projects involving University researchers and students from various disciplines. Pandori noted that since University students cannot assist in the diagnostic work, research is one of the ways students can contribute to the body of knowledge.

One of the lab's major research accomplishments was being the first in North America to find a case of COVID-19 reinfection. A collaborative effort between the NSPHL, the University's Nevada Genomics Center and the Nevada Bioinformatics Center, NSPHL oversaw a team of researchers that used genomics to verify that an individual can contract SARS-CoV-2 a second time. This possibility had not been substantiated at that time. The NSPHL continues to conduct genomics-based COVID-19 research and surveillance.
When there was a shortage of collection kits—these are used to collect and test patient samples for COVID-19—the NSPHL began building their own, eventually getting help from faculty and students in other labs in the School of Medicine, and even the University's Innevation Center Makerspace. This combined effort allowed the lab to keep COVID-19 testing in Nevada running smoothly.
Partnerships with the National Guard, Centers for Disease Control and Prevention (CDC) and the U.S. Food & Drug Administration (FDA) have also contributed greatly to the lab's success, each providing tools and resources so that the NSPHL could better react to the pandemic and help to protect the health of Nevadans.
With testing "skyrocketing" again, Pandori said recently it's normal for the NSPHL to receive hundreds or even thousands of tests on certain days. As the pandemic progresses, the lab will continue to serve the public.
"The NSPHL team continues to be a leader in Nevada's COVID-19 response both statewide and worldwide, through UNR Med and University partnerships and research, including their early, genomics-based study of likely COVID-19 reinfection – the first documented case in the United States, and by novel, rapid "real-time" tracking of genomic changes in the virus," said Piasecki. "Dr. Pandori and the NSPHL team are committed to understanding and fighting this virus through testing, surveillance, genomic research and supporting the efficacy of vaccines."
"We're remaining involved in being one of the major test centers for Nevada, but also continuing our efforts to keep [up with] research on some of the dynamism associated with vaccines and viruses and all the things that are in motion," Pandori said.