The University's makerspaces and 3D printers, and the researchers, faculty and staff who operate them, are churning out face shields, battery packs for powered air-purifying respirators, facemasks, and patterns and kits to support the construction of gowns. Their work is linked to a communitywide effort involving an extensive network of businesses, organizations and volunteers who are contributing resources, equipment and supplies, along with making, sewing and crafting skills, to support the creation of personal protective equipment (PPE) for use in area healthcare settings.
Of this regional response to the COVID-19 pandemic, Daniel Smith, makerspace specialist with the Innevation Center, said, "Makers are all about getting things done creatively quickly and with limited resources. This is exactly the situation and time for makers to step up."
"This is what makerspaces and makers do," Tara Radniecki, head of the DeLaMare Science and Engineering Library on the University of Nevada, Reno campus, added. "Makers are predisposed to create or design a solution with the materials they have on-hand when a problem arises. In this instance, we are leveraging our 3D printers, plastics and book binding materials to create an initial run of 100 PPE protective face visors in partnership with our University and local community of makers."
In addition to the makerspace resources and 3D printers of the Innevation Center and the DeLaMare Library, the Art Fabrication Lab or Fab Lab in the College of Liberal Arts Art Department as well as research laboratories in the College of Engineering are part of the effort and coming forward with expertise, creativity and resources. Distribution plans continue to develop as of the writing of this story, though initial conversations and distribution is already underway with hospitals and healthcare settings in Reno, Carson City and South Lake Tahoe, as well as with the Nevada Rural Hospital Partners.
The stories of these people and places follow.
DeLaMare Science and Engineering Library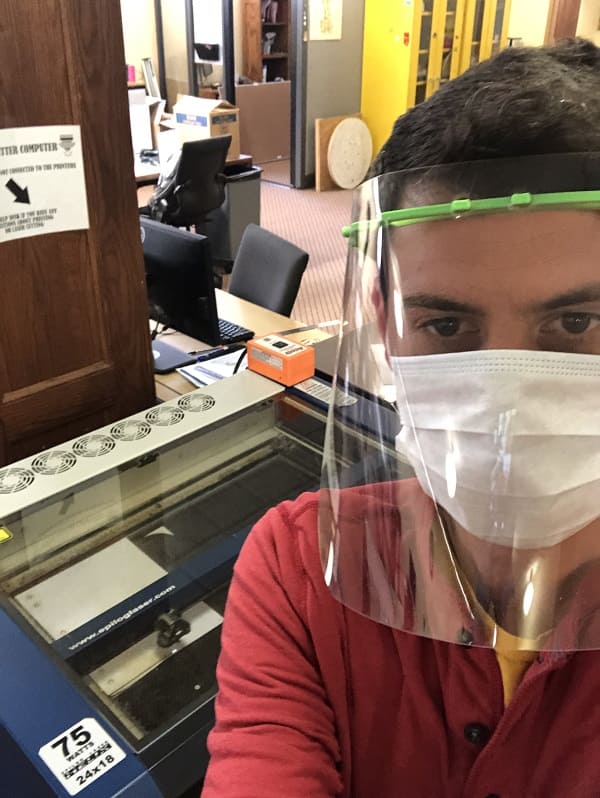 Nick Crowl, DeLaMare's Makerspace and Dataworks manager, has been working with Smith and other campus makers over the past week to 3D print PPE protective face shields. The 3D printed shields being created by this interdisciplinary group are modeled after a successful Swedish protective visor. It is composed of a durable plastic headband and a snap on plastic, wraparound face visor. The design is modular. It can be taken apart, sanitized and reused.

DeLaMare had the plastic material needed to produce the headband piece. Crowl, along with the University Libraries @One team, worked to source materials needed to create the clear visor.

"The material we selected for the clear visor came from the Mathewson-IGT Knowledge Center's @One printing department," Crowl said. "We needed a somewhat flexible, but thick and durable plastic to create the visor piece. We decided to repurpose our book binding report cover material to fabricate the visor piece. We ran a test and it worked perfectly for what we needed."
Crowl plans to deliver 100 of these protective face shields to the Nevada Rural Hospital Partners the week of April 6.
"Contributing to something meaningful in a time like this feels really good," Crowl said. "I wanted to be sure that the rural hospitals were being supported. I have a personal connection to this group and know they are struggling and in need of PPE, as are the larger hospitals here in Reno."
University of Nevada, Reno Innevation Center
The Innevation Center Makerspace is involved in the effort in many ways, including working to meet a specific need to keep powered air-purifying respirators in operation. While this equipment is reported to be in supply locally, there is a supply shortage of the battery packs necessary for their continued operation. As of last week and with the support of volunteer Michael Gillette and materials donated by Send Cut Send, these packs were being 3D printed at the Makerspace.
Makerspace Specialist Daniel Smith appreciates that information, patterns and specifications are being shared across the span of the local makers and their makerspaces. An example of how this comes into play is the fabrication of face shields at the Innevation Center. Following the pattern and specifications also used in the DeLaMare, headbands for the face shields are being generated on the Innevation Center's 3D printers, then attached to the clear visors that have been made at Reno Type, a local printing company.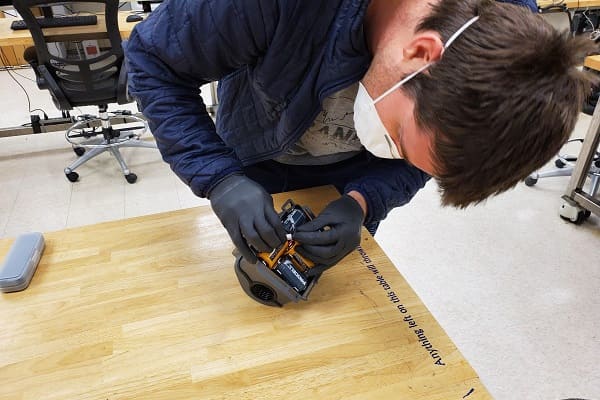 "We are all building the same thing," said Smith. "The whole group is cohesive in what we are delivering."

The Innevation Center Makerspace is also printing patterns for patient gowns. Packets are then compiled with the pattern and sourced material, ready for distribution to community volunteers who have offered to sew.
Art Department Fabrication Lab
Imagination and creative design, two skills encompassed by artists, are in high demand. Most wouldn't think twice about an artist as a hero to the local healthcare community, but College of Liberal Arts Art Department faculty and staff are fast at work manufacturing face visors, masks and gowns. Interim Area Head of the John Ben Snow Sculpture Center, Jeffrey Erickson, and Manager of the Art Department Fabrication Lab, Nicole Miller, quickly applied their problem-solving skills and creativity to answer the call from local doctors to make PPE.
Erickson immediately created several prototype designs of PPE that would better protect doctors during the treatment of patients. One solution, which the doctors approved, used a 20-by-20-inch piece of surgical wrap that was folded and tied to cover the neck and/or leg during a procedure.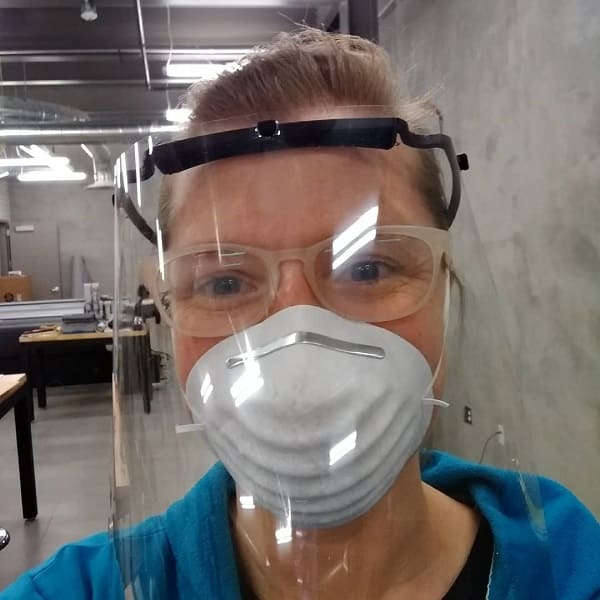 Miller is helping to address the face shield shortage and is 3D printing 20 face shields a day. In addition, Miller is able to cut cloth facemasks in bulk using the Zund G3 digital CNC machine that is not available anywhere else on campus. The Zund cutter in the new Fab Lab reduces the cutting time from hours to minutes. Miller is able to cut fabric for 100 facemasks a day and art department faculty and staff sew the facemasks together at home.

"Experimentation, imagination and interdisciplinary collaboration are all core values of the Fab Lab," Miller said. "In this case, we were able to quickly transition to the production of PPE by reimagining and redirecting our skill-sets through creative design with the hope to solve real world problems."
College of Engineering
Faculty, students and staff members in the College of Engineering are also pitching in to 3D print much needed personal protective equipment such as face masks and NIH-approved face visors.
"We have the 3D printers sitting idle and we saw the need, so we are helping a little," Kostas Alexis, assistant professor and robotics researcher in the College of Engineering, said.
Alexis is working with David Feil-Seifer, also a robotics researcher and associate professor in the Computer Science and Engineering Department, and with Claire Parker, the college's K-12 Outreach Coordinator; as well as with Crowl and Radniecki in the DeLaMare Library.
"Members of the Reno community started this effort," Feil-Seifer said. "We are working with people on campus, local businesses and individuals in town to see what was wanted that we could make, and how much. They did the hard work of making those contacts and let us know where it was needed and if the medical community would accept the equipment."
Feil-Seifer and Alexis are making the visors that are attached to plastic shields, and Feil-Seifer's wife, Vicki Seifer, is cutting and fitting the plastic sheets to the visors.
"I'm printing roughly 40 visors for face shields a day, now that I have all my printers going from my garage," Feil-Seifer said. "The plastic acetate sheets can be bought commercially, but as they are outdated classroom materials, we're finding them all over campus in department offices, faculty offices and labs. We've gotten materials for 3,000 shields in the department offices that we can utilize for this effort."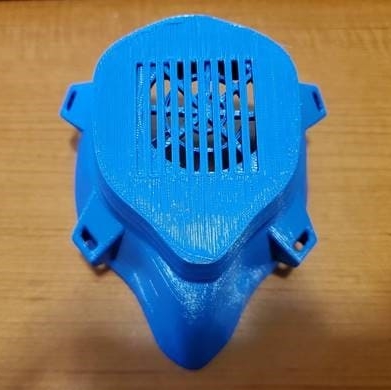 So far, the 3D printing community as a whole has made 1219 of the NIH-approved-design face shields and distributed them to local hospitals and medical facilities.

"This is definitely a team effort with many people contributing," Alexis said. "Here at the University alone, we are seeing more people involved every week."

In addition to the face shields, Alexis has also been working on 3D printing anti-bacterial respirator masks using designs from other universities and companies. He identified the potential of using anti-bacterial material through a colleague from University of Nebraska, Omaha.
Using more common materials for the face masks, both Alexis and Feil-Seifer have been asked to print 10 masks, of a certain type that George Washington University studied in relation to OSHA compliance, that could be validated in the same way that OSHA does for compliant medical gear like N95 masks. A larger group of community members is printing face masks at the moment too.
"This community group decided to offer a few example masks for testing first in Tahoe and Carson. Community members coordinate with medical professionals and we in turn also coordinate with the whole group," Alexis said.
The face masks are to be tested by hospitals in Carson City and South Lake Tahoe to verify that they fit well, like an N95 mask; the masks are so far NOT certified for use.
"Face masks are a bit more complex to print, my printer prints five per day," Kostas said. We also have ordered filters for the masks."
Testing on the masks should be starting this week to see if they'll be useful.
Both Alexis and Feil-Seifer are moved by the collaboration and camaraderie – the fact that the city is getting together to protect medical personnel.
"The University is a part of that to be sure, but this is a community endeavor and one where the organization is happening from local business owners for the most part," Feil-Seifer said. "We are happy to be a small part of that."
Community collaboration
In addition to this coalition of University makers, more than five-to-ten makers/hobbyists with 3D printers are joining the movement daily. Local businesses and organizations such as the Reno Collective and GriffonCo are also supporting the effort.
A Slack group has been created for any maker in the community that owns a hobbyist 3D printer and has an interested in creating PPE. To join the group, or to learn more contact Nick Crowl at ncrowl@unr.edu.