Jason Ludden is the Director of the Office of Undergraduate Fellowships in the Honors College, a new position, and a teaching assistant professor with the Department of English in the College of Liberal Arts.
The new position was created to help University of Nevada, Reno students successfully apply for nationally and internationally competitive scholarships and fellowships like the Fulbright, Rhodes, Truman, Udall and others. The Honors College and Provost's Office recognized a need to help applicants become more competitive.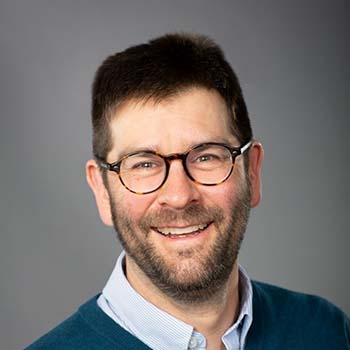 "A student has to both excel in their academic work and succeed in how they present their work, which is something this office is designed to help with," Ludden said. "These applications require quite a bit of navigation – if a student looks at something like a Fulbright application, it looks pretty straight forward, but as they get into completing it, they realize that there are a lot of 'optional' materials that they really need. My goal is to help students navigate these applications so that there are no surprises, it goes as smoothly as possible and they submit the most competitive submission they can."
Ludden said, in the short term, his goal is to help students successfully apply for these programs. He plans to develop workshops, short-courses and materials that will support students.
"Our goal is also to increase the number of applicants we have for these programs by holding informational sessions, visiting classes and student clubs and letting students know that, from their first day on campus, there is an office to help them succeed," Ludden said.
Along the way, he said that the office is going to build and strengthen connections with other departments and offices at the University building a network on campus that can both identify students who are good candidates and offer guidance during the application process.
"Through all of this, we will be creating a culture on campus where these opportunities become common place," he said. "In the next few years, we want to increase the number of applicants and their success. When we have high-achieving high school students deciding where they want to attend, we want them to associate the University with these opportunities due to the support we offer students and the success our applicants have."
The Honors College is University-wide and is designed to enhance all majors. Resilience, ingenuity, stewardship and equity are characteristics that form the core of its program mission and guide students' paths from admission to graduation and beyond. The Honors College seeks to provide students who are both academically talented and highly motivated with an undergraduate education that nurtures and promotes their capacities to think competently, understand deeply and act ethically.
"It should also be noted that students learn a lot from the process of applying for competitive scholarships and fellowships, and I think we can't understate it," Ludden said. "Yes, I want students to win these fellowships and scholarships, but I also want to focus on what they can learn while completing the process; because, win or lose, if they gain an understanding of how grants and applications work, or how to professionally present themselves, these are skills that will help students in any profession going forward."