This Spring, the Nevada Cyber Club was able to build on its tradition of competition success by posting strong scores and taking on new challenges. In addition to its regular participation in the National Cyber League (NCL), the club returned to competition in the Collegiate Cyber Defense Competition (CCDC) and the CyberSEED competition. They were also able to sponsor their first all-women NCL team as a way to mentor the growing number of women participating in the competitions.
The National Cyber League is an online, capture the flag competition that tests students' skills in areas like cryptography, log analysis, network scanning, and web application security. This semester, the club was ranked fifth nationally in the NCL power rankings. The power ranking is based on individual and team scores, and the number of participants from each school. The club had 17 participants in the individual competition and club president Bryson Lingenfelter finished second out of over 3,200 competitors. Three other participants finished in the top 10% and four others finished in the top 20%.
The NCL competition has been a great experience for students. Undergraduate student Marissa Floam said, "Participating in NCL has cemented my love and interest in cybersecurity. This was my first year competing and really my first experience with cybersecurity in general, and it's something I'm very excited to learn more about and keep trying to improve at. It's hard to put into words the joy I got from solving cybersecurity problems; I really just enjoy solving puzzles, and CTF challenges and NCL has really opened the doors for me."
"Participating in NCL has cemented my love and interest in cybersecurity.... It's hard to put into words the joy I got from solving cybersecurity problems; I really just enjoy solving puzzles, and CTF challenges and NCL has really opened the doors for me."
The club also sponsored two groups for the NCL team competition and finished 9th and 129th out of 700 teams. The ninth place team was composed of Ignacio Astaburuaga, Travis Dail, Chance Harrison, Bryson Lingenfelter Yash Shah, Simon Shrestha and Aidan Vancil. The team successfully solved every challenge but one, and solved 96% of the challenges on the first attempt.
The club continued their tradition of pulling some of the strongest competitors from the first team to serve as coaches on a developmental team, as a way to mentor new participants. Veteran competitors Sara Davis and Trish Ryan served as mentors and were joined by Lindsey Carraher, Marissa Floam and Madelyn Klupfell on the club's first all-women team. This team also posted impressive results, completing more than 82% of the problems with 89% accuracy on the first attempt. Most importantly, they all increased their skill levels so they are able to lead a top team next semester.

Lindsey Carraher, a first time NCL competitor summarized her experience: "This last NCL competition was a wonderful opportunity to apply many of the techniques and tricks that I have learned throughout various trainings. It is one of the only times where you can actively use/deploy offensive measures versus focusing only on network defense and staying in our small box. That alone is invaluable! The icing on the cake was being able to work on a team with such amazing women. Each person had a particular skill set that could be dedicated to a certain topic, and we used the Discord chatroom extensively to collaborate and communicate our thoughts and plans. I have learned so much and have the wonderful ladies on the team to thank for that."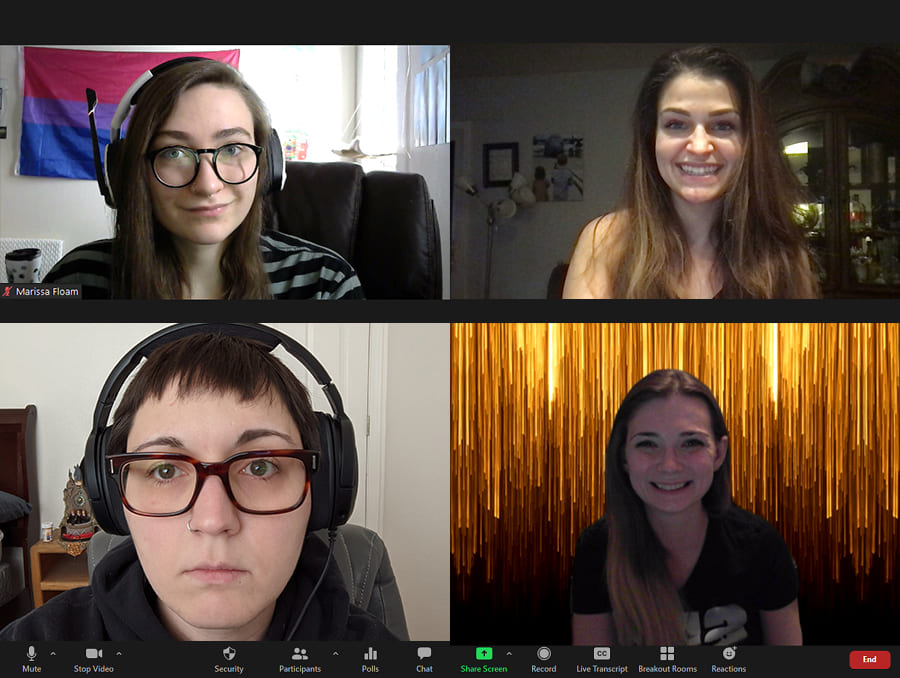 Graduate student Trish Ryan added, "NCL has been a great opportunity for me personally and professionally. It's a great way to meet and interface with an incredible club on campus who are interested and actively engaged in the field of cybersecurity, including the fantastic group of women who competed this semester. Due to the nature of the field, sometimes we find ourselves only interfacing with a keyboard and screen; getting out of our shells and coordinating with a team of students with a common goal is great."
This spring also marked the club's return to the Western Regional CCDC after a four-year hiatus. This is an all-day, live cyber defense competition that requires participants to complete system administration tasks while defending their resources from attacks by penetration testers. The team of Joshua Anderson, Ignacio Astaburuaga, Chance Harrison, Yash Shah, Simon Shrestha and Brandon Thomas posted good results for a first competition and gained valuable experience to prepare for future competitions.
This semester also marked the club's return to the CyberSEED competition. This is a four-person team event hosted by the University of Connecticut, and is one-day caapture the flag competition similar to NCL. The team of Ignacio Astaburuaga, Chance Harrison, Yash Shah and Simon Shrestha finished 13 out of 122 teams.
Top competition scores require more than just strong cybersecurity skills. The student competitors make a significant time commitment to solve the challenges within the competition period. It's similar to a marathon, as the competitions require long hours with few breaks. They also require participants to develop strong research and teamwork skills. These cybergames are a great way for students to demonstrate their skills and complement classroom learning.
Trish Ryan summarized the value of these competitions: "The cybersecurity competitions the Nevada Cyber Club participates in allows students to engage in and see cybersecurity attacks and tactics that otherwise we'd never get to see (or execute legally) in a safe and controlled environment. It really brings another layer to learning and engaging with the material we've studied - making something you've only really read about much more tangible."