In the Fall 2020 semester, Jerren Bailey took the Introduction to Fluid Mechanics (ENGR 360) class with Assistant Professor Rashed Khan in the Department of Chemical and Materials Engineering. In a course that Khan describes as "unique and challenging," Bailey excelled and showed interest in the "most critical part of the course. She got my attention," Khan said.
"Fluid mechanics was challenging," Bailey added. "It was all brand-new information and very exciting. It was crazy to think that you could model and simplify complicated real-life engineering problems and solve those problems using math."
Because Bailey embraced the challenges of the course, Khan invited her to work as an undergraduate researcher in his Advanced Materials and Interface (AIM) lab in the new William N. Pennington Engineering Building. Under the mentorship of graduate students Kazi Zihan Hossain and Caleb Shaw, Bailey has added to Khan's research in modeling drug-delivery systems harnessing Navier-Stokes Equation, explicitly focusing on Polydimethylsiloxane (PDMS), which is a polymer that can be shaped to fabricate microfluidic chips and devices.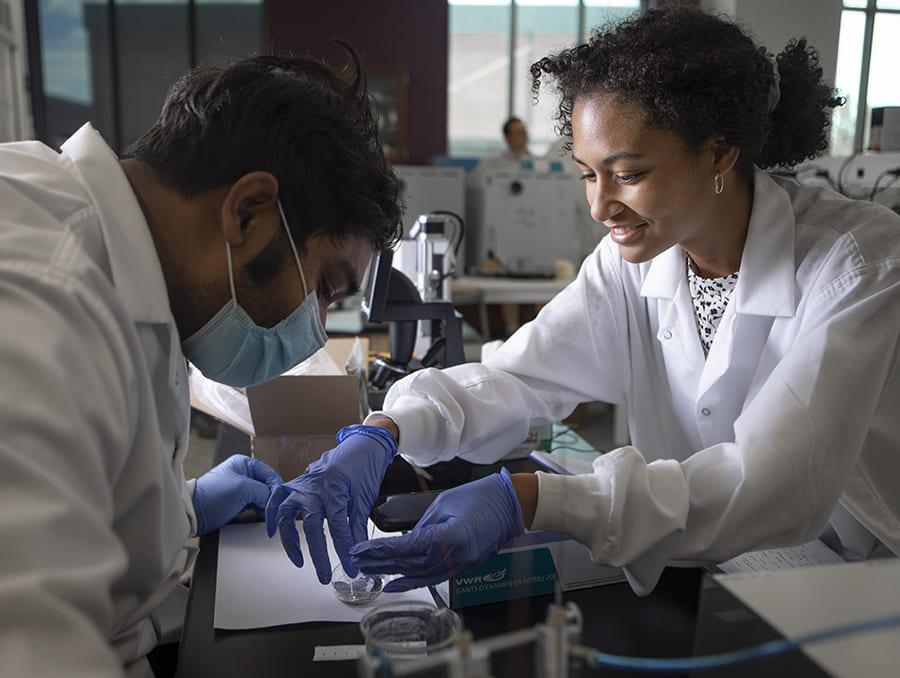 Based on her work in Khan's lab, Bailey applied for the prestigious American Chemical Society Scholars program. Out of more than 2,000 applicants nationwide, hers was one of only 138 selected. The recognition comes with a monetary award and provides opportunities for career development, including conference attendance support.

"It's a very great honor," Bailey said. "The ACS Scholarship pushes me to be someone people can look up to. People see you have the potential for a great future, so you want to keep pushing, even when it gets tough."
Khan added, "This is one of the most prestigious awards for the undergraduate students provided by the American Chemical Society (ACS). It's the first time an undergraduate student from the CME department received the ACS scholar award. Her experience is a good example of how coursework can be applied to solve real-life problems and leveraged as a tool to develop a career. She was able to gain undergraduate research experience, which not only allowed her to see how to apply concepts to solve fundamental problems, but it also directly led to the award."
For Bailey, the ACS Scholar designation is the result of years of dedication. Even when she was in high school, she knew that she would have to apply herself to succeed. Her determination and relentless work as a high school student earned her the position of valedictorian and recognition as a Presidential Scholar. The financial support of the award allowed her to focus on her studies at the University.
"Engineering is a full-time job. You have to be very dedicated. It takes hours and hours of studying and dedicated work to succeed," Bailey said. "I put in the hours in high school because I didn't want to worry about having my college education paid for. Now, I want to make the University proud, make my mom proud, and make myself proud."
Khan can attest that she's achieving her goals.
"We're really proud of Jerren," Khan said. "I love her persistence. In the lab, it's headphones on, work on. She's focused, and she stays focused throughout her scheduled hours. As a result of her hard work, she is well-positioned to excel in graduate studies or industry. Her experience will enable her to solve pressing problems that we encounter every day."
Learn more about the ACS Scholars Program and the Khan Lab.