Last week was the 127th annual meeting for the American Exploration and Mining Association (AEMA), and the University's Mackay School of Earth Sciences and Engineering had a massive presence. From alumni to professors to students, over a dozen with ties to Mackay presented at the meeting, with four students winning awards.
Geology Master's students Alexander Holmwood, Sara Holden, Neal Mankins and Sarah Shapley presented at the junior professionals session where students presented on topics ranging from methods for concentrating lithium to determining the order of mineralization in mining deposits. The junior professionals session was chaired by alumna Norma Angelica Perez, who now works as a mining engineer for Nevada Gold Mines. Holmwood and Mankins were also winners in the student AEMA poster competition, as were Alireza Kamran and Mahdi Shahsavar from the Department of Mining and Metallurgical Engineering.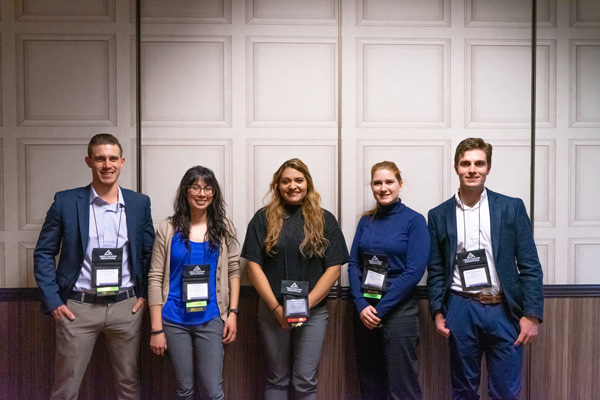 Anna Huhta, the director of the Mackay School, said the conference was a wonderful way for students to engage with industry professionals in their field.

"I would say student attendance at industry conferences like AEMA are the best opportunities to network with industry representatives looking to fill open positions. With every conference Mackay students attend, we have students walking away with new employment opportunities," Huhta said.
Several of the Mackay student attendees are a part of the Ralph J. Roberts Center for Research in Economic Geology (CREG). CREG connects graduate students to industry with a collaborative team made up of the Mackay School, the Nevada mining industry and the U.S. Geological Survey. Associate Professor John Muntean is the Arthur Brant Endowed Chair in Exploration Geology in the Nevada Bureau of Mines and Geology and the director of CREG.
"These meetings are very important in that students need to take advantage of the conference by meeting highly experienced professionals and start building a professional network. The sooner they start building a professional network the better. Geologists love their work and love to share their passion for this profession with students," Muntean said.
Students from other disciplines were invited by the Mackay School to attend the meeting with a free registration, including students from chemistry, molecular microbiology and immunology, atmospheric sciences and biology. Muntean said he hopes those students were able to understand that geology and the mining industry is very multidisciplinary. "One needs to know not only rocks but chemistry, physics, economic, etc. At first needing to know so much is intimidating, but the flipside is that you're never bored doing something over and over."
Around 200 exhibitors attended the annual meeting, including mining companies, engineering consultants, government agencies, and professional associations.