On July 1, the University of Nevada, Reno School of Social Work separated from being a Division of Health Sciences and became the first independent, free-standing School of Social Work in the state of Nevada. Under the leadership of founding Dean Shadi Martin, the School has reshaped its mission to focus on teaching its nearly 700 students to be competent, ethical leaders.
"The State of Nevada has a critical shortage of social workers," Dean Martin said. "Currently, there are approximately 2,700 licensed social workers available to serve the 2.7 million Nevadans - that is one social worker for every 995 citizens (State of Nevada Board of Examiners for Social Workers, 2018). Some of Nevada's greatest areas of need include: Child Protective Services, School Social Work, Medical Social Work and Justice Programs. The newly independent School of Social Work is committed to meeting the workforce needs of urban and rural communities in Nevada by expanding its programs and offering specializations that target these areas of needs."
At its core, the School's new mission is to educate, train and nurture competent, committed compassionate and diverse social work leaders. Graduates will advance the social justice mission of social work through their leadership in research, public policy, academics and clinical practice at local, national and global levels. The School prepares effective and ethical social workers who serve the diverse needs of communities across Nevada and beyond.
"Dr. Martin brings an exciting new vision and welcome leadership to the School of Social Work," Executive Vice President and Provost Kevin Carman said. "Under her leadership, I am confident that Social Work will educate social workers that meet the increasingly complex needs of local, regional and national communities. I'm also pleased that Dr. Martin is emphasizing the importance of scholarship among faculty and students, which is essential to fulfilling our mission as a Research-1 university."
Dean Martin has said she believes social workers are uniquely equipped to take on leadership roles - for two important reasons, 1) their multi-disciplinary education/training which allows them to find creative solutions to complex human problems and 2) their professional values and ethics. Social work values are universal: social justice, service, integrity, competence, human relations and dignity. She said that these are the values that orient social workers in their leadership and decision-making. More than ever, she believes leaders are needed who are oriented by their professional values and ethics.
"We need leaders with moral courage," she said. "The mission of our newly independent School of Social Work is focused around making sure that our students graduate with the desire to take on leadership roles. The desire to become leaders is not self-serving, it is an obligation to assure that the voices of the marginalized populations - the very people that social workers represent - are heard at the decision-making tables. I want my students to understand that they owe it to their constituents to become leaders. They need to know that they are the change agents; they will be the leaders."
The School's driving message is that it's a place of "values-oriented leaders." These values are at the heart of the new School of Social Work's mission and are derived from social work code of ethics and professional values. Dean Martin has incorporated the school's new mission and core values into a unique symbol that she designed around a compass rose. The message was meant to be symbolic to remind social work students and professionals to always look to their compass rose when faced with difficult decisions and follow their North Star, in reference to social work values and code of ethics.
The School of Social Work offers accredited degree programs at the undergraduate and graduate levels, including a bachelor of social work (BSW) degree, master of social work (MSW) through a traditional on-campus program, and an online master of social work degree. The School also offers a Social Work Continuing Education Series. In February 2014, the Council on Social Work Education Commission on Accreditation re-affirmed accreditation of the BSW and MSW programs of the University through February 2021.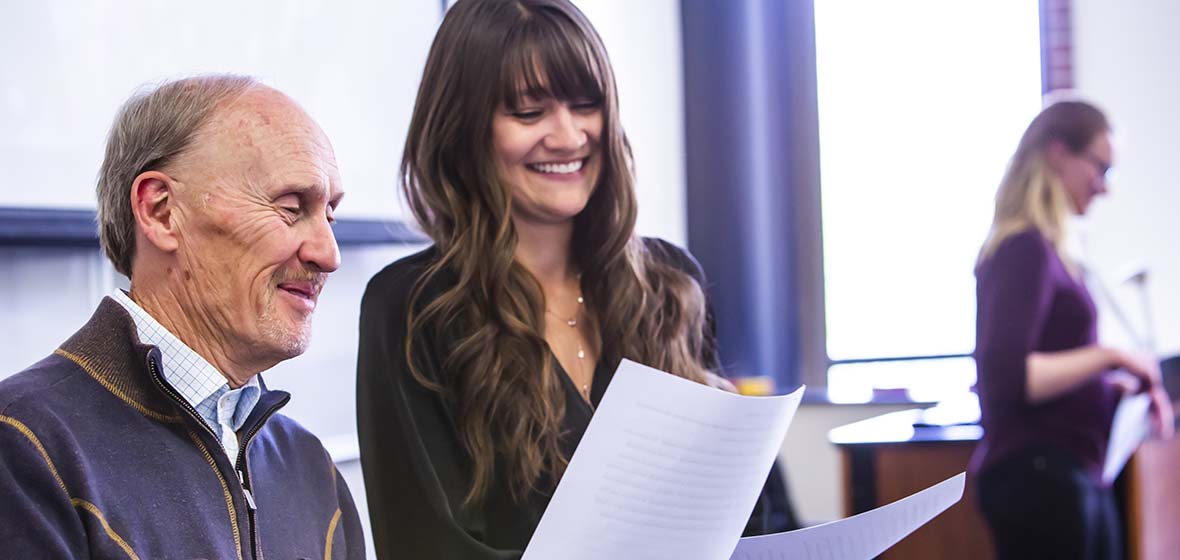 The School boasts four Social Work student groups: FUSED, the Undergraduate Student Social Work Association, the Social Work Graduate Student Association and Phi Alpha Lambda Beta.
In May, a collaboration between Western Nevada College and the University of Nevada, Reno was announced, which will allow students to complete an additional 21 credits of a bachelor's of social work degree at WNC.
"Social work is growing very rapidly," Martin said. "We have seen our student numbers nearly quadruple. We know that the demand for social workers is expected to increase by 16 percent in the next eight to 10 years. This is exciting, but it's also a reflection of the complex problems we face locally, nationally and internationally."
Born-and-raised Nevadan Rota Rosaschi received her bachelor's degree in Social Work and her master's degree in public administration from the University. She is the Chair of the School of Social Work's Advisory Board - one of the first groups Dean Martin organized for the School - and is the executive director of the Nevada Public Health Foundation based in Carson City. She has also been selected as the 2019 Distinguished Alumni member for the School of Social Work.
"I have loved every minute of it," Rosaschi said of her 40 years in the social work field. "It's the best decision I've ever made. During all these years, I have witnessed many changes. As an example, the types of children being brought into foster care now have so many more challenges than the children did when I was doing child welfare way back when."
Rosaschi said some challenges facing social work today are the lack of financial resources - especially in rural communities - the lack of having enough social workers and lack of community understanding of the role a social worker can play in decision making.
"Almost every social worker has to be able to troubleshoot," Rosaschi said. "As a profession, we are building leaders to help others to help themselves."
Rosaschi said people going into this field must also recognize the growing issues of behavioral health problems in our state and their responsibility for finding more resources to help.
"We have to continue to find financial resources to grow and sustain our programs, and identify and make available more scholarships at the University for those interested in the social work field to help fill the gaps in services."
Rosaschi said that there's excitement for the School being an independent and free-standing School of Social Work.
"I'm excited about Dean Martin and the leadership and vision she brings," Rosaschi said. "She recognizes how leadership needs to be implemented into the field. Leadership can start at any level; doesn't have to be from the top; it can be from the ground up."
Rosaschi is also looking forward to helping the School improve its connection with community partners, especially during National Professional Social Work Month in March, which is a time to recognize more than 680,000 social workers in the country.
"Most people will receive help from a social worker at some point in their lives - it may be in schools, hospitals, VA facilities, rehabilitation centers, social service agencies, child welfare organizations, counseling or mental health services, juvenile justice, family medicine clinics, aging services, assisted living centers, homeless shelters or nursing homes," Martin said. "It is at that moment, when sitting across from a social worker, that the importance of a solid social work education becomes fully evident. An education that is multi-disciplinary and solidly rooted in professional values and ethics. The most important quality of a good social worker is compassion - compassion without judgment. Social workers help everyone. We help those who have no one else to help them, and that's what makes social workers so special. We have compassion for all people, regardless of their views or actions. We believe every person deserves to be treated with dignity and compassion."
Prior to joining the University, Dean Martin was a tenured professor and director of the graduate program at McGill University School of Social Work in Montreal, Canada. Dean Martin also was a tenured professor at University of Alabama, where she served for more than 10 years.
Martin holds a Ph.D. in Social Work from the University of Utah, as well as four master's degrees; MSW, MPA/HSA, & MA. Dean Martin has a multi-disciplinary background and a variety of academic and professional experiences worldwide. These experiences include her work with the World Health Organization (WHO) in Europe, United Nations High Commissioner for Refugees (UNHCR) in the Middle East, Georgetown National Center for Cultural Competency and visiting scholar at United Arab Emirates University School of Social Work and School of Medicine.
Dean Martin has a distinguished career with regular highly cited publications and has received a number of prestigious grants for her research. Her research has focused on health disparities among culturally/ethnically diverse populations specifically, Middle Eastern immigrants and African Americans. She has published widely in the fields of health, mental health, gerontology, caregiving and international social work. She has received numerous awards and recognition for her work throughout her career including Fulbright Fellowship, MIT Dissertation Award, and the Hartford Faculty Scholar Award.
"Our students graduate with an enormous responsibility to provide competent compassionate care for those most vulnerable in our society," Martin said. "In order to do this, they need our support. They need to receive the best education worthy of their investment regarding their time and money. It is hard to be good helpers if you are facing your own challenges such as student debt. One of my goals as the founding Dean is to increase the number of scholarships available to social work students through an initiative I call 'Helping the Helpers' initiative. Nevada needs more social workers, Nevadans deserve competent compassionate ethical social workers. I am committed to giving our graduates the best education worthy of their investment and commitment. In return, these competent social workers will help address the many diverse needs of Nevadans.
Gifts to the School of Social Work support the school's preparation of vitally needed social work professionals to take on frontline and leadership roles within our community through scholarships, research and community partnerships. To learn more about supporting the School of Social Work, please contact Kara Mays, associate director of development and alumni relations, at 775-682-7178 or karamays@unr.edu.