An experienced traveler and a first-year Ph.D student in the materials science and engineering department, Cayla Harvey has recently won two prestigious fellowships and scholarships. The most recent is the 2019 Integrated University Program graduate research fellowship from the Department of Energy. As a participant there, Harvey will evaluate the irradiation tolerance of oxide dispersion strengthened steels, or ODS, that will be used to create future generations of nuclear reactors.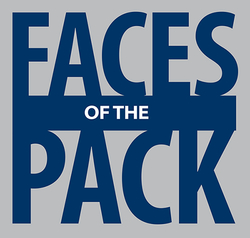 Harvey will investigate the irradiation tolerance in ODS steels processed under various conditions as a way to make sure that the materials can be acceptable to make a nuclear reactor with. The ODS steels are important in materials engineering because they possess high tenseness, fatigue and creep strengths over a wide range of temperature, combined with long-term thermal stability up to 900 °C, and unique irradiation tolerance, or the ability to withstand radiation.

"To do this, we will conduct nanomechanical testing and microstructural analysis of these steels before and after ion-irradiation," said Harvey. "One unique aspect of this work is testing in high temperatures and strain rates. These materials haven't been tested in these extreme conditions, therefore this work will provide valuable insight into this material's performance in actual reactor conditions."
This research project is in direct collaboration with Dr. Stu Maloy, a technical staff member at Los Alamos National Laboratory in New Mexico. Harvey was an intern there during her undergraduate career at the University and she will continue as one for the following summers. During this first summer, she worked with shock-loaded zirconium, Harvey helped the team determine the behavior of mechanical properties after the material underwent a phase transformation. After graduating, Harvey hopes to continue working in a national research laboratory.
"The National Department of Energy has labs around the country and I really enjoy the work they do," she said. "They conduce scientific research and development that is often concerned with the environment, that will hopefully reduce our dependence on fossil fuels."
The other program that she will participate in is the ThinkSwiss Research Scholarship, where Harvey will spend five months in the fall conducting research and working on her fellowship project at the Swiss Federal National Laboratory for Materials Science and Education. The lab has unique testing facilities and experts in nanomechanics, which is the study of basic mechanical properties of physical systems at the nanoscale.
"Traveling is great for research because it gives you a new perspective, lets you meet new people and use new laboratory equipment," Harvey said. "It allows you to expand your mindset and get a better perspective on what you're studying."
Last summer, Harvey participated in a research internship at Technishe Universität, or TU Dresden, in Germany. She learned about a different topic than her usual research, instead studying the topic of nanosensors for biological detection. Nanosensors collect and transmit information measured in small increments, and are used in topics like medicine to help create functioning models to study.
"These programs are very prestigious, and Cayla was the only student from the University to get the fellowship this year," said Sid Pathak, assistant professor of materials science and engineering. "Cayla is an exceptional student and has won multiple awards and fellowships throughout her undergrad and graduate career at the University."
Through her undergraduate research she also received several other awards including the Nevada NASA Space Grant Consortium Graduate Research Opportunity Fellowship for 2018-19, the Metals, Minerals, and Materials Society, or TMS, Undergraduate Structural Materials Division Scholarship in 2018, the Nevada Undergraduate Research Award for the 2017-18 school year, and the National Science Foundation Experimental Program to Stimulate Competitive Research Scholarship in 2016. She was also featured as a scholarship winner from the 2018 Structural Materials Division in the most recent issue of JOM Magazine, a publication from the Minerals, Metals and Materials Society.
Harvey also spent time studying abroad in Pau, France, through the University Studies Abroad Consortium program.
When it comes to advice, Harvey said that engineering is highly recommended for today's job market, which is really good for the field.
"There's really something for everyone," she said.