Hui Lin and Engin Arslan, both assistant professors of computer science and engineering in the University of Nevada, Reno's College of Engineering, have recently won awards in the Computer and Information Science and Engineering Research Initiation Initiatives, or CRII, from the National Science Foundation. Arslan was awarded for his online optimization of end-to-end data transfers in high-performance networks, and Lin was awarded for his focus on preempting physical damage from control-related attacks on the cyber-physical infrastructure of smart grids.
"With the advancement of computing and sensing technology, the amount of data generated by scientific applications is growing rapidly," Arslan said. "To accommodate this growth, high-speed networks with up to 400 Gbps [gigabits per second] bandwidth have been established. However, the ability to effectively utilize these networks emerged as a major challenge as existing transfer applications are not designed for such high speeds."
Arslan said his project aims to develop a real-time transfer-tuning algorithm to address this issue and maximize utilization of next-generation high-speed networks.
The engineers said this research is important because improved data transfer performance enables timely execution of distributed scientific applications and paves the way for increased collaboration between scientists in different parts of the world by facilitating data sharing.
"This project will also facilitate the development of a graduate level, high-performance networking course at the University of Nevada, Reno, and contributes to the education of undergraduate, female and underrepresented students," Arslan said.
For Lin's project, he said that "control-related attacks are a severe threat to cyber-physical systems like smart grids because they can introduce catastrophic physical damage by using malicious control commands crafted in a legitimate manner."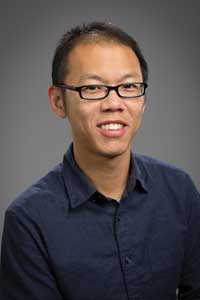 While current research efforts have focused on detecting malicious commands that lead to physical damage, Lin said that proposals are being made to preemptively prevent damage.
"By disrupting and misleading adversaries' preparation before they successfully issue the malicious commands, we can move before the cyber enemy," Lin said.
To achieve this objective, a network spoofing mechanism based on software-defined networking, or SDN, is designed. Its goal is to intelligently craft decoy measurements to mislead digital enemies into designing ineffective digital attacks that will not cause damage.
For more information about these projects, visit the Computer Science and Engineering Program.