Among more than 400 community members, University of Nevada, Reno President Marc Johnson and his wife Karen-Penner Johnson, along with Music Professor Larry Engstrom were three of 10 winners named at EDAWN's Arts & Business Luncheon Thursday, Sept. 12.
The University's College of Liberal Arts, in partnership with The Economic Development Authority of Western Nevada, City of Reno, City of Sparks and Sierra Arts Foundation, held the event at the Silver Legacy Casino from 11:30 a.m.-1:30 p.m. with local business representatives, government leaders and individuals from the arts community in attendance.
The winners of the annual Arts & Business Awards demonstrated exceptional support and engagement with the local arts and culture community.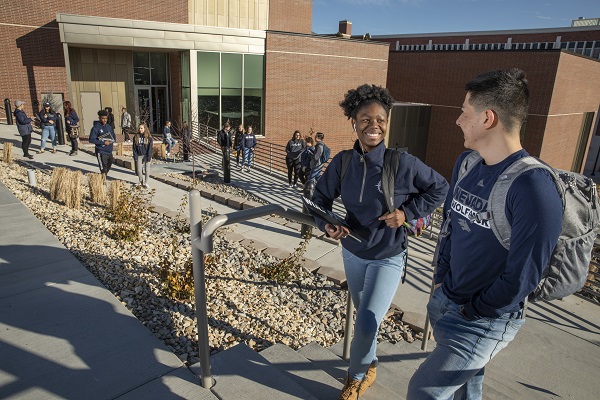 "Congratulations to all the nominees and especially the winners," Mike Kazmierski, President and CEO of EDAWN, said. "We are very fortunate that Greater Reno-Sparks has the support of so many who are passionate about and understand the positive impacts that the arts have on our community. In our world of economic development, we strongly support the arts, its impact in fueling a vibrant economy and the important role it plays in our efforts to attract new businesses and talent to our region."
"Karen and I are extremely honored to receive the Leadership award presented by EDAWN during the annual Arts & Business Luncheon," President Johnson said. "It's quite humbling to be among such a wide cross-section of leaders, businesses and organizations from throughout our community who were also honored. To all of the honorees, we say, 'Congratulations and thank you for all that you do on behalf of our vibrant and growing community.' We truly appreciate EDAWN's recognition. We hope to encourage others to continue to make a difference in education, in the arts, in business, or in any other professional or personal realm, for the betterment of northern Nevada."
Here is the list of the 2019 award recipients:
Business of the Year, Microenterprise
Business of the Year, Small
Great Basin Brewing Company
Business of the Year, Large
Leadership
Marc Johnson and Karen Penner-Johnson, University of Nevada, Reno
Lifetime Achievement
Larry Engstrom, University of Nevada, Reno
Excellence in Arts Business Management
Arts Education
Brian Bolton, Reno High School
Business Community Arts Advocate of the Year
Nancy Fennell, Dickson Realty
Elected Arts Advocate of the Year
Mayor Hillary Schieve, City of Reno
Community Arts Partner of the Year
Reno-Sparks Convention & Visitors Authority
"I was surprised and honored to be recognized in this way," Engstrom said. "I've been fortunate in that I have worked with some great people both on and off-campus during my 32-plus years in Reno, and they definitely deserve a share of the credit for this honor."
Other honorees included winner Fennell, who sits on the College of Liberal Arts advisory board, and assistant professor Andrew Hegland, who was nominated in the Arts Education category.
Also in attendance at the awards luncheon was the State of Nevada Office of the Governor Steve Sisolak, Jessica Diss; State of Nevada Lt. Governor, Kate Marshall; U.S. Senator Office of Jacky Rosen, Emily-Lande-Rose and Natalie Okeson; U.S. Congressman Office of Mark Amodei, Arturo Garzon; Nevada State Assemblywoman, Jill Tolles; City of Reno Councilmember, Naomi Duerr; City of Reno Councilmember, Devon Reese; City of Sparks Mayor, Ron Smith; City of Sparks Councilmember, Donald Abbott; City of Sparks Councilmember, Charlene Bybee; City of Sparks Councilmember, Ed Lawson; Washoe County Assistant Manager, Kate Thomas; and Washoe County Commissioner, Marsha Berkbigler.
The Economic Development Authority of Western Nevada is a private/public partnership established in 1983. They are committed to adding quality jobs to the region by recruiting new companies, supporting the success of existing companies, and assisting newly forming companies, to diversify the economy and have a positive impact on the quality of life in Greater Reno-Sparks.