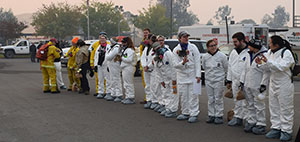 University of Nevada, Reno Assistant Anthropology Professors Marin Pilloud and Kyra Stull accompanied 10 doctoral students to the scene of the Camp Fire in Butte County, Calif. earlier this week to volunteer in the recovery efforts. The forensic anthropology unit from California State University, Chico called the University of Nevada, Reno's team and one other faculty member from the University of Alaska, Anchorage to assist with the recovery efforts. The team sifted through ash and debris to help identify human remains.
Both Pilloud and Stull have extensive backgrounds in forensic anthropology and are often times leading experts on cases where remains are unidentifiable. As trained forensic archaeologists, they are adept at the recovery and excavation of human remains. In addition, Pilloud is Nevada's only board-certified forensic anthropologist. Over the past several years, Pilloud said the team has assisted in recovery efforts throughout Northern Nevada and Eastern California. "Although, we have never worked on a project of this scale before," Pilloud added.
"Our expertise lay in the ability to conduct systematic surveys of these areas as well as recognize osseous material and to be able to tell if that material was human or animal. These skills greatly expedite the recovery process," Pilloud said.
Minimal equipment was used at the scene. Other than trowels, screens and shovels, the team is "able to visually recognize skeletal material in a variety of situations," Stull said.
Normally when the forensic anthropology team is asked to consult a case, they perform a biological profile analysis and detailed skeletal examinations in the lab. However, with the Camp Fire only at 35 percent containment and the death toll currently sitting at 63 at the time of publication, the team mostly assisted with search and recoveries at the scene.
Military service members, local and regional law enforcement, cadaver dogs, as well as anthropology teams are all committed to helping search for the hundreds of missing people. Everyone is trying to search the area as quickly as possible to help find closure to unanswered questions and allow residents back to the unrestricted areas where searches are underway.
The University's forensic anthropology team not only put their skill and expertise to use but also had a chance to be good Samaritans for a local community in need. "Not only do (these experiences) serve as excellent training opportunities, they serve as a means for students to volunteer and see the social value of their academic work and knowledge," Pilloud said.