It's a good problem to have. The University of Nevada, Reno's Biosciences Entrepreneurial Laboratory opened in May 2016 and now - 10 months later yet sooner than projected - it is at capacity and the search is on for potential expansion space.
The BEL is a "wet lab" space managed by the University's Nevada Center for Applied Research. The idea behind NCAR and the BEL is to make the University's most sophisticated labs and equipment - and the brain-power and infrastructure that make them work - available to industry, start-ups, entrepreneurs and collaborators.
The 11 companies presently working with NCAR include startups, existing high-tech companies looking to expand research and development, research collaborators and "spin-outs" based on faculty discoveries that are commercialized with the University. Biomedical or bioscience is the core specialty of most of these companies and this, predicts Mridul Gautam, vice president for research and innovation at the University, may be the start of a regional, biotech-industry hub.
"We are creating an applied research-and-development-technology center that delivers the intellectual and physical assets of the University to attract industry and enhance the global competitiveness of Nevada industry," Carlos Cardillo, NCAR director, said. "This is for the startup or entrepreneur looking to move an opportunity or idea solution forward. These startups and small companies are collaborating with our faculty members and developing new research endeavors, and recruiting students as interns and employees."
To do this, NCAR works with industry, early-stage high-tech companies and entrepreneurs to help determine the assets and expertise they need, and then develop a customized plan and fee structure. The right technical support may be assembled, and important related services such as training, waste management and Internet are provided. NCAR also closely collaborates with the University's Innevation Center.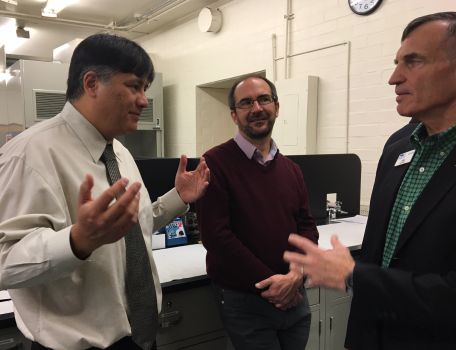 Consider the example of Roger Chen and his team, who are conducting private research in the BEL that merges electronics and biochemistry. After achieving entrepreneurial success in California's Silicon Valley where he contributed to the next generation of DNA sequencing, Chen decided to move his new company, Bioelectronica, to the University campus for his next private-research venture. He considered other options, but was drawn to Reno's quality-of-life and cost-of-living for his employees, and "the best support, the best cost-efficiency and business-friendly practices" extended by the University.
"It would be onerous for a small company to develop the infrastructure that is necessary," Chen said. "The University of Nevada, Reno has done a great job of providing all those facilities and resources in a convenient and low-cost fashion. So really what we're doing, we are piggy backing on these great resources that already exist at the University for its own research program."
"We are already at work in BEL thanks to the efficient professionalism of the people at NCAR," said William McCoy, chief technology officer and co-founder of Phigenics, the latest company to sign a contract with NCAR.
Operating nationwide, Phigenics helps facility managers in healthcare, hotel management, commercial buildings and universities optimize the cost of operating their water systems efficiently and safely. Phigenics has developed patented analytical diagnostics that are widely used in these facilities. Now ready to expand its research and development investment, the company has decided to do so in Reno and on campus in the BEL. Phigenics is exploring joint research opportunities with faculty members in the College of Engineering's Department of Civil and Environmental Engineering and the School of Medicine's Center for Molecular Medicine.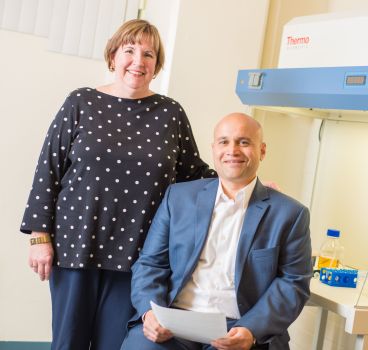 NCAR and the BEL are supported by the Governor's Office of Economic Development and a $3.1 million grant through the State of Nevada Knowledge Fund. GOED Director Steve Hill described the services as providing "critical bioscience infrastructure for Nevada companies to reduce some of the cost-prohibitive downsides for bio-tech startups and early-stage companies."
"We believe our structure is unique," Ellen Purpus, the University's assistant vice president for enterprise and innovation, said. "NCAR further facilitates research and development by taking care of infrastructure so companies can focus on growing their business."
Cardillo anticipates another three to six companies already in discussions with the University may locate on campus. He also forecasts the number of businesses engaged with NCAR will always be somewhat in a state of flux. Already, companies have contracted to use the BEL for only a month or two, as this short-term arrangement meets their business needs.
The ultimate success is a company like Flirtey which started with NCAR and was based in the University's Applied Research Facility. Now, one of the leading companies in drone delivery and attracting significant investor support, Flirtey has grown and moved to its own facility. As Gautam said, Flirtey has graduated.
Building, equipping and staffing a single, sophisticated biosciences lab would require a considerable investment; however, NCAR is leveraging primarily existing resources and repurposed space. This approach is less costly and also serves to direct resources toward the state's economic-development priority.
"It's a public good, it creates opportunity," Gautam said. "This is a strong example of serving the land-grant university mission in the 21st century."
For more information about the University's Nevada Center for Applied Research and Biosciences Entrepreneurial Lab, visit www.unr.edu/ncar.