Marc Johnson, Ph.D.
The 16th president of the University of Nevada, Reno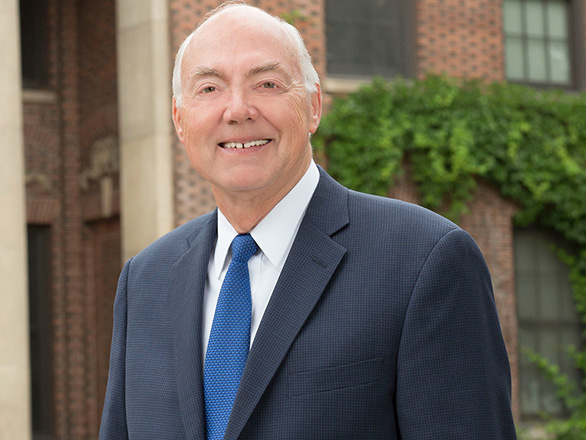 Marc Johnson's tenure as president of the University of Nevada, Reno has been marked by record student enrollment and academic achievement, advancement of the University's research and innovation agenda and a deep commitment to partnering with the state of Nevada to drive business, industry and economic diversification.
A career as a faculty member, researcher and administrator – including roles at several notable land-grant universities – led Mr. Johnson to the University, where he was named the institution's 16th president in April 2012. Mr. Johnson joined the University in June 2008 as executive vice president and provost and served one year as interim president in 2011.
A record of accomplishment
During his time at the University, he has stressed the creation of a culture marked by student success, faculty-led and world-improving research and creativity, and statewide engagement with communities and business. The University has responded with all-time high enrollment and graduation figures, as well as institutional records for the diversity and accomplishment of its student body and investment by its donors. He established the University's Office of Diversity Initiatives and represented the University in its move to the Mountain West Conference in intercollegiate athletics.
In December 2018, culminating a five-year effort, the University was elevated to an "R1" classification by the Carnegie Classification of Institutions of Higher Education. A prestigious R1 designation by Carnegie is reserved for doctoral universities with only the highest levels of research activity.
He has led the University through one of the institution's greatest periods of faculty growth, with more than 400 tenure-track positions either being currently filled or planned on being filled within the next six years. His leadership has seen the University grow to nearly 21,000 students, as well as six consecutive years for the University being ranked in the top tier of best national universities by U.S. News & World Report.
A vision for the future
His vision has also been central to the completion of the University's Master and Strategic Plans in 2015. Both plans emphasize greater connection to the community through academic programs with clear benefit for the knowledge-based industries of Nevada, greater integration between a sustainably built campus environment and a more economically diverse and culturally enriching downtown corridor, as well as the critical exchange of knowledge and innovation through transformational research that help to define a dynamic institution of higher learning and to characterize its equally dynamic community.
Prior to joining the University, President Johnson was dean of the College of Agricultural Sciences at Colorado State University and dean of the Kansas State University College of Agriculture and director of the Kansas Agricultural Experiment Station and Cooperative Extension Service. Raised and employed on a family fruit farm near Wichita, Kansas, Johnson received his bachelor's degree in biology from Emporia State University in Kansas, which named him a Distinguished Alumnus in 1994. His advanced degrees include a master of technology in international development from North Carolina State University, a master of economics from Michigan State University and a doctorate of agricultural economics from Michigan State. Johnson's research and teaching have been based in economics, with an emphasis on national and international food distribution systems.